Steelers Star Cameron Heyward Had the Perfect Line to Get in Peyton Manning's Head Before a Playoff Game: 'Hey, You Played With My Dad'
Peyton Manning played quarterback in the NFL for 17 seasons with the Indianapolis Colts and Denver Broncos. During that time, it's safe to assume he pretty much heard it all when it came to trash talk from opponents. However, he recently shared on ESPN's Monday night Manning Cast that a simple — and likely friendly — comment from Pittsburgh Steelers defensive lineman Cameron Heyward about his dad, Craig "Ironhead" Heyward, before a playoff game got in his head more than most.  
Pittsburgh Steelers defensive end Cameron Heyward's father is Pro Bowl NFL fullback Craig "Ironhead" Heyward
One of the biggest, baddest, best-nicknamed running backs in NFL history was fullback Craig "Ironhead" Heyward.  
The 5-foot-11, 260-plus-pound battering ram hailed from Passaic, New Jersey, and played running back for the University of Pittsburgh Panthers. During his senior season, he rushed for 1,791 yards, scored 12 rushing touchdowns, caught 12 passes for 207 yards, and added a TD through the air.
This performance was enough to earn the big man a Consensus All-American nod and inclusion on the Heisman Trophy Finalist list. The 1987 award ultimately went to Notre Dame's Tim Brown (Craig finished fifth), but the performance convinced the New Orleans Saints to pick Ironhead No. 24 overall in the 1988 NFL Draft.
Craig played five seasons in New Orleans before spending a year with the Chicago Bears. He then made his way to Atlanta, where head coach June Jones decided to give him the ball as a more traditional RB, like in college.
Cameron's dad (Craig's future NFL-playing son was born in 1989) had his best statistical seasons with the Falcons. In three seasons, he got 491 carries and ran for 2,183 yards and 16 TDs, which were all around half of his career totals. He even made the Pro Bowl in 1995 during his one and only 1,000-plus-yard rushing season.
Ironhead left Atlanta and played for the St. Louis Rams in 1997 before finishing his career in 1998 with the Indianapolis Colts. It was in that last stop where he played with a rookie QB named Peyton Manning.
Craig Heyward tragically died from cancer at 39 in 2006, five years before his son's debut with the Pittsburgh Steelers.
Peyton Manning shared that Cameron Heyward told the QB he played with his father and got in his head prior to a playoff game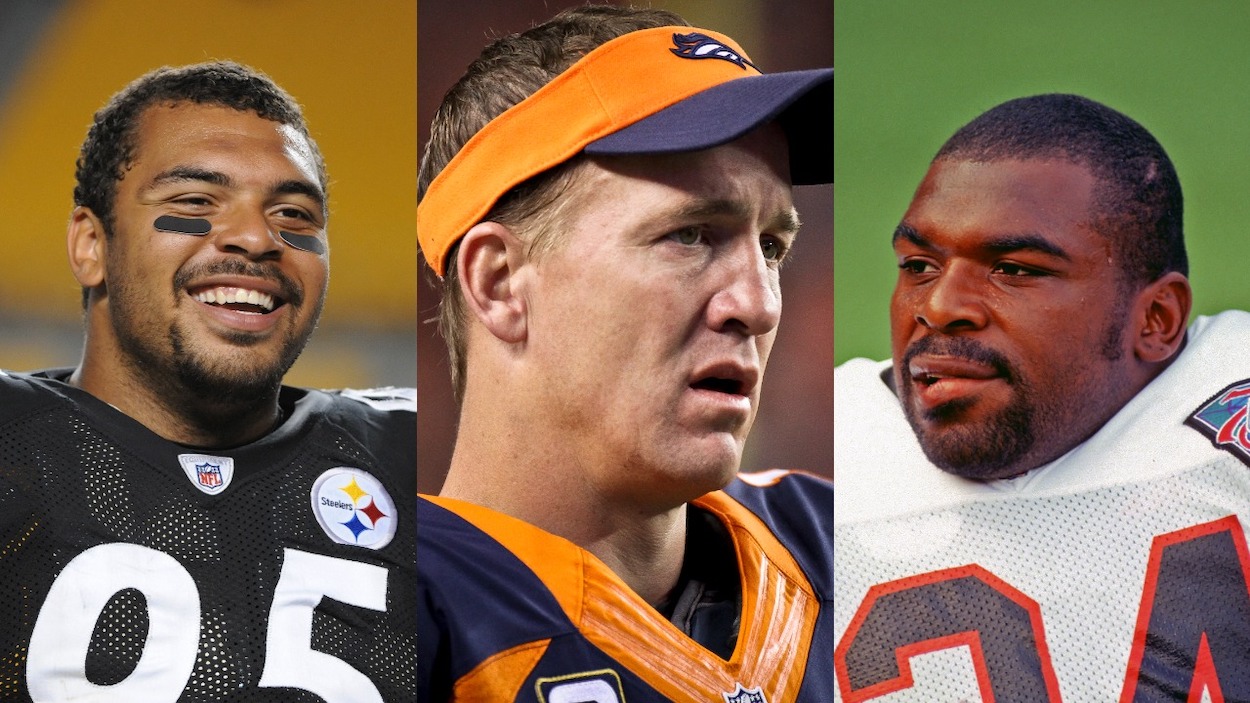 In Week 17, Peyton Manning called the Monday Night Football game between the Cleveland Browns and Pittsburgh Steelers. During the Manning Cast, Peyton shared with his brother Eli a story that recalled the late, great fullback.
After Craig Heyward's son and veteran Steelers defensive lineman Cameron Heyward sacked the Browns' Baker Mayfield, Peyton talked about an interaction between him and the younger Heyward that happened back in the Hall of Fame QB's playing days.
After sharing his disgust about Cleveland's play-calling that led to the sack, Peyton then told Eli:
Hey, Eli. How about Cam Heyward? I was at a coin toss with him of a playoff game, and he tells me before the coin toss, 'Hey, you played with my dad.' I was like, 'Wow.' You talk about feeling old. I played with Craig 'Ironhead' Heyward my rookie year with the Colts. But when you're playing against somebody's son in an NFL game, that means you're old. That's why I retired three games later.

Peyton Manning on playing against Cameron Heyward and with his dad, Craig Heyward
Despite Cameron Heyward making Manning feel his age, the old-timer still had a little left in the tank after that exchange for both the Steelers and the rest of the NFL.
Manning and the Denver Broncos still won the game in question
The Denver Broncos, led by a 39-year-old Peyton Manning at QB, faced off against the Pittsburgh Steelers, featuring a 26-year-old Cameron Heyward, in the Divisional Round of the 2015 NFL Playoffs.
Peyton and the Broncos came into the game off a first-round bye after a 12-4 season. Cameron and the Steelers finished 10-6 that year and were following a Wild Card Round upset of the Cincinnati Bengals.
The game started as a defensive battle. Both teams struggled to score points, and the Broncos (a -7.5 favorite) found themselves down 13-9 midway through the third quarter. From there, Peyton and the Broncos went on a 14-3 run to win the game 23-16.
After gritting out the W against Pittsburgh, Denver traveled to New England and ground out another tough win, beating the favored (-3.0) Patriots 20-18 to move on to the Super Bowl at Levi's Stadium in Santa Clara, California.  
There, Peyton and the Broncos had an easier time with the Carolina Panthers than they did with their two AFC opponents. The team took care of business 24-10, and the middle Manning brother lifted his second Lombardi Trophy.
And, just like Peyton said on the Manning Cast, three games after his exchange with Cameron Heyward, the QB retired from the NFL.
All stats courtesy of Pro Football Reference and Sports Reference