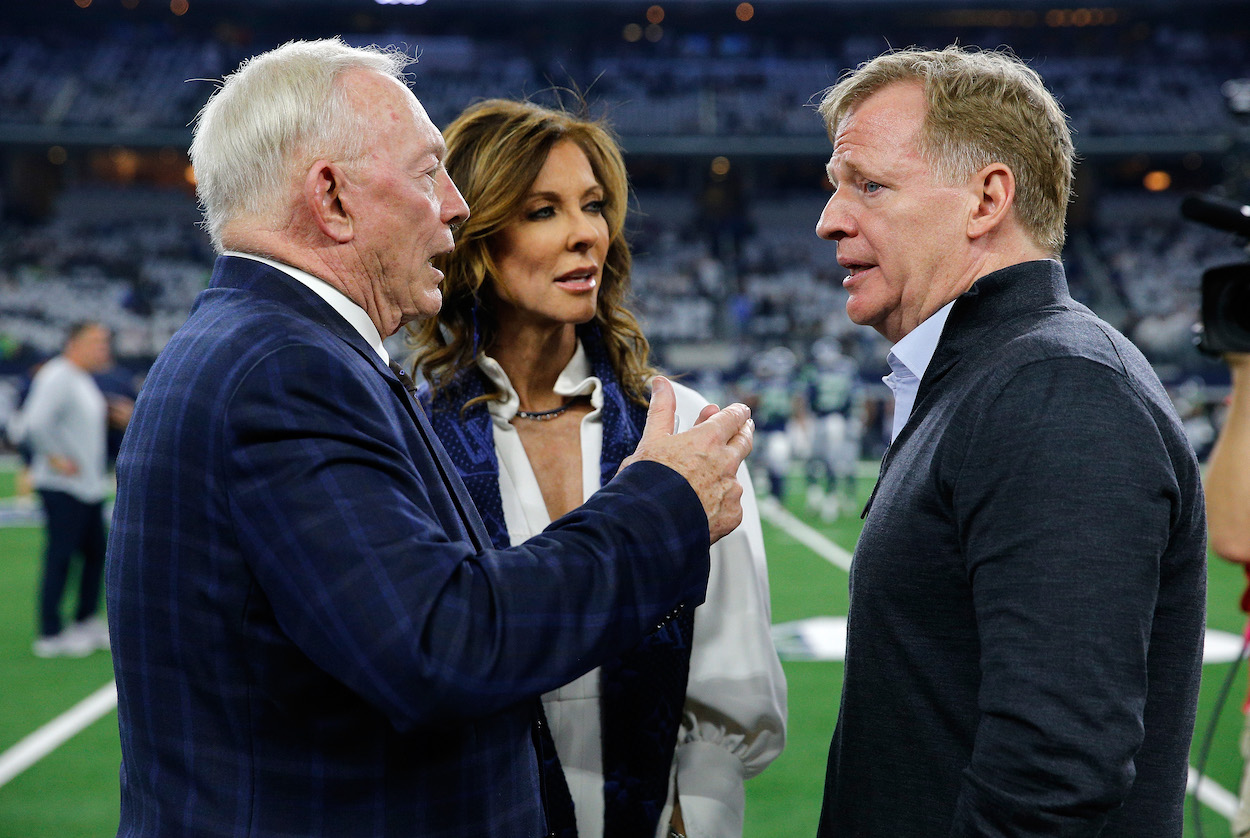 Roger Goodell Takes Not-So-Subtle Shot at Jerry Jones and His Mouth
Jerry Jones likes to talk. Sometimes he talks too much and the NFL has fined him for it. Last week, Roger Goodell didn't fine him but took a shot at Jones and his mouth.
Jerry Jones has been one of the most vocal owners in all of sports since he purchased the Dallas Cowboys. Not surprisingly, his outspokenness has rubbed fellow owners, the media, players, and fans the wrong way on more than a few occasions. In a recent owners' meeting on the NFL's new TV deal, Commissioner Roger Goodell took a not-so-subtle shot at Jones and his penchant for talking. 
Jerry Jones once fined more than $100,000 for his mouth
Jerry Jones has had more than his share of run-ins with the NFL. In 2008, Roger Goodell and the NFL fined Jones $25,000 for comments he made during his radio show where he criticized referee Ed Hochuli and his crew for calling a disproportionate number of penalties on the Cowboys. Jones was just getting warmed up.
A year later, Jones once again drew the ire of the NFL office when he broke a gag order put in place by Goodell and discussed the league's CBA negotiations. The price tag—a hefty $100,000. 
Fast-forward to 2017. That's when Jerry Jones pushed the envelope with Roger Goodell. After the NFL suspended Dallas running back Ezekiel Elliott six games for violating the league's personal conduct policy, Jones spearheaded an effort with several other owners to disrupt negotiations over Goodell's contract, including the threat of legal action.
In the end, Goodell signed the new contract, Elliott served out the suspension, and Jones was required to pay $2 million to the league, not as a fine, but as reimbursement for legal fees.
Roger Goodell takes not-so-subtle shot at Jerry Jones
Jerry Jones and Roger Goodell obviously have a history together. Last week the NFL owners gathered via conference call to discuss the details of the massive new television deal, which starts in 2023 and will run through the 2033 season and pay the NFL a staggering $113 billion. 
According to Pro Football Talk, a source with knowledge of the call said Jones tried to speak during the meeting but couldn't be heard by anyone on the call. Roger Goodell couldn't pass up the opportunity and took a shot at Jones.
"We finally figured out a way to mute him," Goodell joked with the group. Goodell's comments are accurately summed up in the famous quote by the father of psychology Sigmund Freud who said, "There is a grain of truth in every joke."
Cleveland Browns owner took shot at Cowboys owner last season
Jerry Jones' words and actions have provided ample fodder for others to criticize him through the years. A similar situation to the one last week occurred last year in another virtual meeting of NFL owners. 
During the roll call, Jones never responded when his name was called. Someone from the league office suggested the Cowboys owner had his mute button activated.
"They should keep Jerry on permanent mute," Cleveland Browns owner Jimmy Haslam said, not realizing his own microphone was not muted.
Eventually, Jones joined the call. There was no report on whether or not he ever responded to Haslam's remarks. 
Jerry Jones has never been one to shy away from sharing his thoughts. It's pretty evident some folks in the NFL might not always want to hear what he has to say.