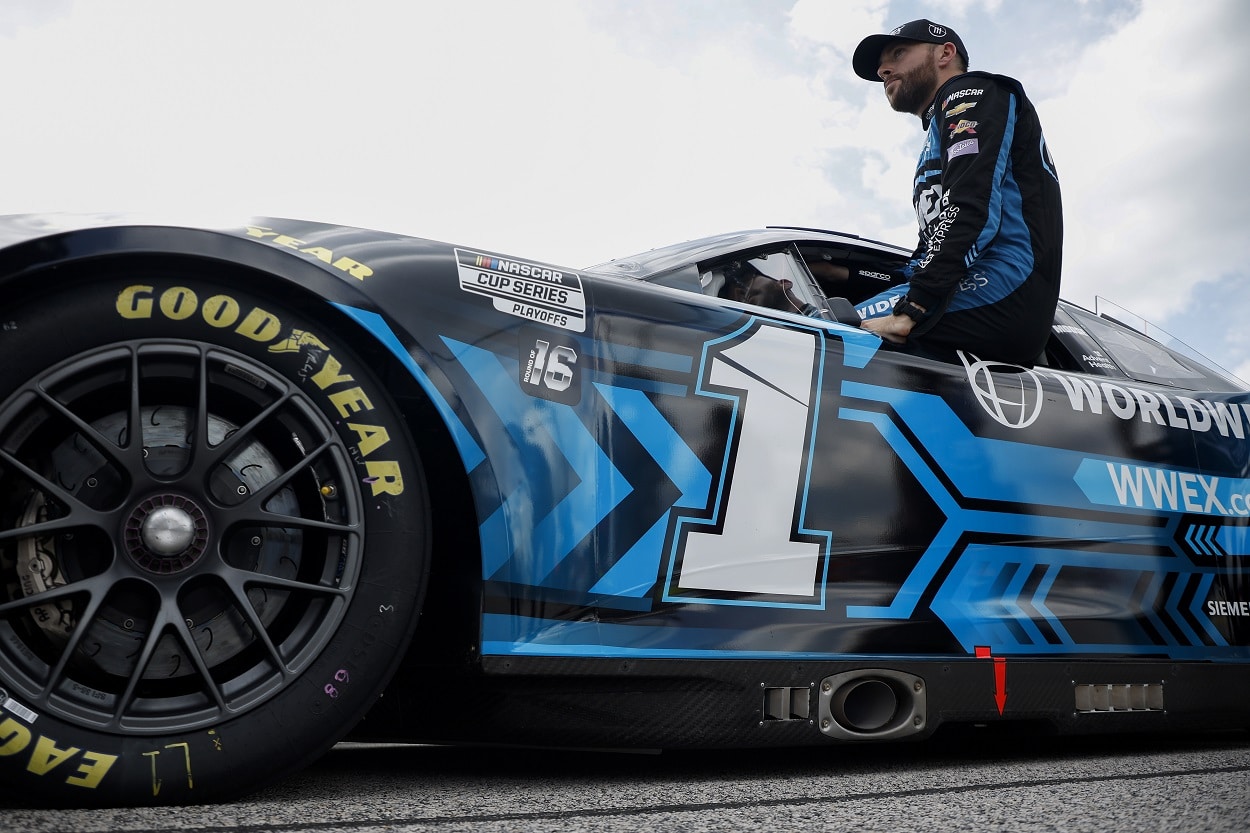 Ross Chastain Could Be Out of the NASCAR Playoffs Before Any Real Retaliation Comes His Way
Ross Chastain could be out of the NASCAR Playoffs a lot quicker than expected.
Ross Chastain entered his first NASCAR Cup Series playoffs with a proverbial bullseye on the back of his No. 1 car for Trackhouse Racing, but he could be out of championship contention before any driver has a chance to hit it.
Ross Chastain has been the surprise driver of the year
At age 29, Chastain has had a breakout season in his fourth full-time NASCAR Cup Series campaign. He has more than doubled nearly all of his previous career highs and still has nine races left in the season.
He has also won his first two Cup Series races. He bumped A.J. Allmendinger and Alex Bowman aside in March at the Circuit of the Americas in Austin, Texas, for his first career win and followed up a month later with a victory at Talladega Superspeedway.
He climbed all the way to second in the points standings by Memorial Day Weekend and six straight top-10 finishes from the start of June through the middle of July. Unfortunately, he created some enemies along the way.
The 'Melon Man' has had run-ins with several drivers throughout the year
His first victim was Denny Hamlin early in the June 5 race at World Wide Technology Raceway near St. Louis. Chastain had hounded Hamlin for several laps and eventually bumped him into the Turn 1 wall on Lap 65 of a 240-lap event. He then made contact with Chase Elliott shortly after a restart fewer than 40 laps later. 
Chastain had to dodge several blocking attempts by Hamlin in a wounded car to still finish eighth, but he had drawn the ire of two of the favorites to contend for this year's championship.
More Chastain-caused calamity occurred a month later when the series visited Atlanta Motor Speedway for the second time this season. Chastain finished second but was involved in wrecks with Austin Dillon and Hamlin (again) on his way to that runner-up finish.
"I've reached my peak," Hamlin said after the race about his frustration with Chastain.
Hamlin's comment hinted that payback was in store, and it undoubtedly played a factor two weeks later when Chastain tried to pass Hamlin for the lead in the high lane as they exited Turn 1 at Pocono Raceway. Hamlin left Chastain marginal room to make a pass, and Chastain ended up in the outside wall.
Chastain spun down the track in a wreck that ended his day. Hamlin went on to win the race, although NASCAR disqualified his victory because his No. 11 car failed post-race inspection.
Hamlin did not blatantly wreck Chastain at Pocono, which opened a debate about whether he would still ruin one of Chastain's playoff races when a potential championship was on the line.
Elliott, Dillon, Bowman, Allmendinger, and Martin Truex Jr., who was upset with Chastain in May at Dover Motor Speedway, could do the same, but it might not matter if Chastain is not in contention in the first place.
Chastain was on a cold streak headed into the playoffs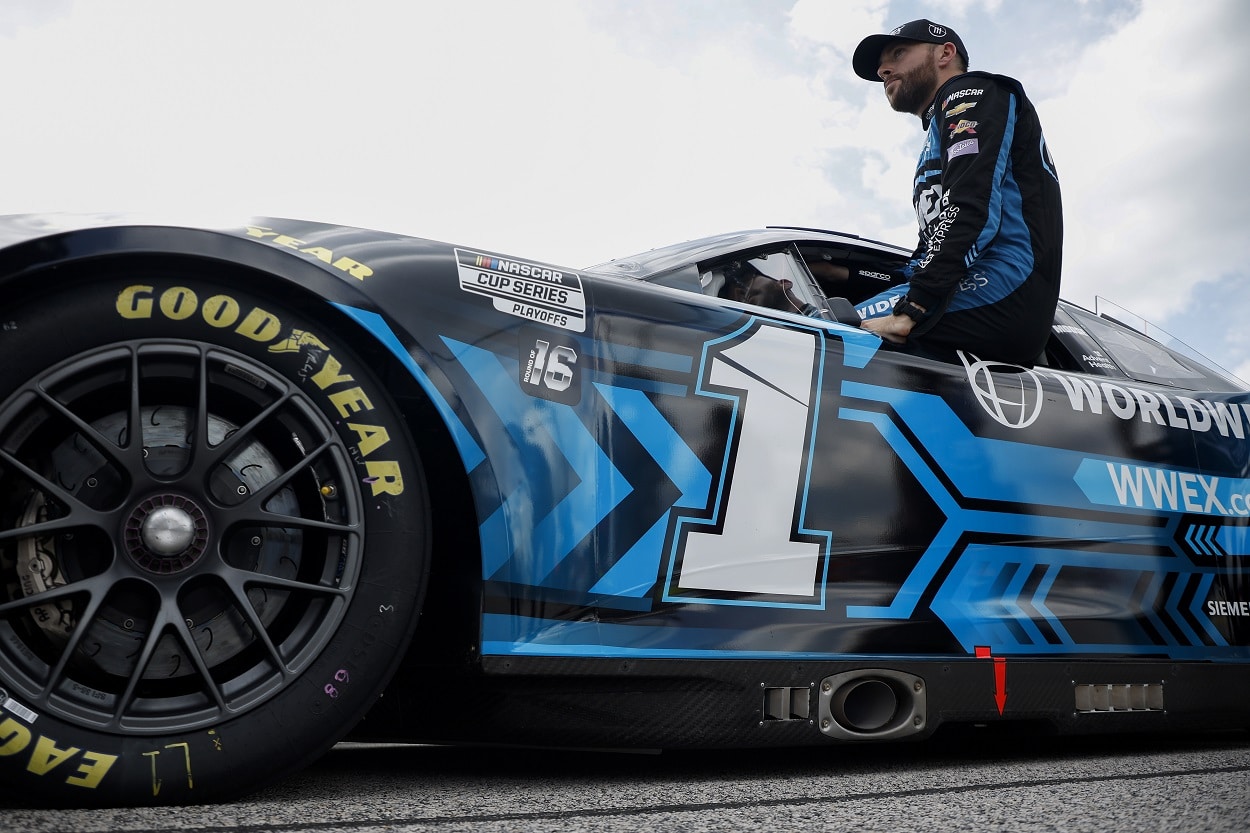 He opened the NASCAR Playoffs as the No. 3 seed in the playoffs thanks to his two wins and a sixth-place finish in the regular-season points standings. He is now eighth after one playoff race because mechanical problems in the rear of his car disrupted his middle of the race, and he could only climb back to 20th.
That comes on the heels of his worst stretch of the season. Chastain has finished 20th or worse in six of his last seven races since Hamlin sent him spinning at Pocono, and his only top-20 during that span was an 18th-place result at Richmond Raceway.
Chastain's momentum from earlier in the season is gone, and his margin for error is smaller now in the final two races of the first round. 
He benefited from problems for several other playoff drivers at Darlington, which helped keep him above the cutline for now. However, another lousy race could put him in a precarious position when the series heads to Bristol Motor Speedway in two weeks to complete the first round of the postseason.
Chastain certainly doesn't want to depend on Bristol to sustain his playoff run. He has only finished in the top 20 in five career races on the concrete half-mile surface. Even if Chastain does run well at Bristol, "The World's Fastest Half-Mile" is one of the premier sites on the schedule for payback because of the typically close-quarters racing it produces.
Either way, it will be imperative for Chastain and the No. 1 team to stop their slide at Kansas.
Otherwise, all of the much-hyped payback that potentially awaits Chastain might not even matter because the breakout star of the regular season could suddenly be one of the first drivers out of the playoffs.
Stats courtesy of Racing Reference
Like Sportscasting on Facebook. Follow us on Twitter @sportscasting19 and subscribe to our YouTube channel.