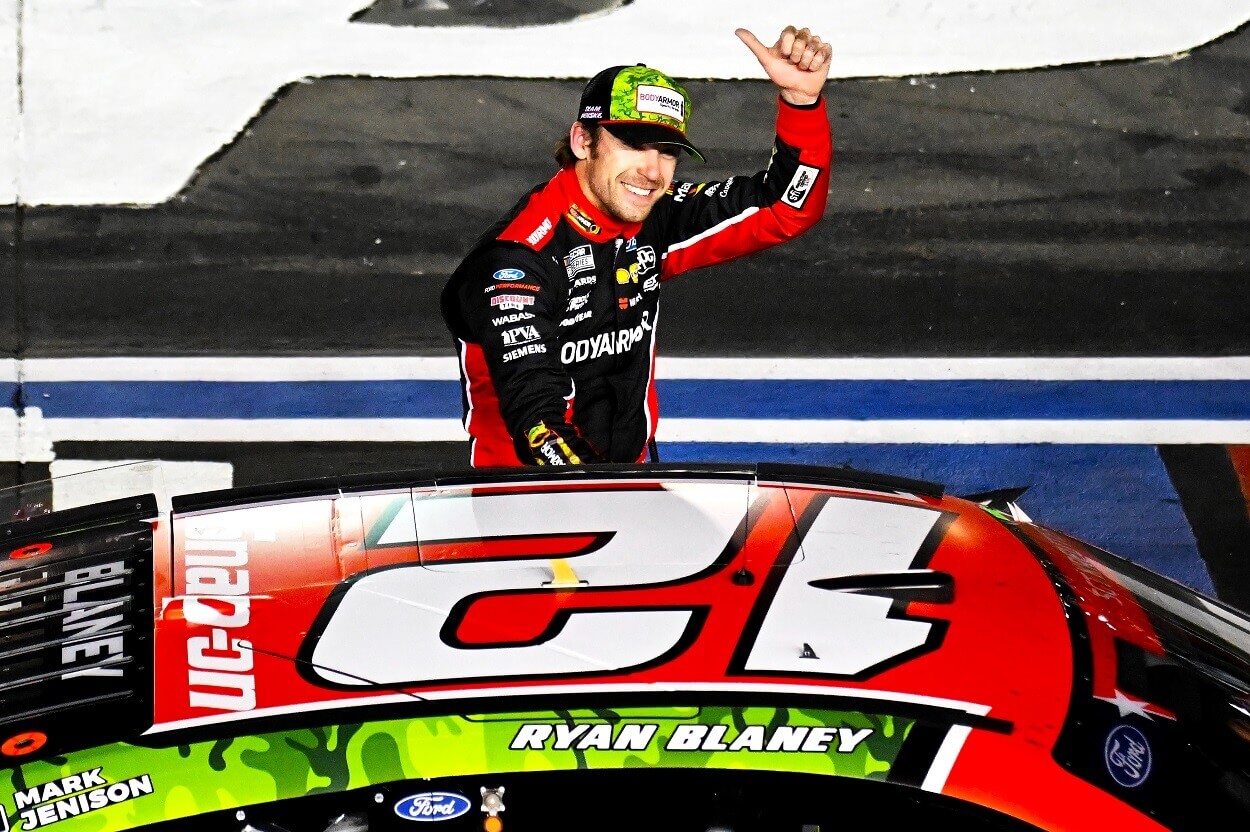 Ryan Blaney's Winless Streak Resembled Those of Carl Edwards
Ryan Blaney ended a long losing streak this past Monday at the Coca-Cola 600.
Ryan Blaney brought an end to one of the longest winless streaks among top NASCAR Cup Series contenders Monday with a victory in the Coca-Cola 600 at Charlotte Motor Speedway and relief that recalled several similar streaks in one of the more unique careers in recent NASCAR history.
Carl Edwards had several long winless streaks across his stellar Cup Series career
Carl Edwards had three winless streaks of more than 50 races across his 13 seasons in the Cup Series and still managed to win 28 races to go with two runner-up championship finishes in 2008 and 2011.
Edwards burst onto the scene in 2004 with Roush Racing, which was then the top Ford program in the series. He scored five top-10 finishes during a 13-race slate in 2004 and then won a staggering four races in his first full-time season of 2005, finishing third in the championship standings.
A 56-race drought followed, however. Edwards won back-to-back races at Atlanta Motor Speedway and Texas Motor Speedway late in the 2005 campaign, and he did not return to Victory Lane until the June 2007 race at Michigan International Speedway.
Edwards won 11 more times before the end of the 2008 season but then entered the first of two 70-race winless streaks in his career. He did not celebrate in a Cup Series Victory Lane again until the penultimate race of the 2010 season at Phoenix Raceway, which was also the track where he broke his second 70-race streak in 2013.
Cup Series drivers typically hit extended dry spells later in their careers as their skills start to decline, even ever so slightly, or when they drive for underfunded teams that are incapable of providing a car fast enough to contend for victories. Brad Keselowski has a 76-race streak at age 39, but his situation is unique because he chose to leave Team Penske and become a co-owner of what is now RFK Racing, an organization that was badly in need of a rebuild.
Blaney's streak covered 59 races, including his entire age-28 season of 2022, just after he had won a career-high three races the year before. He also drives for Team Penske, which is the top Ford team in the sport and one of the powerhouse organizations in NASCAR.
Ryan Blaney had been a consistent winner before his cold streak
Blaney has not yet had the same boom-or-bust type of career that Edwards did. The 29-year-old driver of the No. 12 car had won at least one race in five consecutive seasons before he was shut out of Victory Lane last year, aside from a win in the exhibition All-Star Race at Texas.
Blaney would also need 20 more victories to match Edwards' career total, but he has plenty of time to reach those numbers. Edwards had 161 more starts in a career he voluntarily ended early by retiring after the 2016 season at age 36. 
Blaney also still reached the Round of 8 in the playoffs last year without the benefit of a victory along the way, and he has finished inside the top 10 in the points standings in every full-time season except his rookie year of 2016 when he drove the No. 21 car for Wood Brothers Racing.
Team Penske struggled through the first half of the 2023 regular season compared to the organization's best years, but Blaney and teammate Joey Logano, the defending series champion, figure to remain strong contenders for a spot in the Championship 4 again this season much the way Edwards did in his 11 years with Roush and two with Joe Gibbs Racing.
Edwards provided an example that drivers can still be regular contenders through the prime of their careers, even if they have a winless season or three along the way. In just one week, Blaney shed the winless streak tag and is now only one point shy of Ross Chastain for the points standings lead with 12 races left in the regular season.
Edwards typically won several races shortly after breaking a winless drought
Edwards also proved that sometimes the end of a winless streak is the start of a bountiful stretch of victories. Maybe the relief Blaney and his team feel this week will translate into a large number of victories during a season in which no driver has established dominance, even though some, such as William Byron and Kyle Larson, have flashed that potential.
The series will now head to World Wide Technology Raceway near St. Louis, where Blaney finished fourth, and Logano won the inaugural Cup Series event at the facility a year ago. In fact, June was one of the most productive months for Blaney in 2022. He finished sixth or better at the next three tracks on the Cup Series schedule.
In a switch reminiscent of Edwards, Ryan Blaney could suddenly go from one of the coldest streaks in the series to one of the hottest, with several of his best tracks from a year ago teed up next on the Cup Series slate.