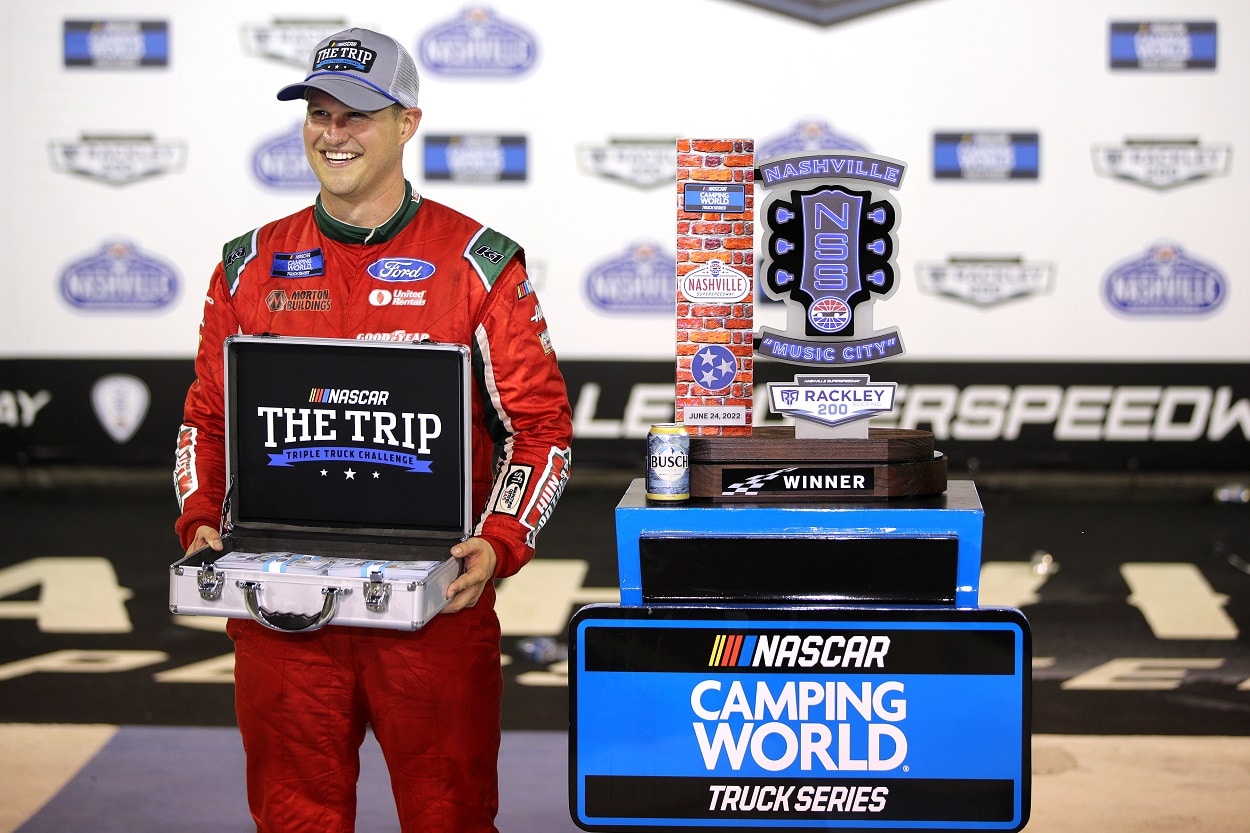 Ryan Preece Should Be a Lock to Replace Aric Almirola With Stewart-Haas Racing
NASCAR Truck Series star Ryan Preece should be making the jump to the Cup Series next year.
Ryan Preece had to take a step back in his NASCAR career this season to become a part-time reserve driver for Stewart-Haas Racing. Still, it is a decision that increasingly appears as if it will propel his career several strides forward.
Ryan Preece has had a long, winding career path in NASCAR
Preece is a 31-year-old driver from Connecticut who spent his early racing years in the NASCAR Whelen Modified Tour, where he won 15 races and the 2013 series championship before he moved up to NASCAR full-time in 2016.
He ran the full 2016 Xfinity Series schedule for JD Motorsports in the No. 01 car but managed only a single top-10 finish with the underfunded program. That led to the first unconventional yet bold move of his career.
Preece dropped back and primarily drove again in the modified tour, winning five races, but he borrowed money to pay for sponsorship to drive the No. 20 car for Joe Gibbs Racing at New Hampshire Motor Speedway.
He finished second in that event and won both the pole award and the race two weeks later at Iowa Speedway for his first career victory in a NASCAR national touring series. That earned him two more races later in the season at Kentucky Speedway and Homestead-Miami Speedway. He finished fourth and fifth, respectively.
He split time again between the modified tour and the Xfinity Series in 2018. He gathered another Xfinity Series win for JGR in the spring race at Bristol Motor Speedway and had 10 top-10s in his 15 starts.
That success led to his first full-time Cup Series ride, as he joined JTG Daugherty Racing for the 2019 campaign.
He spent three years with that organization and managed only two top-fives, which put his career again at a crossroads.
Preece chose to become a part-time driver yet again
Preece might have been able to find another full-time Cup Series job with a backmarker team or a full-time spot in a lower series, but he once again chose an unusual direction that might have the biggest payoff.
Preece signed with Stewart-Haas Racing as a reserve driver for the 2022 season. He primarily works as a driver in a race simulator to help the organization prepare for upcoming tracks but also gets to run 12 races combined across the sport's top three series.
"This is a unique setup, but I feel like it provides me with the best opportunity to win races and contribute to a championship-caliber team while expanding my racing experience," Preece said in the SHR news release about the move.
Two of his 12 races came this past weekend at Nashville Superspeedway, and he made the most of his time in the Music City. Preece won the truck series pole and race for the second straight season Friday at the 1.33-mile concrete oval and finished sixth Saturday in the Xfinity Series event.
Preece has a combined nine starts so far in the Xfinity and Truck series this season, and he has four top-five finishes to go with seven top-10s.
The decision to be an SHR reserve driver might advance Preece's career significantly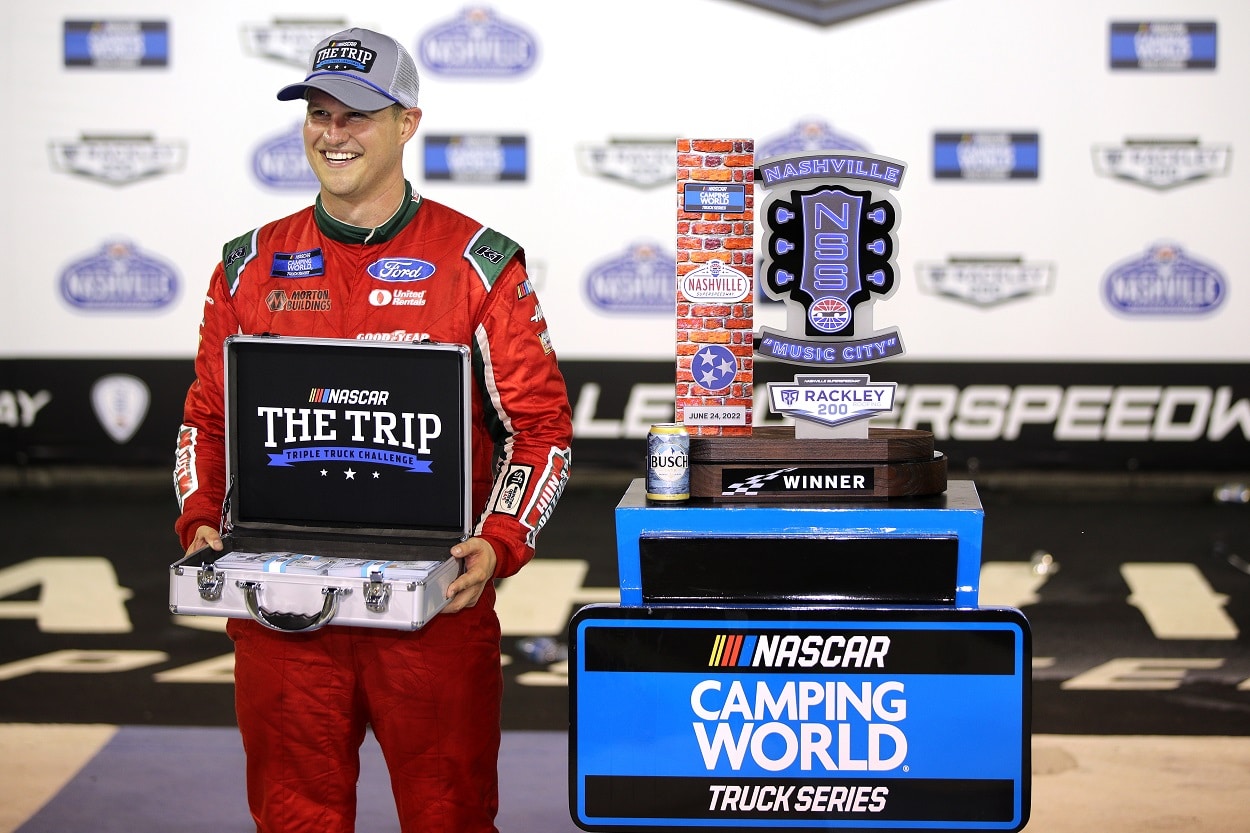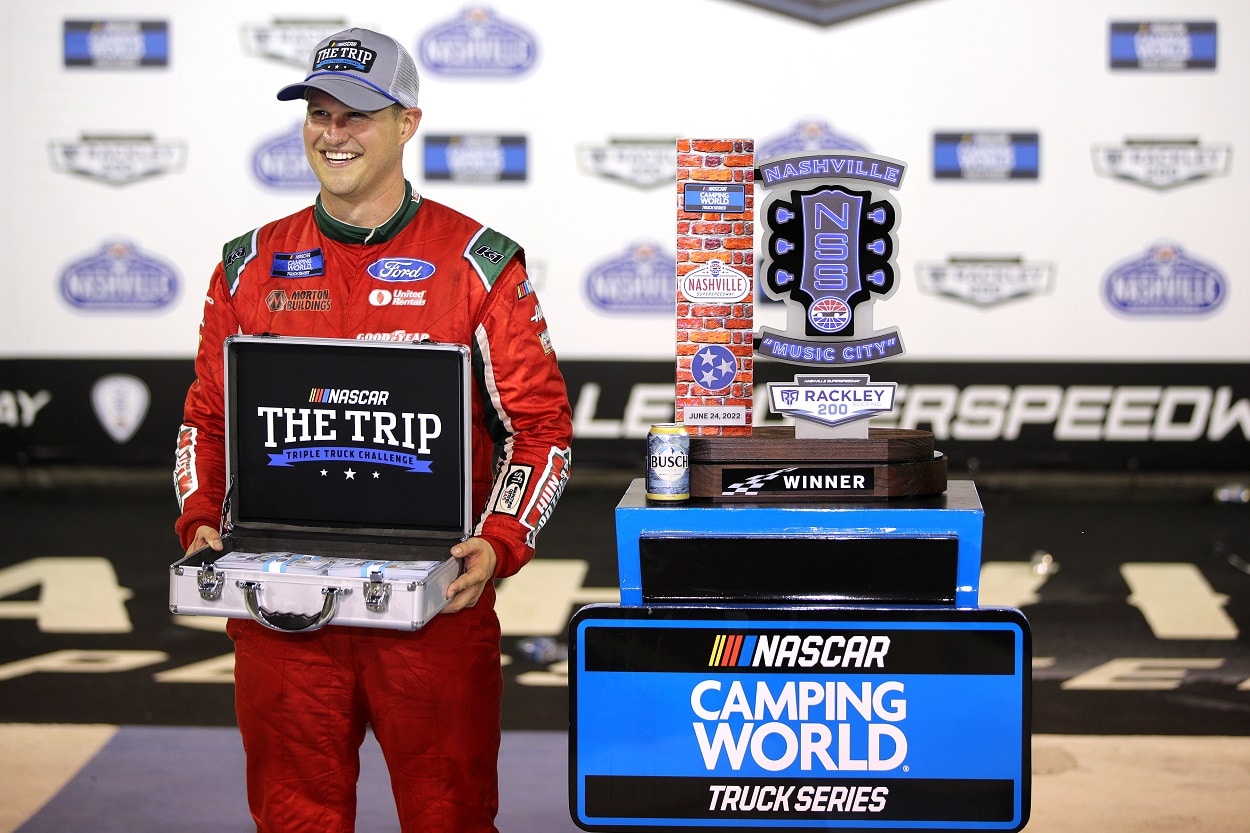 His career move is similar to John Hunter Nemechek's decision to leave the No. 38 Front Row Motorsports Cup Series car after the 2020 season to join Kyle Busch Motorsports full-time in the Truck Series.
Nemechek's next move has not yet developed despite six wins in a season and a half at KBM, but Preece could be in line for a full-time spot in a car for one of the powerhouse organizations in the sport.
Aric Almirola has driven the No. 10 car for SHR since 2018 but announced before the season he will retire when the 2022 campaign is complete. He has driven that car to two victories and has made the NASCAR Playoffs in each of the last four years.
The No. 10 car is a premier Cup Series ride with an organization that has placed at least two cars in the playoffs each year since Tony Stewart joined as a co-owner in 2009. Preece is situated as well as any driver to take over that seat next season now that he has performed well in the limited opportunities he's had to showcase his talent this season.
Yes, Riley Herbst has driven the SHR full-time Xfinity Series entry the past two seasons, but he has yet to win a race in a series above ARCA. He does have sponsorship backing from Monster Energy. Still, Preece has already shown he can win in competitive equipment, and perhaps Smithfield will stick around after Almirola's retirement and remain the primary sponsor of the No. 10 car.
Either way, Preece has taken two huge gambles on his future. Those decisions were laced with risks many drivers would never accept, but they are possibly about to pay off massively with a job that would allow him to compete for Cup Series race wins and championships.
Stats courtesy of Racing Reference
Like Sportscasting on Facebook. Follow us on Twitter @sportscasting19 and subscribe to our YouTube channel.