The Saints Could Soon Be Forced to Pay a $32.6 Million Price to Make a Costly Mistake Disappear
The New Orleans Saints seemingly set themselves up for long-term success on offense by signing Michael Thomas to a record-setting contract extension.
However, as the 2021 season rapidly approaches, the odds of the All-Pro receiver suiting up for another team seem higher than ever. Then again, that shouldn't be a major surprise given all the drama that's surrounded Thomas over the last year or so.
Unfortunately for the Saints, if they plan on making an expensive mistake disappear, they better prepare to pay some major financial consequences.
New Orleans should have some regrets about giving Michael Thomas a record-setting extension
Nobody questioned the Saints when they gave their top skill player a record-setting deal two summers ago. Then again, Thomas had established a reputation as a reliable receiver who Drew Brees could count on at any moment. It certainly seemed like a sound business decision to lock up one of the NFL's most productive wideouts and reward a homegrown star with a well-earned raise.
However, signing Thomas to a lucrative extension with nearly $61 million guaranteed looks like a massive mistake by a front office that generally gets things right most of the time.
After putting together a historic 2019 season that included an NFL-record 149 receptions, it's been all downhill for the Saints' No. 1 wideout. Limited to only seven games because of a nagging ankle injury, Thomas only caught 40 passes for 438 yards during his disappointing 2020 campaign. Besides not being available for most of the year, he created more controversy by punching teammate C.J. Gardner-Johnson in practice. New Orleans made Thomas inactive and fined him $58,823 for the incident.
Saints fans hoping for a brighter future have little reason to feel optimistic about the team's highly-paid wideout. Because Thomas delayed getting surgery on his nagging ankle, he projects to miss roughly a third of the upcoming season. And based on how the situation is trending, the idea of trading the 2019 NFL Offensive Player of the Year suddenly seems more realistic than ever.
In fact, dealing Thomas looks like a route the Saints may have to take in order to move forward as a franchise.
The Saints could be forced to pay an expensive price to make a huge headache go away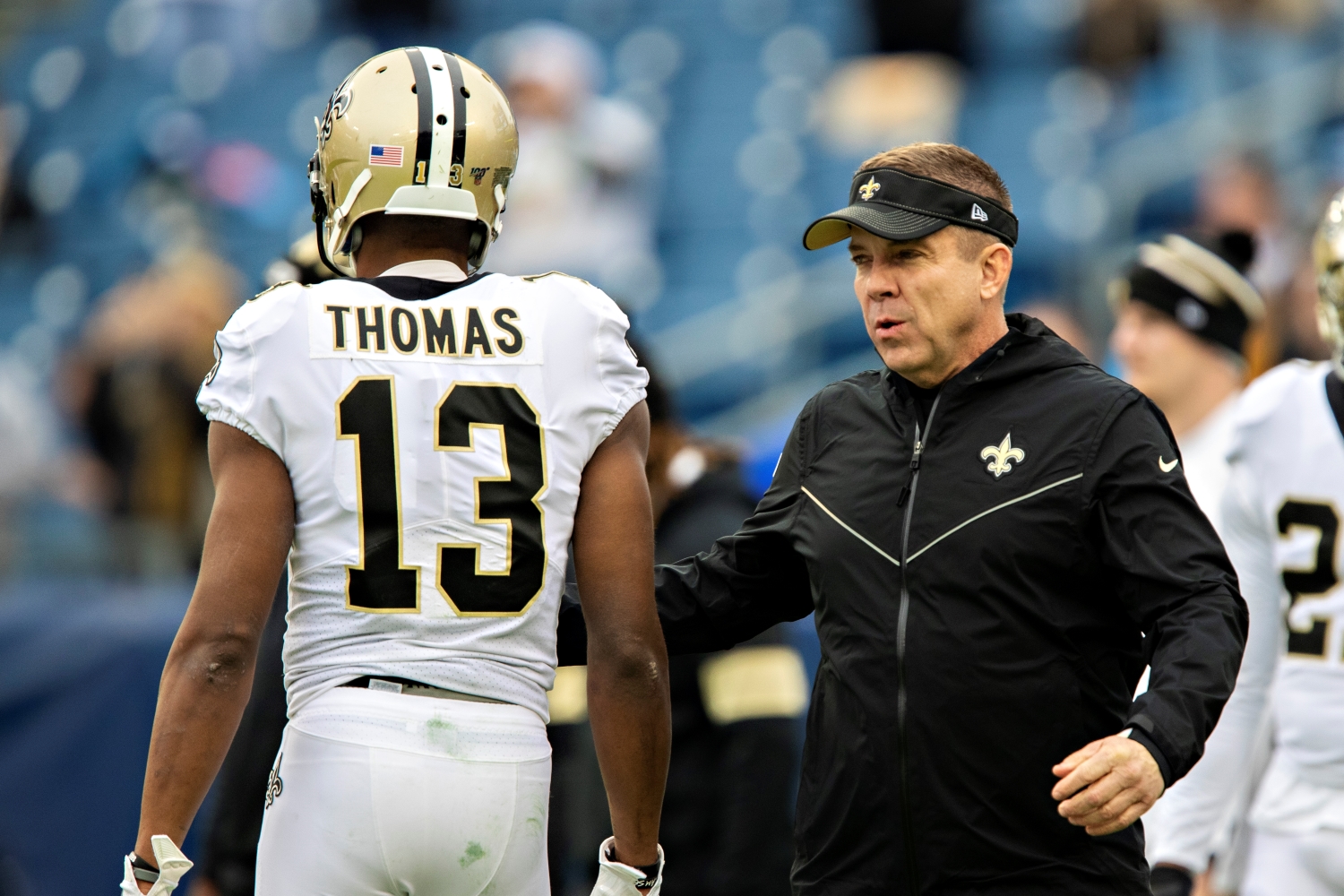 Will the Saints trade one of their most accomplished players in the coming weeks or months? Or will New Orleans find a way to work things out with Thomas?
At this point, the odds of the two sides making amends don't appear particularly strong. And if Thomas continues to cause drama, New Orleans will only look more foolish for signing him to a contract extension that carries significant salary-cap implications.
Unfortunately for the Saints, they could soon be forced to pay an enormously expensive price to make their costly mistake disappear.
As ESPN's Bill Barnwell pointed out on Twitter, a Thomas trade would result in $32.6 million in dead money for the reigning NFC South champions. New Orleans would incur an $8.9 million charge for 2021. That number would rise to a whopping $22.7 million in 2022.
Clearly, the Saints have to consider the financial ramifications of dealing one of their highest-paid players. Taking on such a significant amount of dead money would undoubtedly make it more difficult for the team to maintain a championship-caliber roster. However, in this case, trading Thomas might represent an "addition by subtraction" move that would permanently remove a distraction from the locker room. Plus, the Saints could get back an early-round pick or established player at a position of need by dealing him.
Which NFL teams should consider trading for Thomas?
If the Saints open their phone lines for business, who should they expect to get a call from?
Any list of potential suitors has to include the New England Patriots. During his two-decade tenure in Foxborough, Bill Belichick has taken chances on the likes of Corey Dillon, Randy Moss, and Rodney Harrison. Thomas could become the latest big-name star to rehab his image in a Patriots uniform. After all, acquiring an established playmaker would most certainly make life easier for Mac Jones and Cam Newton, right?
Meanwhile, one of the Patriots' biggest rivals should also be considered a viable landing spot for Thomas. The Kansas City Chiefs could use an upgrade at the No. 2 receiver spot, so why not give Tyreek Hill some help in the form of a two-time first-team All-Pro? And you can bet Patrick Mahomes would be on board with having another elite weapon at his disposal.
Several other AFC teams — including the Baltimore Ravens and the Indianapolis Colts — could strengthen their Super Bowl odds by trading for Thomas, too. Given the state of their respective receiver depth charts, both teams would benefit from making a deal for the 6-foot-3, 212-pound wideout.
Ultimately, even though Michael Thomas' stock has fallen, he should still be a coveted commodity.
So, if the Saints officially put him on the trading block, they shouldn't be surprised if there's significant interest from a number of teams across the league.
All statistics courtesy of Pro Football Reference. All contract data courtesy of Spotrac.