Saints Rookie Nolan Cooney Overcame Cancer and Learned to Punt by Watching YouTube
Punting for a 1-10 Syracuse University football team last fall gave Nolan Cooney plenty of opportunities to make up for lost time. Now, he's in the hunt to make the roster of the New Orleans Saints after overcoming a string of setbacks that few NFL players ever endure.
Nolan Cooney was a three-sporter in high school, but …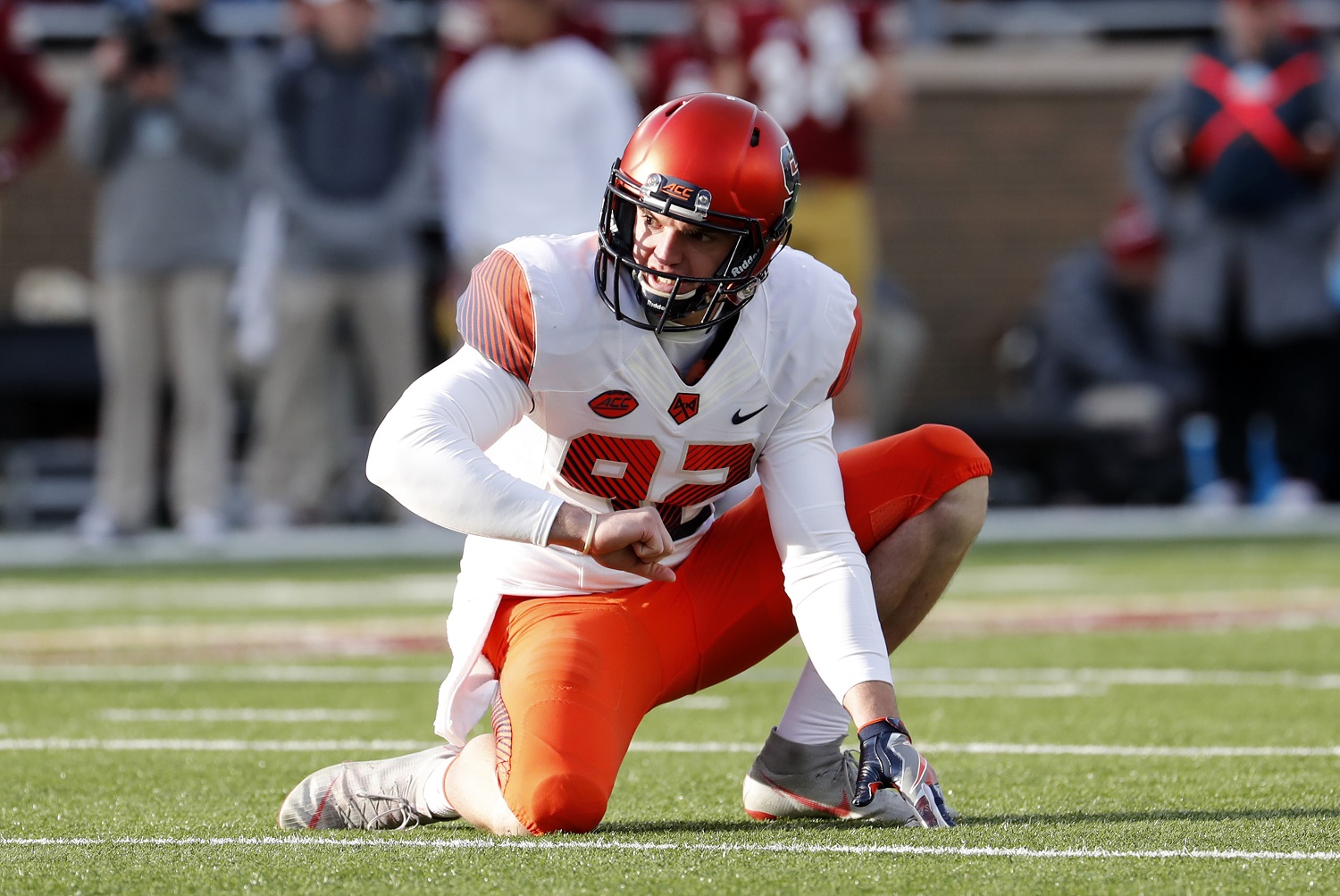 Playing three sports in high school is a common route to a college football scholarship and then a spot in the NFL. Not surprisingly, football is usually one of the three sports. That was Strike 1 in Cooney's pursuit of a pro career. The three sports he played at East Greenwich High School in Rhode Island were basketball, baseball, and soccer.
Cooney attended his first football camp in the summer before his senior year, and the staff told him that he showed potential. But all that did was bring him to Strike 2: His school district didn't allow students to play two sports in the same season, so Cooney decided to stick with his goalkeeper's role on the soccer team in the fall, according to ESPN.
Baseball was Cooney's best sport. He attracted a few offers to catch for some smaller colleges, but Cooney wanted to become a college punter. So, he enrolled in 2015 for a post-graduate year at a school in Maine and his first try at playing football.
Cooney overcame cancer while in high school
As if trying to make it onto a college football roster wasn't already tough enough, Cooney faced his most imposing challenge in the form of illness. He was diagnosed with testicular cancer in high school, and the disease spread to his lungs during his junior year. He finished his two months of chemotherapy treatments just in time to return to his basketball team for the playoffs.
In the interim, Cooney remained engaged in sports by attending a kicking camp. He learned that his soccer background contributed to a natural spin on kicks that helped his punting.
"Who knows what would've happened if I hadn't really stumbled upon this during what would seem for a lot of people to be a tougher time?" Cooney told ESPN.  "But maybe it was the greatest thing to ever happen."
Cooney continued the learning process by watching YouTube videos of punters to understand the mechanics of the task.
"You can learn a lot from studying film of other punters," Cooney said, "and hopefully they're willing to speak to things that work well for them."
One season of kicking at Syracuse and a crack at the NFL
Cooney didn't attract any FBS offers after his post-graduate year, but his persistence resulted in an invitation to walk on at Syracuse three weeks before the team reported to camp.
Cooney served an apprenticeship behind Sterling Hofrichter, now with the Atlanta Falcons. He worked his way up from the holder on field goals and extra points to the punter last fall as a fifth-year senior. With the Orange posting their worst record since 2005, Cooney led all FBS punters with 74 kicks for an average of 44.8 yards and a ratio of 24 balls downed inside the 20 to just three touchbacks.
No one bit on Cooney in the draft, but he did land Cooney on the Saints' roster. Barring a late acquisition, the kicking job will come down to Cooney or Blake Gillikin, a 2020 undrafted rookie. If Cooney prevails, some NFL rookie in 2027 could say he learned the craft by watching clips of Cooney on YouTube.
Like Sportscasting on Facebook. Follow us on Twitter @sportscasting19.