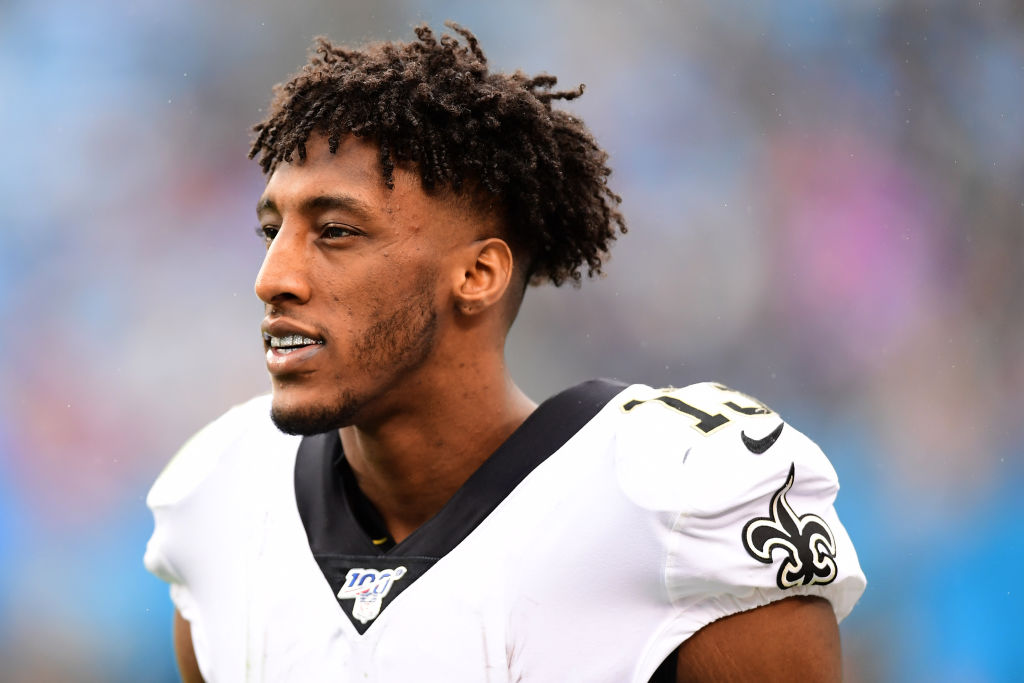 Saints Star Michael Thomas Is Helping Families Pay off $2.3 Million in Medical Bills
Michael Thomas is donating to an agency that helps Louisiana families pay their medical bills.
Wide receiver Michael Thomas has become a living patron saint to numerous New Orleans-area families struggling with medical bills by partnering with a local non-profit to wipe out debts.
It's just one more instance of the young NFL star making a difference.
A great start to his career
Two-time All-Pro Michael Thomas has been a consistent newsmaker on the field in his college and NFL career, posting nearly unimaginable numbers. And at just 27 years old, the Los Angeles native has many prime years remaining in his career.
Thomas made 18 touchdown receptions over his final two seasons at Ohio State, totaling 54 catches as a sophomore and 56 more as a junior before deciding to turn pro.
The New Orleans Saints made Thomas a second-round pick and the sixth wideout selected overall in the 2016 NFL draft, a decision that turned out to be a huge bargain. He has set NFL records for catches in a season and receptions through the first four seasons of a career.
Thomas became an immediate force as a rookie, starting 12 games and making 92 catches opposite Brandin Cooks. The Saints traded Cooks to the New England Patriots after the season, opening the door for Thomas to become the featured downfield option for Drew Brees. Although his touchdown production slipped from nine to five in 2017, Thomas made 104 catches to begin a streak of annual triple-figure production.
Michael Thomas has been machine-like the past two seasons
Michael Thomas began the 2018 season with a 16-catch afternoon against the Tampa Bay Buccaneers and never looked back. He set a league record with 38 catches through three games and finished the season with an NFL-high 125 receptions. Thomas was richly – and justifiably – rewarded by the New Orleans Saints in the form of $61 million guaranteed as part of a five-year, $100 million contract extension.
The Saints' return on the investment was immediate. Thomas broke the single-season record for catches held by Indianapolis Colts star Marvin Harrison by making 149 receptions. His nine scoring catches gave him 32 for his career.
He was an obvious choice for the AP Offensive Player of the Year honor, an award last bestowed upon a wide receiver when Jerry Rice was selected in 1993.
And even after all that, Thomas still occasionally must answer questions about whether he's the best wide receiver in the family bloodlines; his uncle is Keyshawn Johnson, who made 814 catches and scored 66 times in an 11-year NFL career.
Michael Thomas is helping the disadvantaged in New Orleans
Michael Thomas has been very busy recently getting behind causes.
Last month, the New Orleans Saints receiver worked with a local organization to donate over 3,000 meals for health-care employees, letting them know that their work was appreciated.
Last week, with protests in full swing over the killing of George Floyd by a Minneapolis police officer, Thomas played a significant role in getting NFL commissioner Roger Goodell to acknowledge the Black Lives Matter cause.
And now Thomas is lending his name and putting up $20,000 of his own money to assist a non-profit that helps Louisiana families wipe out medical expenses. RIP Medical Debt has announced its intention to spend $2.3 million to cover what is owed by 1,025 local families.
RIP Medical Debt applies donations toward purchasing the medical debt at a discount from care providers that might otherwise have to write off the accounts as uncollectable. That helps patients and their families from the additional burden associated with being labeled a bad credit risk.
"I'm honored to support my community in this way and make an impact in the city that's been so welcoming to me from the minute I came here," Thomas said in a statement released by the Saints.
All statistics are from Pro-Football-Reference.com.