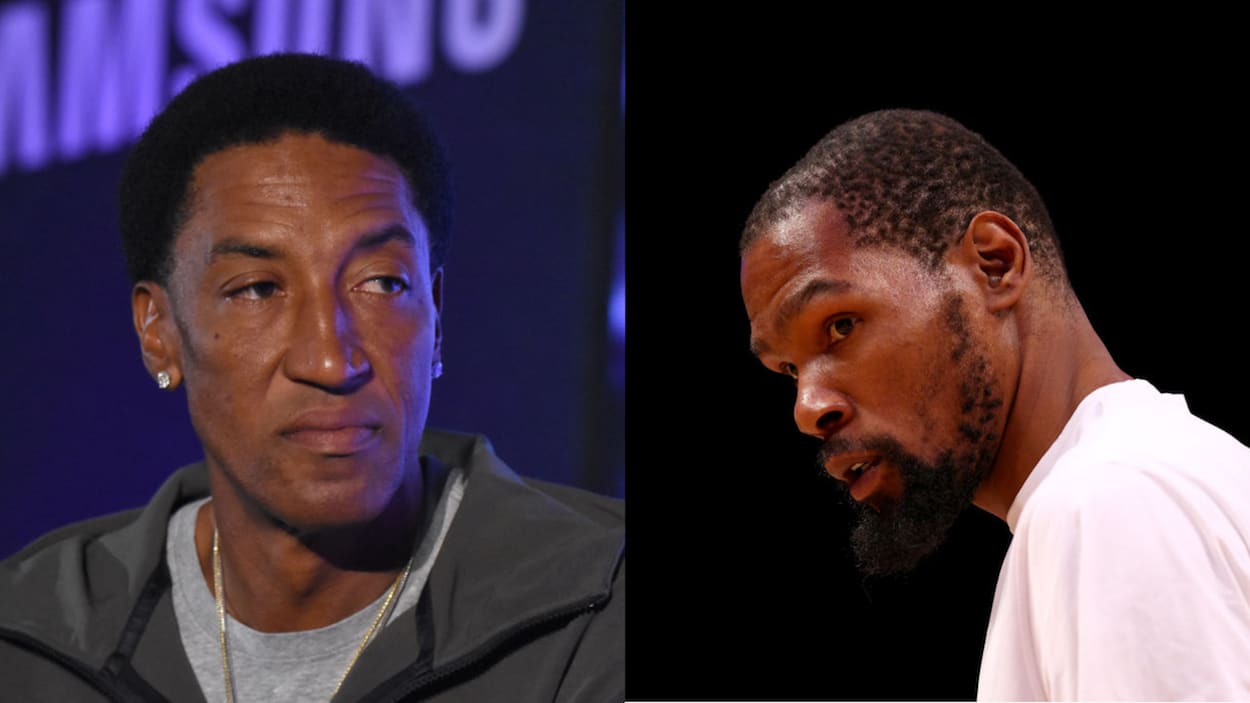 Scottie Pippen Boldly Supports Kevin Durant's Trade Request but Ignores an Important Factor
Scottie Pippen is the rare former player who didn't rip Kevin Durant for wanting to leave Brooklyn. The former forward, however, overlooks one key part of the equation.
While the Brooklyn Nets and their fans might not be too happy about it, Kevin Durant and his trade request have become the storyline of the NBA offseason. After an unhappy season and an early playoff exit, the star forward is apparently looking for greener pastures, which has led to plenty of condemnation from around the sports world. Scottie Pippen, however, refuses to throw stones.
If anything, the former Chicago Bulls placed himself firmly in Durant's corner. During a recent appearance on SiriusXM NBA Radio, Pip said that he has absolutely no problem with the trade request.
While Pippen is certainly right about some aspects of the trade request, he does overlook one important reality. Fans are caught in the crossfire, and they're allowed to be upset.
Scottie Pippen thinks guys like Kevin Durant are simply giving NBA teams a taste of their own medicine
Ever since he requested a trade, the sports media landscape has been overflowing with takes about Kevin Durant damaging his legacy and showing that he's not a bus driver. Scottie Pippen, however, has a different perspective.
"You know, that's the game today," he said during a radio appearance that's making its rounds on social media. "Players control their own destiny. Not much loyalty is needed on either side of the table anymore. So, I'm fair with it, to be honest. I kinda like how the players have the freedom to change. It's what the owners have been doing to the players for years, so they just evened the playing field to me. I don't feel bad for what KD is doing at all. I think it's a great move for him."
Although that point is probably a bit reductionist — trading a player who's under contract isn't exactly the holding out (which, to be fair, Durant hasn't done yet) — Pippen isn't completely wrong. It's generally accepted that teams can bench, trade, and play all forms of hardball with players. The draft, combined with rookie contracts, means that most guys have to spend multiple years in the Association before they're able to determine their own destiny. While you could argue that receiving multiple millions of dollars to play basketball makes those realties OK, we still don't bat much an eye at ownership exerting those forms of control.
Pip doesn't seem to consider the fans and their perspective on the matter
When you consider Scottie Pippen is a former player who signed a team-friendly deal with the Chicago Bulls, it's easy to understand where he's coming from. The former forward, however, is overlooking one part of the equation: fans.
To be clear, I'm not playing the sappy "Won't Kevin Durant think of the fans" card. At the end of the day, he should do what he feels is the right move for him and his career. That reality, however, doesn't mean that he won't be criticized.
At the risk of giving fans too much credit, I think they have a pretty good grasp on the state of their favorite team. They know when things are going well and can tell when the organization is headed downhill quickly. In the latter situation, it's more acceptable for a player to leave town.
Kevin Durant, however, isn't facing that situation. He spoke about coming to Brooklyn and building something special alongside Kyrie Irving. While things haven't gone according to plan, the roster hasn't exactly collapsed around him. This is, more or less, the Nets team he signed up to join. Leaving in these circumstances will obviously rub people the wrong way.
Had he spent a decade in Brooklyn and watched the franchise collapse, I'd wager that much fewer fans would hold a desire to leave against him. This situation, however, feels more like a desire to flee because things haven't gone exactly according to plan.
Again, Durant is completely entitled to request a trade. Should he feel that strongly about getting his way, he's welcome to hold out. But, by the same token, fans are allowed to judge his actions and assess his body of work accordingly. To be clear, I'm not advocating for personal abuse, throwing things at KD if/when he takes the floor, or anything like that. Viewing his legacy in a different light, however, is fair game.
On the whole, I don't think that many NBA fans would disagree with Pip's point about player power and leveling the playing field. The former forward, however, does overlook the "power" (for lack of a better word) that the folks buying tickets and sitting in the stands have.
By and large, that's who determines any player's legacy.
Like Sportscasting on Facebook. Follow us on Twitter @sportscasting19 and subscribe to our YouTube channel.