Scottie Pippen Claims Shaq and Kobe's Lakers Were 'a Lot More Scarier' Than the Golden State Warriors' Superteam, but He Had a Strong Message When Asked About Their Chances Against His Bulls
Scottie Pippen has been on somewhat of a revenge tour lately, trying to set the record straight on his legacy and what the Chicago Bulls dynasty was outside of Michael Jordan. However, that's not all he has talked about during his interviews.
Pippen recently discussed Kobe Bryant and Shaquille O'Neal's Los Angeles Lakers teams, and while he gave them some pretty massive praise, Pip also had a quick response when asked if they could beat his Bulls squads.
Scottie Pippen became familiar with Shaq and Kobe's Lakers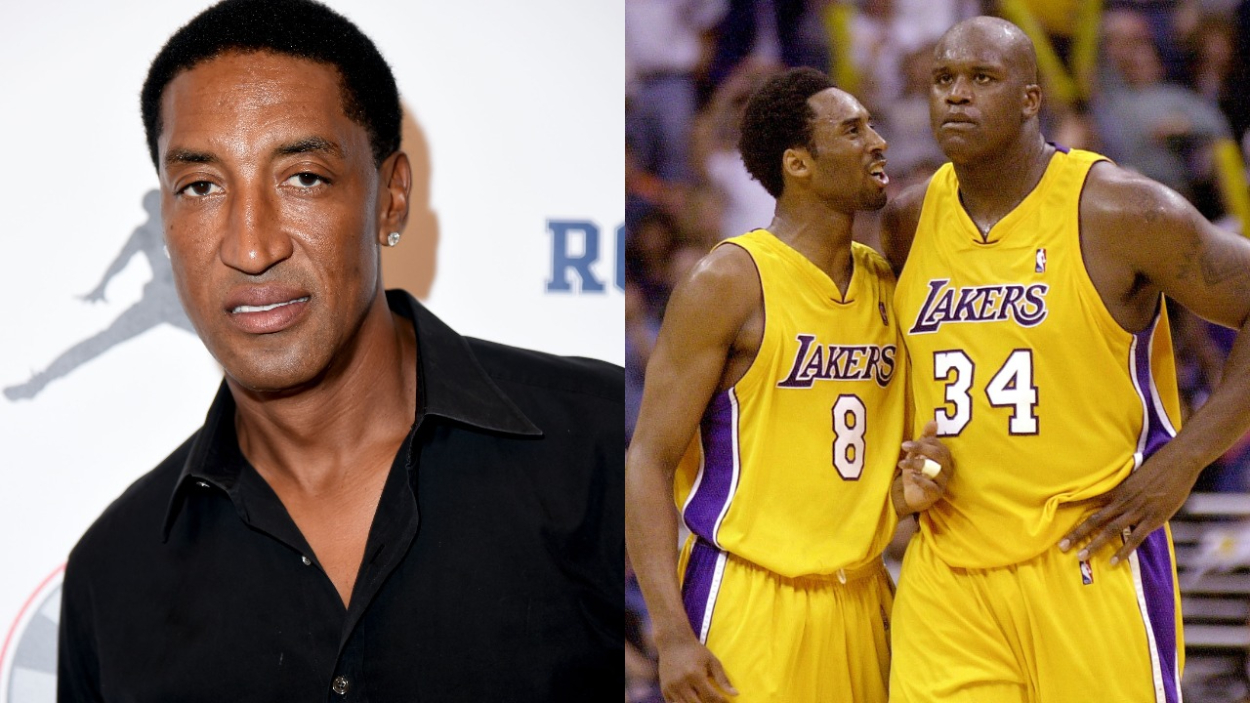 Scottie Pippen is remembered for his career with the Chicago Bulls in the Eastern Conference, but he also had significant success on the Houston Rockets and Portland Trail Blazers in the West. His time on that side of the country then led to him becoming quite familiar with Shaq and Kobe's Lakers.
From his 1998-99 campaign with the Rockets through his third year with the Blazers in 2001-02, Pippen played against LA in four consecutive postseasons.
In 1999, Scottie, Charles Barkley, and the Rockets lost to the Lakers 3-1 in the first round. But during the 1999-2000 campaign, Pippen and the Trail Blazers faced the Lakers in the Western Conference Finals. The series even went to seven games, but LA won 4-3 and went on to win its first of three straight championships.
Pippen and the Blazers also played the Lakers in the first round each of the next two seasons but lost in two consecutive three-game sweeps.
It's obvious the six-time champ has extensive knowledge of those Lakers teams. So, he recently shared his strong opinions about them.
Scottie praised the Shaq and Kobe Lakers teams
Pippen has been on a media tour to promote his new book, Unguarded, and when recently talking to SiriusXM NBA Radio, he made strong comments about the Shaq and Kobe Lakers, comparing them to the Golden State Warriors' superteam.
"He (Kobe) was definitely one of the toughest players that I've ever played against, especially once Phil [Jackson] got a hold of him and Shaq and got that team really playing together and playing with some chemistry," Pippen said. "They were a very special team. We talk about Golden State and what they did with their run. But the Shaq-and-Kobe era was, to me, a lot more scarier of what they could have done had they stayed together than the Golden State era."
But does Pippen think those Lakers teams could have beaten his and Michael Jordan's Bulls?
"I've said this to Shaq: The Bulls win in that. The Bulls win in that easy," Pippen said.
Comparing the Bulls, Lakers, and Warriors
Since Pippen brought it up, how do the Bulls, Lakers, and Warriors' championship teams compare? Here's a look at each of their resumes.
Chicago Bulls
Six championships between 1987-88 through 1997-98
Michael Jordan averaged 31.4 points, 6.4 rebounds, and 5.5 assists during those seasons (didn't play in 1993-94 and in most of 1994-95)
Scottie Pippen posted 18.0 points, 6.8 rebounds, and 5.3 assists per game
Dennis Rodman (only played there for three seasons) averaged 5.2 points and 15.3 rebounds
Los Angeles Lakers
Three championships between 1996-97 through 2003-04
Shaquille O'Neal averaged 27.0 points and 11.8 rebounds during those seasons
Kobe Bryant averaged 21.8 points, 5.0 rebounds, and 4.3 assists
Golden State Warriors
Have won three titles since the beginning of the Stephen Curry-Klay Thompson-Draymond Green era in 2012-13
Stephen Curry averaged 26.5 points, 6.5 assists, and 4.9 rebounds during their five straight NBA Finals runs (2014-15 through 2018-19)
Kevin Durant (only played there for three seasons and during two title runs) posted 25.8 points, 7.1 rebounds, and 5.4 assists per game from 2016-17 through 2018-19
Klay Thompson averaged 21.6 points and 3.7 rebounds during their five Finals runs
Draymond Green averaged 11.0 points, 8.1 rebounds, and 6.4 assists
Whichever dynasty you would rather take, you can't lose. They were each dominant in their own way.
It's certainly hard to argue, though, with the Bulls' six titles and two three-peats.
Stats courtesy of Basketball Reference