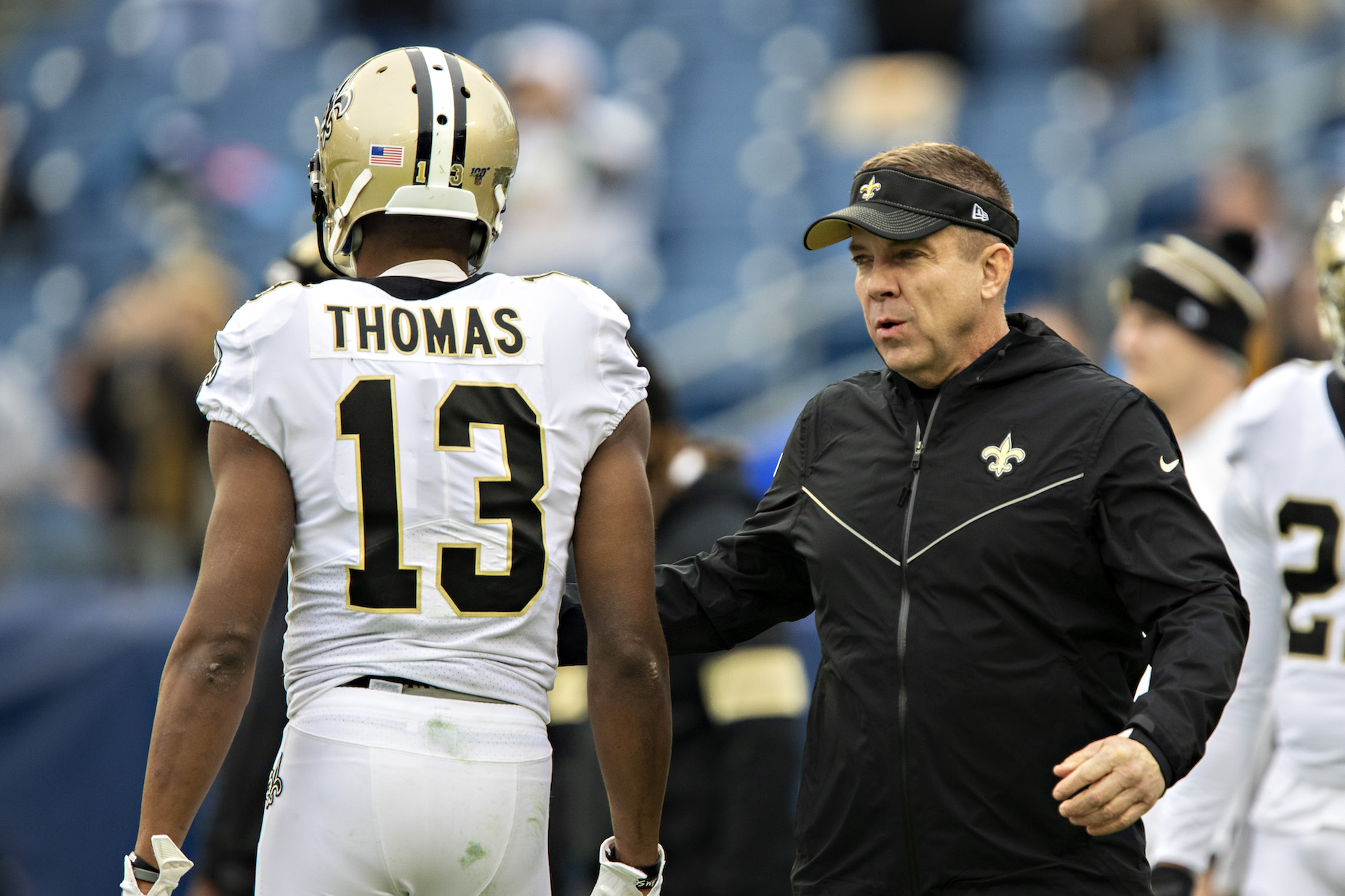 Sean Payton Just Send a Strong Message About the Future of the Saints' $96 Million Star
New Orleans Saints head coach Sean Payton recently took to Twitter and sent a strong message about Michael Thomas' future.
Ever since Sean Payton took over the New Orleans Saints, things have gone pretty well. Working alongside Drew Brees, the coach has transformed his club into the class of the NFC; the Saints have won a Super Bowl title and grown into one of the league's top offensive teams. In 2020, however, there could be some trouble in paradise.
This year, wide receiver Michael Thomas has missed time due to both injury and disciplinary issues; based on that reality, it wasn't shocking when rumors surfaced that the New Orleans Saints could be looking to move their receiver. Sean Payton, however, stepped in on social media to send a strong message about his $96 million star's future.
Michael Thomas has grown into one of the NFL's top receivers
In the modern NFL, wide receivers and quarterbacks run the show. That reality suits Michael Thomas and Drew Brees pretty impeccably.
Thomas played his college ball at Ohio State and, after redshirting as a sophomore, burst onto the scene. The receiver spent a total of three seasons on the Buckeyes' active roster, piling up 113 catches for 1,602 yards and 18 touchdowns, before entering into the 2016 NFL draft.
The New Orleans Saints snagged Thomas with the 47th-overall pick, and the receiver headed down to the Big Easy. He immediately slotted into the lineup and proved to be a perfect fit for Sean Payton and Drew Brees' explosive offense.
While his 2020 campaign has been a bit of a lost cause—the receiver has only played one game, due to a combination of injury and benching—Thomas has established himself as one of the NFL's top receiving talents. During his four full seasons of professional action, the receiver has pulled in 470 catches for 5,512 yards and 32 touchdowns; the fact that he received some serious MVP consideration during 2019 should tell you everything you need to know about his talents.
Could the New Orleans Saints trade Michael Thomas?
As his fantasy football owners probably know, Michael Thomas is inactive again for Week 7. His longer-term future, however, could be in jeopardy.
On Saturday, Mike Florio of ProFootballTalk reported that "some in league circles believe that the Saints could be willing to move him, and/or that Thomas could be interested in moving." While that might sound jarring, especially given Thomas' talent, there could be a case for it.
Given that Thomas was reportedly benched in Week 5 for punching a teammate, it's possible that things are crumbling behind the scenes. The club could also have concerns about his durability since the receiver has only suited up for one game this season.
At the same time, however, there's a strong case to keep the receiver on the roster. As Florio points out, the Saints would be out $7.4 million if they traded Thomas; from an on-field perspective, they'd also be trading a top talent and Drew Brees' number one target.
Sean Payton seems to suggest his $94 million star isn't going anywhere
Based on everything that's happened this season, Sean Payton probably isn't thrilled with Michael Thomas. At the same time, however, it seems like the Saints head coach isn't ready to give up on his $94 million star just yet.
On Saturday, Bleacher Report Gridiron sent out a tweet about the Saints' potential willingness to move Thomas. Payton replied to the tweet, simply saying, "Insiders on the Outside where they belong."
The underlying message of that tweet is pretty clear: Payton is suggesting that the rumors about Michael Thomas' future are unfounded. The fact that the coach couldn't wait until Sunday and took to his personal Twitter account to speak out suggests that he's pretty confident that his $94 million man isn't going anywhere.
With that being said, though, it is worth noting that public proclamations aren't always worth anything more than hot air. Bruce Arians, for example, said that there was no room for Antonio Brown on the Buccaneers roster; we, of course, all know how that worked out.
So what will the future hold for Michael Thomas and the New Orleans Saints? Sean Payton seems pretty confident that no trade is on the cards, but, ultimately, only time will tell.
Stats courtesy of Sports-Reference and Pro-Football-Reference