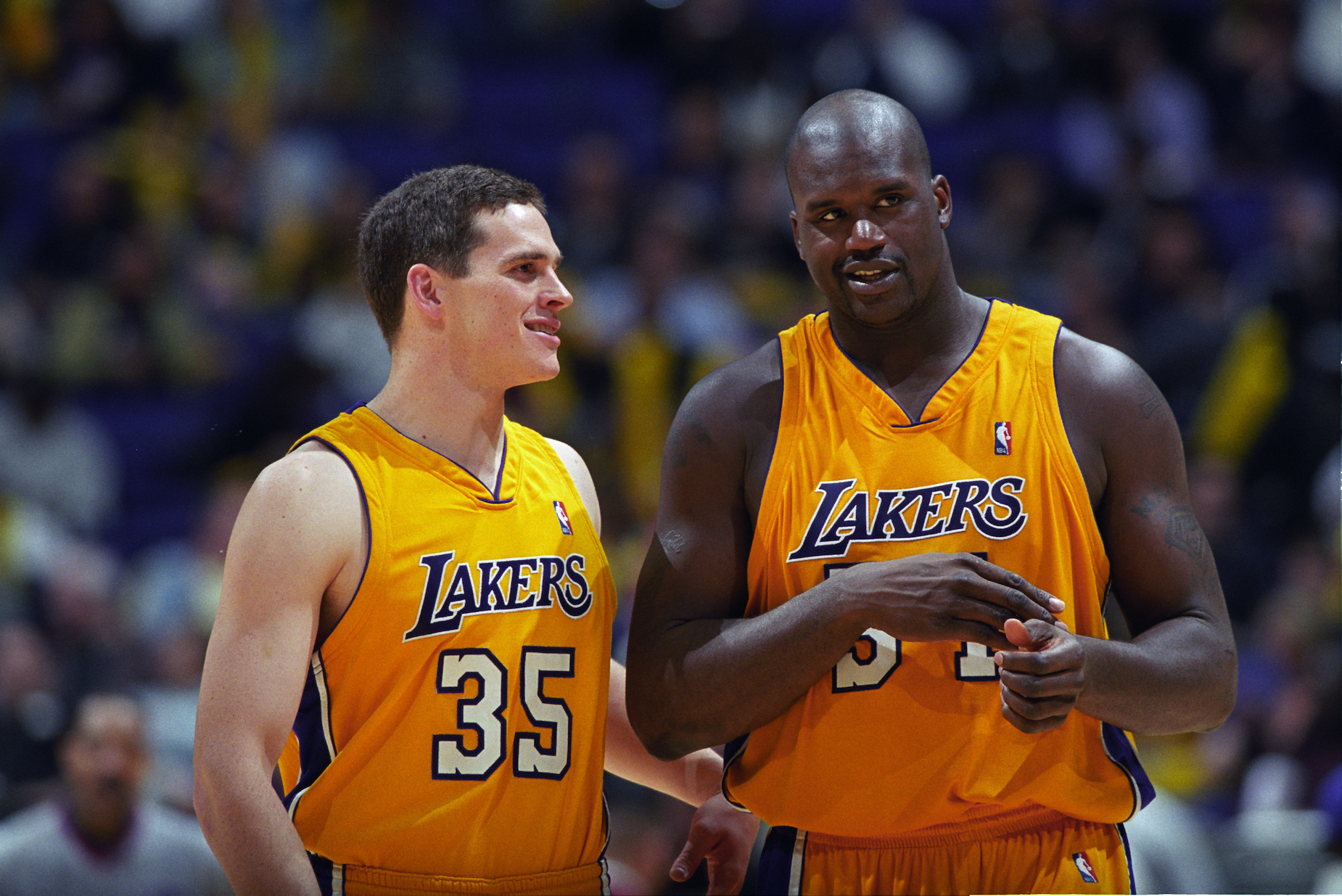 Shaquille O'Neal Acted Like a 'Mormon Match.com' Service to Help 1 of His Lakers Teammates Find Love
During his time with the LA Lakers, Shaquille O'Neal tried to play Mormon match-maker for Mark Madsen.
During his time on the NBA hardwood, Shaquille O'Neal proved to be quite the player. The big man's talents, however, didn't end there. Just ask Mark Madsen about that.
While Madsen may not be a household name among basketball fans, he began his professional career as a member of the Los Angeles Lakers. During that time, he developed a relationship with Shaq, and the Big Aristotle attempted to act like his "Mormon Match.com" service to find his teammate a wife.
Shaquille O'Neal and Mark Madsen spent three seasons together as LA Lakers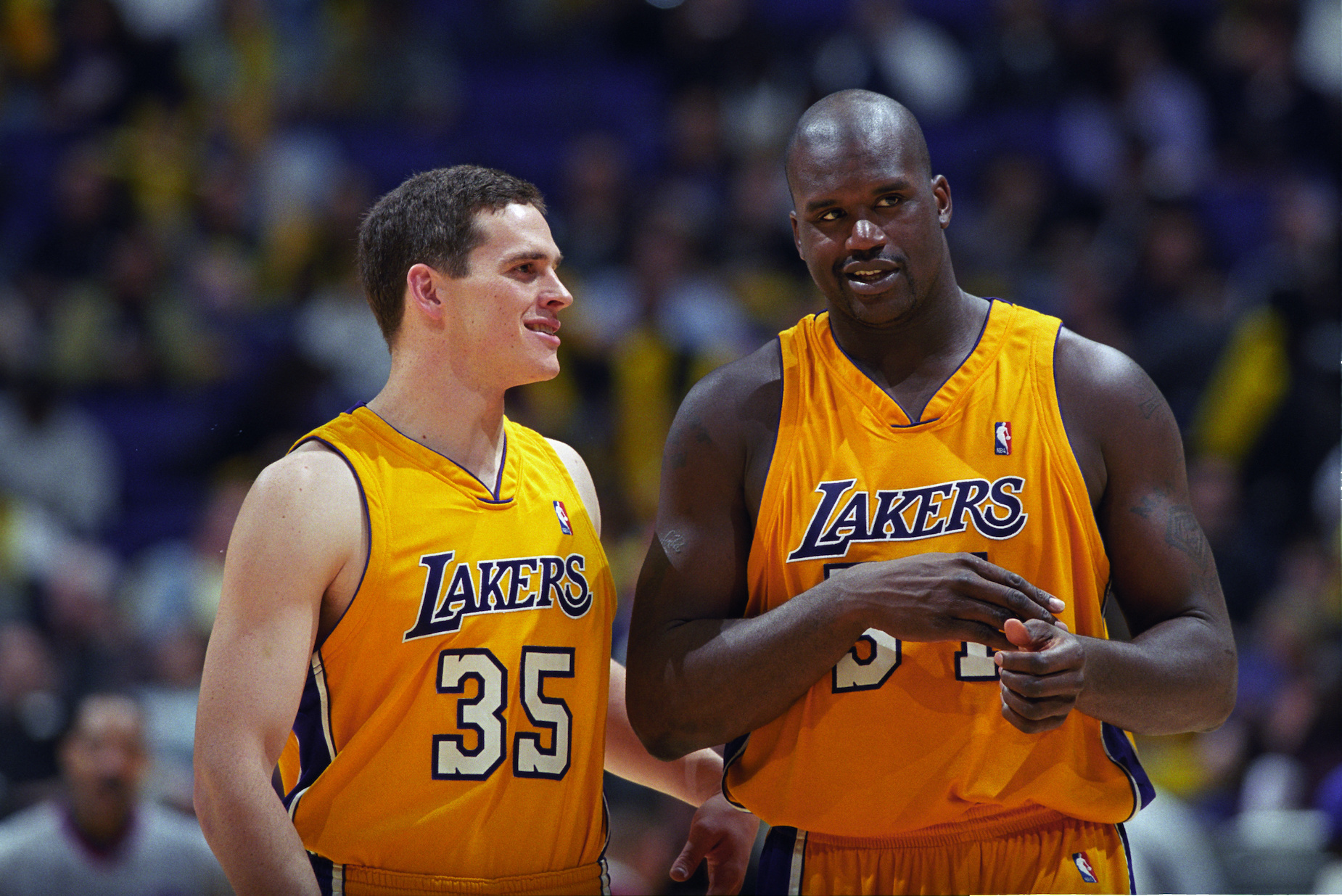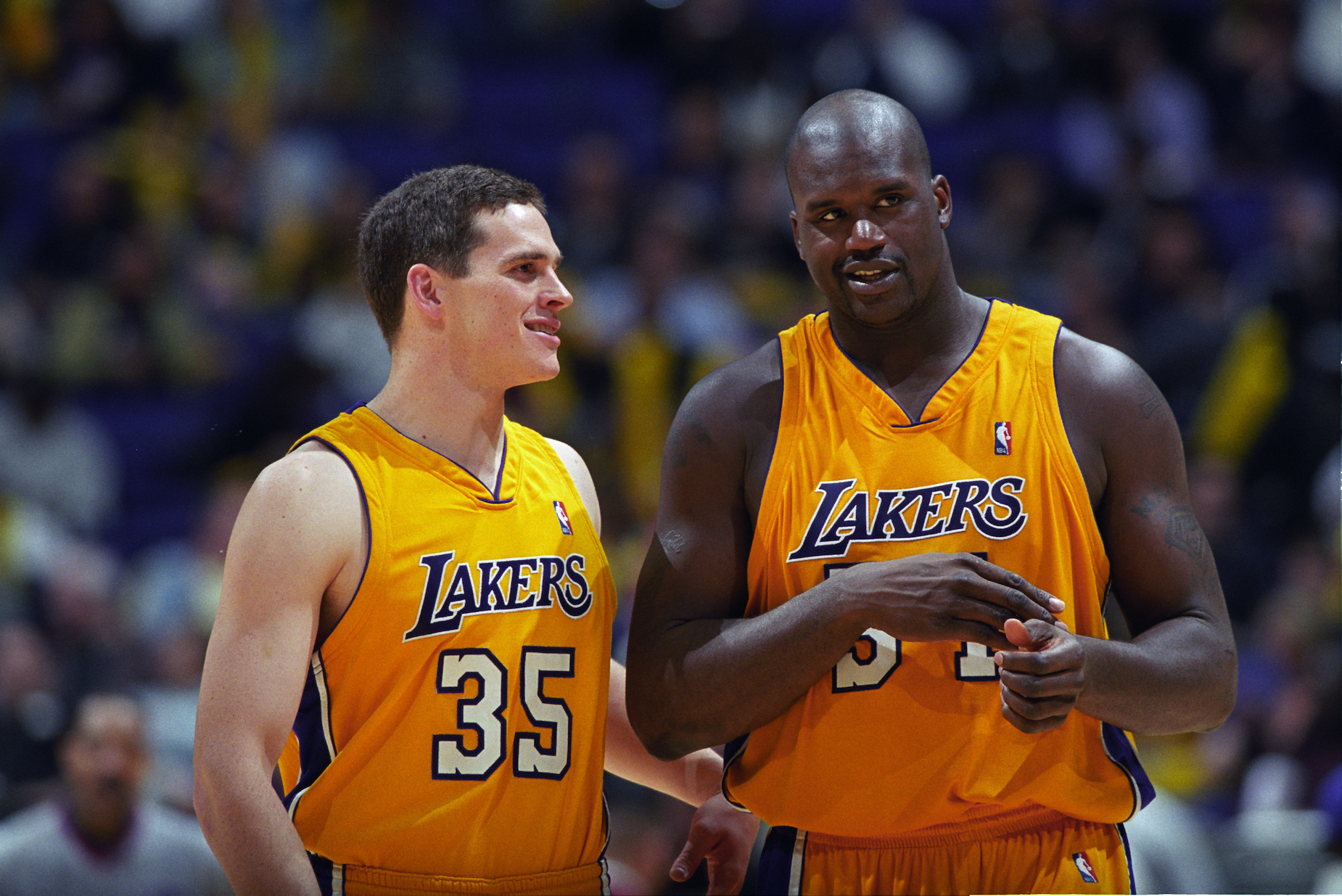 When you think of Shaq's time in Hollywood, you probably remember his successful — and sometimes rocky — relationship with Kobe Bryant. Two men, no matter how talented they are, don't make a basketball team, though. Every squad needs role players like Mark Madsen.
Madsen played his college ball at Stanford and joined the Lakers as a late first-round pick in the 2000 NBA draft. His success, however, didn't translate to the Association; he spent three seasons in Hollywood, barely getting off the bench and averaging 2.6 points per outing. Despite that relatively humble output, he did earn two championship rings before leaving town to join the Minnesota Timberwolves.
Despite the differences in their stat line and star status, Madsen and O'Neal still developed quite the bond during their time together. Speaking on FS1's Fair Game, Shaq called the big man "the purest guy I've ever met in the NBA" and said it was his duty to protect him.
Their connection went even further than that.
Shaquille O'Neal also acted as a 'Mormon Match.com Service' for his teammate
On the whole, Shaq seems to be a pretty generous guy. During his time with Madsen, the Big Aristotle took his duties as a teammate to the next level.
"Shaq was the most giving teammate I've ever written about," author Jeff Pearlman explained on the HoopsHype podcast. "As far as buying teammates new suits, as far as taking them out on the road and paying every single time. Setting up Mark Madsen, becoming a Mormon Match.com kind of service for Mark Madsen."
So how did O'Neal play matchmaker? The Deseret News provided a bit more context.
According to Pearlman's book, Three Ring Circus: Kobe, Shaq, Phil, and the Crazy Years of the Lakers Dynasty, O'Neal once asked a stewardess if she was Mormon, presumably to set her up with Madsen. That wasn't an isolated incident, either. The big man was also spotted at Redondo Beach restaurant, asking female patrons if they were Mormon.
Mark Madsen ultimately got married without his famous friend's assistance
While he clearly put in the effort, O'Neal's match-making attempts didn't pan out. That doesn't mean Madsen remained single, though. He tied the knot in 2016 with an assist from his mother rather than Shaq.
As explained in another Deseret News piece, Madsen's family needed to find a last-minute replacement pianist for a musical event, and piano teacher Hannah Harkness agreed to fill in. Madsen's mother asked if she was single and showed off some pictures of her son; Harkness and Mark texted, then called and eventually went on a date. From there, the rest is history.
While Shaq didn't find his then-teammate a wife, that doesn't mean Madsen has forgotten about him. In fact, he still holds onto a piece of advice the Lakers legend once gave him.
"I was nervous [when tasked with guarding Kevin Garnett in a playoff game]," Madsen recalled. "Shaq came up to me and said, 'Hey, don't try to do too much, but don't try to do too little.' Something as simple as that. I've always remembered that."