Shaquille O'Neal Seems Ready to Defeat LeBron James and Dwyane Wade in a Battle for Father-Son Basketball Supremacy
On the whole, Shaquille O'Neal is an incredible success. During his time on the NBA hardwood, the big man used his unique combination of size and skill to bully the competition, earning four championships and one MVP crown. The Diesel didn't simply stick to basketball, though. He's acted, rapped, sold everything from pizza to auto insurance, and, on the whole, built up a massive net worth. Now, it seems like he has his eye on another prize.
On Instagram, a post wondered who would win a hypothetical game between O'Neal, LeBron James, Dwyane Wade, and their respective sons. Shaq, however, is ready to push beyond the hypothetical and battle for his old teammates for father-son supremacy.
Shaquille O'Neal, Dwyane Wade, and LeBron James all have sons who are following their footsteps onto the hardwood
As the cliche says, the apple usually doesn't fall far from the tree. While that might not always be true, it does seem like O'Neal, Wade, and James passed some athletic abilities down to their kids.
Before he became a fixture in every other commercial, Shaq established himself as one of the most dominant big men in basketball history. His son Shareef seemed poised to follow in those footsteps and headed to UCLA as a four-star recruit. A heart condition and injuries, however, have derailed the young forward's career, calling his chances of playing basketball beyond college into doubt. There's also Shaqir, O'Neal's youngest son, who committed to Texas Southern in May 2021.
Wade, of course, spent most of his NBA career in Miami, where he won three championships. The guard proved capable of doing just about everything on the court, averaging 22.0 points, 4.7 rebounds, 5.4 assists, and 1.5 steals per outing across 17 professional seasons. His son, Zaire, is a combo guard in a similar mold, although the former Sierra Canyon High School player is yet to receive a great deal of NCAA attention.
Lastly, LeBron's talent speaks for itself. While the Los Angeles Lakers star has earned his share of critics over the years, it's impossible to argue with his resume. King James has also fathered LeBron James Jr., more commonly known as Bronny, who has already earned his share of media attention. Although it remains to be seen how much of that is simply hype, some knowledgeable observers do insist that the teenager is the real deal.
Shaq is ready to take on his former teammates in the battle for father-son supremacy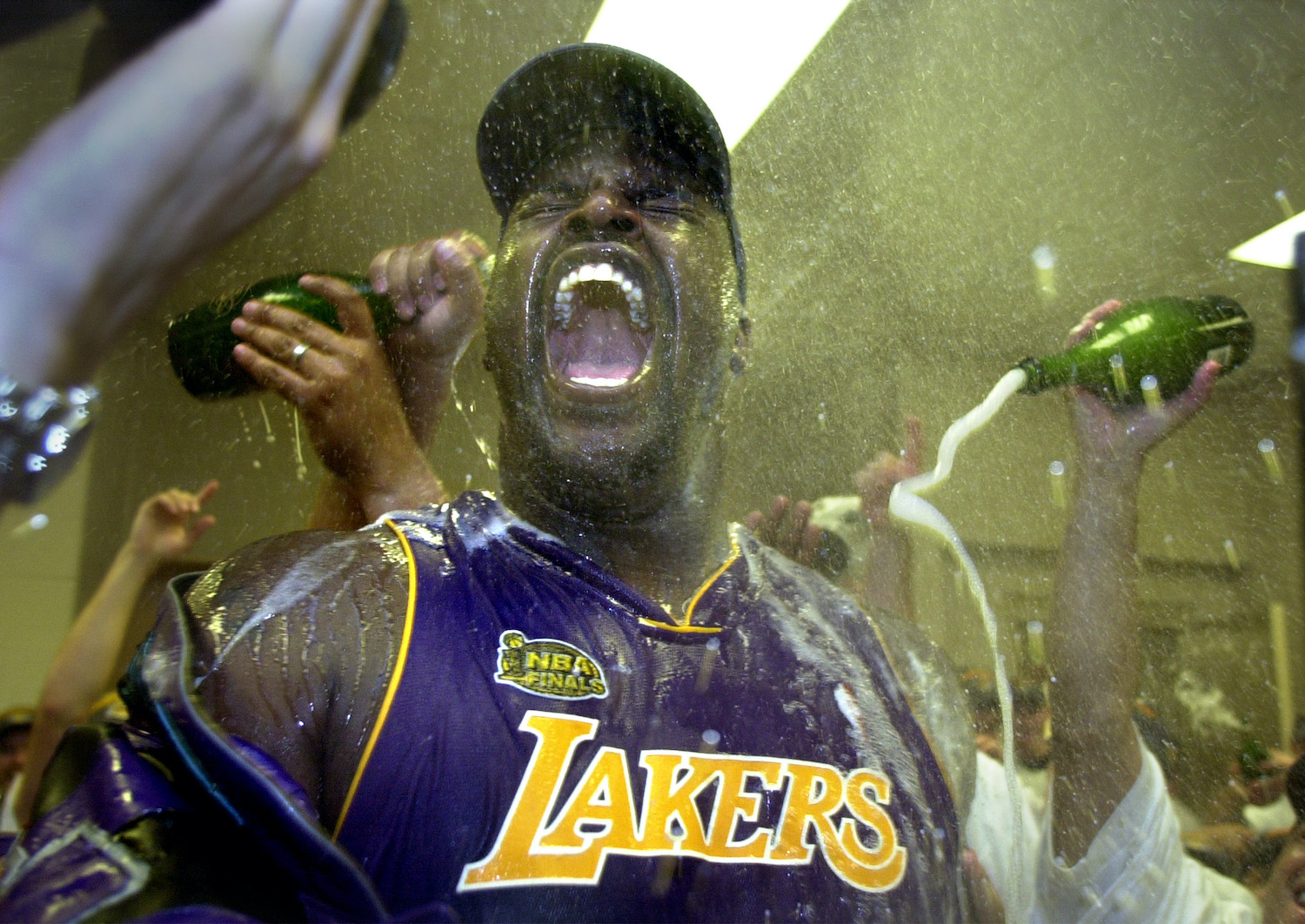 If you're a sports fan who spends any amount of time on social media, you've probably seen plenty of posts musing about building a team with a $15 budget or discussing who would win a hypothetical match-up between the biggest names from different eras. While those graphics are usually good for a bit of mindless fun, it seems like one of them caught Shaq's attention.
Recently, an Instagram graphic from The Best Highlights asked if followers would pick Shaquille and Shareef O'Neal, Dwyane and Zaire Wade, or LeBron and Bronny James to win a two-on-two tournament. The big man apparently saw the post and felt compelled to share it on his own feed.
Shaq didn't simply repost the graphic, though. He added his own caption to the post, challenging his former teammates and their sons to hit the hardwood.
"Set it up me and [Shareef O'Neal] and [Shaqir O'Neal] ain't scared," the Big Aristotle wrote.
In a game of two-on-two, Shaquille O'Neal would probably still be pretty dominant
In the modern NBA, traditional big men have gone the way of the dinosaur. In a hypothetical two-on-two tournament, though, the size of Shaquille and Shareef O'Neal would still provide quite the advantage.
During his playing days, Shaq clocked in a 7-foot-1; LSU's official roster lists Shareef as 6-foot-10. In a game against either Wade or LeBron and their respective sons, that would create a mismatch with one of the O'Neals always having an advantage on the low block. Shareef even alluded to that reality on his dad's Instagram post, commenting, "Maaan what ?? I'm throwing it in the post to you everytime." He also added a crying laughing emoji and suggested that he'd finish the game with 21 assists.
While you could argue that mismatch would cut the other way, with neither O'Neal being able to contain their opponent on the perimeter, Shaq and Shareef would also have an advantage on the glass. Since they'd be favored to corral any rebound, it would only take one miss to put the ball in their hands. From there on, low-post presence and winner's ball would probably be enough to carry them to victory.
It goes without saying, though, that we probably won't see this hypothetical father-son tournament take place anytime soon. At least for the next few years, King James has bigger fish to fry.
Stats courtesy of Basketball-Reference.