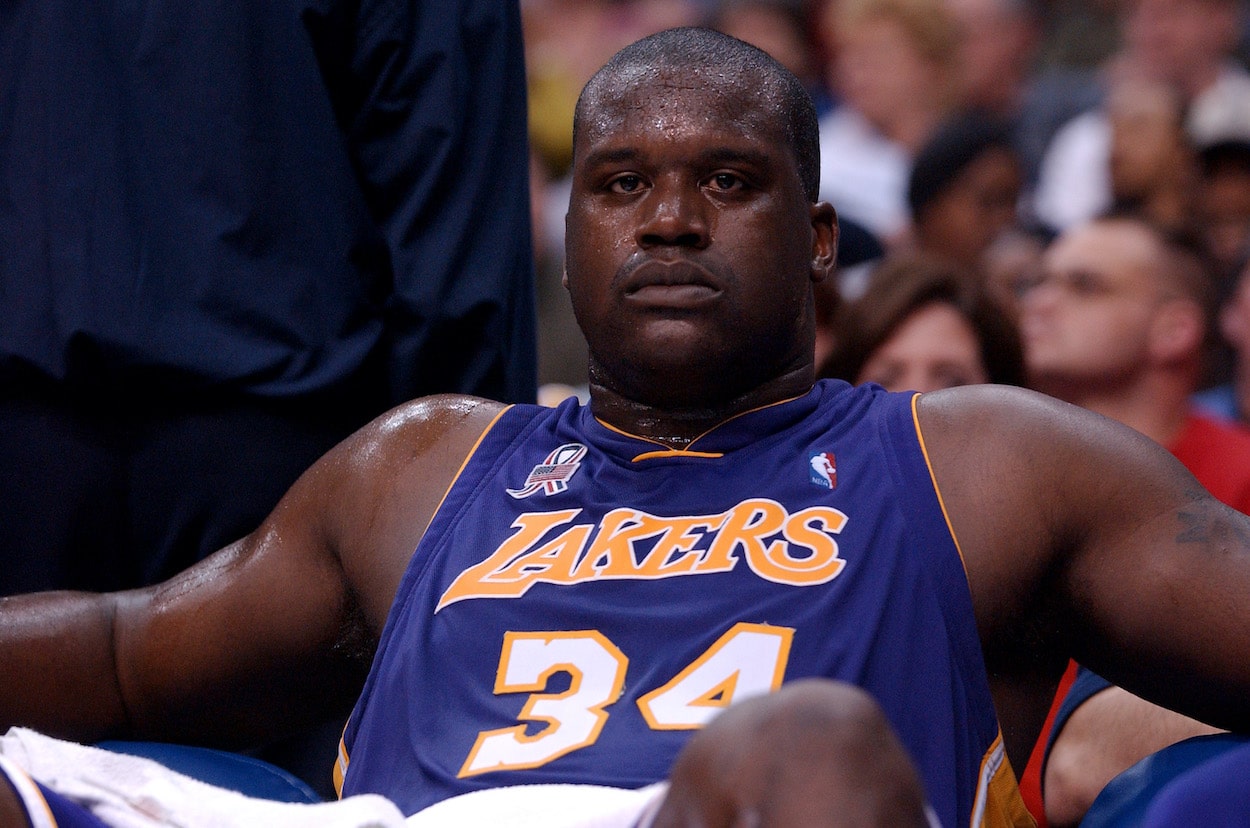 Shaquille O'Neal Talked Trash to Lakers Owner Jerry Buss During a Preseason Game, and Those 4 Words 'Sealed Shaq's Fate' as a Laker
Los Angeles Lakers owner Dr. Jerry Buss traded Shaquille O'Neal in 2004, but the die was cast the preseason before during a game in Hawaii.
In the 2003-04 preseason, the pairing of Shaquille O'Neal and Kobe Bryant on the Los Angeles Lakers reached a boiling point. After three NBA championships together, the most dominant one-two combination in basketball history could no longer stand to be on the same team.
Less than a year later, the Lakers would trade Shaq to the Miami Heat and sign Bryant to a long-term extension. However, O'Neal put the final nail in his own Lakers coffin that preseason in Hawaii by talking trash to LA owner Dr. Jerry Buss.  
The LA Lakers organization had to choose between Shaq and Kobe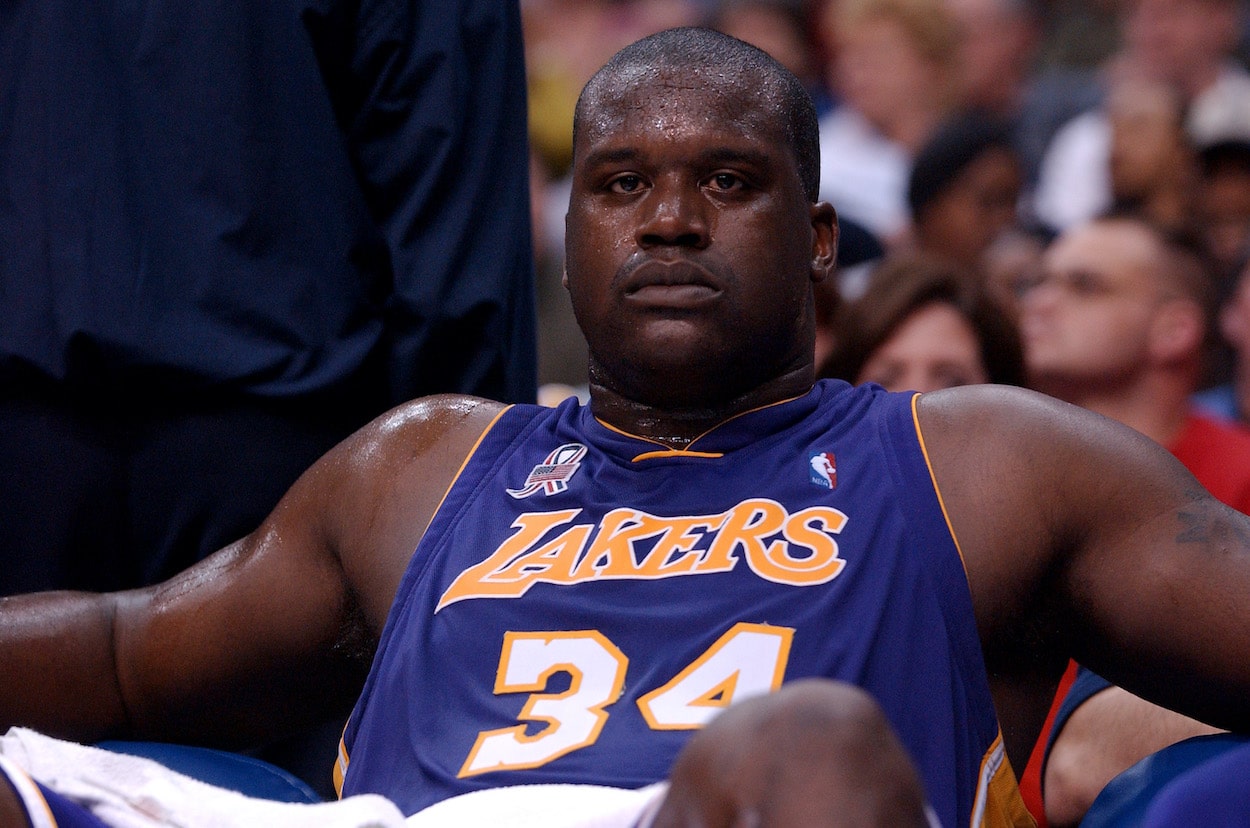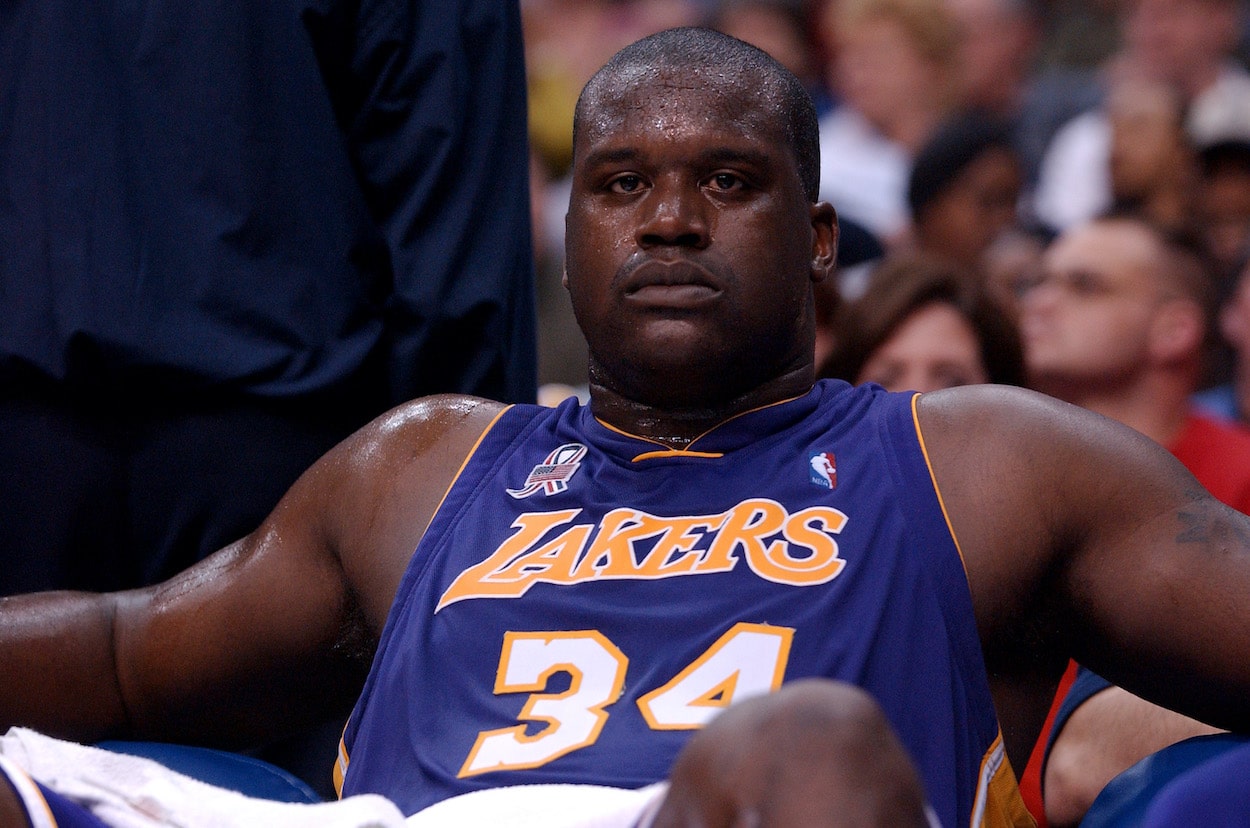 Throughout the back-to-back-to-back LA Lakers NBA title-winning seasons between 1999 and 2002, Shaquille O'Neal and Kobe Bryant operated under an uneasy truce.
Zen master/head coach Phil Jackson mediated, massaged egos, and milked everything he could out of the superstar pairing. By 2003, though, the relationship was broken beyond repair.
That offseason, Bryant faced sexual assault charges in Eagle, Colorado, and infamously dragged O'Neal into the situation.
Both Bryant's (2004) and O'Neal's (2005) contracts would be up within the next two years. Owner Jerry Buss and his front office would have to choose between Bryant, 25, and O'Neal, 31.
The 2003-04 Lakers were the NBA's first true superteam. In addition to Shaq and Kobe, the roster included title-chasing NBA All-Stars Karl Malone, Gary Payton, and Horace Grant. The team finished 56-26 in the regular season and cruised through the Western Conference Playoffs.
In the 2004 NBA Finals, the Lakers faced the greater-than-the-sum-of-their-parts Detroit Pistons, though, and lost in five games. One month later, the Lakers traded Shaq to the Miami Heat.
Shaquille O'Neal disrespecting Lakers Owner Jerry Buss' sealed Shaq's fate' in 2003
While the final Shaq and Kobe breakup didn't come until 2004, the inciting action for the move happened in Hawaii during the 2003-04 preseason. Both Shaquille O'Neal and Kobe Bryant were looking for new deals, and (unsurprisingly) they went about asking for them in different ways.
On Jackie MacMullan's Icons Club podcast, the longtime NBA insider explains that Bryant threatened to sign with the Los Angeles Clippers to passive-aggressively ask for his extension. Shaq was much more direct.
Former Shaq and Kobe teammate Brian Shaw explained what went down during that notorious Lakers preseason game that "sealed Shaq's fate":  
We played the Warriors two games in Hawaii because we had training camp in Hawaii that year. And within the first few plays of the game, Shaq dunks on Eric Dampier, who was the center for the Warriors at that time. Dr. Buss is sitting courtside, and Shaq kind of struts along the sidelines, and he looks directly at Dr. Buss and says, 'You better pay me!' And Dr. Buss really, really took that personally. I don't think, at the time, Shaq knew how Dr. Buss felt. That he was showing him up.

Brian Shaw on Shaquille O'Neal lashing out at Lakers owner Jerry Buss
That next offseason, Bryant flirted with the Clippers and gave his team a "Shaq goes, or I go" ultimatum. On July 14, 2004, the Lakers traded O'Neal to the Miami Heat for Lamar Odom, Caron Butler, Brian Grant, and a 2006 first-round pick (Jordan Farmar).
The trade worked out for everyone, but what could have been? 
Shaquille O'Neal was the early winner of the blockbuster 2004 trade. The Big Aristotle teamed up with Alonzo Mourning, Udonis Haslem, and budding star Dwyane Wade and won an NBA title in 2006.
However, Shaq's points per game dropped below 20 for the first time in his career the following season and declined from there. On the West Coast, Kobe Bryant and the Lakers seemed unable to get over the hump again until the team traded for Pau Gasol.
LA won championships in 2009 and 2010, with Lamar Odom and Jordan Famar playing key roles. More importantly, the back-to-back titles gave Kobe one more than Shaq.
While Shaq and Kobe had success apart, they were never greater than when together. The two would ultimately reconcile before Bryant's tragic death in 2020. One of the biggest questions in NBA history is what would have happened if the two could have buried the hatchet in 2004?
The pair won three of five NBA Finals individually from 2006 to 2010. Could they have won those together? Could they have won even more together?
It is an unanswerable question and one that NBA fans can debate until the end of time.
All stats courtesy of Basketball Reference