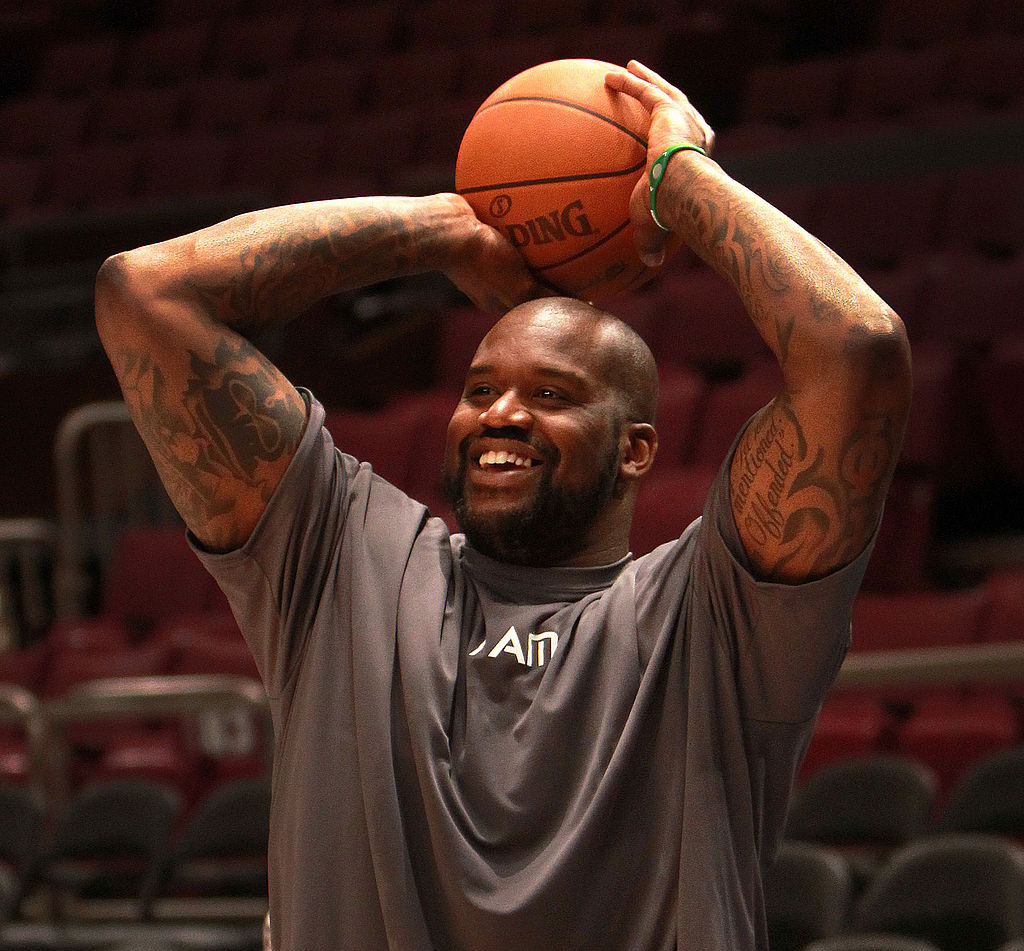 Shaquille O'Neal's 3-Point Record Reveals How Much the NBA Has Changed
Shaquille O'Neal was one of the most dominant big men to ever step foot on an NBA floor. However, Shaq's game has one supreme weakness.
Shaquille O'Neal was one of the most dominant big men to ever step foot on an NBA floor. The 15-time All-Star and Basketball Hall-of-Fame averaged almost 24 points and 11 rebounds per game for his career. However, Shaq's game has one supreme weakness. And his three-point struggles show the NBA's dramatic transformation over the years.
Shaquille O'Neal's dubious record
Throughout his career, Shaq's shooting has come under fire, especially at the charity stripe. Even so, we were shocked to learn that O'Neal was just 1-22 from behind the arc during his career. He made the majority of his attempts with the Orlando Magic, as he used his speed to attack defenders all over the court.
O'Neal made his only three-pointer in the 1995-96 season, where he took just two attempts all season long. When he got to Los Angeles, his role in the Lakers offense kept him away from the perimeter, and he took only eight attempts in seven seasons with the franchise.
The NBA's transformation to perimeter offensive play
The Houston Rockets were one of the first teams to put an emphasis on perimeter offensive play. The team's analytics department determined the lack of value from a mid-range jumper, as settling for dunks/layups or attempting three-pointers was the most efficient way to score a basket.
Later, the Golden State Warriors popularized this style of play. Steph Curry and Klay Thompson have set numerous records in regards to three-point shooting. It's no surprise that the team's success (three championships in five seasons) has created a lot of imitators around the NBA.
What the NBA expects from centers
In today's NBA, most centers are asked to do one of two things. They could play exceptional defense as a rim protector while catching alley-oops. Or, they could become a perimeter-based weapon with the ability to not only pass the ball from the high post but be a threat from behind the arc as well. For every Rudy Gobert, there's a Marc Gasol on the floor who is the polar opposite.
Could Shaquille O'Neal compete in today's game?
The last center who was really viewed as an offensive weapon in the post was former No. 3 pick Jahlil Okafor. Now, we believe a part of his lack of success had to do with the tank job they did in Philadelphia, but we think Shaq would have been the outlier in today's NBA.
O'Neal was so physically dominant on the court that it made him almost unguardable in his prime. Having a player you can count on to drop the ball into the post to pick up an easy dunk was always something the Lakers coveted. It wouldn't surprise us to see other coaches using their best assets to help them win games. Shaq would still put up Hall-of-Fame numbers if he were in his prime today.
How do you feel about Shaq's three-point record?
Do you think playing a little bit farther on the perimeter would have been effective in Shaq's overall game? We think feeding him the ball in the paint is his best attribute. It would've been crazy to see O'Neal doing anything but backing opponents down and dunking it on them. For more news and notes from around the league, check out our NBA section.