A Shocking New Report Indicates Tiger Woods Could Secretly Be Planning a Return to Professional Golf as Soon as This Month
Tiger Woods has recently resurfaced after spending much of the year quietly rehabbing his right leg in Florida. The PGA Tour legend showed up to this week's Hero World Challenge at Albany Golf Course and made his first public comments in nine months, but he didn't say exactly what fans wanted to hear.
Woods pumped the brakes on a return to the PGA Tour while expressing uncertainty about his future in professional golf, but a recent report indicates he might actually have his eyes on a return to competition later this month.
Tiger Woods recently sounded unsure about a PGA Tour comeback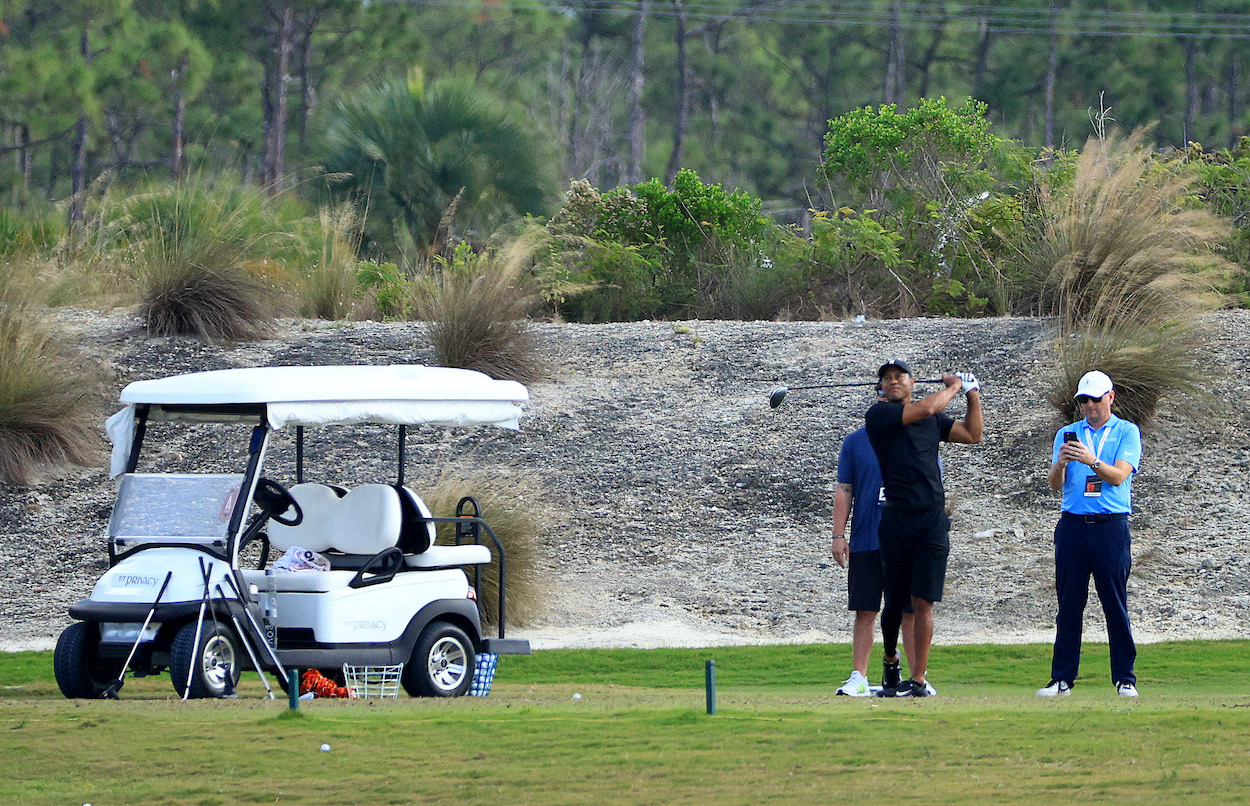 Earlier this week, Woods sat in front of a microphone and answered questions from reporters for the first time since suffering multiple leg fractures in a devastating car accident back in February. When asked about a potential return to the PGA Tour, though, he didn't sound ready to make that announcement just yet.
"As far as playing at the Tour level, I don't know when that is going to happen," Woods told reporters.
"I'll play a round here and there, a little hit and giggle, I can do something like that. The USGA suggests play forward, I really like that idea now. I don't like that the tees are on the back."
Woods said he's been able to get back on the golf course lately, but his shots aren't flying nearly as far as they used to. He'd obviously want to build back enough strength to get close to his typical yardages before returning to the PGA Tour, but he might have his eyes on a lesser-known event before then.
A shocking report indicates Woods could play in this month's PNC Championship
Fans don't expect to see Woods back on the PGA Tour for at least a few more months, but the golf legend might have other plans to return to competition.
Over the weekend, Dylan Dethier of Golf.com reported that Woods could be back playing tournament golf as soon as this month.
Woods is seriously considering playing the PNC Championship alongside his son Charlie, according to multiple sources. One person familiar with Woods' progress said he'd "test it next week and make a call." He plans to make an official decision after hitting balls, playing golf and evaluating the readiness of both his body and swing.

Dylan Dethier
That sound you just heard was Tiger superfans hooting and hollering in celebration around the world.
A perfect way to ease back in
Woods clearly isn't ready to compete on the PGA Tour just yet, but the PNC Championship might be the perfect tournament for him to get his feet wet.
The PNC Championship is more about having fun and spending time with family than it is about going low and winning a trophy. If Woods feels healthy enough to play a few rounds in a row, he might just give it a go alongside his son. The tournament will take place from December 17-20, so Woods has two weeks to make up his mind.
What a treat this would be if Tiger shows up in red and black on our television screens later this month.
Like Sportscasting on Facebook. Follow us on Twitter @sportscasting19.