Shocking Report on Deshaun Watson Proves the Houston Texans Are Foolishly Setting Themselves Up for Failure
Before his legal issues became one of the NFL's most discussed storylines, Deshaun Watson raised eyebrows by making it clear he no longer wants to play for the Houston Texans. Considering he signed a $156 million contract extension in September, his trade request represented quite the surprising development for a franchise that hired a new general manager and head coach this offseason.
Of course, Watson remains a Texan mostly because of the uncertainty surrounding his status for the 2021 season. With the star quarterback facing allegations of sexual misconduct, the possibility exists that he may miss games or get ruled ineligible entirely.
However, a shocking update from one of the NFL's most plugged-in reporters proves the Texans are foolishly setting themselves up for failure. If Houston wants to turn the page on this story and put itself in a position to compete for a Super Bowl title in the future, it needs to wake up and realize that trading Watson is the only possible solution.
Deshaun Watson's NFL future remains murkier than ever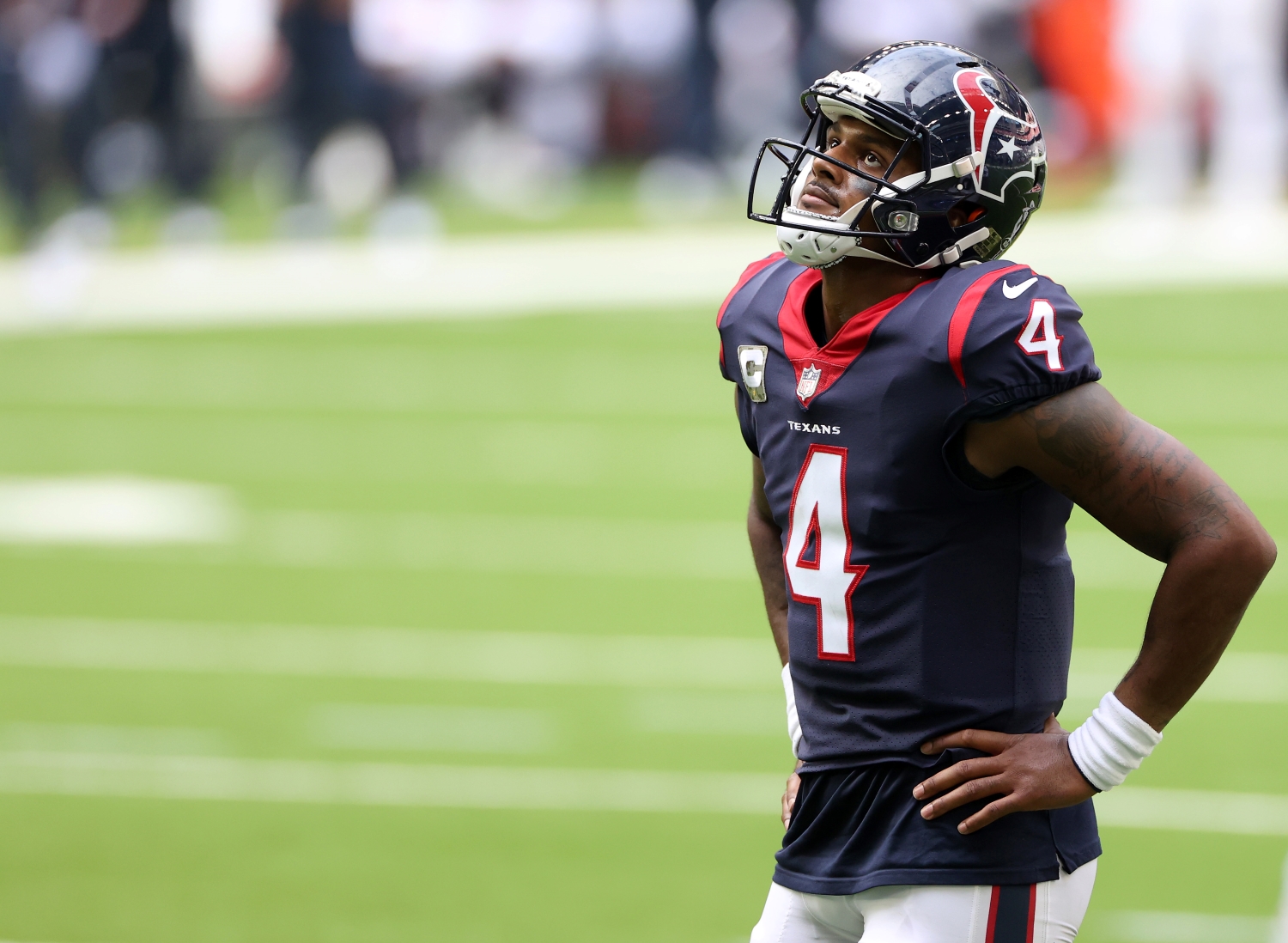 Nobody knows exactly where (or if) Watson will play football this season. The 25-year-old NFL star still has legal issues to deal with, and he could still face discipline from the league. So, on one hand, the possibility of Watson not seeing the field at all in 2021 remains on the table.
Of course, the fifth-year pro doesn't even want to play for his current team.
Unhappy with the direction of the franchise and his lack of involvement in key decisions, Watson requested a trade early in the offseason. However, newly-hired general manager Nick Caserio quickly shot down the idea of dealing one of the league's most talented quarterbacks. Given his skill set and track record of production, though, Watson would undoubtedly fetch a huge haul that could help the Texans rebuild their roster.
The three-time Pro Bowler showed up to training camp, but the entire situation seems confusing. Perhaps Watson did so simply to avoid getting fined. Or maybe he wanted to stay in football shape in an effort to prepare to play for another team. At the same time, the fact Houston put him way down the depth chart showed how complicated the ordeal truly is.
Shocking report on Houston's star quarterback proves the Texans are setting themselves up for failure
Football season officially began Thursday night with the Hall of Fame game. During the FOX broadcast, Jay Glazer delivered an update on a few of the league's big-name quarterbacks. To no surprise, Watson's name got mentioned.
What was surprising, however, was what the well-respected NFL reporter had to say about the situation involving the Texans star.
"They're in a standstill because the Texans still think that Deshaun Watson's going to want to play for them this year," Glazer reported. "I don't know where they're getting that from. There's been several teams that have been trying to reach out to them to try and trade for Deshaun Watson. They're not calling any of them back."
Houston seems rather delusional, right?
The chances of Watson changing his mind about wearing a Texans uniform again seem as good as J.J. Watt returning. In other words: He's out.
But by foolishly trying to convince themselves that their best player will have a change of heart, the Texans are ruining their own chances of accelerating the rebuilding process. To make matters worse, Houston reportedly isn't even calling interested teams back, which seems like a negligent move by the front office. Why not at least hear what another GM wants to offer for Watson?
Instead, the Texans seem to believe this will all work itself out. But if Caserio accepts the reality of the situation, he will realize the best path forward involves holding a bidding war for one of the NFL's top quarterbacks.
The Texans can come out as winners if they play their cards right with Watson
While Watson's pending lawsuits cannot be ignored, if we're strictly looking at his future from a football standpoint, it's hard not to get excited about him playing for a better team. Barring a shocking turn of events, he seems set on forcing the Texans to trade him.
And if Caserio wants to maximize the return on a Watson deal, he can call up his old friend down in Miami: Brian Flores.
The Miami Dolphins still look like the best trade partner for multiple reasons.
First, they have three first-round picks over the next two drafts. That type of capital could help the Texans address holes at other positions. Or, they could flip those picks for established players.
In addition, Miami can offer a high-upside quarterback in Tua Tagovailoa. The talented lefty boasts Pro Bowl upside, so swapping out Watson for Tua doesn't seem like a bad deal for Houston.
Finally, the Dolphins have a disgruntled star of their own who would look awfully good in a Texans uniform. All-Pro cornerback Xavien Howard wants a new deal, but it remains to be seen whether Miami adjusts his contract.
Maybe the Texans can take care of their Deshaun Watson problem by helping the Dolphins out with their own issue involving an unhappy superstar.
Like Sportscasting on Facebook. Follow us on Twitter @sportscasting19.