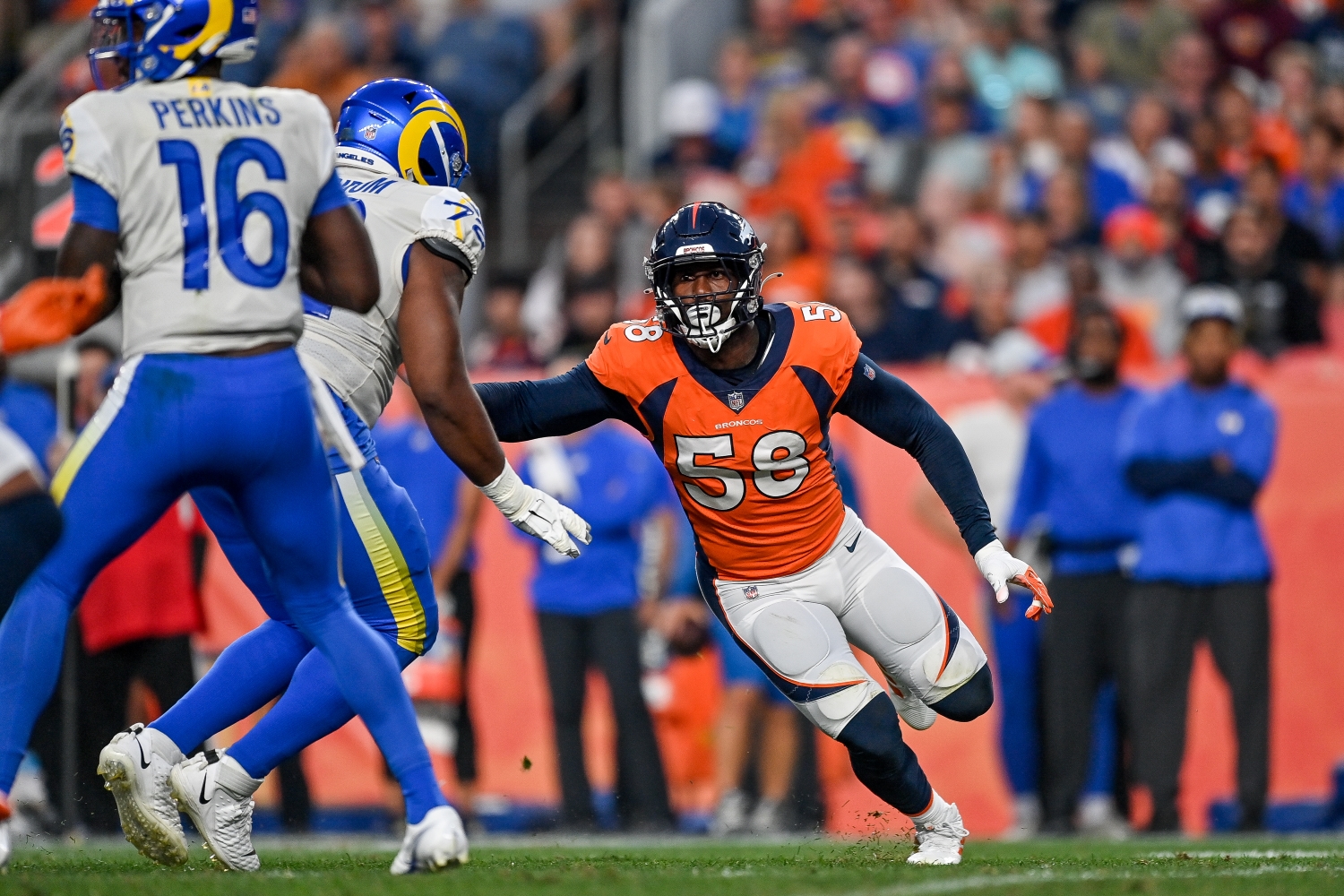 The Los Angeles Rams Have Officially Backed Themselves Into a Corner That Will Reveal Whether They're the Smartest Team in the NFL or Complete Fools
Will the Los Angeles Rams be rewarded for their all-in approach? If Von Miller doesn't help them win a championship, it's time to put GM Les Snead on the hot seat.
The Los Angeles Rams don't care about conventional wisdom. At least, that's the obvious takeaway based on how they've operated with Les Snead as general manager.
After all, in a league where most teams try to build through the draft, the Rams refuse to follow the same route as everyone else. In recent years, they've executed a number of blockbuster trades that resulted in big-name players relocating to LA. Of course, it also cost significant draft capital to acquire established stars.
Most recently, the Rams made another all-in move by trading 2022 second- and third-round picks for Von Miller. A no-doubt Pro Football Hall of Fame lock and arguably the best pass rusher of his generation, the longtime Denver Broncos outside linebacker should enjoy his new surroundings, especially since he'll get to play alongside perennial NFL Defensive Player of the Year candidate Aaron Donald.
Adding a dangerous edge rusher like Miller should make Sean McVay's squad even scarier moving forward. After all, opposing offensive lines now have to figure out how to block Miller, Donald, and Leonard Floyd, who's totaled 6.5 sacks and eight quarterback hits this season.
Needless to say, that's a job easier said than done.
However, while the Rams' latest deal for a blue-chipper carries significant short-term upside, it also puts even more pressure on McVay and Co. to finally capture a championship. In fact, they've backed themselves into a corner that will either prove they're the smartest team in the NFL or expose them as complete fools.
Currently 7-1 and clearly a top Super Bowl contender, the Rams undoubtedly have a talented roster that looks capable of going all the way. And after seeing the Tampa Bay Buccaneers win a title thanks to a ferocious pass rush (Tom Brady certainly helped, too), the idea of inserting Miller into a lineup that already features an all-time great obviously enticed Snead and McVay to make the move.
If the trade pays off as the Rams hope, the price will be well worth it.
But if the Lombardi Trophy doesn't end up in LA's hands in February, the front office deserves criticism for continuing to part ways with draft picks on an annual basis.
Remember, this is an organization that traded up to take Jared Goff No. 1 overall in 2016. The Rams essentially gave up a first-round pick, two second-rounders, and a third-rounder to move into position to take the former University of California star. Considering they shipped him to Detroit this offseason in the Matthew Stafford trade (another deal that cost significant draft capital), it's clear the franchise made a mistake by placing its faith in Goff.
Two years later, the Rams traded a first-round pick for Brandin Cooks, who proceeded to sign a five-year, $80 million extension. He spent two seasons with the team before getting traded to the Houston Texans.
Plus, Snead traded two first-rounders and a 2021 fourth-round selection for Jalen Ramsey and then had to sign him to a five-year, $100 million extension. The All-Pro corner remains one of the top players at his position, but there's no doubt it cost the Rams significant draft and financial resources to make him a long-term fixture in LA.
By employing a trade-for-established-players strategy, they haven't actually selected a player in the first round since 2016. And with nearly all of their 2022 picks in the hands of other teams, the Rams won't be able to restock the roster via the draft in April.
If the Miller trade leads to a title in a few months, the Rams will look like geniuses for going against the grain from an asset management standpoint. It might even inspire more teams to take that approach.
However, they could just as easily look like complete fools for giving away two valuable assets for an aging player on an expiring deal.
Let's not forget the Rams employ a starting left tackle who turns 40 in December. How exactly will they find a replacement for Andrew Whitworth without picks to trade or actually use? It's tough to find starting-caliber players at that position outside of the early part of the draft, so it will be fascinating to see how they approach a succession plan.
Going all-in means you have to finish the job. Otherwise, what's the point of making aggressive moves that leave you short-handed in the future?
McVay may have a reputation as one of the top coaches in the NFL, but it's not as if he has an impressive track record of playoff success. He lost in the opening round in 2017, watched his offense score three points in Super Bowl 53, missed the postseason entirely in 2019, and suffered a two-touchdown defeat to the Green Bay Packers in the Divisional Round last year.
Should the Rams fall short again, why should their strategy (and head coach) continue to receive so much praise? Sure, it helps to have a better quarterback under center, but the sheer amount of capital it's taken to get to this point cannot be ignored.
Ultimately, the Miller trade makes sense from a football standpoint. And it very well could make all the difference for a Rams team that's quickly asserted itself as a top title contender. However, if they don't emerge victorious in Super Bowl 56, they'll look like complete fools for squandering assets and leaving themselves vulnerable to depth issues in the future.
Like Sportscasting on Facebook. Follow us on Twitter @sportscasting19.