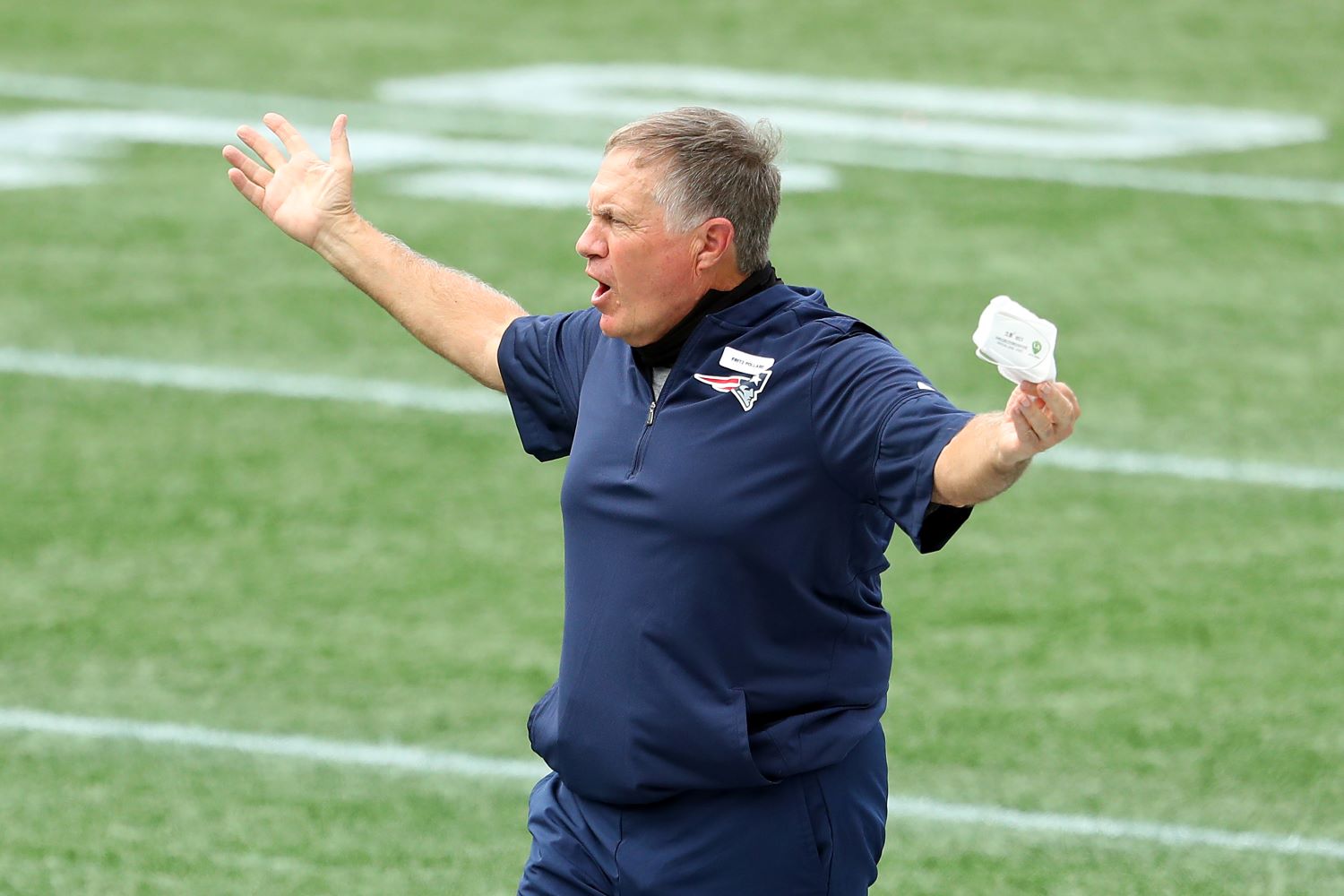 Signing Le'Veon Bell Won't Solve Bill Belichick's Biggest Problem
Le'Veon Bell may be an elite talent, but Bill Belichick needs to add help elsewhere if the Patriots plan on making another Super Bowl run.
As badly as New England Patriots fans want to see Le'Veon Bell in Foxborough, Bill Belichick should steer clear of the former New York Jets running back. That isn't a knock on Bell's talent or his potential to dominate in Josh McDaniels' offense. Rather, it has everything to do with a problem Belichick just can't seem to fix.
Le'Veon Bell is in search of a new NFL home
Just a few years ago, Le'Veon Bell looked like a future Hall of Fame candidate. After all, he put up monster numbers with the Pittsburgh Steelers and established a reputation as one of the NFL's most lethal offensive weapons.
However, the three-time Pro Bowler elected to sit out the 2018 season due to contractual issues. Ultimately, the Steelers moved on from the talented all-purpose back.
Even though he sat out an entire year, Bell still earned a lucrative payday. The Jets signed the 6-foot-1, 225-pound superstar to a four-year, $52.5 million contract with $27 million guaranteed. That deal turned out to be a disaster.
In his first year in New York, Bell averaged just 3.2 yards per carry—easily the worst mark of his career. Though he did catch 66 passes, he finished the 2019 season with just four total touchdowns.
The 2020 season has not gone much better for the 28-year-old. A hamstring injury caused Bell to miss three games. And after playing just 17 games in New York, the Jets cut ties with the disappointing eighth-year pro on Tuesday.
Signing Bell won't solve Bill Belichick's biggest problem
Once news emerged that Le'Veon Bell got released, speculation swirled about his next landing spot. Obviously, Bill Belichick and the Patriots came up as a potential fit. Given his history of reclamation projects, it would make sense for Belichick to take a flyer on a player he has spoken highly of in the past.
Yet, the Patriots would make a massive mistake by bringing in Bell. Sure, he possesses the perfect skillset to succeed in New England. His ability to contribute on all three downs would give the team a clear-cut No. 1 RB.
However, it makes little sense to add another body to a crowded backfield. In fact, one could argue that the Patriots have too many running backs already.
Currently, New England has Damien Harris, Rex Burkhead, James White, and J.J. Taylor on the active roster. Plus, that group will get a big boost when Sony Michel returns from injured reserve.
And while a healthy, motivated Bell ranks as one of the NFL's best all-around playmakers, signing him won't solve Belichick's biggest problem. Instead, he must address a massive issue that continues to plague New England's offense: the lack of impact at tight end.
The Patriots desperately need production at tight end
Even when Rob Gronkowski started to show signs of decline, Bill Belichick surprisingly did not try to find a long-term replacement for the future Hall of Famer. The trickle-down effect of that decision continues to rear its ugly head.
Last season, the Patriots relied on a combination of Matt LaCosse, Ben Watson, and Ryan Izzo at tight end. That trio combined for 36 catches for 418 yards and two touchdowns. Gronkowski totaled 47/682/3 in his final year in New England.
Belichick finally addressed the tight end spot in the 2020 NFL draft. However, even after doubling-down on the position, the Patriots have gotten essentially nothing out of Devin Asiasi or Dalton Keene.
The former has played just 57 total snaps and hasn't drawn a single target. Keene hasn't played a single down due to a neck injury. Meanwhile, Izzo has totaled three catches on only eight targets.
Considering Belichick traded valuable draft capital to move up for Asiasi and Keene, their lack of impact is a major disappointment. While it's fair to lay some blame on an offseason impacted by COVID-19, the Patriots certainly had to have expected more from their third-round rookies.
If New England wants to make a legitimate Super Bowl run with Cam Newton, then Belichick needs to give the two youngsters a chance to prove themselves. If Asiasi and Keene can't be trusted to make plays in the passing game, then Belichick and Nick Caserio need to explore the trade market to find an upgrade.
Ultimately, unless Le'Veon Bell suddenly grows another five inches and adds 40 pounds, signing him won't solve Belichick's biggest problem. And if the Patriots can't fix their tight end situation, they have no chance at raising a seventh Super Bowl banner.
All statistics courtesy of Pro Football Reference.