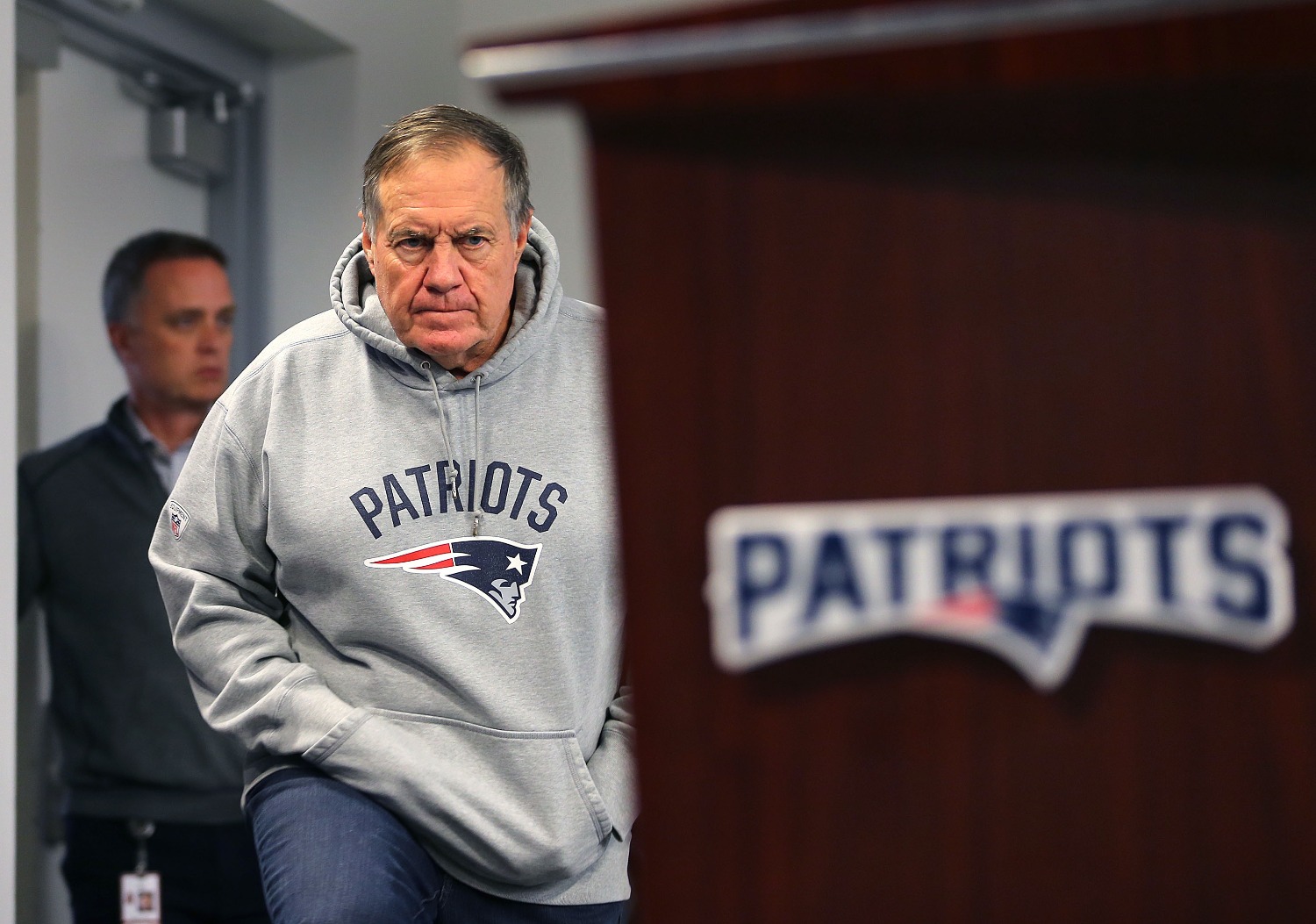 Bill Belichick Reveals the Treacherous Journey Patriots Rookies Must Survive
Bill Belichick depends on the NFL draft to build his roster, but the Patriots head coach just delivered a sobering message about his rookies.
While Bill Belichick has made a handful of splashy free-agent signings over the years, he has devoted far more resources toward building his team through the NFL draft. From Tom Brady to Richard Seymour to Rob Gronkowski, the New England Patriots won six Super Bowl titles largely with homegrown talent.
With the COVID-19 pandemic having massive effects on the 2020 NFL season, that has put recent draft picks in a precarious position. And on Friday, Belichick sent an ominous message about the Patriots' 2020 NFL draft class and the difficult journey they face this season. But in order for Belichick to win a title without Tom Brady, he'll need his rookies to produce immediately.
The Patriots selected 10 players in the 2020 NFL draft
The 2020 NFL draft gave the Patriots an opportunity to restock at critical positions. After losing Van Noy, Collins, and Elandon Roberts in free agency, Belichick needed to address the linebacker position. So it came as no surprise that the Patriots general manager selected Michigan's Josh Uche (second round, 60th overall), Alabama's Anfernee Jennings (third round, 87th overall), and Cassh Maluia (sixth round, 204th overall).
Of course, that came after the Patriots used their top pick on safety Kyle Dugger. The former Division II star boosted his draft stock at the Senior Bowl. Highly athletic and renowned for his work ethic, Dugger became even more valuable once Chung opted-out of the season.
Belichick also added a pair of promising tight ends, a kicker, and three offensive linemen. However, the 10-man draft class already lost a member when Dustin Woodard surprisingly retired on Thursday.
Overall, the Patriots enter training camp with nine rookie draft selections, plus a group of undrafted free agents headlined by speedy wideout Jeff Thomas.
Bill Belichick reveals the treacherous path ahead
Bill Belichick rarely divulges at press conferences. After all, he has earned a reputation as one of the most difficult interviews in sports thanks to his curt answers (if you even get one at all). However, speaking to the media on Friday, he discussed the treacherous path New England's rookie class must complete as players transition to the NFL during an unprecedented time.
"They're in deep water and turbulent water, and it's going to get rougher, just in terms of the volume and the level of competition and becoming a professional athlete," Belichick said. "They're just trying to do the best they can. But they're swimming. They're in deep water, and their eyes get opened every day as we move up in the process."
He also added, "I think they're just trying to keep their head above water and try to swim or paddle in the right direction knowing that they're not able to keep up, but they're doing the best they can, and they're way ahead of where they were a week ago, two weeks ago, a month ago, two months ago."
Belichick did praise the newcomers for their hard work so far. He specifically called the group "conscientious" and "diligent" when discussing their acclimation process. However, Belichick did caution that the next week to 10 days will give the Patriots a truer evaluation of what their rookies can do.
And Belichick better hope that this year's NFL draft class does not continue the trend that has been occurring in New England recently.
Patriots need their rookies to produce quickly
Make no mistake about it: The Patriots absolutely need their rookies to deliver results this season. In the past, Bill Belichick has often taken a slower, more methodical approach to ease young players into prominent roles. However, he no longer has that luxury.
New England lost its top four linebackers this offseason. Ja'Whuan Bentley should start at middle linebacker. However, the Patriots will count heavily on Uche, Jennings, and perhaps even Maluia to contribute significantly in 2020. At this point, Belichick does not have a viable alternative other than to throw the rookies in the fire.
Dugger will also take on a more prominent role now that Chung will not play this season. The team's top pick could actually be an upgrade over the aging safety given his elite physical tools. Then again, that athleticism cannot replace the experience Chung brought to the table.
On offense, the Patriots have little choice but to play Devin Asiasi and Dalton Keene since tight end Matt LaCosse and fullback Dan Vitale opted-out. With little depth at either position, that will force Asiasi and Keene to grow up quickly.
At the end of the day, Bill Belichick needs his 2020 draft class to produce right away. But based on his sobering message on Friday, the Patriots' first-year players face an arduous journey in completing that task.
Like Sportscasting on Facebook. Follow us on Twitter @sportscasting19.