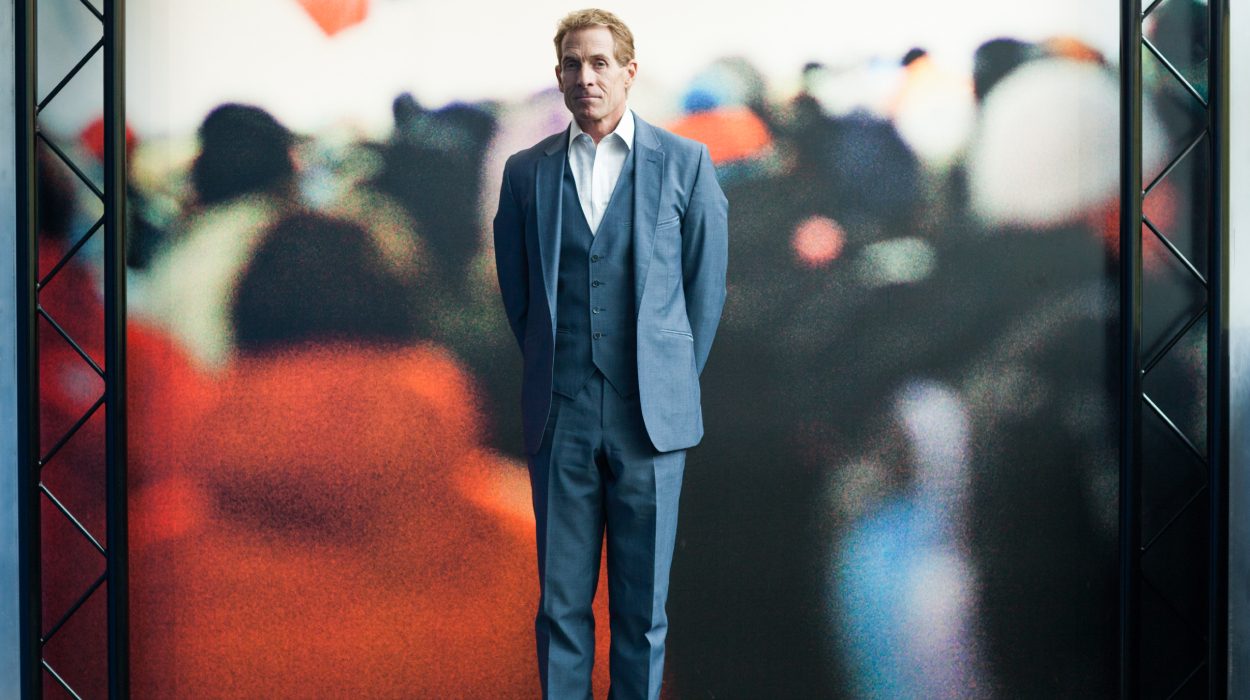 Skip Bayless Has Polarizing Opinions but Is Actually 'Misunderstood': 'He's Also Just a Really Sweet Person'
For nearly two decades, Skip Bayless has almost always had a polarizing opinion on "Cold Pizza," "First Take," and "Undisputed," but his former co-star says he's actually a "misunderstood" person. In fact, the commentator (and LeBron James hater) even proved to be really sweet during the time they worked together.
We're in a day and age where there are a significant number of talking heads on TV. From sports to politics to even entertainment, you can find notable personalities who discuss almost any topic out there. One of the more polarizing commentators in the sports media world, though, is Skip Bayless.
Bayless almost always has hot takes that ruffles the feathers of sports fans everywhere, which often leads to him receiving a ton of hate. However, according to one of his former co-stars, Bayless is actually misunderstood.
That former co-star is Joy Taylor.
Skip Bayless is the king of hot takes
For nearly two decades, Bayless has been an influential figure in the sports media world. Whether it has been on ESPN or FS1, where he ultimately moved to in 2016, Bayless has frequently had controversial opinions ready to fly out of his mouth when needed.
His main target over the years? LeBron James. No matter what The King does, Bayless has something to say about him.
But, in reality, no one is actually safe from the TV star's criticism. Well, other than maybe his Dallas Cowboys.
Bayless, though, doesn't just reserve his opinions for his show Skip and Shannon: Undisputed. His fingers are always busy tweeting away some of his hottest takes, as they, in turn, draw more eyes to his show.
"Now the Lakers have a backcourt of Westbrick and LeBrick, a nightly air ball display," Bayless tweeted after the Los Angeles Lakers acquired Russell Westbrook in July.
He also tweeted this about Luka Doncic during the first round of the 2021 NBA playoffs. Bayless has become a Luka Doncic hater in recent years, as Doncic could very well take James' role as Bayless' primary target once LBJ retires.
"Funny how, when Doncic realized they were about to lose, he started grimacing and favoring his left shoulder," he tweeted during the first round of the 2021 NBA playoffs. "Guess he's got some LeBron in him. He's an even worse free-throw shooter than the King. Clippers hunted him and cooked him on D. You can have Luka. Give me Kawhi."
Joy Taylor said Skip Bayless is 'misunderstood'
Bayless worked with Joy Taylor on Undisputed for a little over two years, as she was the moderator when the show launched in 2016. Taylor, the younger sister of Miami Dolphins legend Jason Taylor who now stars on The Herd with Colin Cowherd, recently revealed what it's like to work with Bayless.
"Skip is great," Joy Taylor said on the July 29 episode of All the Smoke. "I don't even know how to describe what Skip's done for me in my career. A lot of people think Skip is very hard and mean. He's a passionate person, so I think he's misunderstood."
Taylor then said that Bayless proves just how much he cares for people whenever Undisputed records shows on the road instead of the studio.
"Don't get it twisted; people love Skip. They love Skip, and Skip loves the people," she said. "And Skip is going to stand there after every show, shake everybody's hand, take a picture with whoever is there, talk to them for as long as they want to talk to him.'"
Bayless is more than just nice to his fans, though. Taylor shared that he even welcomed her into his home for Christmas.
"He's also just a really sweet person," she said. "We had to work Christmas day for the first two years of Undisputed, which for me is hard. I have a big family. It's hard for me to be out here in LA, everybody's on the east coast, so I can't go see them. Him and his wife had me at their house for Christmas. They're amazing people, and he's been incredible to me."
Joy Taylor discussed what commercial breaks were like on 'Undisputed'
Taylor essentially said that Bayless' sports fandom is as real as it gets, but he's not the hard, maybe even mean, person some people think he is. But, what is it like to work with Bayless and his co-star Shannon Sharpe when the lights are on? Do their debates continue off-air?
"They're not fighting in the breaks," Taylor said on All the Smoke. "Skip gets up, goes over to the corner, he's looking at his notes. Shannon's on his phone, or he's singing or whatever. As soon as the camera's off, it's on to the next block. So, there's no real animosity; it's like arguing with your friend. … People always think it's like war in the break. Like, damn, we would be tired as hell."
Bayless certainly knows how to get people riled up, but that's how he gets more eyes on his TV show. By the sounds of it, he must not be the same, controversial figure off-air.
Maybe one day he will show LeBron James that other side of him, but also, maybe not.
Like Sportscasting on Facebook. Follow us on Twitter @sportscasting19.