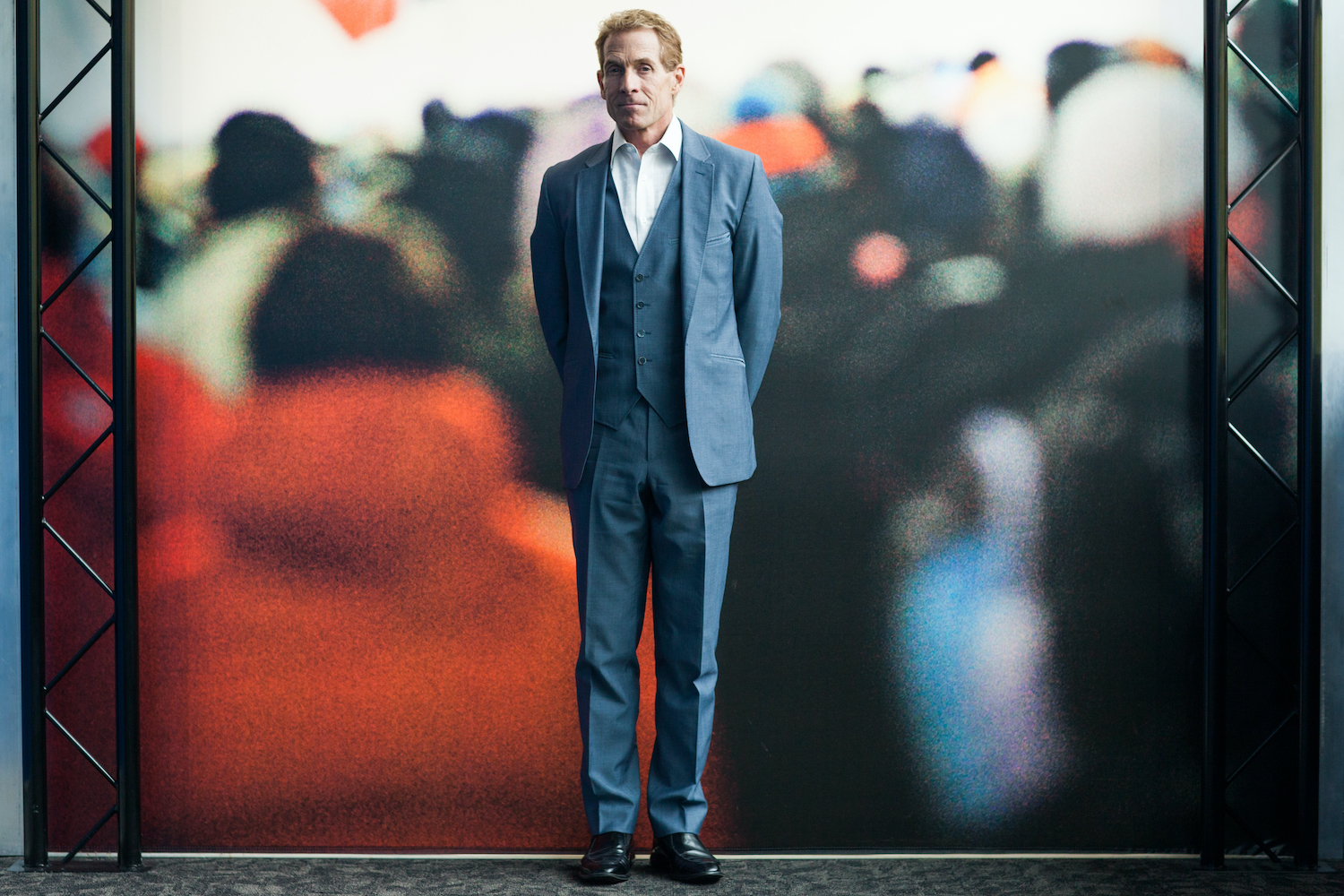 Skip Bayless Has Officially Taken His Trolling of LeBron James to an Incredibly Petty New Level
Skip Bayless has decided that 'Space Jam' is his newest opportunity to criticize LeBron James.
Whether you love him or hate him, Skip Bayless has become an inescapable presence on the sports media landscape. Whether he's on the air or sharing his hot takes on Twitter, the Fox personality has made a habit of needling LeBron James. In recent days, though, Bayless has taken things to a new level, even by his standards.
While the cliche may say that all's fair in love and war, the columnist-turned-talking head has forrayed into a new frontier of trolling. Bayless is now trying his hand at playing film critic and has been taking shots at James' role in Space Jam: A New Legacy.
Skip Bayless is no stranger to targeting LeBron James
When you're an international superstar like LeBron, you're bound to have your fair share of haters. Dealing with the likes of Skip Bayless, however, goes above and beyond the call of duty.
Over the years, Bayless has made James his preferred punching bag. While there's plenty of criticism of the Lakers star's on-court performance — who can forget the creative label "LeChoke" — the Fox personality hasn't been afraid to take things a bit further. During the 2020-21 campaign, for example, Skip suggested that James was preparing to use a nagging ankle injury as an excuse in case he struggled in the postseason. He also attempted to argue that LeBron's game-winner in the play-in tournament was "lucky."
While you could cynically argue that Bayless is simply trolling and makes outlandish claims about King James to make headlines, taking shots at LeBron has simply become a part of his public persona. After losing a bet to GQ writer Mark Anthony Green, for example, Skip had to say 10 nice things about the LA Lakers star rather than reaching into his wallet.
'Space Jam' is Skip Bayless' latest avenue of attack
As noted above, Skip Bayless hasn't been afraid to stretch the boundaries when it comes to criticism of James. Recently, though, the talking head has taken things to a petty new level.
As just about everyone knows, LeBron is the featured NBA player in Space Jam: A New Legacy, which sets him up as this generation's Michael Jordan. Bayless has seized on that reality and used it as his latest round of ammunition against the Lakers' man.
In addition to spending a portion of a recent Undisputed episode talking about the movie, Bayless also fired off a series of tweets taking shots at LeBron's role in Space Jam. In one, he suggested that James tried too hard to act and couldn't simply play himself, as Jordan did. Another tweet suggested that, if you count the original Space Jam, His Airness was a perfect 7-0 in championship games, which is an obvious reference to King James' history in the NBA Finals.
Again, it's very possible that Bayless is trolling and embracing his role as a pantomime villain. Just as wrestling fans want to boo the heel and cheer for the face, Fox Sports' biggest name knows the dance. If he takes increasingly laughable shots at LeBron, everyone will be inclined to jump in, creating a larger and larger social media snowball. People will be talking, which, at the end of the day, pays off for Bayless and company.
Even if we acknowledge the game that is (likely) afoot, though, that doesn't make Bayless comments any better. It's one thing to push the envelope when it comes to sports, but trying to bring a children's movie into the equation is simply a bridge too far. Part of the art of trolling is to keep things believable and within the potential bounds of a good faith argument. Skip, it seems, is even struggling to do that.
LeBron James, for his part, doesn't seem too concerned with his haters
No matter how much fame, fortune, and success one has, facing constant snipes from the media eventually becomes tiresome. If that's the case for King James, though, he isn't letting anyone see him sweat.
While his NBA campaign may have come to an early end, LeBron hasn't taken a holiday from defending himself on social media. He recently told his haters that he loves them and, in another tweet, brushed aside any concerns about the new Space Jam movie. At this point in his life — James will turn 37 at the tail end of 2021 and has countless NBA honors under his belt — the Lakers' main man seems to be rightfully confident in his own skin.
No amount of jabs from Skip Bayless seem capable of changing that.