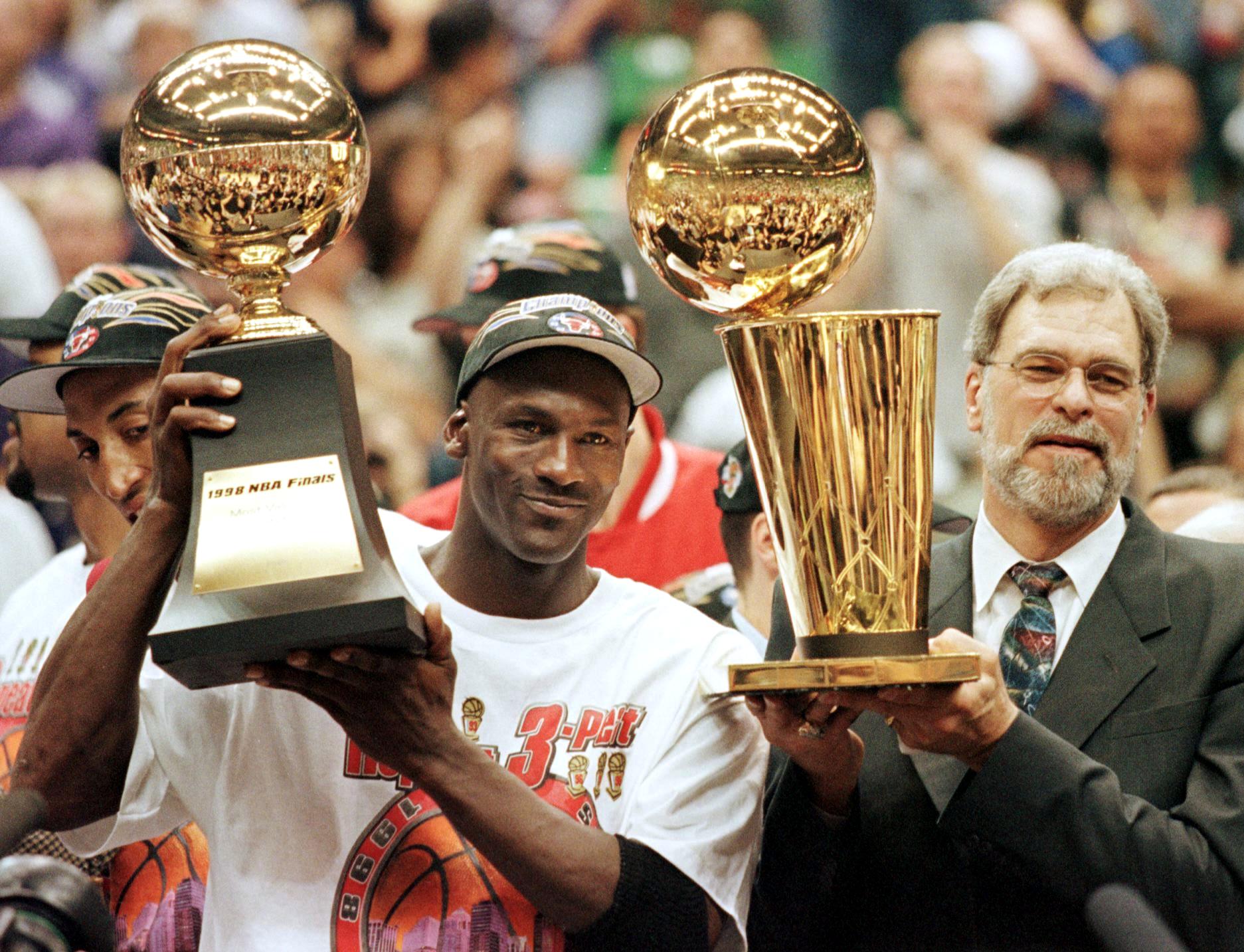 What is LeBron James' All-Time NBA Finals Record and How Does it Compare to Michael Jordan's?
For better or worse, LeBron James will always be compared to Michael Jordan. Which man has been a better performer in the NBA Finals?
For better or worse, sports fans love to debate, deliberate, and argue among themselves. In the world of basketball, one of the eternal conversation topics is comparing LeBron James to Michael Jordan. While King James is one of modern basketball's top talents, how does he stack up against His Airness?
For many fans, the deciding factor is playoff performance and how each man has done with the championship on the line. With that in mind, how does LeBron James' NBA Finals resume compare to Michael Jordan's?
LeBron James has a sub-.500 record in the NBA Finals
During his time on the hardwood, LeBron James has established himself as one of the top talents in modern basketball. He's encountered some difficulties, however, in the NBA Finals.
During his 17 years in the association, King James has appeared in 10 championship series; he's currently 3-6, pending the result of the 2020 NBA Finals. Unfortunately for LeBron, that record is one of his critics' main talking points. In their mind, falling at the last hurdle isn't worthy of any special praise.
While you can debate the validity of that assessment—while losing in the finals is still, to some extent, a failure, there's only so much one player can do in a series—we do know that James, on an individual, comes to play when there's a title on the line. According to StatMuse, LeBron has played 53 career games in the NBA Finals and averaged 28.2 points, 10.1 rebounds, and 7.1 assists per outing. Even if those numbers mostly came in losing efforts, it's still an impressive body of work.
Michael Jordan went a perfect six-for-six in the NBA Finals
As every fan knows, Michael Jordan dominated the cultural landscape during his time in the NBA. Unfortunately for other players, he also monopolized the Larry O'Brien Trophy.
While it took MJ and his Chicago Bulls some time to overcome the Detroit Pistons, they ultimately became a dynasty. The club won three straight championships in 1991, 1992, and 1993; after Jordan returned from the baseball diamond, he led the team to another three-peat from 1996 through 1998. Those were his only trips to the NBA Finals; he never lost a series when the grand prize was on the line.
Beyond that perfect 6-0 record, His Airness also stuffed the stat sheet. According to StatMuse, Jordan appeared in 35 NBA Finals games, averaging 33.6 points, six rebounds, and six assists per night.
Both LeBron James and Michael Jordan are legendary winners
Based purely on the tale of the tape, Michael Jordan still seems to hold the advantage over LeBron James when it comes to overall NBA Finals performances. Even if the Lakers claim the 2020 title, His Airness will still have won more championships in fewer attempts; his stat line is also, depending on how you value points, rebounds, and assists, a bit better than LeBron's albeit in a smaller sample size.
With all of that being said, though getting lost in direct, one-to-one comparisons can obscure one, undeniable truth: both LeBron James and Michael Jordan are legendary basketball players. While there's no harm in a debate when you're sitting on the couch or at the bar, citing one man's accomplishments shouldn't devalue the other. It would be a shame if, rather than appreciating the greatness that we're witnessing, there was too much of a focus on deciding how elite a certain player is or is not.
Michael Jordan himself had an excellent response earlier this year when he was asked about comparing himself to LeBron James. As the conversation about historical legacies restarts again, it could be worth keeping in mind.
"We play in different eras," Jordan explained. "He's an unbelievable player. He's one of the best players in the world, if not the best player in the world. I know it's a natural tendency to compare eras to eras, and it's going to continue to happen. I'm a fan of his, I love watching him play."
"I think he's made his mark," His Airness continued. "But when you start the comparisons, I think it is what it is. It's just a stand-up measurement. I take it with a grain of salt. He is a heck of a basketball player without a doubt."