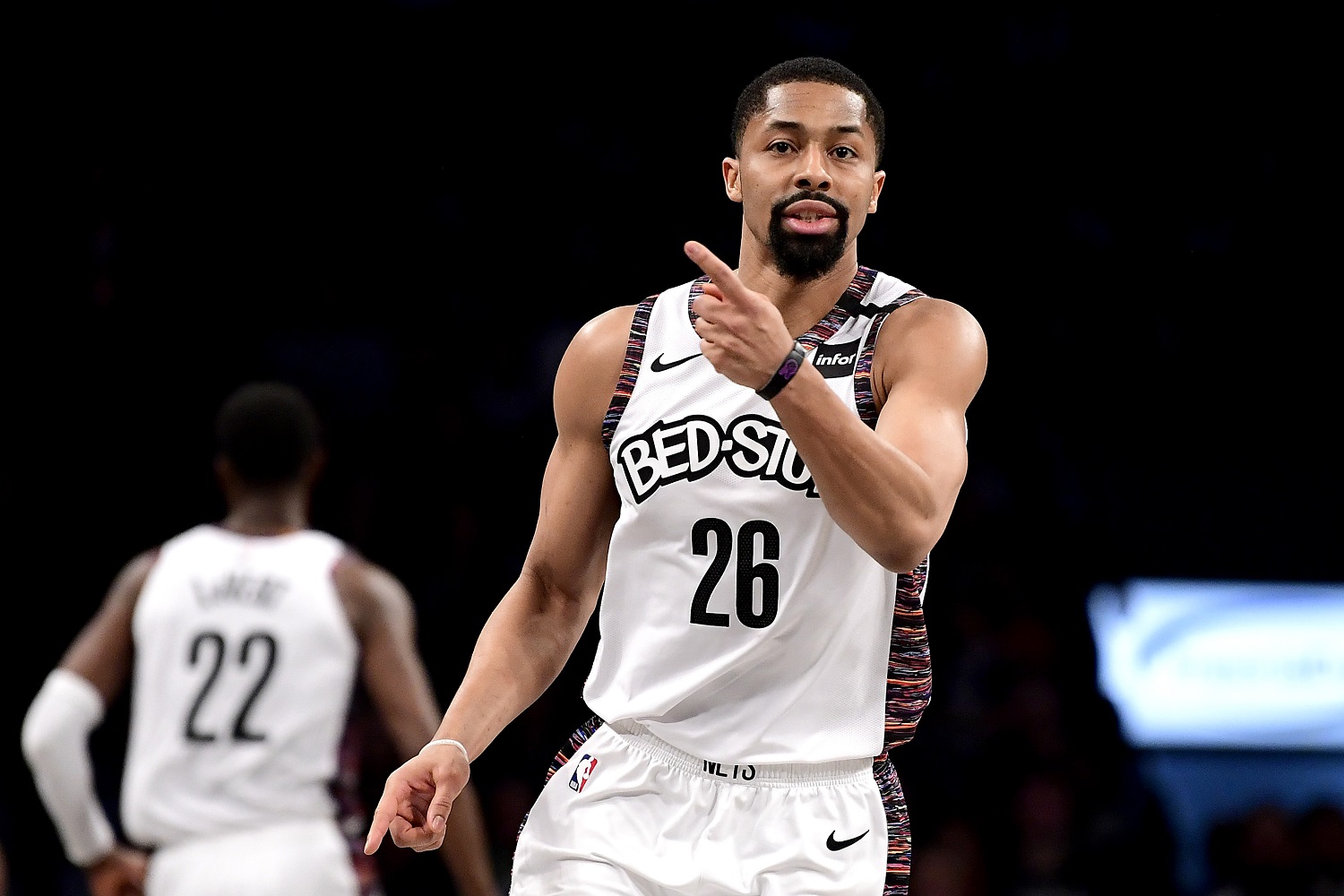 Spencer Dinwiddie's NBA Future May Hinge on 1 Tweet: 'Nets in 4'
Spencer Dinwiddie declined his option for next season but could still remain with the Brooklyn Nets. His recent tweet suggests he might be leaning in that direction, but Dinwiddie is a Los Angeles native.
Besides being enormously skilled on the basketball court, Spencer Dinwiddie is interesting off it. His mind is always working, as evidenced by the way he became an early advocate of cryptocurrency, and he's a reliably interesting interview.
Not surprisingly, then, his social media presence is a must-follow for basketball fans, and one of his tweets last week has NBA observers in a tizzy. What he wrote shows an allegiance to the same Brooklyn Nets team he might want to leave and takes a poke at the Los Angeles Lakers team he might want to join.
As we said, the man is interesting.
Spencer Dinwiddie plans to hit the open market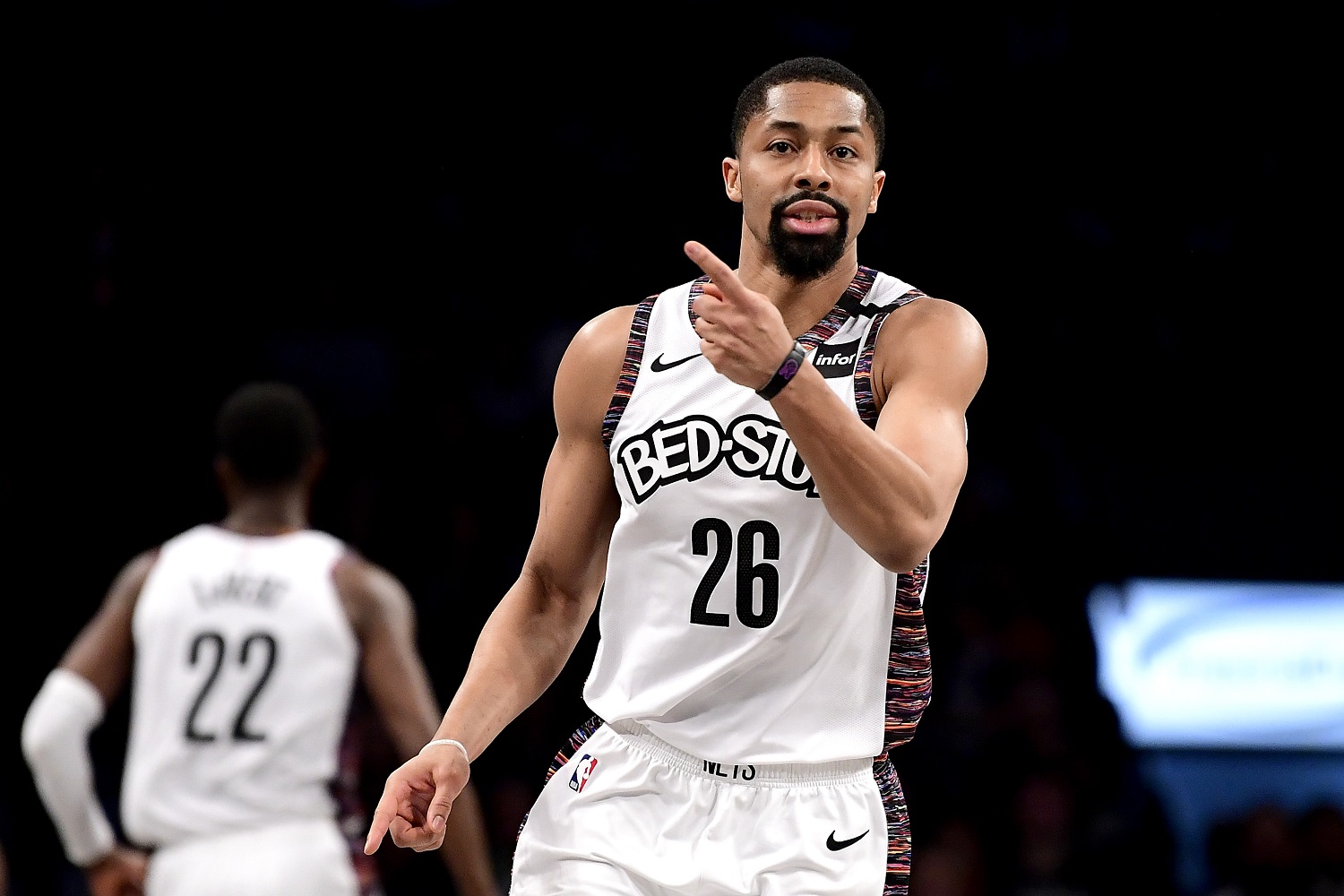 Dinwiddie's seventh NBA season ended after three games because of a partial tear of the ACL in his right knee, and the timing was particularly bad. Dinwiddie, coming off a season with career highs in scoring and assists, had just a 2021-22 player option remaining on his three-year, $34 million contract. With any kind of 2020-21 season, he would have been in position to decline the option and command a lot more money.
Interestingly, though, Dinwiddie declined the option anyway, the Daily News reported. A source told the paper that the 6-foot-5 guard out of the University of Colorado wants to go home or "wants the bag" of money.
In Dinwiddie's case, home is Southern California. He was born in Los Angeles and played his high school ball in Woodland Hills. But given their salary-cap statuses, neither the Lakers nor the LA Clippers could accommodate the kind of deal Dinwiddie wants without it being a sign-and-trade arrangement.
The Miami Heat and Dallas Mavericks are two more teams that should show some interest in Dinwiddie, who played his first two seasons with the Detroit Pistons before joining the Nets in 2016.
Dinwiddie's NBA future may hinge on one tweet: 'Nets in 4'
One of Dinwiddie's Twitter followers threw out a premise last week that the NBA championship series would have come down to the Nets vs. the Lakers if not for injuries. Their message asked for the combo guard's prediction on the outcome:
"Nets in 4," Dinwiddie responded, following up with, "Lmao y'all act like I gotta bash last years roster cuz ima Free Agent now."
And there's the conundrum. Dinwiddie finds himself showing support for the team he doesn't want to play for at a $12.3 million price tag while trolling a franchise that he undoubtedly would like to join.
The more diplomatic answer would have been "Nets in seven." But where's the enjoyment in that when you're an entertaining character like Dinwiddie?
What is his best-case scenario?
Dinwiddie anointed himself the best free-agent guard in basketball in an Instagram post. Even if it's hyperbole, the knee injury is a one-off, and he will be valuable wherever he lands.
One player who might take issue with Dinwiddie's boast is Dennis Schroder, who is almost certainly on his way out of LA after fizzling in the Lakers' postseason flop. Kentavious Caldwell-Pope is the only Lakers guard under contract for next season, and Alex Caruso or Talen Horton-Tucker would play a complementary role if Dinwiddie lands there.
All things considered, it's the best scenario for Dinwiddie. But it comes down to whether the Lakers will part with a player or package that satisfies Brooklyn's needs.
Otherwise, Dinwiddie is best served by staying in Brooklyn, provided the money is right, for his best crack at a ring.
Like Sportscasting on Facebook. Follow us on Twitter @sportscasting19.