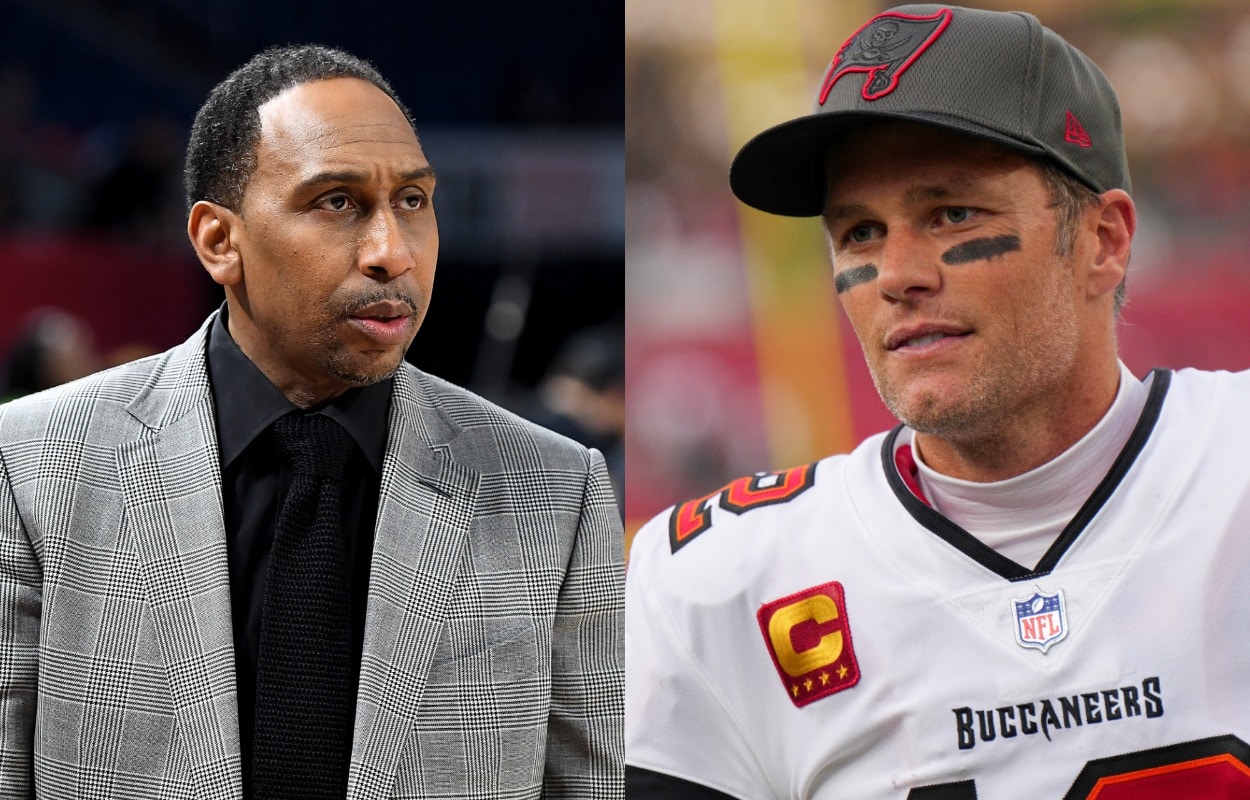 Stephen A. Smith Unenthusiastically Admits He Doesn't Care About Tom Brady's New TV Gig
Tom Brady has a TV job lined up for whenever he retires from football, but ESPN commentator Stephen A. Smith couldn't care less about the big news.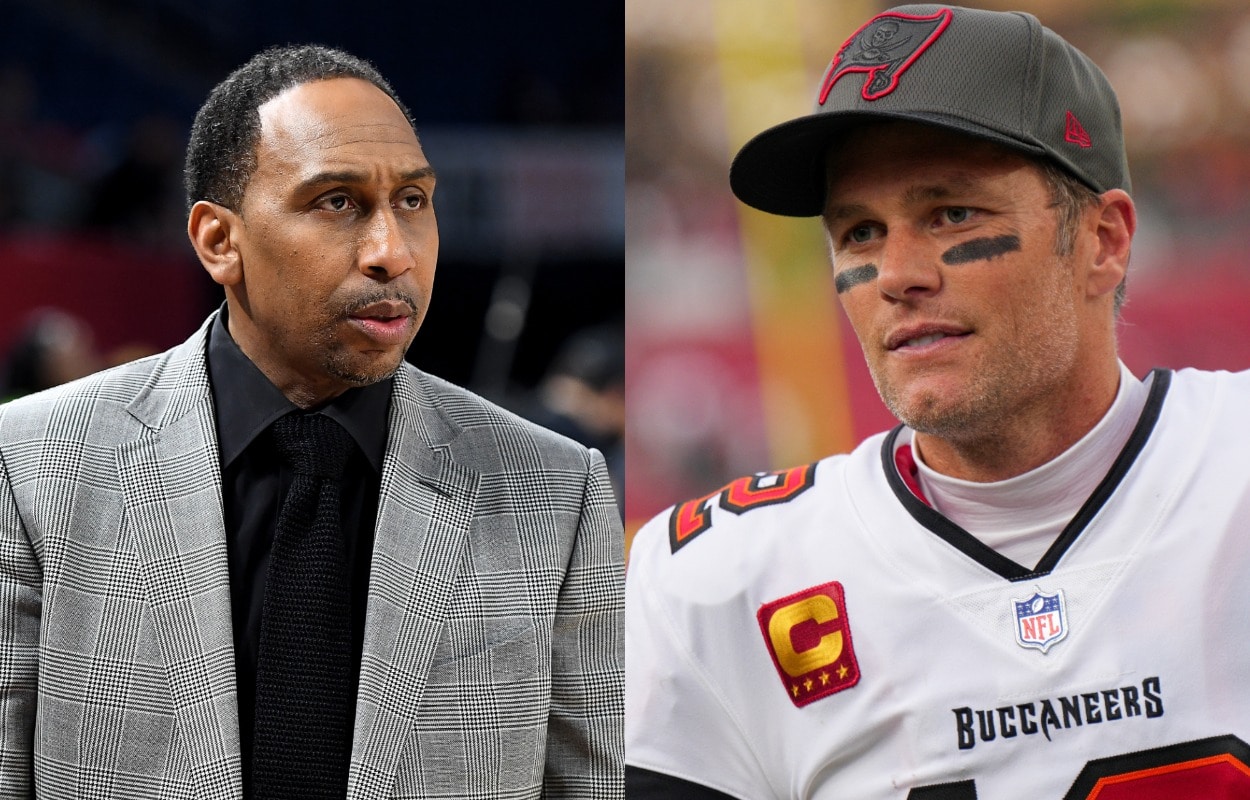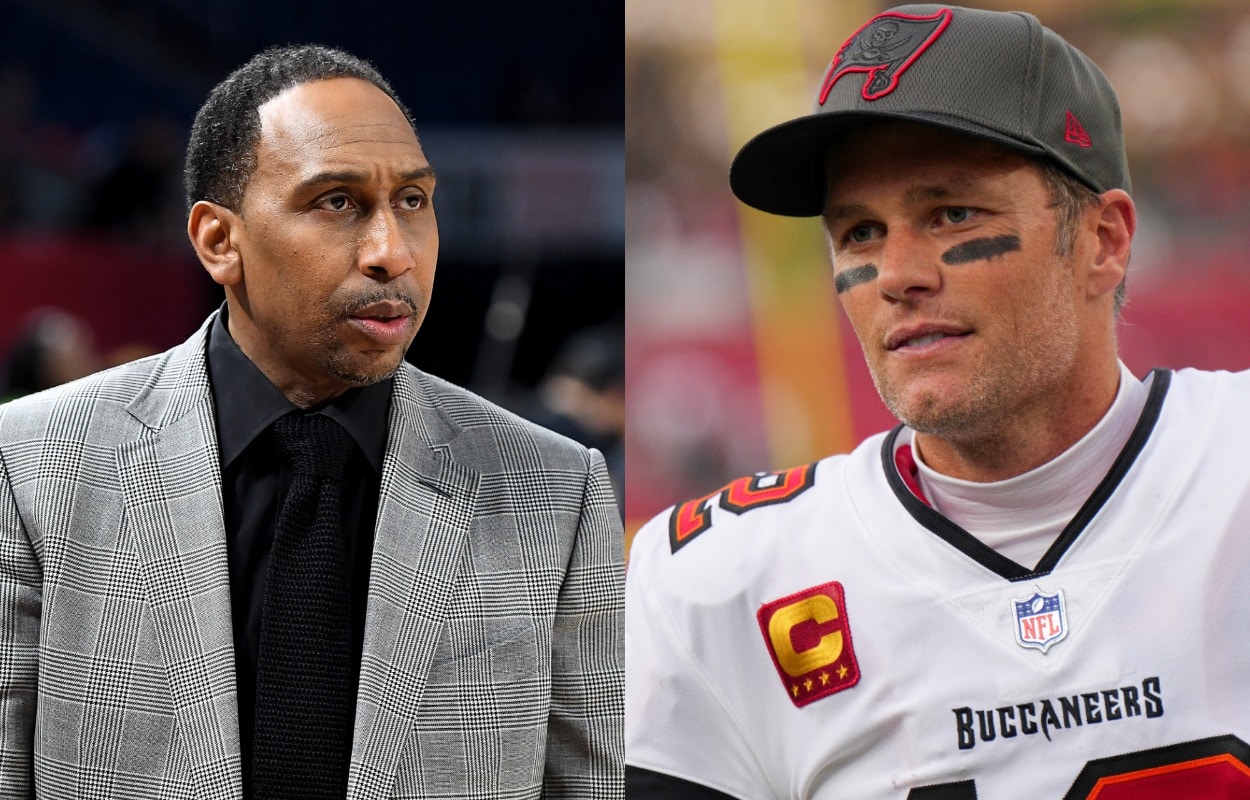 Tom Brady might be coming for Stephen A. Smith's job.
OK, that's certainly not the case. Brady just signed a massive deal with Fox while Smith works for ESPN. The Tampa Bay Buccaneers quarterback probably won't just come up with ridiculous takes for the heck of it, either. But TB12 is joining the sports broadcasting world Smith has been a part of for years, and he's already setting records.
Brady will reportedly earn $375 million over 10 years as Fox's lead NFL analyst (although the terms of the contract have been disputed), and the deal will start when he retires. If those numbers hold up, they would easily surpass Tony Romo's previous record-setting mark of about $18 million per year (which Troy Aikman has since reportedly matched at ESPN). The contract would be the largest in sports broadcasting history.
However, Smith doesn't care about Brady's new job. He reacted to the news on his show, First Take, and his response was uncharacteristically underwhelming.
Stephen A. Smith doesn't care about Tom Brady's TV deal
Stephen A. Smith makes a good bit of money himself. The New York Post reported last year that he makes about $12 million per year. That's pocket change compared to Brady's supposed $37.5 million a year (also reported by the New York Post), but he's still well off.
And the wealthy ESPN commentator reacted to Brady's new TV gig on the May 10 episode of First Take (they didn't discuss the lucrative numbers but just that he was joining Fox). However, Smith didn't have much to say.
"I'm happy for him; he deserves it, but forgive me if I don't care that much," Smith said. "I'm interested in seeing him play this year, trying to win another Super Bowl, and call me when he's in the booth. … I think he's absolutely going to be great. He deserves it. I'm happy for him. But I'm interested in seeing him play. I could give a damn about him in the booth right now."
So, Smith is just worried about Brady's upcoming season with the Buccaneers. And as the QB said on Twitter, he has some unfinished business.
Tom Brady will look to get the Buccaneers back to the Super Bowl first
Tom Brady retired for two seconds this offseason before he decided to return and run it back with the Buccaneers.
It's easy to understand why he's still playing. Brady led the NFL in passing yards (5,316) and touchdowns (43) in 2021, and Tampa barely fell to the eventual Super Bowl champions, the Los Angeles Rams, in the NFC Divisional Round.
The Buccaneers lost guard Alex Cappa, tight end O.J. Howard, and running back Ronald Jones this offseason. But they have added guard Shaq Mason and former Atlanta Falcons wide receiver Russell Gage. Those key offensive additions combined with the core of Brady, Mike Evans, Chris Godwin, and Leonard Fournette (and maybe Rob Gronkowski?) should make the Buccaneers Super Bowl contenders yet again.
If Brady can accomplish just a portion of Tony Romo's success behind the mic, he will have a tremendous broadcasting career. However, he has a chance to win his eighth Super Bowl first. The real question is whether he will wear those rings in the booth or not.