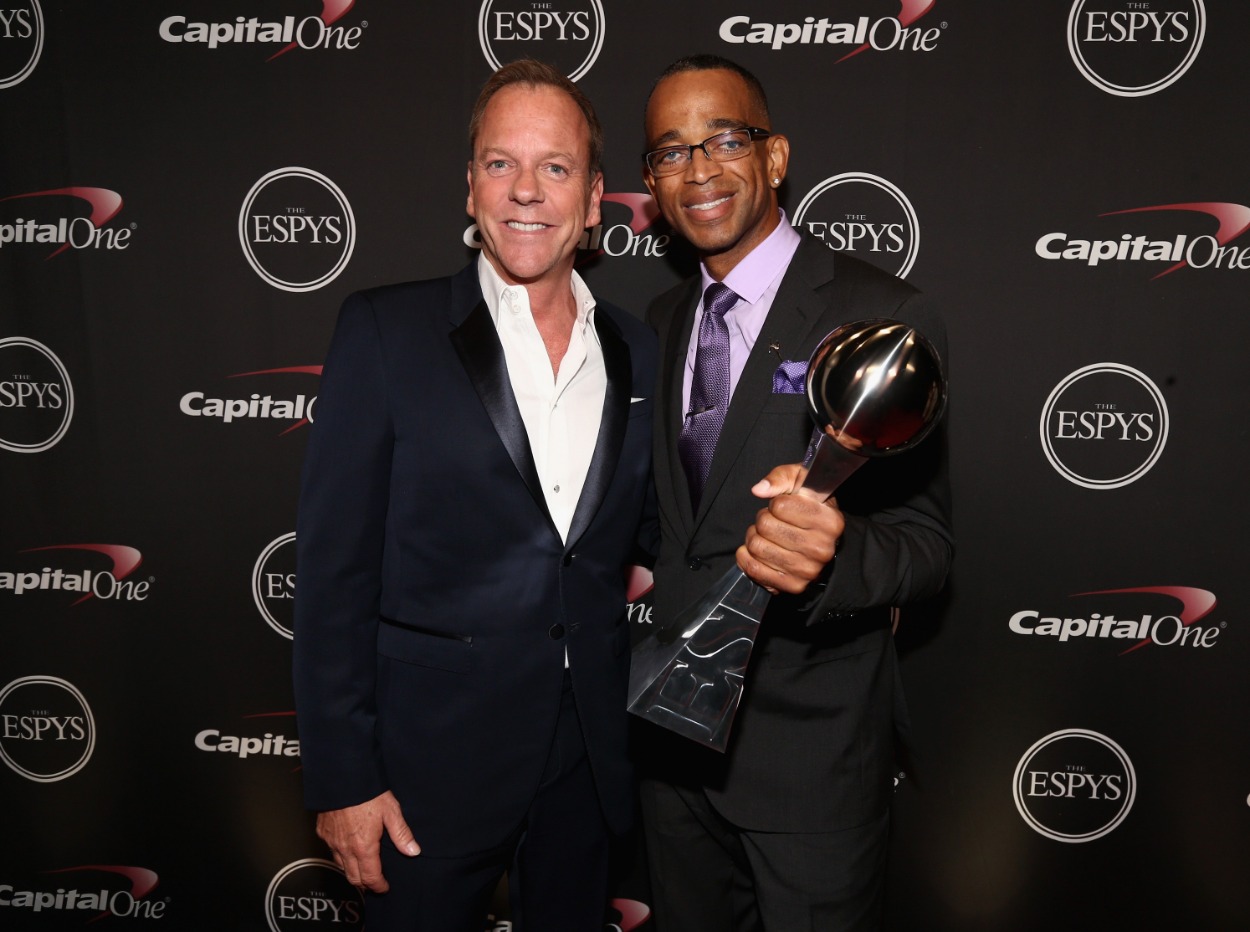 What Was Stuart Scott's Net Worth at the Time of His Tragic Death?
Stuart Scott rose to become one of the most popular anchors on ESPN. Sadly, he passed away in 2015 after building up an impressive net worth.
You can't talk about ESPN without mentioning Stuart Scott. The legendary SportsCenter anchor delighted audiences for decades with his signature catchphrases. Turning on the highlights meant more than just watching clips of a game; Scott made SportsCenter an experience.
Sadly, the father of two died in 2015 after a long battle with cancer. As one of the most prominent anchors in the world, he managed to build a substantial net worth before his death. And while Stuart Scott may be gone, he certainly isn't forgotten.
Stuart Scott's rise to broadcasting fame
Born in Chicago, Stuart Scott and his family relocated to Winston-Salem, North Carolina. A sports fanatic at heart, he served as a captain of the Richard J. Reynolds High School football team. In addition, Scott ran track. He took his talents to the nearby University of North Carolina and began his journey into broadcasting.
Scott kickstarted his career by working as a news reporter and weekend sports anchor. However, after honing his craft, he finally got his big break. According to Steve Wulf of ESPN, Scott landed at the company thanks to Al Jaffe, vice president for talent.
"One of the producers on a story we were doing on the Orlando Magic told me about this young guy he really liked. I followed up and found out that Stuart's contract was up soon. He sent me a tape, and even then, he had an amazing presence — I felt the viewer would sit up and take notice when he was on the air."
Over the years, Stuart Scott grew into a dominating presence at ESPN. He smartly intertwined hip-hop culture with sports in a way that catered to a younger audience. Along the way, signature phrases like "Boo-yah!" and "as cool as the other side of the pillow" became trademarks. In no uncertain terms, Scott made SportsCenter worth watching.
The beloved ESPN anchor tragically passed away in 2015
As one of the most recognizable faces in the sports media industry, Stuart Scott built a huge fanbase. Viewers routinely tuned in to watch how he could transform a seemingly innocuous play or situation into belly-busting entertainment. Unfortunately, his career and life got cut short far too early.
On January 4, 2015, Scott died after a long battle with appendiceal cancer. According to a CBS News report at the time, fewer than 1,000 people in the United States were diagnosed with this rare form of cancer on an annual basis.
About eight years prior to his death, Scott had begun experiencing stomach pains. He underwent an emergency appendectomy. At that time, he also found out about his cancer diagnosis. Though it looked like he beat the disease, it reappeared in 2011 and 2013.
Despite showing fierce determination and incredible resolve, Stuart Scott couldn't beat cancer again. Still, that did nothing to take away from a legendary career at ESPN that helped him build an impressive net worth.
What was Stuart Scott's net worth at the time of his death?
It's one thing to have a job. It's another to do what you love. And in the case of Stuart Scott, he absolutely adored making people smile and laugh through sports. In doing so, he became a wealthy man.
According to Celebrity Net Worth, Scott had an estimated net worth of $15 million at the time of his death. He reportedly earned a $4 million salary at ESPN.
For comparison, longtime ESPN anchor and radio show host Mike Greenberg makes about $6.5 million annually. He also has a similar net worth of $18 million. Linda Cohn, who worked alongside Stuart Scott for many years, pulls in about $3 million per year. She has an estimated net worth of $10 million.