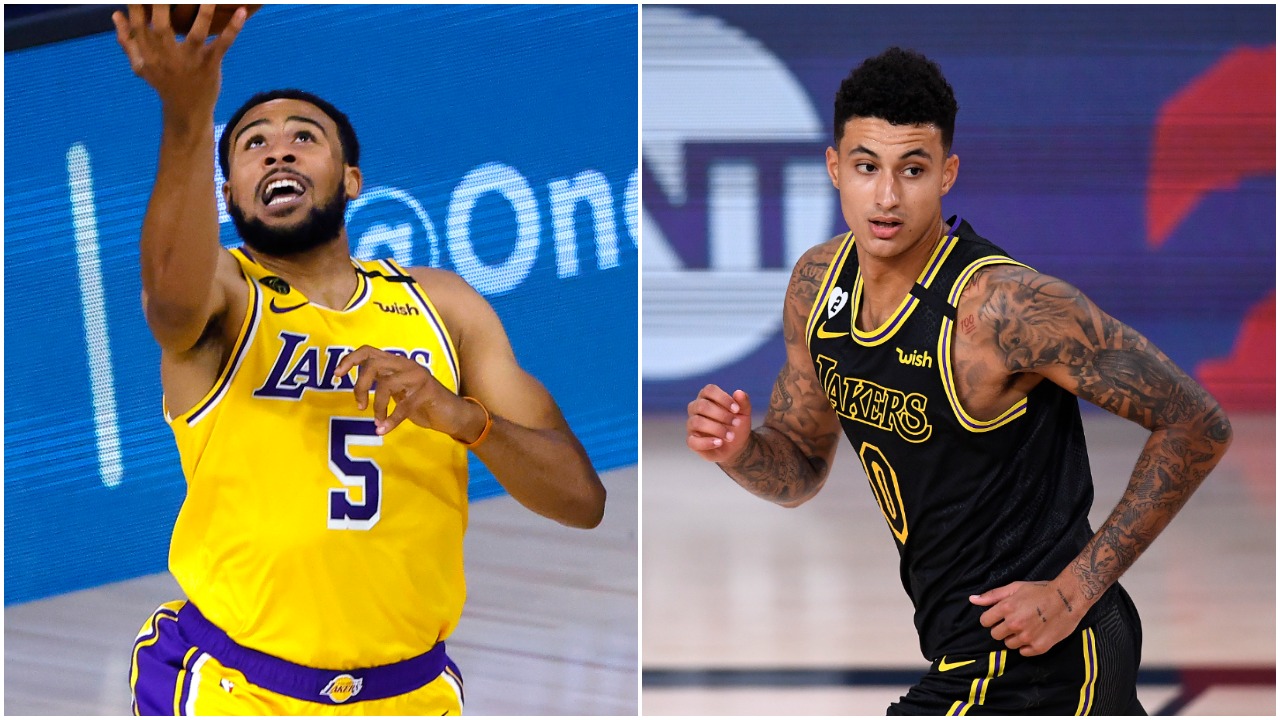 Talen Horton-Tucker May Have Sealed Kyle Kuzma's Fate With the LA Lakers
The emergence of Talen Horton-Tucker for the Los Angeles Lakers in the preseason may have sealed Kyle Kuzma's fate with the franchise.
While some thought that Kyle Kuzma might be traded during the offseason, the fourth-year swingman is still wearing a Los Angeles Lakers jersey heading into the 2020-2021 NBA season, a season that he really needs to go well given the fact that he becomes a restricted free agent next summer. But there's still the chance that Kuzma doesn't make it to that point before being shipped out of Hollywood and the emergence of 20-year-old Talen Horton-Tucker for the Lakers this preseason may just play a part in that. LA also added a number of new weapons during the offseason that could diminish Kuzma's role with the team.
During the regular season in 2019-2020, Kyle Kuzma was the third-leading scorer for the Lakers behind Anthony Davis and LeBron James, averaging 12.8 points off the bench. But his scoring dipped in the postseason and he only averaged 8.5 points per night in the NBA Finals, good for fifth on the team.
His trade value took quite a hit due to his average play in the postseason but he has gotten off to a good start in the postseason. However, he's being overshadowed by Talen Horton-Tucker, who is quickly becoming a fan favorite in LA and may have made it easier for the Lakers to get rid of Kuzma. He's younger (he just turned 20 on November 25), cheaper, and is much better on the defensive end, which Lakers head coach Frank Vogel certainly values.
At this point, Kuzma supporters might be saying that Horton-Tucker's presence makes no difference as the two really don't play the same position and that there's a four-inch difference in height as Horton-Tucker is listed at 6'4″ and Kuzma is listed at 6'8″. But it's not as if Kuzma is a true power forward and spends any real time in the post. He's a perimeter player, as is Horton-Tucker, and at full strength, they'd pretty much play the same role in the Lakers' offense.
So are we finally seeing the true beginning of the end for Kyle Kuzma with the LA Lakers?
Talen Horton-Tucker and Kyle Kuzma have both had a fantastic preseason for the Lakers thus far
With LeBron James and Anthony Davis waiting until the Lakers' third preseason game to make their debuts, the second-tier stars in LA got their chance to shine in two games against the Clippers and nobody shined brighter than Talen Horton-Tucker. Taken in the second round of the 2019 draft out of Iowa State, Horton-Tucker played just six regular-season games for the Lakers last season and an additional two in the postseason, but he's showing Frank Vogel that he deserves a much bigger role with the team this year.
In the Lakers' preseason opener, Horton-Tucker scored a team-high 19 points in the 87-81 victory and also added nine rebounds, four assists, and three steals. Kyle Kuzma added 18 points for LA. Two nights later, Talen Horton-Tucker was even better as he poured in 33 points, shooting 11-for-17 from the floor, 4-for-5 from the 3-point line, and added 10 rebounds, four assists, and four steals in the 131-106 blowout victory. Kuzma was efficient as well, scoring 25 points on 8-for-14 shooting, draining four of seven shots from beyond the arc.
Talen Horton-Tucker is the much cheaper option moving forward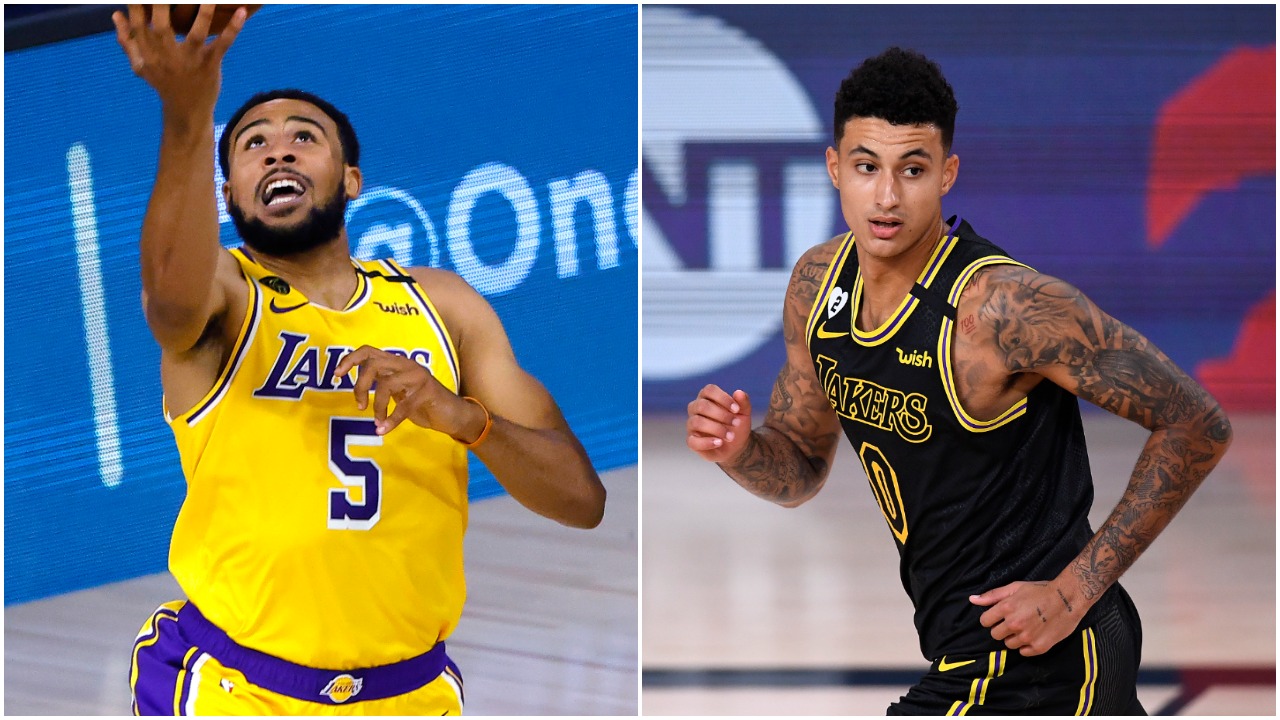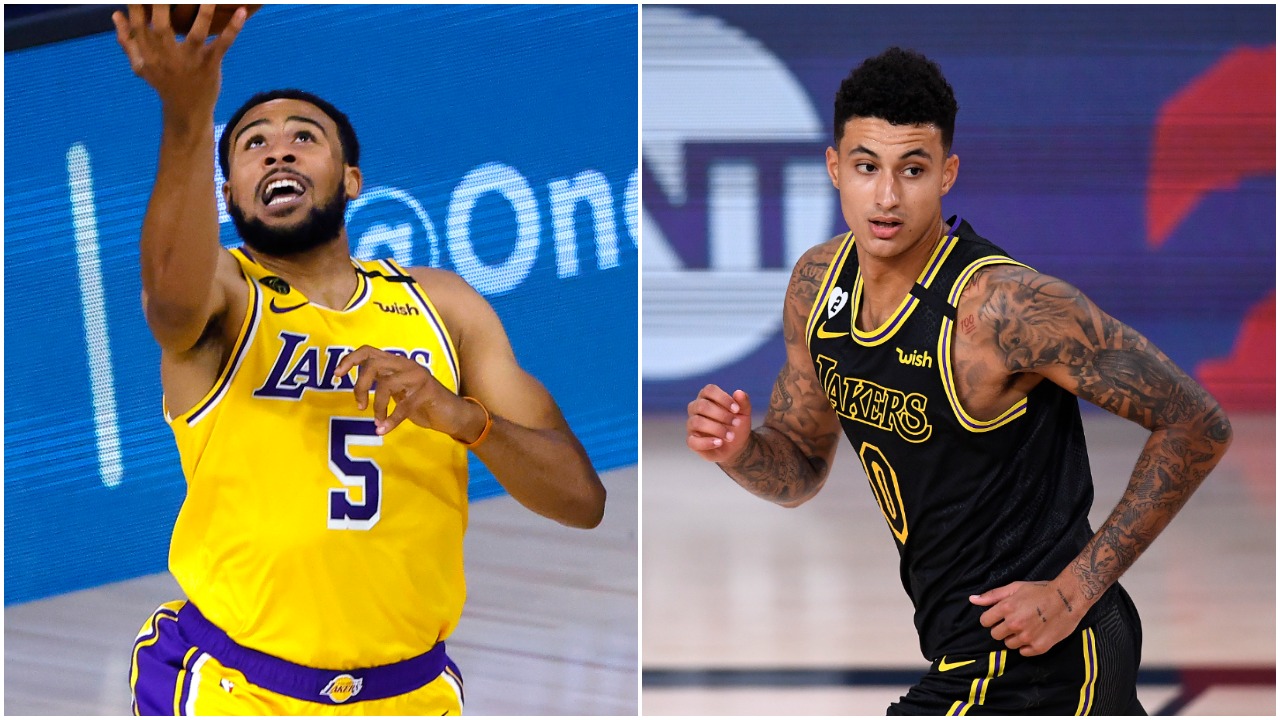 As mentioned, Kyle Kuzma will become a restricted free agent at the end of the 2020-2021 season and the Lakers might not be willing to pay him the amount of money he'll be looking for or as much as some other teams would be willing to pay him, teams where he'd likely have a better chance at cracking the starting lineup.
Kuzma is owed just over $3.5 million for the 2020-2021 season and if the Lakers don't trade him during the season and extend him a qualifying offer next summer, his salary would jump to $5.28 million if he were to sign it, which doesn't seem likely as he'll likely be looking for at least the $13 million that someone like Kentavious Caldwell-Pope is being paid.
As for Talen Horton-Tucker, he's only making just over $1.5 million in 2020-2021 and would receive a qualifying offer of $1.78 million next summer. Sure, he could get offers from other teams as well but the Lakers would have a chance to match and the amount certainly wouldn't be as high as what they'd have to match for Kyle Kuzma.
The Lakers' new weapons make Kyle Kuzma even more expendable than he already was
Talen Horton-Tucker certainly isn't the only reason that Kyle Kuzma's days with the Lakers may be numbered. LA had a phenomenal offseason in which they added reigning Sixth Man of the Year Montrezl Harrell, SMOY runner-up Dennis Schroder, veteran guard Wesley Matthews, and former three-time NBA All-Star Marc Gasol. And let's not forget that KCP and Alex Caruso essentially outshined Kuzma in the Finals back in October.
The Lakers have refused to trade Kyle Kuzma in the past but given all the extra firepower they have now to support LeBron and AD, moving him seems more likely than ever. Again, his value may not be as high as it once was but LA could still add pieces at the trade deadline if necessary. Or, knowing they have other options heading into free agency next year, perhaps they keep him around for the entire year just to get as much out of him as they possibly can before letting him walk next summer.
Either way, Kyle Kuzma's days with the LA Lakers seem numbered.
Stats courtesy of Basketball Reference
Contract information courtesy of Spotrac