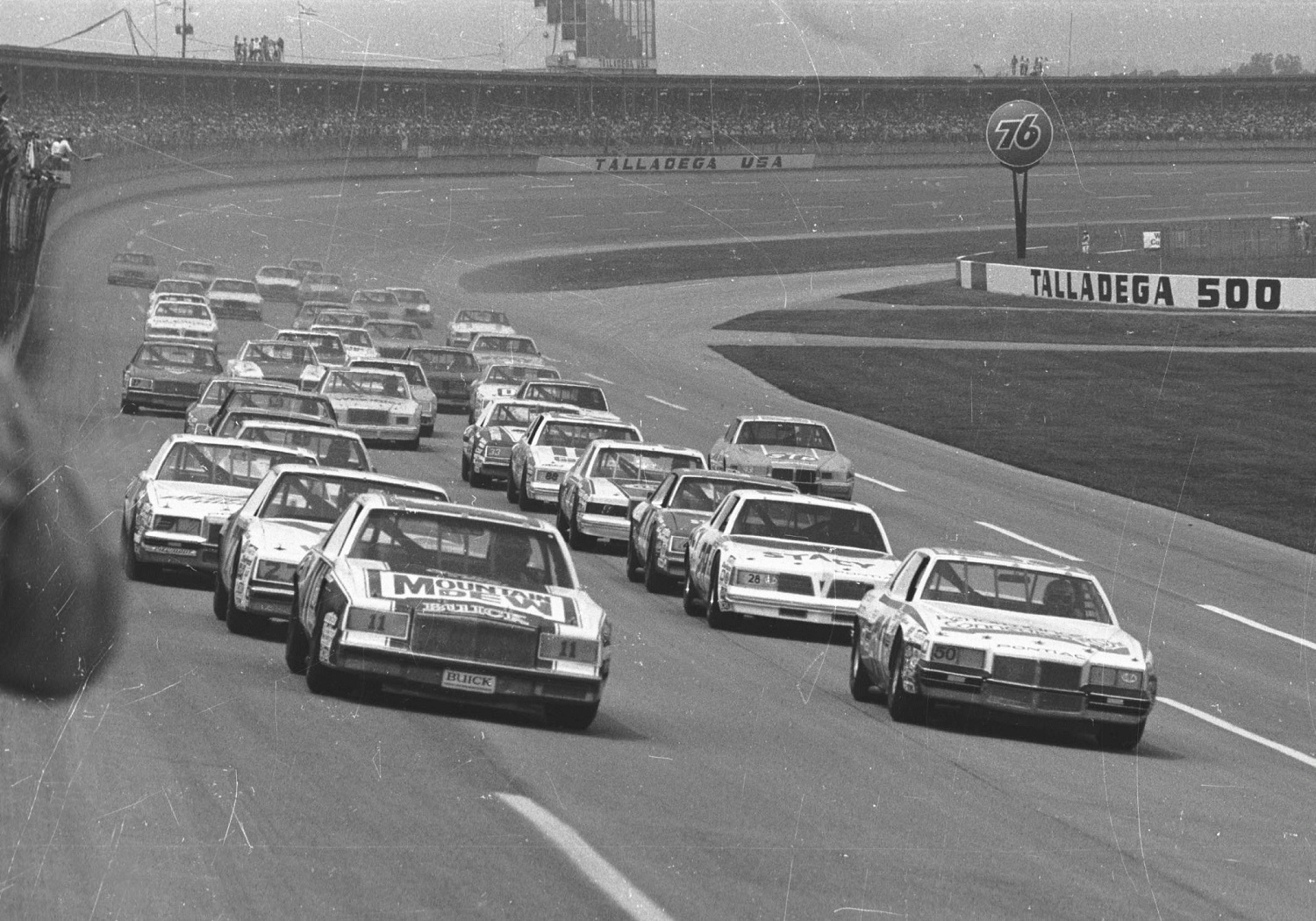 Talladega Tale: L.W. Wright Was the D.B. Cooper of NASCAR and Pulled off the Sport's Greatest Hoax
L.W. Wright crashed the party at the 1982 Winston 500 at Talladega in the most audacious NASCAR stunt ever.
How many times have you watched a mildly underperforming car in a NASCAR Cup Series race and complained that the jalopy had no business being out there? In 1982, every spectator at what's now Talladega Superspeedway may have said exactly that. And they would have been right.
A man going by the name L.W. Wright pulled off an outlandish stunt. It was the result of sloppy vetting by multiple people, including future Talladega champion Sterling Marlin, and could have killed somebody. Fortunately, the only real  damage was to the reputation of NASCAR, the victim of a magnificent hoax.
There were early warning signs something was amiss at Talladega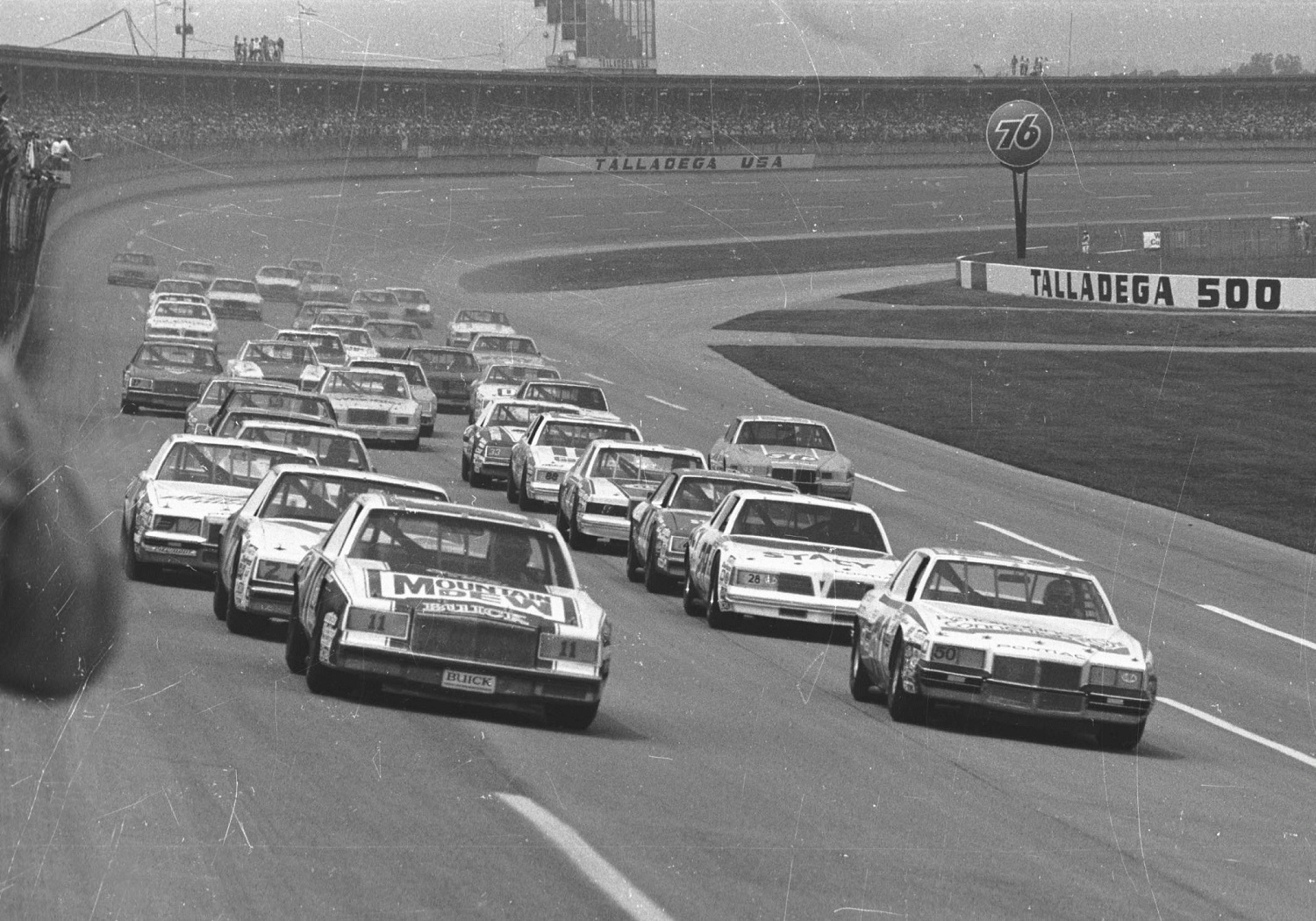 Stock car racing was still very much a regional sport in 1982 even though NASCAR was beginning its second decade of a streamlined schedule on asphalt at mostly bigger tracks. The Cup Series visited Michigan International and Pocono, but that was as far north of into midwestern states as it went.
Southern tracks ruled the schedule, and Talladega was at the epicenter, though it went by Alabama International Motor Speedway at the time. Small regional series abounded, but everybody pretty much knew everybody else. One of the exceptions was a guy who went by the name L.W. Wright.
Nashville sports reporter Larry Woody, writing for The Anniston Star, recalled how he was among the first to realize something didn't add up. After hearing from someone doing PR for Wright (no one believes that was his real name), Woody wrote a short item about how the driver, new to the Nashville area, was prepping to enter the Winston 500 at Talladega thanks to backing from country music stars Merle Haggard and T.G. Sheppard.
Almost immediately, Sheppard's PR guy called Woody to say the story was false. On the other hand, the claim that Wright had purchased a Monte Carlo from driver Sterling Marlin checked out. In fact, Marlin, still a year away from driving full-time in the Cup Series, agreed to serve as the crew chief.
Still, other drivers were telling the reporter that they had never heard of Wright.
L.W. Wright qualified for the race but proved to be a bust
Reporter Larry Woody remained skeptical, but he met alleged stock car driver L.W. Wright in the garage area at Talladega, and he marginally passed the "look test." Perhaps drivers, crew chiefs, and NASCAR officials should have been more suspicious after seeing Wright clock a pedestrian 187.37 mph in qualifying, but Benny Parsons created the big buzz as the first driver ever to crack 200 mph in qualifying.
Wright's performance ranked 36th for the day, but it got him into the next day's starting field despite his minor wreck on a subsequent lap. His effort on Sunday was a different matter. According to Woody's recent story in anticipation of the 40th anniversary of the race, the driver of the No. 34 Chevy was "a mule that somehow got in the Kentucky Derby."
Wright lasted just 13 laps on the superspeedway, and NASCAR officials black-flagged his car even before the Monte Carlo's engine blew. It was probably good fortune for both Wright and the rest of the field since his struggle to maintain 180 mph posed a risk to cars that were pushing 200.
A couple of hours later, Darrell Waltrip won the race ahead of Terry Labonte, Parsons, Kyle Petty, and Morgan Shepherd, the only cars to finish on the lead lap. The standings showed Wright placing 39th out of 40 entries.
L.W. Wright disappeared after Talladega
By the time reporters finished interviewing Darrell Waltrip following the Winston 500, L.W. Wright had packed up and fled Talladega. He left behind a string of unpaid bills, including a $3,700 check to Sterling Marlin that was partial payment for the car. The disappearing act earned him the label of "the D.B. Cooper of NASCAR," a reference to an infamous skyjacker who vanished with $200,000.
NASCAR came away a loser, too. If Wright actually possessed a NASCAR license, there were only two possibilities: He forged it, or he "earned" it despite questionable racing skills. Either way, it was a bad look for anyone involved in allowing him into Talladega.
Though he scammed a few businesses out of a little bit of money, L.W. Wright didn't make a financial killing off his escapade. So, why did he do it? Boredom Therapy speculated that Wright pulled off his stunt to win a bet. If that was the case, however, wouldn't someone on the other side of the bet have spilled the beans a year or 20 after the race?
Reporter Larry Woody may have come closest to solving the mystery last year when someone purporting to be a relative of Wright contacted him. Details elicited in their conversation seemed to verify the caller was on the up-and-up. If that's the case, L.W. Wright is still alive, in his early 70s, and living in another state under another name.
If true, a whole bunch of people would love to hear the story in his own words.
Like Sportscasting on Facebook. Follow us on Twitter @sportscasting19.
RELATED: Brandon Brown Rides to Bubba Wallace's Defense at Talladega Over Stupid Twitter Criticism