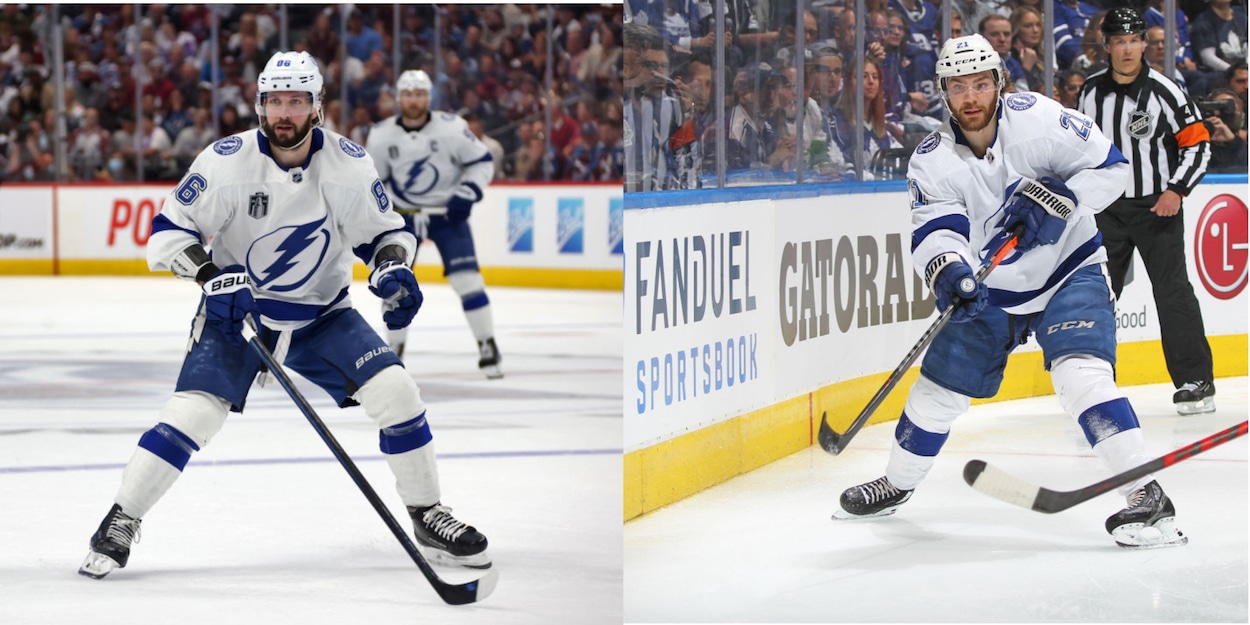 Tampa Bay Lightning Injury Update: Nikita Kucherov and Brayden Point Are Trending in Opposite Directions Ahead of Game 4
Overcoming injuries are part of chasing the Stanley Cup. The Tampa Bay Lightning are currently experiencing that reality.
Thus far, the 2022 Stanley Cup Final has been somewhat of a mixed bag for the Tampa Bay Lightning. Despite playing some dominant hockey in the previous rounds, the Eastern Conference club was blitzed by the Colorado Avalanche and dropped the series' opening two games. Things were a bit different in Florida, though, as Jon Cooper's squad held serve and notched a 6-2 victory.
That win, however, may prove to be costly.
On Monday night, Brayden Point wasn't able to take the ice. Then, in the third period, Nikita Kucherov left the ice after being cross-checked by Devon Toews. While the Bolts have plenty of talent on the roster, they're a much different team without those two forwards in uniform.
You're not going to get detailed injury updates during the NHL Playoffs, but Cooper did provide some insights on Tuesday. Unfortunately for those in Tampa, Point and Kucherov are trending in opposite directions.
Nikita Kucherov could play in Game 4, but Lightning fans shouldn't hold their breath waiting for Brayden Point
Given the way that the Stanley Cup Final is trending, the eventual champion is going to need to score their way to victory. For the Lightning, that shines the spotlight on the duo of Point and Kucherov.
While the former man has historically shone during the postseason — he has 78 points in 76 career playoff games — he's barely seen the ice this spring. Point suffered an injury during the Bolts' first-round series against the Maple Leafs and didn't return until Game 2 against the Avalanche. When the series moved to Tampa for Game 3, however, he returned to the sidelines.
Kucherov also shines during the postseason — 153 points in 133 appearances — and has shone during the current run to the Cup Final. He has 26 points in 20 games, leading the way for the Lightning. As mentioned above, though, he left Game 3 after absorbing a dangerous cross-check.
On Tuesday, June 21, Jon Cooper provided an update about his two star forwards. While the coach said he'd have to see how things played out, he told reporters that he thought Kucherov would be able to go in Game 4.
"As I sit right now, I think he can play tomorrow," the coach said (h/t Greg Wyshynski). "But I'm not Kuch. If I know Kuch, he's sitting there saying the same thing. But we'll see what the doctors and everybody says."
Point, however, is a different story. According to the coach, he's considered day-to-day and is "doubtful" for the next contest.
While injuries are part of the playoffs, that update is certainly a mixed bag for Lightning fans. Having Kucherov in the lineup will certainly help, but it remains to be seen if he's at full strength. Any hopes of Point providing an offensive spark also seem to be dwindling; while Tampa has faired rather well without him, it's never ideal to learn a top talent can't play.
No one ever said three-peating as Stanley Cup champion was easy.
Stats courtesy of Hockey-Reference and accurate as of 6/21