Was Terrell Owens Better for the Dallas Cowboys or San Francisco 49ers?
Hall of Fame wide receiver Terrell Owens was one of the most talented, exciting, and controversial NFL players ever. While he played for five different teams in his career, he's most associated with two iconic NFC clubs. As these two teams, the Dallas Cowboys and San Francisco 49ers, get ready to face off during 2021's Super Wild Card Weekend, let's look at Owens' career and decide whether he was better with the Cowboys or 49ers.
Terrell Owens career
Terrell Owens grew up in a small town in Alabama and played football, basketball, baseball, and ran track in high school, per TerrellOwens.com. After high school, he played college football for the small FCS school, the University of Tennessee-Chattanooga. 
As a wide recover for the UT-Chattanooga Mocs, Owens made All-Southern Conference. He also set a school record, catching passes in 11 straight games. T.O. dominated his small-school competition with his explosive athleticism and 6-foot-3, 224-pound frame.
The talented wideout caught the eye of the San Francisco 49ers. The team selected him in the third round (No 89 overall) of the 1996 NFL Draft. 
Owens spent eight seasons in San Francisco before heading to the Philadelphia Eagles for two tumultuous years that included an All-Pro season, a Super Bowl appearance, and an infamous shirtless press conference in his driveway. 
The controversial WR then found a home for three seasons with the Dallas Cowboys before finishing his career with the Buffalo Bills and Cincinnati Bengals. All told, Owens played 15 NFL seasons, caught 1,078 balls for 15,934 yards and 153 receiving touchdowns. 
These numbers are good enough for third all-time in receiving yards and touchdowns. He finished his career eighth in receptions and, in 2018, made the Pro Football Hall of Fame. In true T.O. fashion, he skipped the ceremony.
The question is, though, was Terrell Owens better as a member of the Dallas Cowboys or San Francisco 49ers? 
Owens started his NFL career with the San Francisco 49ers
Terrell Owens started as the San Francisco 49ers offense's No. 2 pass-catching option behind his childhood hero, Jerry Rice. As the years went on, though, T.O. developed into a superstar wideout in his own right. The WR had his first 1,000-yard season in 1998, was named a Pro Bowler and All-Pro in 2000, 2001, and 2002, and made the Pro Bowl yet again in 2003.  
All told, Owens spent eight seasons in the Bay Area and became one of the best WRs in the league. He finished his time with the Niners with 592 catches for 8,572 yards and 81 touchdowns. He led the league in receiving TDs twice ('01,' 02) and yards per game once (' 00).  
T.O.'s time in San Fran was marked by two memorable incidents that perfectly sum up Owens's Jekyll and Hyde nature. 
On the one hand, Owens was one of the biggest talents of his generation, and he showed that with The Catch II in the 1998 NFC Wild Card Game against the Green Bay Packers. Down 27-23 with eight seconds left in the game, Steve Young dropped back from the 25-yard line and threw a strike to Owens. Despite getting crushed by two defenders, T.O. held on and won the game for his team. 
On the other hand, in Week 4 of the 2000 season, Owens caused a stir by getting into a fight with the Dallas Cowboys. After scoring a touchdown, Owens sprinted to midfield and posed on the Dallas star. Following TD No. 2, he went to do it again and got blasted by Cowboys safety George Teague, causing a fight between the teams. 
These two moments illustrate good T.O. vs. bad T.O., and scenarios like this would play out throughout his career. 
T.O. and the Dallas Cowboys
After his personally disastrous and professionally prosperous time in Philly, Terrell Owens signed a three-year, $25 million deal with the Eagles' NFC East rival Dallas Cowboys. 
Owens played 47 games for the Cowboys and caught 235 balls for 3,587 yards and 38 touchdowns. He made the Pro Bowl and All-Pro teams in 2007 and led the league once again in receiving touchdowns (13) in 2006. 
While Owens' first two seasons in Big D were excellent, his ability was declining by his third season at age 35. 
T.O. doesn't have the singularly special on-field play in Dallas that he does in San Francisco. The enduring memories from his time as a Cowboy, though, also show how his antics could be fun at times and distracting at others. 
On the fun side, Owens dumping popcorn in his face after a touchdown was hilarious. On the not-so-fun side, weeping "that's my quarterback" to defend Tony Romo's vacation after a playoff loss was not a great look. 
The Verdict: Was Terrell Owens Better for the Dallas Cowboys or San Francisco 49ers?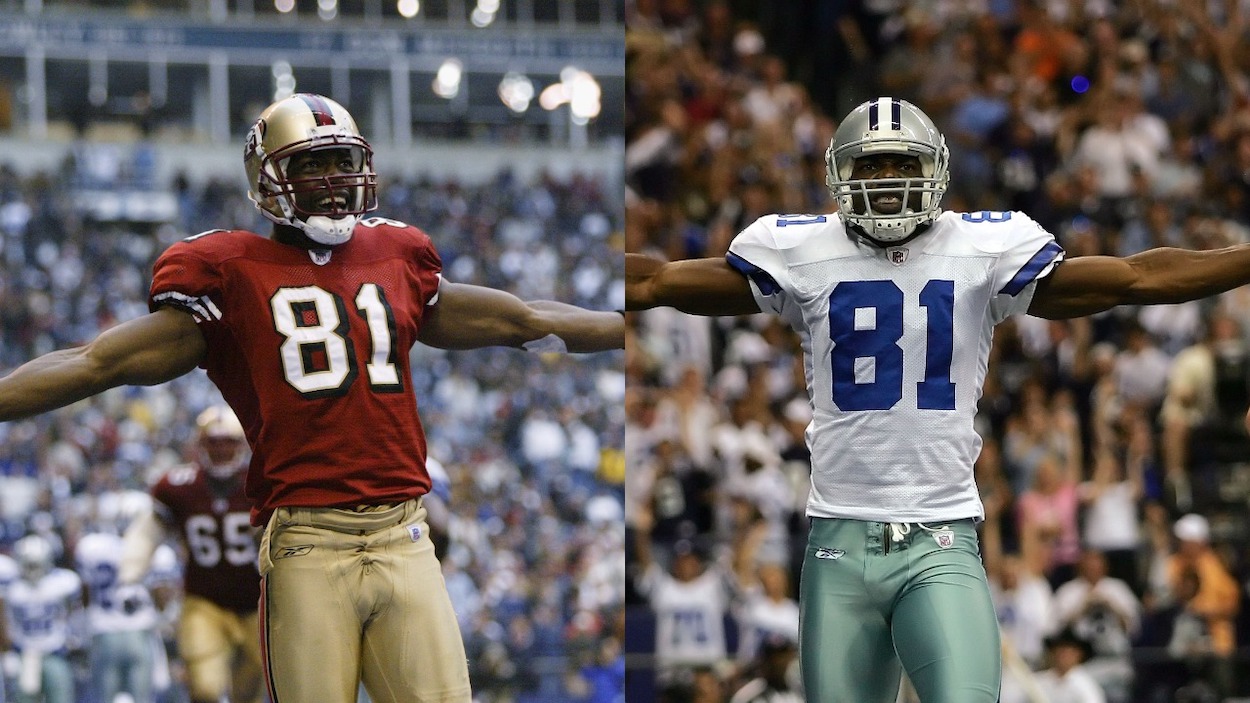 For some NFL stars who played for both the Dallas Cowboys and San Francisco 49ers, it is hard to determine which stint was better. With players like Deion Sanders, Charles Haley, and Ken Norton Jr., there is an argument for both incarnations. 
For Terrell Owens, settling the debate is easier. 
Younger fans might remember T.O. from Dallas more easily and assume that was the best of the WR. However, his first eight seasons in San Francisco were greater both because of the longevity, overall dominance, and the fact he never had a clutch play on Dallas that matched The Catch II in San Fran. 
If you take Owens' two Philadelphia Eagles seasons and add them to the Cowboys' years to create a 49er vs. NFC East argument, the debate would be a lot closer and maybe even flip in Dallas' favor. 
Answering the question, though, was Terrell Owens better for the Dallas Cowboys or San Francisco 49ers, the verdict is: the San Francisco 49ers. 
All stats courtesy of Pro Football Reference and contract figures courtesy of Spotrac