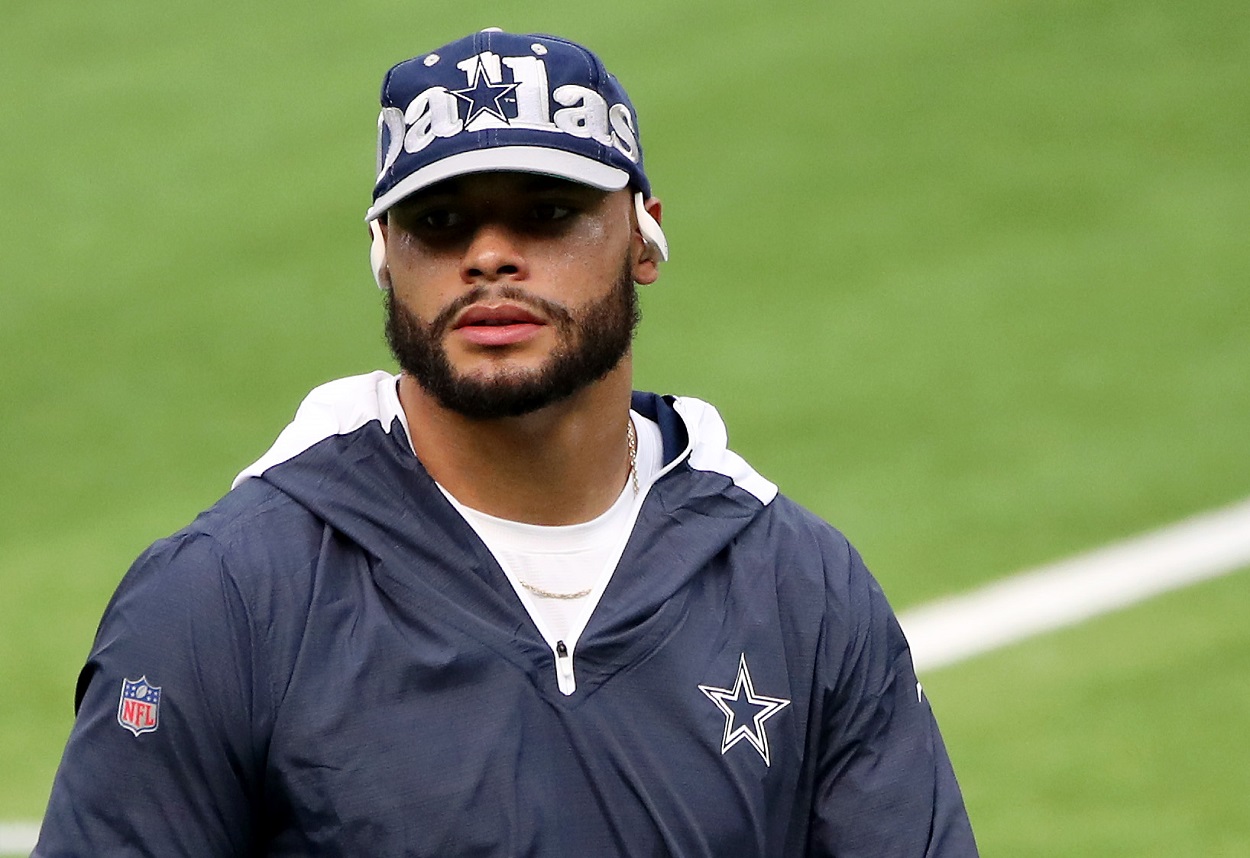 The Dallas Cowboys Are in Scramble Mode Following Their Latest Dak Prescott Gaffe
An interesting 'oversight' by the Dallas Cowboys has many wondering what Dak Prescott's future with the franchise really is.
So Jerry Jones and the Dallas Cowboys continue to say quarterback Dak Prescott is the future of the franchise despite still not being able to come to terms with the two-time Pro Bowler on a long-term extension.
However, when the Cowboys released their hype video for the 2021 season soon after the conclusion of Super Bowl 55, Prescott wasn't included, which the team called a mere "oversight" as they scrambled to do a little damage control after the video was released.
So was this latest gaffe actually an oversight or is there more to it?
Dak Prescott and the Dallas Cowboys still haven't come to terms on a long-term extension
If it seems like it's been years since the discussion of Dak Prescott coming to terms on a long-term extension with the Dallas Cowboys, it's because it has.
Talks of a long-term deal began following the conclusion of Dak's third season in Big D but nothing happened as Prescott reportedly turned down an offer that would have paid him approximately $30 million per season and played the 2019 season, the final year of his rookie deal, with a base salary of $2 million.
Prescott then turned down a five-year/$175 million deal ahead of the 2020 season and played the year under the franchise tag, which paid him $31.4 million, which ended up averaging out to $6.28 million per game as Dak went down in Week 5 with that gruesome ankle injury that ended his season.
The biggest sticking point in the contract negotiations doesn't seem to be money. The length of the contract is what most believe are holding things up as the Cowboys wanted at least a five-year deal while Dak was wanting four so he could get back on the market as soon as possible and capitalize on the NFL's new TV deals that will likely lead to a large rise in the salary cap.
Negotiations are a bit trickier this time around as nobody really knows just yet what the 2021 cap will be outside of knowing there's a $175 million floor. Teams can start tagging players on February 23 and most believe that's what the Dallas Cowboys will again do with Dak Prescott. If that happens, he'd make $37.7 million in 2021.
The two sides would still have until mid-July to work out an actual contract extension but there's certainly a strong possibility that Prescott's final season with a star on his helmet is the upcoming 2021 campaign. There's also a chance it's already happened.
Dak Prescott was left out of the Dallas Cowboys' 2021 hype video
It's not uncommon for teams to release hype videos for the following season just after the Super Bowl ends and that's exactly what the Dallas Cowboys did earlier this week, which you can view above.
Cowboys legends Troy Aikman and Emmitt Smith were included, as were current Dallas stars Ezekiel Elliott, Amari Cooper, CeeDee Lamb, and DeMarcus Lawrence, among others.
But Dak Prescott was nowhere to be seen and it didn't take long for social media to notice. Numerous folks trolled the Cowboys for not including Prescott, including Dak's older brother, Tad, who's never had any problem speaking his mind on his brother's situation.
The reaction to the video quickly sent the Dallas Cowboys into scramble mode and they actually took the team to release a statement on the matter.
The team went into scramble mode following the 'oversight'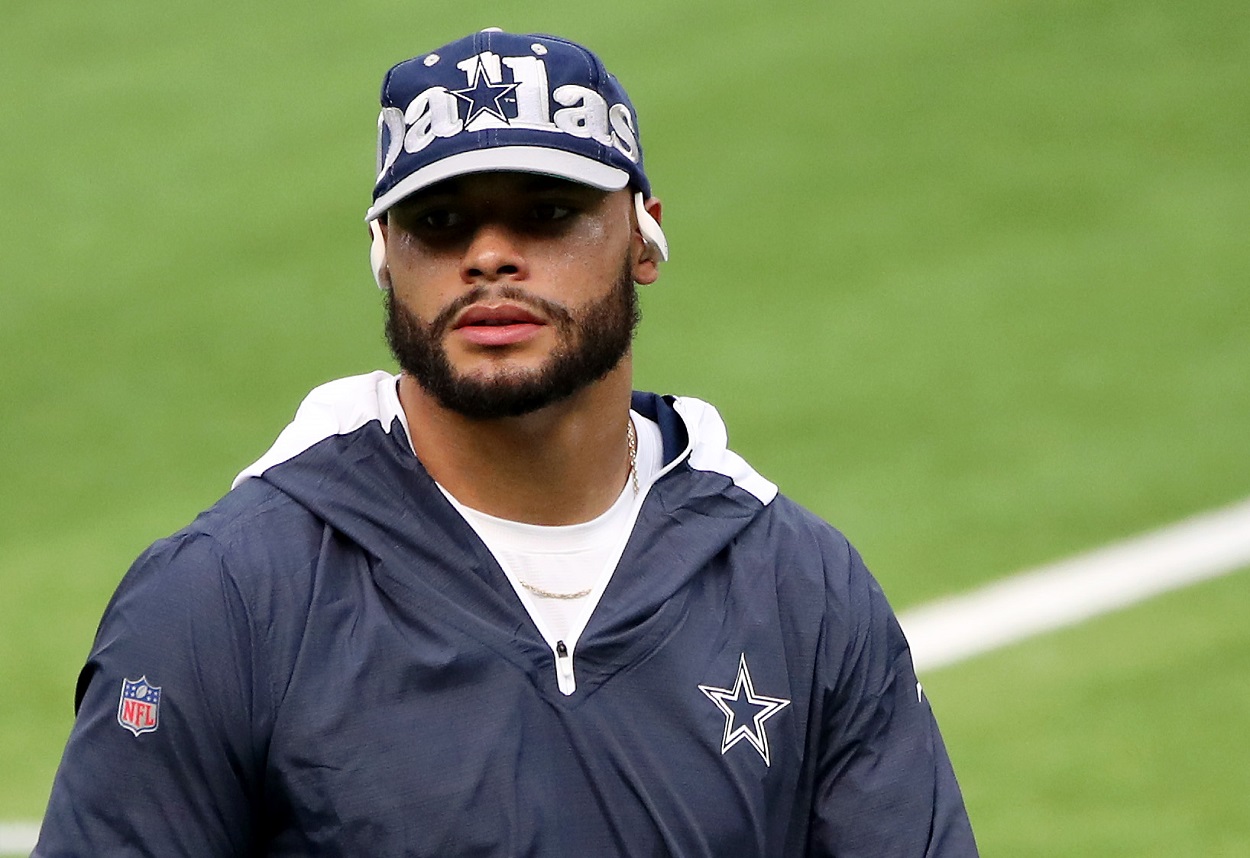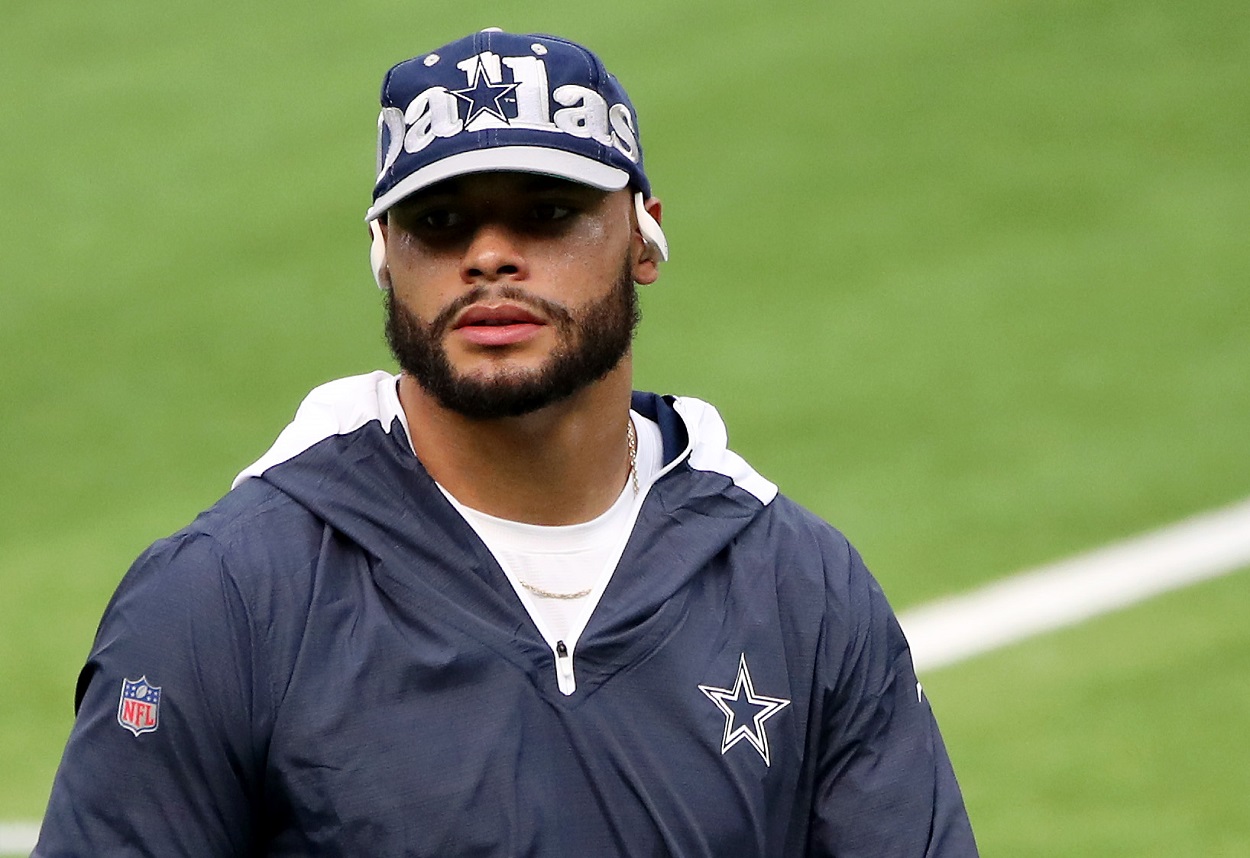 The backlash for Dak Prescott not being included in the video came extremely quickly, which sent the Dallas Cowboys into damage-control mode. The team's Senior Director of Media and Programming, Derek Eagleton, even went so far as to make a statement on the matter (h/t USA Today).
"This was simply an oversight that should have been caught and corrected by us. Anyone who's making it seem like Cowboys' decision makers use social media videos to make statements doesn't understand or take the time to understand how it all works. Trust me, there's no story here."

Dallas Cowboys Senior Director of Media and Programming Derek Eagleton
Overall, that statement is probably true. After all, Dak Prescott technically isn't even under contract with the Dallas Cowboys right now. But, again, Jerry Jones & Co. continue to say that No. 4 is the future.
As it always goes in Big D, this will certainly be an interesting and entertaining offseason.