The Dallas Cowboys Have an Unwritten Rule About Jersey Numbers
As America's Team, the Dallas Cowboys stand in for NFL fans who don't live in a city with a team. And their owner, Jerry Jones, is hands-on with players and coaches. But the uniqueness doesn't stop there. Much as the Yankees have a number of old, strange traditions, the Cowboys have quirks, too. Dallas does not, under any circumstances, officially retire jersey numbers.
Yet the team still fiercely honors the great players from franchise history. So how does this all work? Let's learn more about the endearingly convoluted way the Cowboys handle their jersey numbers.
The Dallas Cowboys' odd handling of important jersey numbers
In the NFL, jersey numbers are limited by position. It's a helpful system that allows fans and commentators alike to easily identify even little known players by their numbers — for the most part. With just 99 numbers available, retiring numbers can impact things quickly, leading to all sorts of odd exceptions.
The Cowboys solved this issue by simply refusing to retire any numbers at all. Seriously, check out ESPN's list of retired jerseys, which includes a curious "No numbers retired" that only otherwise appears for relatively new franchises. This, despite some of the greatest football players who ever lived having donned a Cowboys jersey. But that isn't to say that they don't honor these incredible players at all.
What Nos. 8, 12, 22, and 74 mean for the Cowboys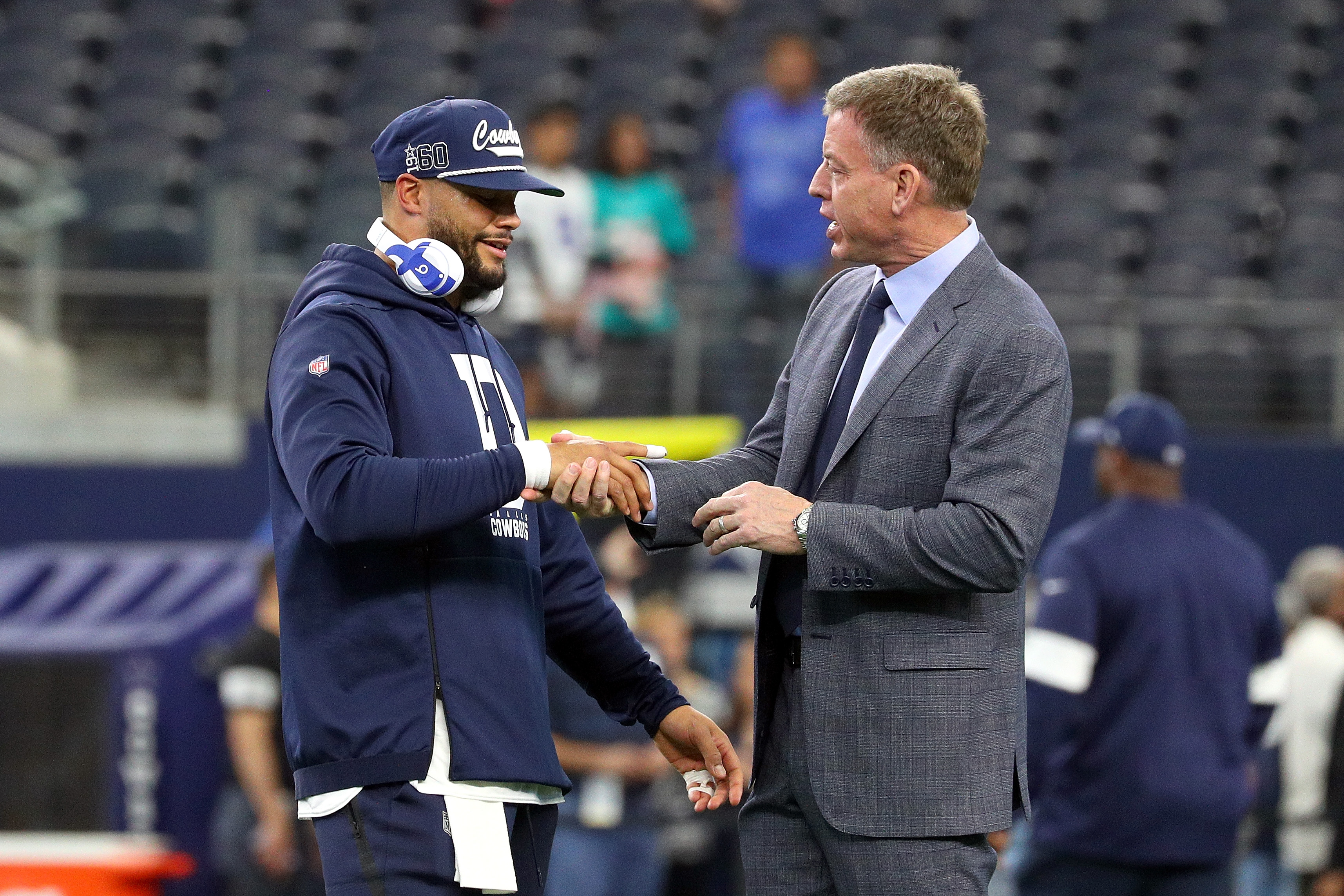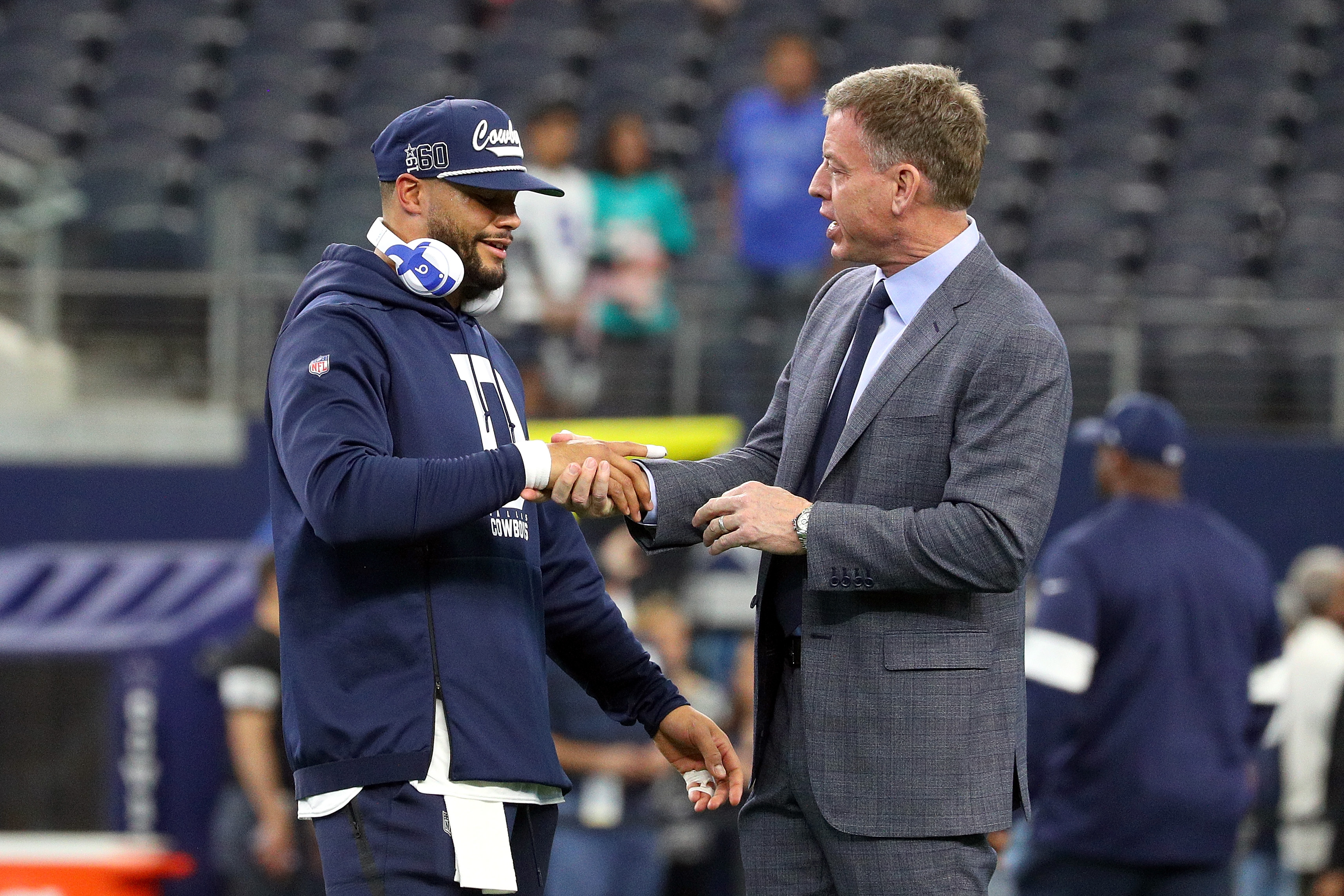 You won't see any officially retired numbers in any record books for the Cowboys. But you'll still notice, if you look, that there are four crucial numbers that never pop up anymore: 8, 12, 22 and 74.
No. 8 was worn by Troy Aikman, the grimly determined QB who underperformed his Hall of Fame contemporaries while leading the Cowboys to more Super Bowls than Brett Favre, Dan Marino, and Steve Young combined. That number somehow never makes it to anybody who joins the Cowboys' offense.
No. 12 adorned Roger Staubach's back. It also won't be seen on any new Cowboys QBs, thanks to Staubach's five Super Bowl appearances at the helm of the Dallas offense. He won two of those, according to Sports Reference, making him too important to skip this honor.
No. 22 was Emmitt Smith's number. The three-time Super Bowl champion is one of the best running backs in the history of the NFL. His all-rushing record is nigh unbreakable. Hence, the curious absence of anyone else wearing his number.
And finally, no. 74 doesn't seem to pop up, either. That's because defensive tackle Bob Lilly — literally known as "Mr. Cowboy"! — wore that number for fourteen seasons in Dallas. He helped win a single Super Bowl, but defined the 1960s for the franchise.
Have players ever insisted on using one of the technically available 'sacred numbers'?
The Fort-Worth Star-Telegram reported the nuances of the Cowboys' quirky informal jersey number retirement system. It comes down to the need for flexibility. The thinking is, there might be another Cowboys player who truly deserves the honor of wearing a great number, as unlikely as it might be to actually happen.
Consider the case of No. 88. Dallas Sports Nation reports that the number has great significance to Jones. Drew Pearson wore it first, Michael Irvin made it special, so rather than retiring it, players Jones has high hopes for gain the honors of wearing the number. Dez Bryant lived up to the weight of history. Antonio Bryant disappointed and was traded away. The latest no. 88 is CeeDee Lamb, who will hopefully prove his worthiness.
There is only one player who had the temerity to specifically request one of the organization's sacred numbers. When running back Tashard Choice was drafted by the Cowboys in 2008, he came off years of wearing no. 22 throughout high school and college. ESPN recounts the meeting. Choice was visibly disappointed that he wasn't assigned the same number he already had, and he blurted out a request for a number that happens to be Emmitt Smith's territory. The equipment manager did not hesitate to tell him, no, that won't be happening.