The JGR News Isn't Great for Trevor Bayne, but There's Still Hope for 2023
Trevor Bayne drove nine times for the JGR Xfinity Series team in 2022, but he's still hunting for rides for the upcoming season.
Winning is always the goal, and Trevor Bayne didn't win in 2022. Given what he accomplished this year in his most extensive action since 2018, however, Bayne deserves an opportunity somewhere next season.
Unfortunately, his most logical option may slip away little by little between now and Daytona.
Trevor Bayne did everything but win in 2022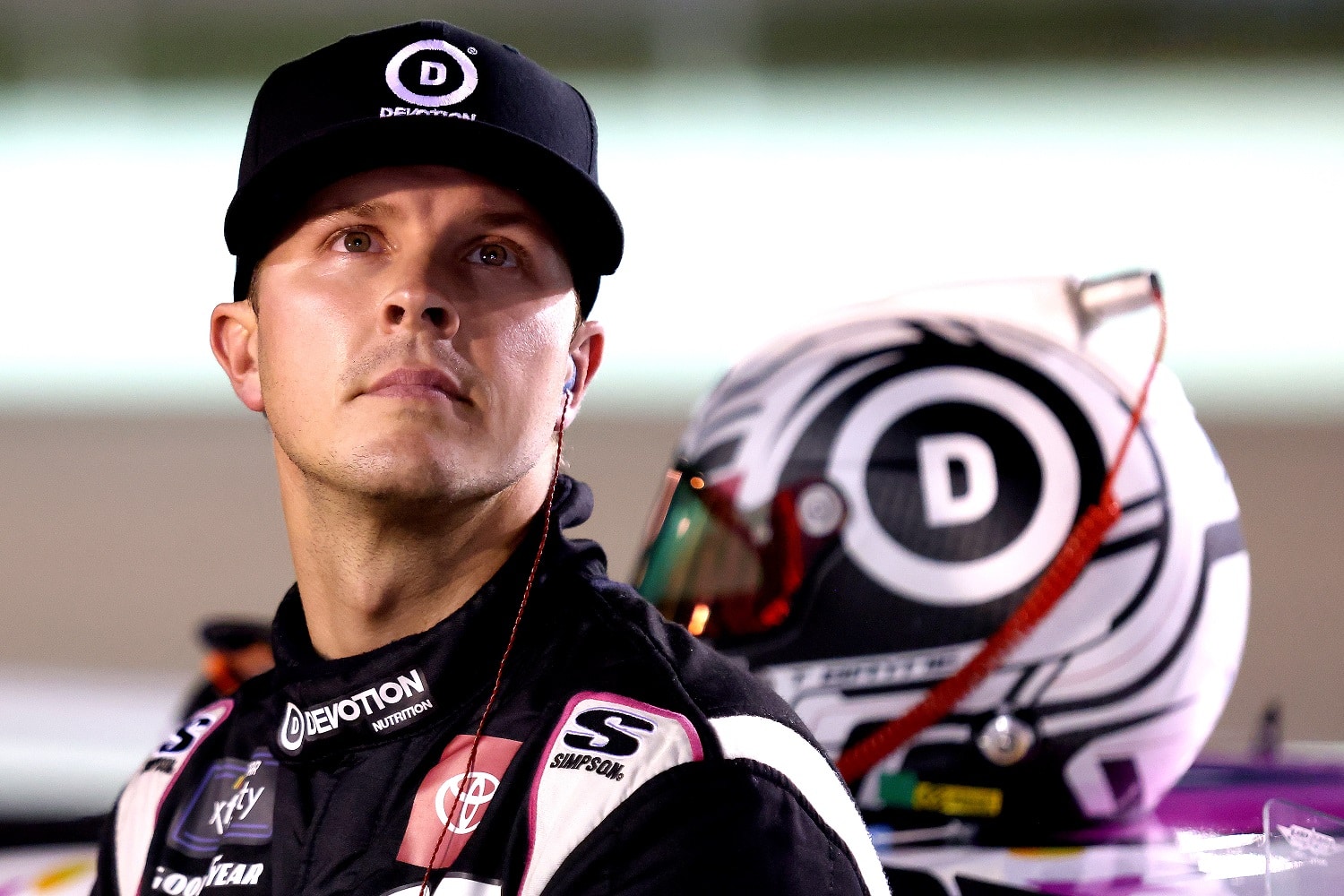 After two seasons away from NASCAR, Trevor Bayne made a return late in the 2020 truck series season with eight races for Niece Motorsports, scoring two top-10 finishes. After another year away, he resurfaced with nine starts for Joe Gibbs Racing in the Xfinity Series, in which he placed sixth in the final standings in 2013 and '14.
The JGR starts were sponsored by Devotion Nutrition, and Bayne made an immediate impression by finishing third at Fontana and then winning the pole at Phoenix before finishing fourth. He led a combined 62 laps in those two races. By year's end, he scored five more top-10 finishes, including second place at Nashville and Loudon.
Bayne ended the year 23rd in points despite racing less than a third of the schedule. The only thing holding him back was sponsorship money. Eight other drivers took turns in the No. 18 Toyota, but Bayne scored more top-five finishes (five) than the others did in 24 appearances.
Joe Gibbs Racing is starting to book its 2023 Xfinity cars
Joe Gibbs Racing will have new faces in its two full-time Xfinity Series cars this season because 2022 champion Ty Gibbs is moving up to the Cup Series for JGR, and Brandon Jones has left for JR Motorsports. Jones disclosed his departure before Gibbs dumped him late at Martinsville, likely costing Jones a spot in the Championship 4. Gibbs' move to the top series became inevitable given the experience he gained subbing for Kurt Busch at 23XI Racing for nearly half a season.
In their place, JGR lined up John Hunter Nemechek and Sammy Smith as the full-time drivers. Nemechek, who ran a limited schedule with JGR and Sam Hunt Racing in addition to his full-time gig in the truck series, will take the No. 20 Toyota. Smith, a two-time ARCA East champion, will drive the No. 18 Toyota.
Smith is probably the most relevant comparison in a discussion about Trevor Bayne's job prospects. He competed in nine Xfinity races this season for JGR with a trio of top-10 finishes, including third place at Watkins Glen. He is a top Toyota prospect, so graduating to a full-time assignment after getting a taste of the second-tier series this summer was inevitable.
Ryan Truex is in at Joe Gibbs Racing while Trevor Bayne awaits his fate
Just like last season, Joe Gibbs Racing will also field a car that will be used by multiple drivers in the 2023 Xfinity Series season. This time out, it will be the No. 19 Toyota, and JGR has started dishing out assignments. On Thursday, the team announced Ryan Truex will make six starts. A year ago, Truex made five appearances and placed in the top 10 three times.
While the arrangement with Truex leaves 27 races available two months before Daytona, Trevor Bayne and any other drivers hoping to book the extra car of one of the series' top teams can't waste time.
It's a given that some of JGR's Cup series drivers will want to use the Saturday event as preparation for their Sunday race at times during the season. That may apply particularly to Ty Gibbs, who is eligible to race as many as 21 times.
And then there are cases like that of Sammy Smith, who picked up nine races last season. Smith was tearing up the ARCA circuits, and Toyota obviously was interested in what he could do at a higher level. That worked out well, and Smith will be a full-time JGR driver next season.
On Friday, Fox Sports' Bob Pockrass tweeted that JGR signed William Sawalich, 16, to a contract and will place him in the ARCA Series. He'll be too young to compete in the Xfinity Series, but what's to stop Toyota and Joe Gibbs from calling on some other prospect to drive the No. 19 Toyota in the Xfinity Series, further reducing potential opportunities for Bayne?
Pockrass mentions Sam Hunt Racing as another potential destination, but that's at least two notches down in the Xfinity hierarchy.
Got a question or observation about racing? Sportscasting's John Moriello does a mailbag column each Friday. Write to him at [email protected].