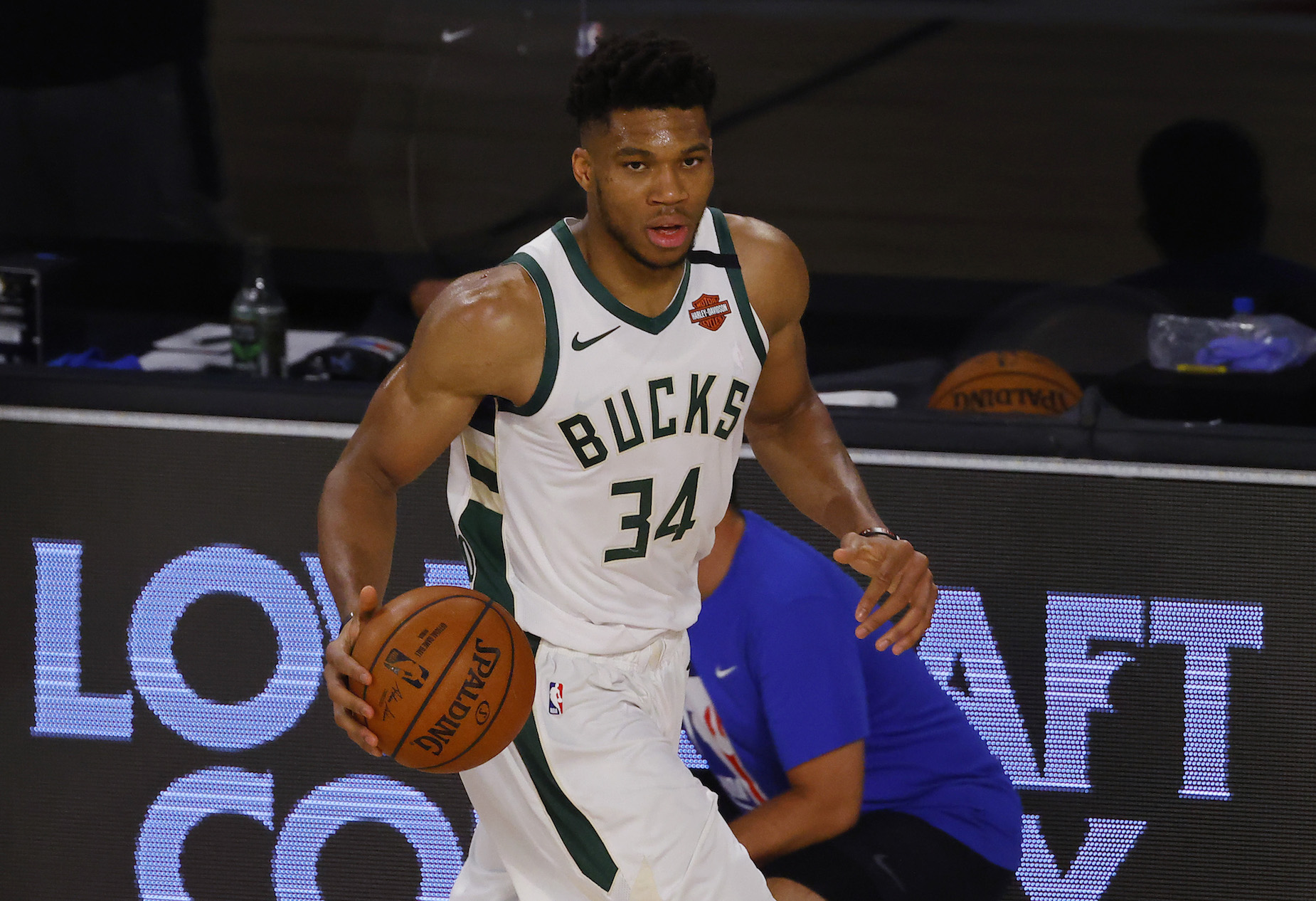 The Milwaukee Bucks Seem Ready to Make a Risky Decision About Giannis Antetokounmpo's Future
The Milwaukee Bucks have reportedly made a major decision about Giannis Antetokounmpo, but is it the right choice for the franchise?
In the modern NBA, few names are bigger (both literally and figuratively) than Giannis Antetokounmpo. Not only is the Greek Freak a star, but he's inching closer to free agency; if he hits the open market, virtually every team will be interested in his services. Until that day comes, however, he's still under contract with the Milwaukee Bucks.
The Bucks front office, of course, is well aware of the ticking clock and has some big decisions to make about Giannis Antetokounmpo's future. It seems like they've already made the first one; it's a major risk but could also bring an incredible reward.
Giannis Antetokounmpo will be the talk of the NBA for the coming year
As any NBA fan can confirm, Giannis Antetokounmpo is an incredibly unique player who's at the heart of the Milwaukee Bucks' success. It's unclear, however, how much longer the Greek Freak will play in Wisconsin.
In September 2016, Antetokounmpo inked a four-year, $100 million contract extension with the Bucks; that deal will expire at the end of the 2020-21 campaign. If Giannis hits free agency, it will kick off a mad scramble, as every team in the league would gladly welcome the forward with open arms.
Thus far, it's been tough to get a read on the Greek Freak's future. Some have speculated that he'll leave the Bucks to join a super team in Golden State, Toronto, or Miami; others believe he'll remain in Milwaukee, as it's the only North American home he's ever known.
Based on previous reporting, though, it seems like Antetokounmpo's top priority is winning. If he believes he can lift the Larry O'Brien Trophy with the Bucks, he'll stay; if not, he may search for greener pastures in free agency.
The Milwaukee Bucks aren't prepared to trade their star
In terms of signing Giannis Antetokounmpo, no team really needs to make a decision; if the Greek Freak chooses you, he's getting a contract and a blank check. The Milwaukee Bucks, however, have already had to make one choice regarding the forward's future.
With Giannis hitting free agency in roughly a year's time, conventional wisdom suggests that the Bucks could consider trading him; if you don't believe you can sign a star player, it's often better to trade him and recoup something rather than losing him for free. Milwaukee's front office, however, isn't taking that course of action.
As reported by Chase Hughes of NBC Sports, "multiple sources have emphatically said Milwaukee will not look to trade Antetokounmpo if he passes on the extension. Instead, the Bucks will try to improve their roster and use the next year to show Antetokounmpo why he should stay."
Refusing to trade Giannis Antetokounmpo is the ultimate risk-reward situation
If the Milwaukee Bucks have decided against trading Giannis Antetokounmpo this season, the club is accepting a sizable risk. At the same time, though, they could reap a massive reward if things work out properly.
As mentioned above, the risk of keeping Giannis is that he simply plays out his contract and leaves in free agency; in the modern NBA, stars aren't afraid of taking that course of action and taking control of their own destiny. If that happens, the Bucks will be back to square one and will have to fill a massive void on the roster. If you trade Antetokounmpo, the team has a bit more control over the painful rebuilding process.
At the same time, though, the upside to the Bucks' reported plan is obvious. In the NBA, it's virtually impossible to succeed without star players; it might take the franchise years before they land another player of Antetokounmpo's quality. The chance to win an NBA championship—and potentially convince Giannis to remain in Milwaukee—is tough to pass up.
Virtually every decision, whether in life or in sports, carries both risk and reward. The Milwaukee Bucks have reportedly made their choice about Giannis Antetokounmpo's future; only time will tell whether it pays off or not.