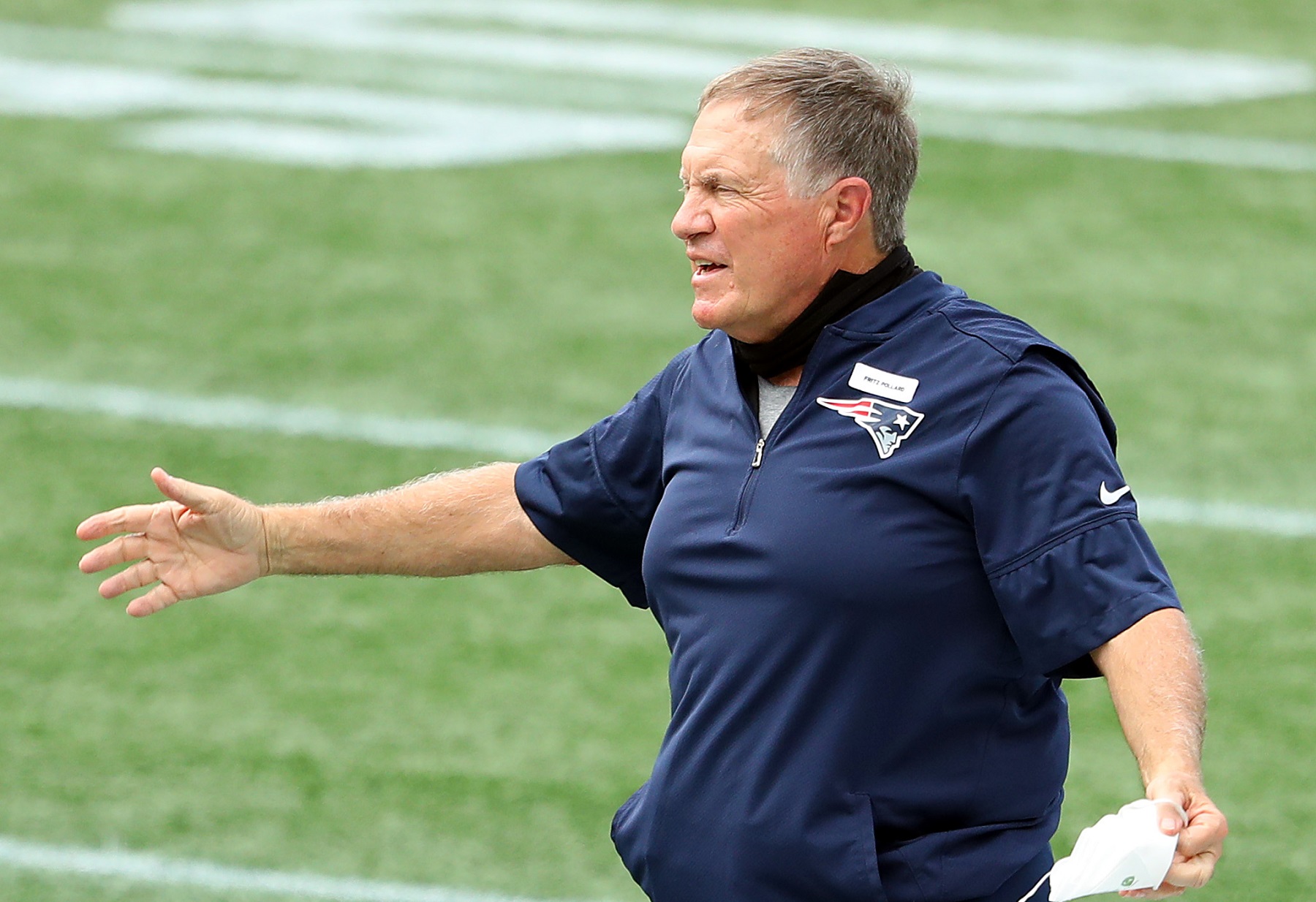 The NBA Coach Who Impresses Bill Belichick Most Isn't the 1 You Expected
The New England Patriots' Bill Belichick and the New York Knicks' Tom Thibodeau have been friends for many years.
New England Patriots coach Bill Belichick is going through a miserable NFL season and is almost certainly heading for his first losing record since he took the reins of the franchise in 2000. The Patriots can't throw the ball much or stop the run, so climbing back to .500 by the end of the season after a 2-5 start figures to be a challenge.
The good news for Belichick is that he's not in as tough a spot as friend Tom Thibodeau.
Tom Thibodeau faces a daunting task
For an NBA team that hasn't played since the second week in March and finished 21-45, the New York Knicks are on a little bit of a roll.
Leon Rose's appointment as director of basketball operations became official shortly before the COVID-19 pandemic sent the league on hiatus for 20 weeks, and he opted to keep Scott Perry as the general manager. The brain trust then went with Tom Thibodeau as the choice for head coach.
Thibodeau is a taskmaster who will put a premium on defense, which is really the only way for the Knicks to go in the short term. Forward Julius Randle (19.5 points per game), who sacrificed some offense for rebounding last season, and rookie shooting guard RJ Barrett (14.3) are the only reliable returning scorers, though 22-year-old center Mitchell Robinson (9.7) showed upside off the bench.
The Knicks can find more scoring through the draft, but not enough to get them to .500 in a 60-, 72- or 82-game season, so it will be up to the defense to make up the difference.
And that's where New England Patriots coach Bill Belichick thinks the Knicks were wise to hire Thibodeau.
Bill Belichick is impressed by Tom Thibodeau
Because he is a longtime New England guy, it would make sense for Patriots coach Bill Belichick to lean toward Brad Stevens of the Boston Celtics as a favorite NBA coach. However, Belichick has always been a defense-first guy, which is a factor in why he leans toward Tom Thibodeau as a personal favorite.
"I love the way Tom coaches. He is poised and does a great job with adjustments and quick decisions," Belichick told the New York Post in an email interview in which he noted their shared interest in defense.
Belichick believes the Knicks made a smart hire.
"In New York, like every other professional sports team, the bottom line is building a competitive team that has a chance to win," he told the paper. "New York fans respect teams that compete every game, play smart and show a work ethic to improve. Tom's teams fit that description."
The New York Knicks coach is a Bill Belichick fan
Incoming New York Knicks coach Tom Thibodeau is a Bill Belichick fan and participated in an interesting summit with the New England Patriots' six-time Super Bowl championship coach. In 2012, Belichick invited Thibodeau and Tony La Russa to a practice. Thibodeau was midway through a five-year tenure as head coach of the Chicago Bulls, and La Russa had retired after guiding the St. Louis Cardinals to the 2011 World Series championship.
"I grew up in Connecticut, so obviously I'm a Patriots fan," Thibodeau said then. "When I was in Boston I had an opportunity to watch them very closely. I had the good fortune of going down (for) a day and watching practice and getting a chance to visit with him. Bill's eyes are everywhere. He's one of the all-time greats, if not the greatest. What he's done is simply amazing, and as a New Englander I don't take that for granted. I appreciate every moment."
Belichick attended Boston Celtics home games when Doc Rivers was head coach and Thibodeau served as an assistant from 2007-10.
"That was a great day,'' Belichick told The Post. "We talked about organization, coaching, and how to handle different situations that are common to all professional sports. Tom had great success in Boston, and I attended many games when he coached under Doc."
Like Sportscasting on Facebook. Follow us on Twitter @sportscasting19.