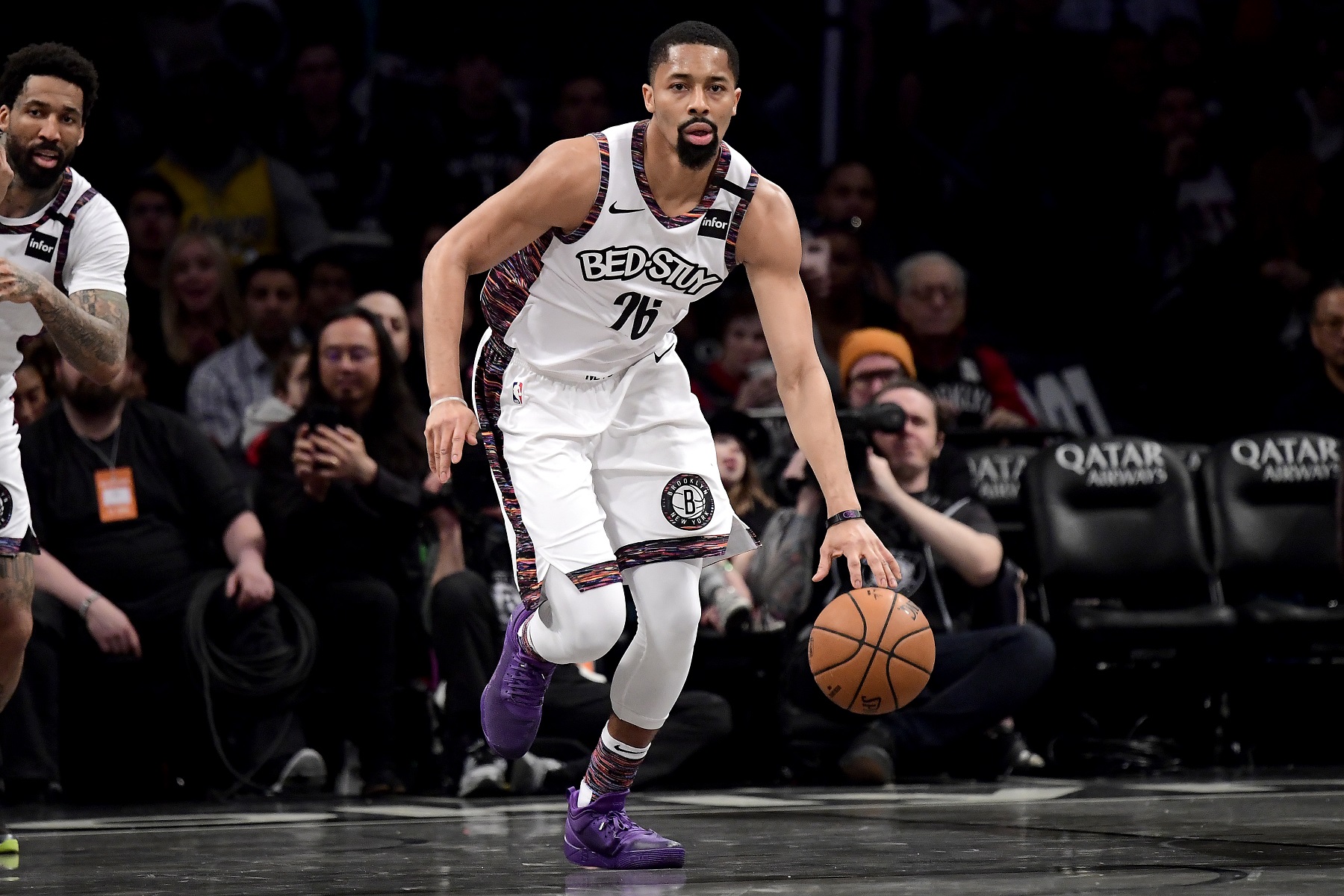 The Nets' Spencer Dinwiddie Problem Is Getting Worse
Brooklyn Nets guard Spencer Dinwiddie would welcome a trade. The team needs to make a deal or risk losing him to free agency next summer.
On the surface, having a 20 points-a-game guard under contract for $11.4 million for the upcoming season wouldn't seem to constitute a problem in the NBA. But Spencer Dinwiddie appears aching to play somewhere closer to his native Los Angeles, which puts the Brooklyn Nets in a tough position.
The Nets might not think they need Dinwiddie on the roster six weeks from now. That means they need to make a move soon or risk coming away with nothing if Dinwiddie leaves as a free agent next summer.
Spencer Dinwiddie has been steadily improving
Spencer Dinwiddie was midway through a strong junior year on the basketball court at the University of Colorado when an ACL injury ended his season and put him on a strange path toward NBA stardom.
Dinwiddie passed up his senior season to turn pro, and the Detroit Pistons picked him in the second round of the 2014 NBA draft. Dinwiddie playing sparingly in two seasons with the Pistons before they made an even-up trade with the Chicago Bulls: Dinwiddie for Cameron Bairstow. If the measure of a trade is how much each team benefitted, then this one was a fair one – both players were cut three weeks later.
Dinwiddie did re-sign with the Bulls shortly afterward, but Chicago let him go again on Oct. 21, 2016.  Dinwiddie signed with the Brooklyn Nets before Christmas and averaged 7.3 points in 59 games.
Dinwiddie's playing time and productivity improved in each subsequent season, and he posted career highs of 20.6 points and 6.8 assists last season, though he tested positive for the coronavirus and never entered the NBA bubble with the Nets.
The Brooklyn Nets anticipate a big leap forward
The Brooklyn Nets finished a modest 28-34 this past NBA season, but they're looking forward to big things ahead. Free-agent forward Kevin Durant missed all last season recovering from an injury, and point guard Kyrie Irving was limited to just 20 games. Those two will be the cornerstones of the Nets for the next several seasons.
Spencer Dinwiddie is no dummy. He knows he's not going to displace Irving as the starter at point guard, and his options are also limited at shooting guard due to Caris LeVert's $16.2 million contract. Dinwiddie's value in free agency (he does hold a player option for 2021-22) tumbles f he isn't playing 30 minutes a game, so he started plotting his escape last month with a subtle but unmistakable move.
Dinwiddie has dropped Jay-Z's Roc Nation as his representative in negotiations. Dinwiddie is a bitcoin wizard and financially savvy, and the breakup has been characterized as amicable. So, it's widely assumed that he will act as his own agent.
Irving and LeVert are both represented by Roc Nation, which no longer has to worry about protecting the interests of three guards seeking two starting positions. Other NBA teams have taken notice.
The prospect of leaving excites Spencer Dinwiddie
You could practically see Spencer Dinwiddie's ears perk up when he heard his name mentioned in trade rumors. SNY.TV reported that multiple Western Conference contenders are interested in swinging a deal for Dinwiddie, which would achieve his goal of playing closer to his native Los Angeles – if not in it.
"Which ones!?" he wrote on Twitter. "Put an address on em lol I wanna know just like everyone else."
The website report indicated that it's unknown how willing the Nets are to trade Dinwiddie. However, he's not exactly hiding his desire to leave. That weakens the team's leverage at the negotiating table, but the Nets are better off accepting whatever they can get now instead of getting nothing when Dinwiddie leaves as a free agent in a year.