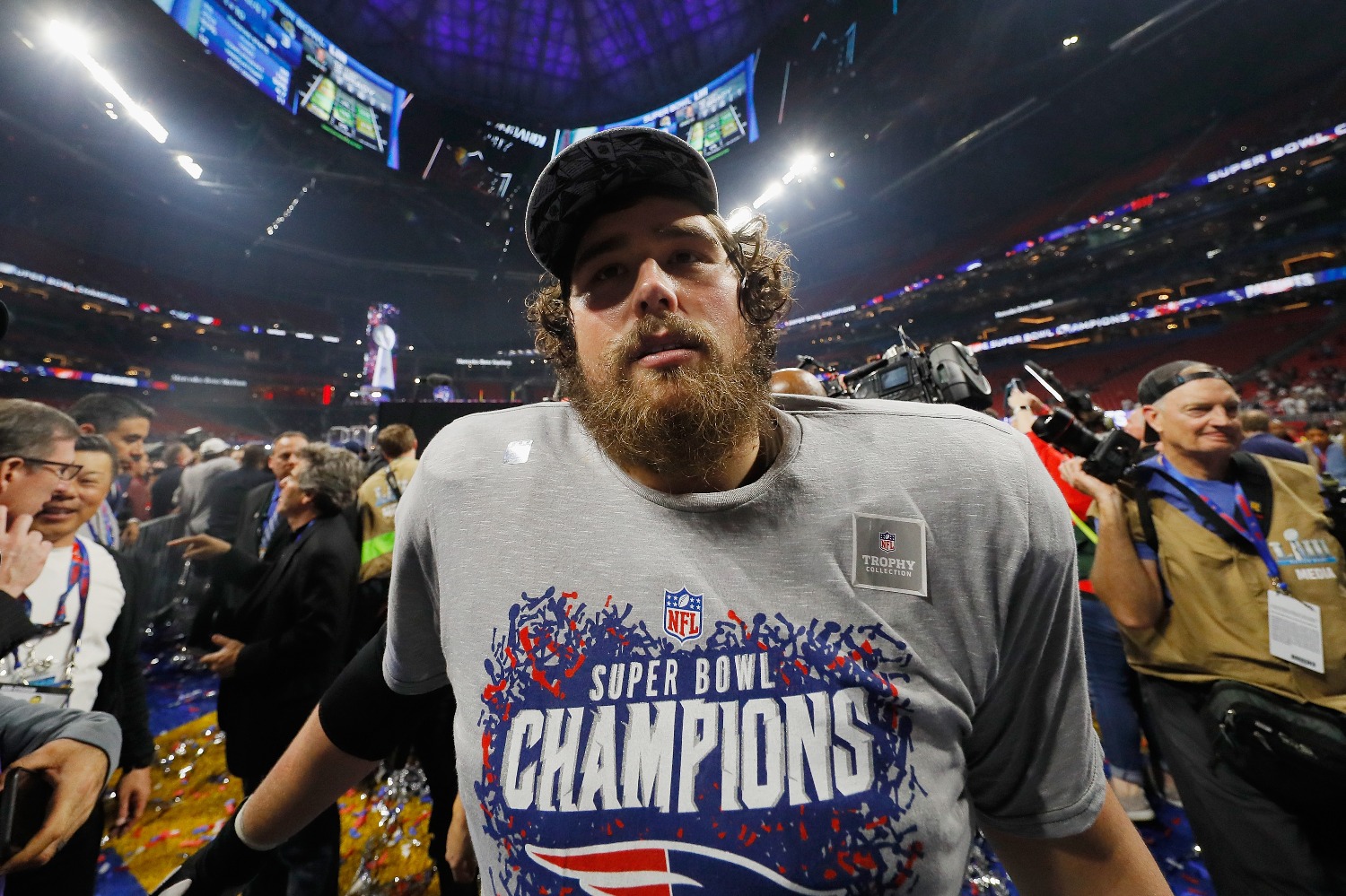 The New England Patriots Just Suffered a Brutal Blow to Their Offense
The New England Patriots just suffered a brutal injury blow that will force Bill Belichick to find a replacement for center David Andrews.
He may not garner much national recognition, but David Andrews quietly ranks as one of the NFL's best centers. After signing with the New England Patriots as an undrafted free agent, the former University of Georgia standout has developed into one of Bill Belichick's most valuable players.
Last season, though, the Patriots did not have Andrews available due to blood clots in his lungs. And just two games into the 2020 NFL season, the Patriots just suffered another brutal injury blow with Andrews breaking his thumb. Now, Belichick must rely on one of his recent draft picks to step up with his starting center hurt.
New England's offense struggled without David Andrews last season
Despite a solid college career, David Andrews did not get selected in the 2015 NFL draft. He signed with the Patriots and ended up earning the team's starting center job. Since then, the 6-foot-3, 300-pounder has provided the Patriots with stability at one of the most important positions on offense.
However, last season, the Georgia native did not play a single game. New England placed Andrews on injured reserve after the two-time Super Bowl champion got diagnosed with a pulmonary embolism.
With their starting center sidelined all year, the Patriots struggled to find an adequate replacement. Former sixth-round pick Ted Karras provided sound pass-protection skills, but his lack of athleticism led to plenty of missed blocks in the run game. Backup James Ferentz did not impress in two starts, either.
Andrews' absence played a significant role in New England's struggles on offense. The Patriots finished seventh in points—their worst mark since Matt Cassel filled in for Tom Brady in 2008. In addition, the team finished 15th in total yards. Prior to 2019, New England had finished outside of the top-10 in yards just once since 2007.
The Patriots suffer a brutal injury blow at the center spot
Ready to put his lost 2019 season behind him, David Andrews entered the 2020 season as New England's starting center. His return provided a big boost for Cam Newton, who's still in the early stages of mastering the Patriots' offense. Through two games, New England showcased explosive potential, especially with Andrews anchoring a strong offensive line.
However, the Patriots just suffered a brutal injury blow that will once again test their depth in the trenches. On Friday, Jay Glazer reported via Twitter that Andrews underwent surgery this week to repair a broken thumb on his snapping hand. The Athletic's Jeff Howe reported the veteran center may land on IR to let his surgically-repaired thumb heal. Should that move occur, the 28-year-old will miss at least three games.
For the Patriots, losing a player with Andrews' experience and skill represents a massive blow this early in the season. Newton looked comfortable taking snaps from the veteran center, who also carries the responsibility of making checks at the line to counter blitzes and stunts. But with Andrews injured, that will force one of Bill Belichick's recent draft picks to step up quickly.
Hjalte Froholdt should get the first crack at replacing Andrews
If David Andrews misses any period of time, the Patriots will likely turn to Hjalte Froholdt to man the pivot position. But can the 2019 fourth-round pick overcome his lack of experience and provide a reliable anchor in the middle of the offensive line?
While Andrews has started 59 games since 2015, Froholdt missed his entire rookie season with a shoulder injury. The Denmark native began playing football at a later age before earning a scholarship to the University of Arkansas. Froholdt did earn second-team All-SEC honors as a senior before the Patriots selected him 118th overall.
In training camp, the 6-foot-5, 306-pounder looked much more comfortable after he struggled last summer. Now, the 24-year-old who has never played an offensive snap will have to fill in for one of the Patriots' most experienced offensive players.
Should Froholdt fail to deliver, New England does not have another obvious option on the roster. In fact, Belichick could resort to moving Joe Thuney from guard to center. That would have an obvious trickle-down effect, as rookie Michael Onwenu would likely take over as the team's starting left guard.
Ultimately, David Andrews' injury represents a brutal blow to the Patriots' offense. At the same time, it gives Bill Belichick an opportunity to evaluate Hjalte Froholdt's development and assess whether he can be a long-term fixture in New England.
No pressure, kid.
All statistics courtesy of Pro Football Reference.