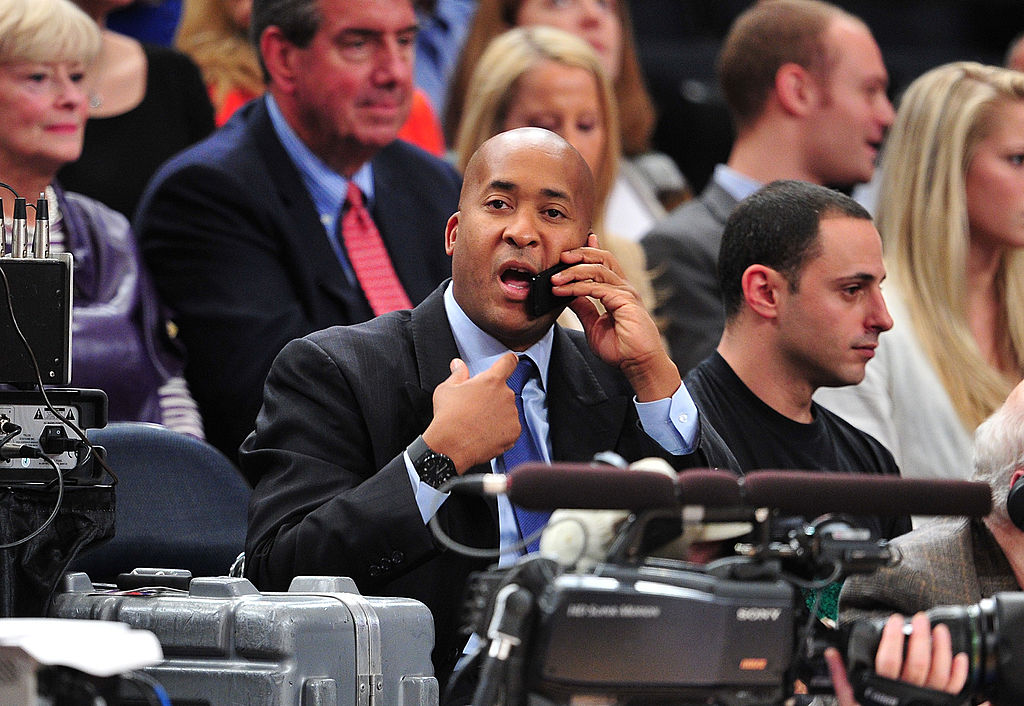 The New York Knicks Have a Secret Agent in World Wide Wes
William Wesley, nicknamed World Wide Wes, has powerful connections that will help the New York Knicks rebuild.
Though it wasn't apparent when the New York Knicks executed their latest front-office shakeup, recruiting Leon Rose as president is looking like a two-for-one deal that also landed the wayward franchise the services of another top NBA power broker.
Casual basketball fans may know the name, but neither they nor a good number of people working in the business can know what World Wide Wes does. He typically works so far under the radar that he could have been a character in author Tom Clancy's spy novels.
Now, World Wide Wes – his real name is William Wesley – could be crucial to turning the Knicks around.
World Wide Wes lands with the New York Knicks
New York Knicks fans saw the firing of team president Steve Mills as a positive step and the hiring of respected player agent Leon Rose to take on the role of head of basketball operations as another win. With the Knicks heading for their seventh straight season without a playoff berth, something had to be done beyond firing coach David Fizdale in December.
Rose has worked with numerous top players in the sport, negotiating deals on behalf of LeBron James and currently serving as the agent for the likes of Karl-Anthony Towns, Carmelo Anthony, and Joel Embiid. He also has ties to Kentucky coach John Calipari through Creative Artists Agency.
CAA is the common bond for Rose and William Wesley, whose title with the powerful Los Angeles talent management company is the humble and non-descript "consultant." Utilizing his ties to the likes of Michael Jordan and LeBron James in basketball and Jay-Z and Drake in the music field, World Wide Wes can attract big names to big projects.
One way he has gained the trust of so many powerful figures is his secretive nature. The media has reported on Wesley, 55, over the years, but he's rarely quoted and the people in his inner circle protect his privacy. Think of him as the guy who has the phone number of anybody who's anybody in basketball at the same time that few admit having his number.
What can World Wide Wes do for the New York Knicks?
New team president Leon Rose will preside over rebuilding the New York Knicks from top to bottom. Though he'll eventually select a new general manager, Rose will be making the decisions.
Those decisions will include picking the next coach – don't discount the idea of Mike Miller being given the chance to coach a full season while Rose gets a start on rebuilding the roster – and that could be the most intriguing item on Wesley's to-do list.
Wesley often attends Kentucky games coached by close friend John Calipari. Though Calipari's two-plus seasons coaching the New Jersey Nets in the late 1990s ended in failure, his name often comes up in connection to NBA vacancies.
If Rose wants Calipari as his coach, Wesley is the guy who can get his friend to listen.
Re-making the Knicks will require recruiting players
Leon Rose maintained a powerful list of basketball clients before and after selling his business to CAA. However, it has been William Wesley helping him make many of the initial connections.
Wesley, who was given his World Wide Wes tag by Jalen Rose for his ability to connect anyone with anything, is said to have helped steer a number of players to John Calipari at Kentucky. After the Wildcats defeated Kansas in the 2012 NCAA final, Anthony Davis climbed into the stands to hug Wesley, who was seated with Kentucky player families.
That's undoubtedly created new generations of relationships with players Wesley can approach as Leon Rose plays around with potential combinations in rebuilding the Knicks.
The process will take time because there are few players on the current roster who figure in the Knicks' future. The relationships that World Wide Wes already has and will continue to forge will be key to helping the Knicks out of the cellar.