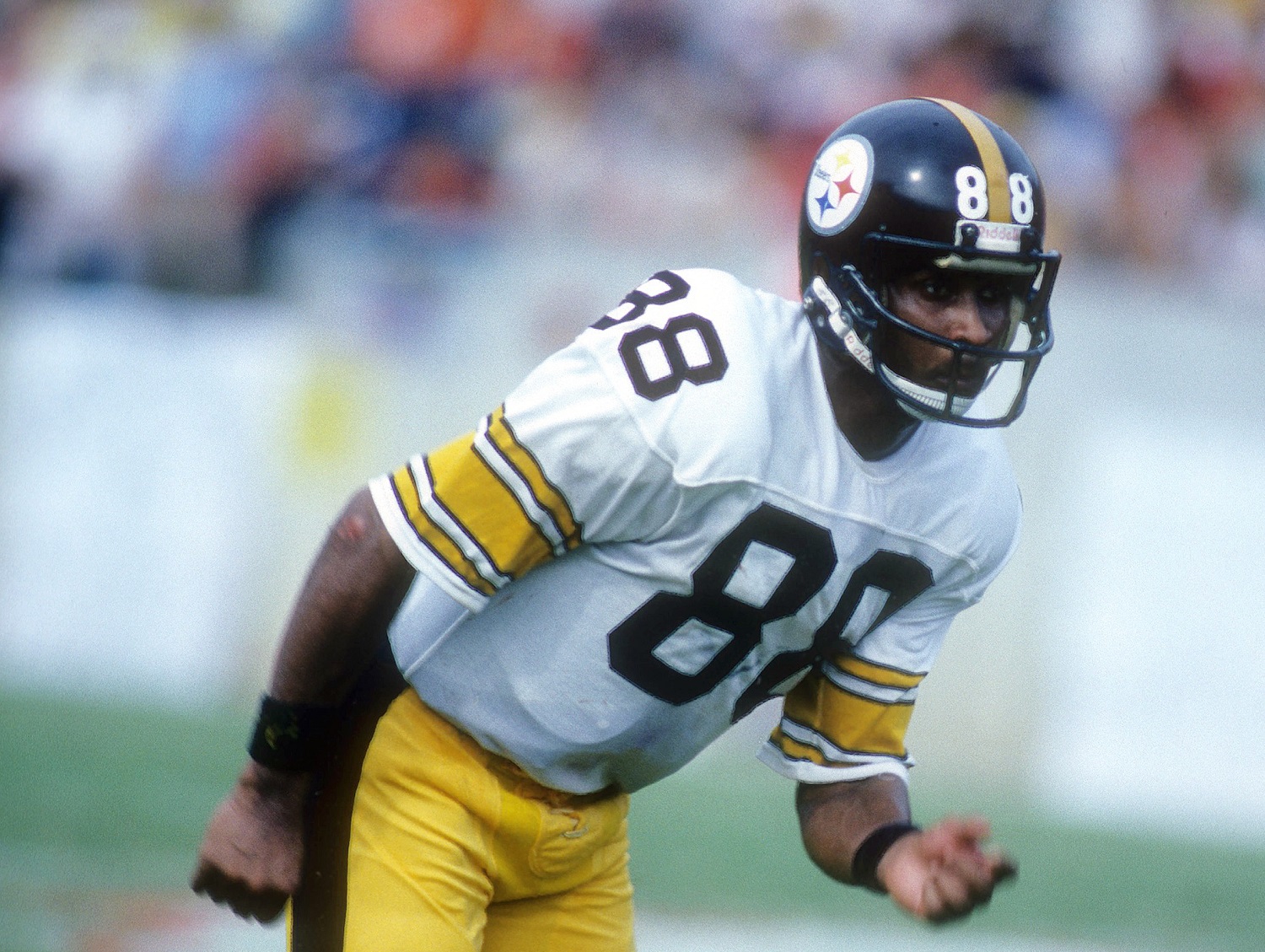 The Racism Lynn Swann Faced as a Teen Forever Altered His Hall of Fame Career
Two college recruiters who were being honest with him in different ways shaped the hall of fame future of USC and Pittsburgh Steelers great Lynn Swann.
Going to USC to play wide receiver in the early 1970s made about as much sense as moving there to play ice hockey. Lynn Swann headed to Los Angeles anyway and made his mark in an impressive college career that set him up for NFL stardom with the Pittsburgh Steelers.
Swann owes much to two college coaches who spoke truthfully while recruiting him out of high school. They shaped his hall of fame future in completely contrasting ways.
Lynn Swann excelled in high school in a different era
Many football fans under the age of 40 never witness the wishbone offense run to perfection in showdowns between top-10 teams or saw the ruthlessness of "student body right" in a USC game. There were exceptions, of course, but college coaches in the 1970s had a run-first mindset.
Players saw more action and prestige in carrying the ball 12 times a game as the No. 2 or 3 running back than in being thrown to maybe three times a game as a receiver. Future Pittsburgh Steelers great Lynn Swann fell into that trap in high school but was cut when he tried out for a spot in the backfield at his San Mateo, California, high school. In retrospect, it was the best thing that could have happened.
Varsity coach Jesse Freitas brought Swann up to the varsity after an injury to a receiver and asked him to give the position a shot.
"I made all-conference my first year," Swann said in a National Football Foundation interview. "My senior year, we didn't have a guy to replace his son, who was our quarterback and had graduated. Coach Freitas made me the quarterback."
Swann was attracting the interest of recruiters entering that senior season, but Black athletes simply were not viewed as quarterbacks at many schools, so most of his college options came down to film of him as a junior wideout. That's where two college assistant coaches came at Swann from different perspectives and change his life.
USC won him over by being honest
College recruiting in the early 1970s was different. Video technology didn't exist, so schools scouted in person at games and by watching reels of film. The easiest access to the film often was by visiting the prospect's school and watching in the coach's office.
One day during Lynn Swann's junior year in San Mateo, California, a scout came by to look at film of the team's quarterback.
"I happened to walk by," Swann said. "He stopped me and said, 'Boy, I sure wish I could recruit you.' I thought, 'He wants to recruit me, but I'm a junior and so he can't recruit me.' But the reality was, he was recruiting for Tennessee, near where I was born in Alcoa, Tennessee. And he was basically saying he couldn't recruit me because I was Black. And, you know, I didn't realize that until sometime later on."

A coach from USC came along that year and was also frank with Swann, but in a different fashion. The Trojans were in the midst of 14 straight winning seasons under John McKay, but their success was rooted in the potent ground game that made stars out of running backs like O.J. Simpson, Clarence Davis, and Sam Cunningham.
"People would ask me, 'Why do you want to go to USC? They don't throw the ball,'" the future Pittsburgh Steelers standout recalled.  "But, in the '70s and being recruited across the country, I felt like USC was being extraordinarily honest with me about what was going on. Marv Goux, who was the recruiter and a defensive line coach, wasn't trying to sugarcoat it."
Lynn Swann earned his way into two halls of fame
Playing his college and professional football in an era in which passing was neither sophisticated nor prioritized did not prevent Lynn Swann from becoming a force at wide receiver.
Swann appeared n 35 games at USC from 1971-73 and made 96 catches at an average of 16.3 yards per reception. He scored 11 touchdowns and was an All-American as a senior.
The Pittsburgh Steelers selected Swann in the 21st spot of the first round in the 1974 NFL draft, starting him down the path to three Pro Bowl selections. Swann played nine seasons and finished with 336 regular-season receptions at an average of 16.3 yards a catch. He scored 51 receiving touchdowns for his career, including a league-best 11 in 1975.
In 16 playoff games – including four Super Bowl wins – Swann caught 48 balls for 907 yards and nine scores.
Swann was inducted into the College Football Hall of Fame in 1993. He entered the Pro Football Hall of Fame in Canton, Ohio, as part of the 2001 induction class.
All stats courtesy of Pro Football Reference.