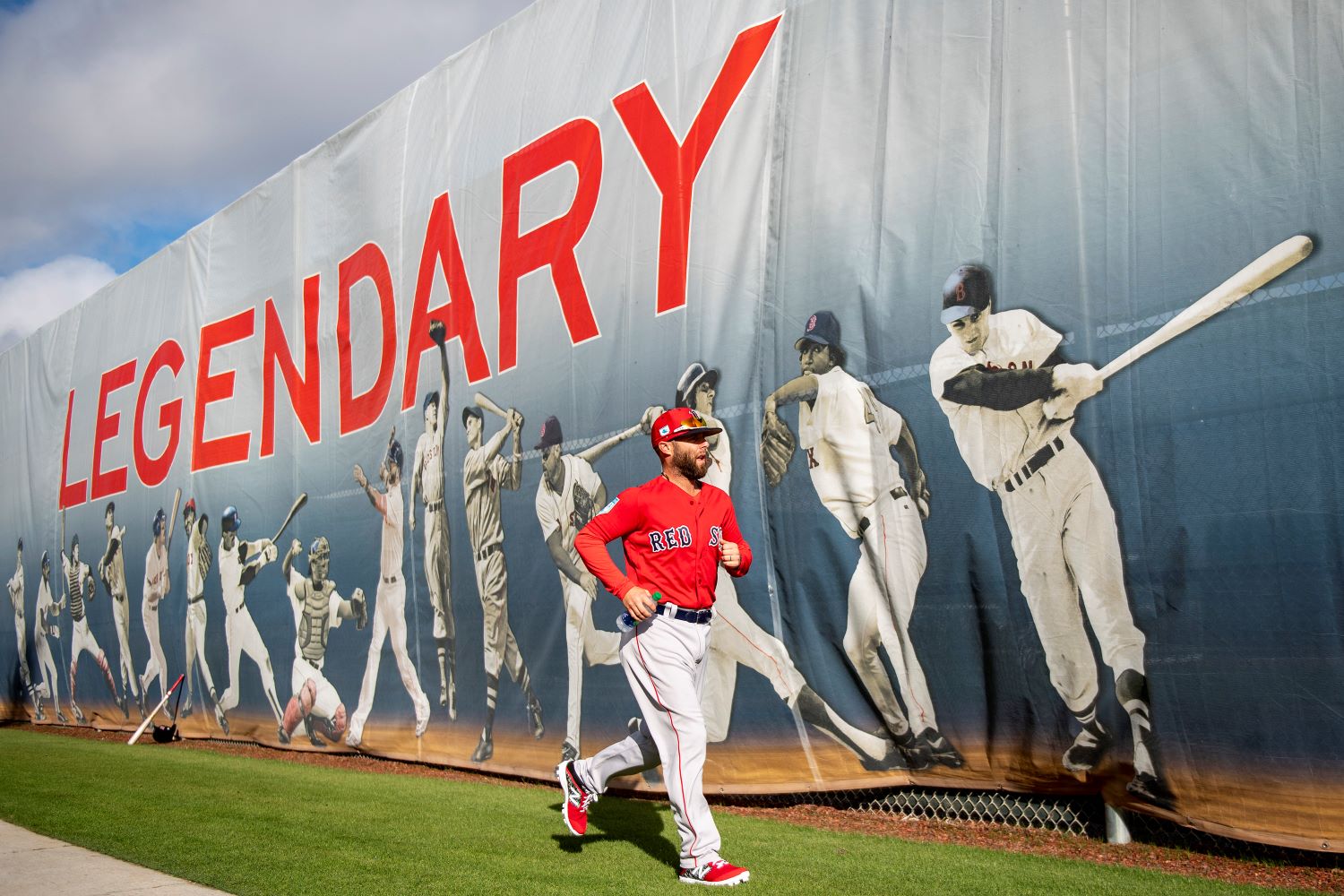 The Red Sox Still Owe Dustin Pedroia a Staggering Amount of Money Despite His Heartbreaking Retirement
Although Dustin Pedroia announced his retirement on Monday, the four-time MLB All-Star will still collect millions from the Boston Red Sox.
From Manny Ramirez to Ted Williams, the Boston Red Sox have had no shortage of star power throughout their history as an MLB franchise. Yet, despite his small stature, perhaps no player garnered more respect and admiration from the tens of thousands of fans who flock to Fenway Park than Dustin Pedroia.
Although his 5-foot-9, 170-pound frame shouldn't have inspired fear in opposing pitchers, his relentless work ethic and complete skill set made him one of the best second basemen in league history.
But on Monday, he made a heartbreaking announcement. After years of battling knee issues, Pedroia officially retired from the game of baseball. Luckily for the 2008 AL MVP, he will continue to collect paychecks from the Red Sox through 2028.
Dustin Pedroia helped the Red Sox win two World Series titles early in his career
After getting selected in the second round of the 2004 MLB draft, Dustin Pedroia wasted little time working his way up to the big leagues. After a 31-game cup of coffee with the Red Sox in 2006, he fully arrived the following year.
As a 23-year-old rookie, the former Arizona State standout was one of the best players on a team that also featured Manny Ramirez, David Ortiz, and Curt Schilling. Pedroia was named American League Rookie of the Year after hitting .317 with 39 doubles, 50 RBI, and 86 runs scored. Thanks to their collection of established stars and young up-and-comers, the Red Sox captured another World Series trophy after breaking "The Curse" in 2004.
Pedroia proved his magical first year wasn't a fluke by taking his game to a completely different level.
His 2008 season ranks as one of the best of all-time by a second baseman. The reigning Rookie of the Year captured AL MVP honors after leading the majors in runs (118), hits (213), and doubles (54). Oh, he added his first Gold Glove Award, too.
His leadership and consistent play both at the plate and in the field helped Boston achieve tremendous success. In 2013, the Red Sox took down the St. Louis Cardinals in six games to take home their third World Series championship in the span of a decade.
Boston then fell to the bottom of the AL East standings for two seasons before rebounding with a 93-69 record in 2016. Pedroia hit .318 and scored 105 runs that year.
He would never play a full season of pro baseball again.
Injuries have kept the second baseman sidelined in recent years
In August 2017, Dustin Pedroia only played 105 games due to wrist and knee injuries. He underwent surgery in October for complete cartilage restoration, which forced him to miss the early portion of the 2018 season.
Unfortunately for Pedroia and the Red Sox, his troublesome knee couldn't hold up.
Boston's big-hearted leader only played three games in 2018. Despite not having their All-Star second baseman available, the Red Sox defeated the Los Angeles Dodgers in the World Series.
In 2019, Pedroia once again attempted to get back on the field. And once again, he couldn't get his knee to cooperate. He recorded two hits in just 20 at-bats in his age-35 season.
Things got worse last January when Pedroia reportedly suffered a significant setback with his knee. He didn't play at all during the abbreviated 2020 MLB season.
Calling it a career
For the last few years, Red Sox fans have waited to see the old version of Dustin Pedroia sprint out onto the field at Fenway Park.
But his comeback story came to a heartbreaking close on Monday.
Despite a valiant effort, the California native will never step into the batter's box again. After spending essentially three years trying to get his knee back to full strength, Pedroia will no longer focus on rehabbing to rejoin the Red Sox.
Instead, he will move on to a new chapter of his life.
In a Zoom call with the media, the 37-year-old officially announced his retirement.
"Could it have ended better and I finished my career the right way? Yeah of course," Pedroia said. "But there was a reason I was the first one dressed at 5:30 for a 7 o'clock game. I always tell my teammates that you never know if the game is going to start early. My biggest thing in my mind was that this could be my last game and you don't know. That's the best way I approached it from Little League on. I had the best time playing."
Boston still owe the beloved icon a staggering amount of money
Although he will never don a Red Sox uniform again, Dustin Pedroia will continue to collect paychecks from the only MLB team he ever played for.
The now-retired California native has one season remaining on the eight-year, $110 million contract extension he signed in July 2013.
However, part of that figure got deferred.
Based on the agreement the Red Sox and Pedroia made, $2.5 million of his $12 million salary for 2021 is deferred without interest and payable on July 15, 2028.
The four-time Gold Glove winner will collect $2 million on July 15 of this year, plus 2022, 2023, and 2024. He will receive $2.5 million in 2025, 2026, and 2027.
So after putting his body on the line for more than a decade, Dustin Pedroia can finally rest…and get paid to do so.
All contract data courtesy of Spotrac. All statistics courtesy of Baseball Reference.