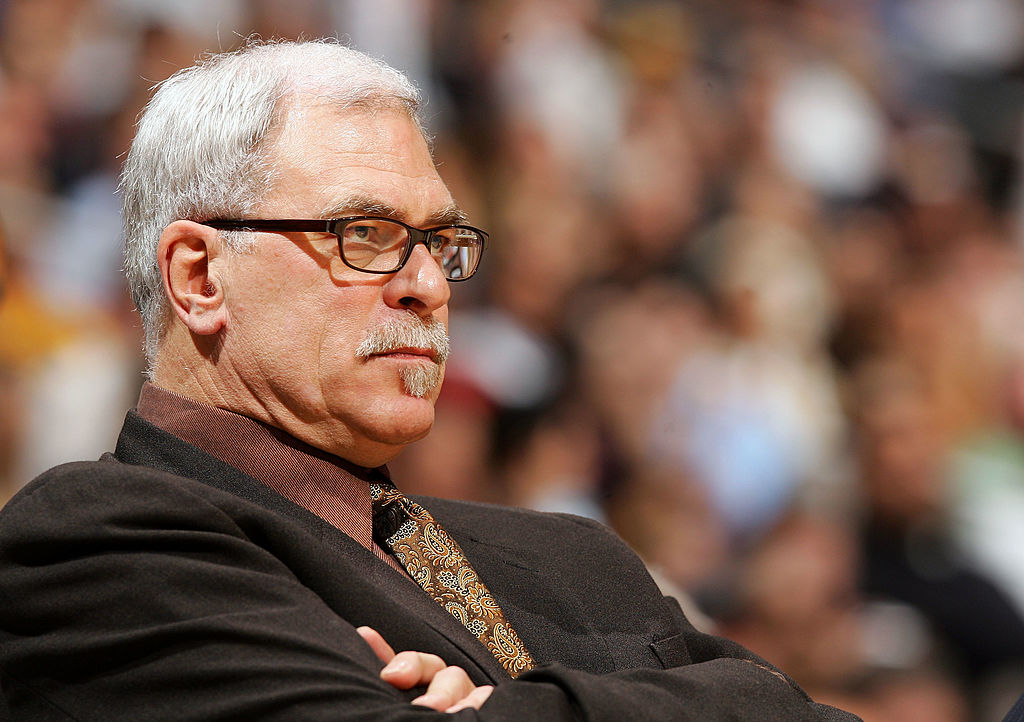 The Sad Way Phil Jackson's Coaching Career Came to an End
Phil Jackson is one of the winningest NBA coaches of all time, but the end of his coaching career was anything but satisfying.
Phil Jackson is one of the winningest coaches in NBA history, but the end of his coaching life put a damper on a historic career. Although his final years included health issues and a sweep the playoffs, that's not how Jackson should be remembered. Jackson should always be remembered for his incredible playoff resume and 11 NBA championships as a coach.
Phil Jackson is the best NBA playoff coach ever
Jackson was a head coach in the NBA for 20 seasons, and he set a multitude of records during his career. The most impressive legacy Jackson left was his untouchable success in the playoffs.
Across his 20-year head coaching career, Jackson won 229 playoff games. He lost just 104. Jackson still holds the record for most playoff wins in NBA coaching history, but that's still not the most incredible stat from his tenure as a head coach.
Jackson won a record 11 NBA titles as a head coach. He won six with the Chicago Bulls and five with the LA Lakers. In the prime of his coaching career, Jackson led his teams to six straight NBA championships.
Incredibly, Jackson finished the season with the Larry O'Brien Trophy in hand more times than he didn't. He won the title 11 times and had just nine seasons in which he didn't win it all. We might never see the postseason success Jackson accomplished again in the NBA.
Jackson's coaching career ended on a sour note
As impressive as Jackson's coaching career was as a whole, his final season left a lot to be desired. In 2010-11, Jackson led the Lakers to a 57-25 record and a No. 2 seed in the Western Conference. The Lakers were coming off three straight NBA Finals appearances and two straight titles, so they were expected to make a run at the three-peat.
After beating the Hornets pretty easily in round one, Jackson and the Lakers were swept in four games by the Dallas Mavericks in round two. It turned out to be Jackson's final playoff series as a head coach, as health issues forced him into retirement.
What made matters worse was the way Jackson went out. His final game on the sidelines was a 122-86 drubbing to the Mavs that finished off the sweep in 2011. It will forever be a sour taste in his mouth in a career that should be remembered for the unmatched winning, not the embarrassing finish.
Jackson had a chance to return to the Lakers, but he took too long to accept the job
Phil Jackson actually had the chance to redeem his final playoff series in 2012 when the Lakers were searching for a new head coach. Mitch Kupchak, LA's general manager at the time, met with Jackson first after the team fired Mike Brown.
Jackson was the team's first option to replace Brown and rejoin the team, but he took too long to decide. Kupchak met with Jackson in his home one Saturday to talk about the job. There was never an official offer on the table, but Lakers fans wanted Jackson back, and Jackson said he would call Kupchak Monday with a decision.
However, Monday never came. The Lakers hired Mike D'Antoni the next day after talking to him Saturday night.
Jackson had the chance to rewrite history and finish his career on a high note, but he never got the chance to do so. As embarrassing as the end of Jackson's coaching career was, though, he should be remembered for his incredible 20-year resume and his record 11 championships. He's the best winner in NBA coaching history, and one bad series can never change that.
All stats courtesy of Basketball-Reference