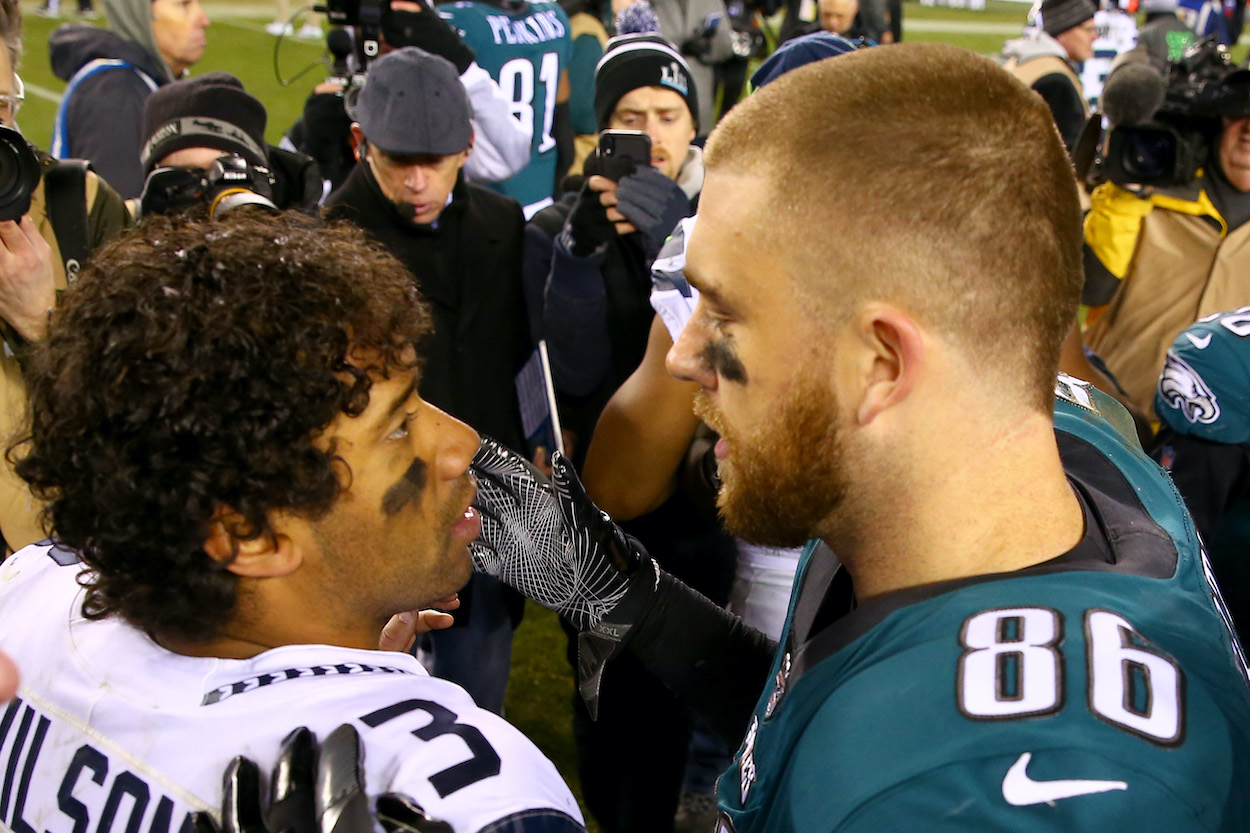 The Seattle Seahawks Could Be Giving Russell Wilson a Pro-Bowl Weapon He Didn't Even Ask For
Russell Wilson wants the Seattle Seahawks to invest more into the offensive line, but they're targeting a Pro-Bowl tight end instead.
Russell Wilson didn't mince words last week when speaking about the Seattle Seahawks' biggest need this offseason. Wilson is simply fed up with playing hero ball behind a below-average offensive line, and he made it crystal clear the Seahawks need to invest heavily in the trenches if the team wants him to stick around any longer.
But Seattle seems to be more interested in adding to Wilson's weaponry in the passing game instead. The Seahawks' newest trade target would give Wilson another reliable option downfield, but that's not exactly what he's asking for.
Russell Wilson uncharacteristically calls out his Seahawks teammates
Russell Wilson isn't typically one to make critical comments about his own team. After all, the longtime Seahawk has finished each of his nine NFL seasons with a winning record and has a Super Bowl ring thanks to the franchise that drafted him.
But it's hard to ignore the fact that Seattle has had problems protecting Wilson nearly his entire career. In 144 regular-season games with the Seahawks, Wilson has been sacked 394 times. He's been dropped at least 47 times in each of the last three seasons.
Last week, Wilson finally aired out his frustrations about constantly playing behind a weak offensive line.
"We've got to get better up front," Wilson said last Tuesday on The Dan Patrick Show. "It's not just passing, [but] in terms of everything you do. It controls the game as you watched the other night [in the Super Bowl]."
Later that same day, Wilson echoed his comments to reporters via Zoom.
"You never want to be sacked that many times. Four-hundred times basically is way too many — 400 too many," Wilson said. "So I think that's a big thing that we've got to fix. That's got to be fixed and has to be at the end of the day, because my goal is to play 10 to 15 more years."
There's no secret as to what Wilson wants to see from his team this offseason, but the Seahawks might be taking a different approach.
The Seahawks have reportedly inquired about a Zach Ertz trade
The Seahawks could easily take Wilson's advice and address the offensive line as the first order of business this offseason, but they seem to be interested in an aging tight end instead.
On Sunday, Ed Kracz of SI.com reported Seattle is one of the teams inquiring about Philadelphia Eagles TE Zach Ertz. Kracz had this to say over the weekend:
The Eagles have been exploring a deal for their Pro Bowl tight end for many months, though maybe some of that exploration has been put on the back burner, because of, well, you know, the quarterback taking front and center.

An NFL source said that the Eagles have had conversations about Ertz with the Seattle Seahawks and Indianapolis Colts.

Ed Kracz
Could Ertz be on his way to Seattle in the coming days?
Tight end is far from the Seahawks' biggest need
For the first time in his nine-year NFL career, Russell Wilson's future with the Seahawks seems uncertain. The seven-time Pro Bowler would like to finish out his career in Seattle, but not if the franchise keeps failing to protect him up front.
Wilson sent out a cry for help last week regarding the Seahawks' brutal offensive line. But instead of catering to Wilson's wishes, Seattle is already getting distracted by a secondary need.
It's not as if the Seahawks couldn't use some help at tight end. Last season, Seattle tight ends combined for just 699 receiving yards and six touchdowns. Zach Ertz recorded 916 yards and six touchdowns by himself in his last healthy season in 2019.
Ertz would immediately step in as the No. 1 TE option on the team if Seattle does complete a trade, but with DK Metcalf, Tyler Lockett, and Chris Carson still pacing the offense, adding another weapon should take a backseat to shoring up the offensive line this offseason.