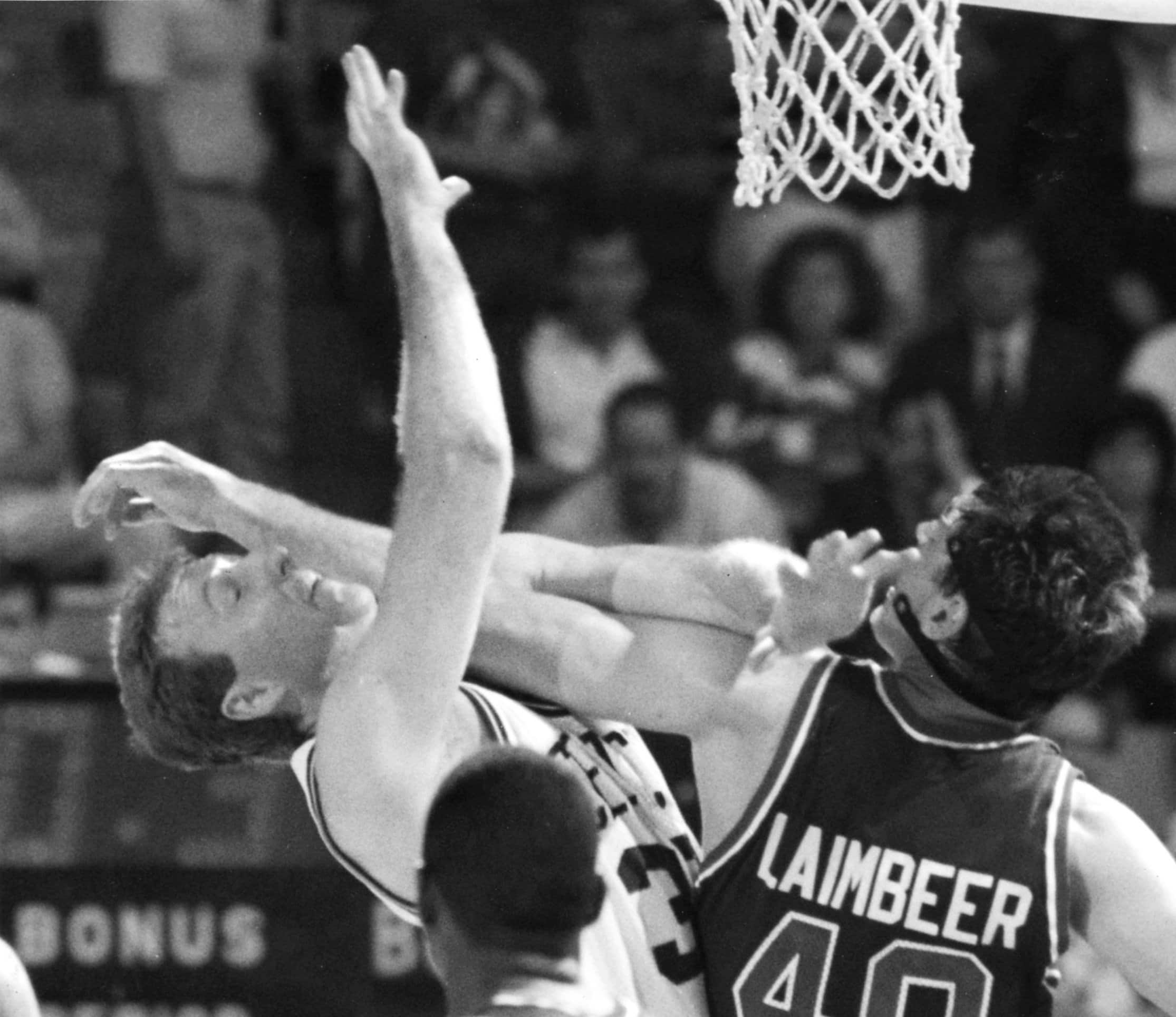 The Top 5 Heated Boston Celtics Moments of the 1980s
The Boston Celtics had their share of heated battles, many resulted in bench-clearing action. We took a look at some of those intense moments.
The Boston Celtics have had some heated battles en route to their 17 NBA championships. Whether facing Eastern Conference rivals Philadelphia 76ers and Detroit Pistons or their West Coast foe Los Angeles Lakers, there were always a few tense moments.
There have been plenty of fights and flat-out brawls involving the Celtics, and we came up with our top five. Bill Russell and Wilt Chamberlain had a heated incident in the 1966 Eastern Conference Finals. Dave Cowens and Tree Rollins clashed in the very early '80s, but all five of our top moments occurred within a five-year span between 1983 and 1987 when physical basketball was the norm.
You know Bill Laimbeer, arguably Boston's most hated opponent, has to make an appearance on this short list, but how many times will he appear?
No. 5: Kevin McHale clotheslines Kurt Rambis in 1984 NBA Finals, propelling Boston Celtics comeback
Things looked bleak for Boston during Game 4 of the 1984 NBA Finals in Los Angeles. The Celtics were fortunate to only be down 2-1 in the series, as the Lakers dominated play the early part of the series. The Celtics trailed 76-70 in the third quarter before Kevin McHale took things into his own hands.
With Lakers forward Kurt Rambis coming down on a fast break for a layup, McHale leveled the Lakers forward with a hard clothesline foul. Both benches emptied, and the series heated up from there.
"You know, I would probably be in jail right now if I had been able to do what I wanted to do after he upended me," Rambis said to former teammate Michael Cooper last year on the Showtime With Coop podcast. "I was going after him. If you watch the tape, I'm headed right toward him. Worthy pushes me into the reporters, and I end up falling down. Larry Bird ends up helping me up.
"It's just something you don't do in basketball, so I was going after blood. If I had a clear path, I was going after him, so I may have gotten in a lot of trouble."
The Celtics rallied to win the game and captured the series in seven games.
No. 4: Boston Celtics vs. Philadelphia 76ers get into preseason fight in 1983
This one didn't get a whole lot of hype since it happened during a preseason game. It made this list, however, BECAUSE it was a preseason game. The Celtics and 76ers always found themselves in heated battles, especially after Boston rallied from a 3-1 deficit against Philly in the 1981 playoffs and went on to win its first championship of the decade.
One of those heated moments came during the 1983 preseason. It began with Boston's Cedric Maxwell getting into it with Phully center Moses Malone. Larry Bird then got into it with Sixers big man Marc Iavaroni. Even Boston's GM Red Auerbach got into it, stormng the court and going after Malone.
"First, they knock (Cedric) Maxwell down, and then that other guy (Iavaroni) is doing a job on Bird and all that kind of stuff is going on. I couldn't help it. I just got mad," Auerbach said, via United Press International.
Bird was one of three players ejected in the game.
No. 3: Larry Bird and Bill Laimbeer go at it during the '87 Eastern Conference Finals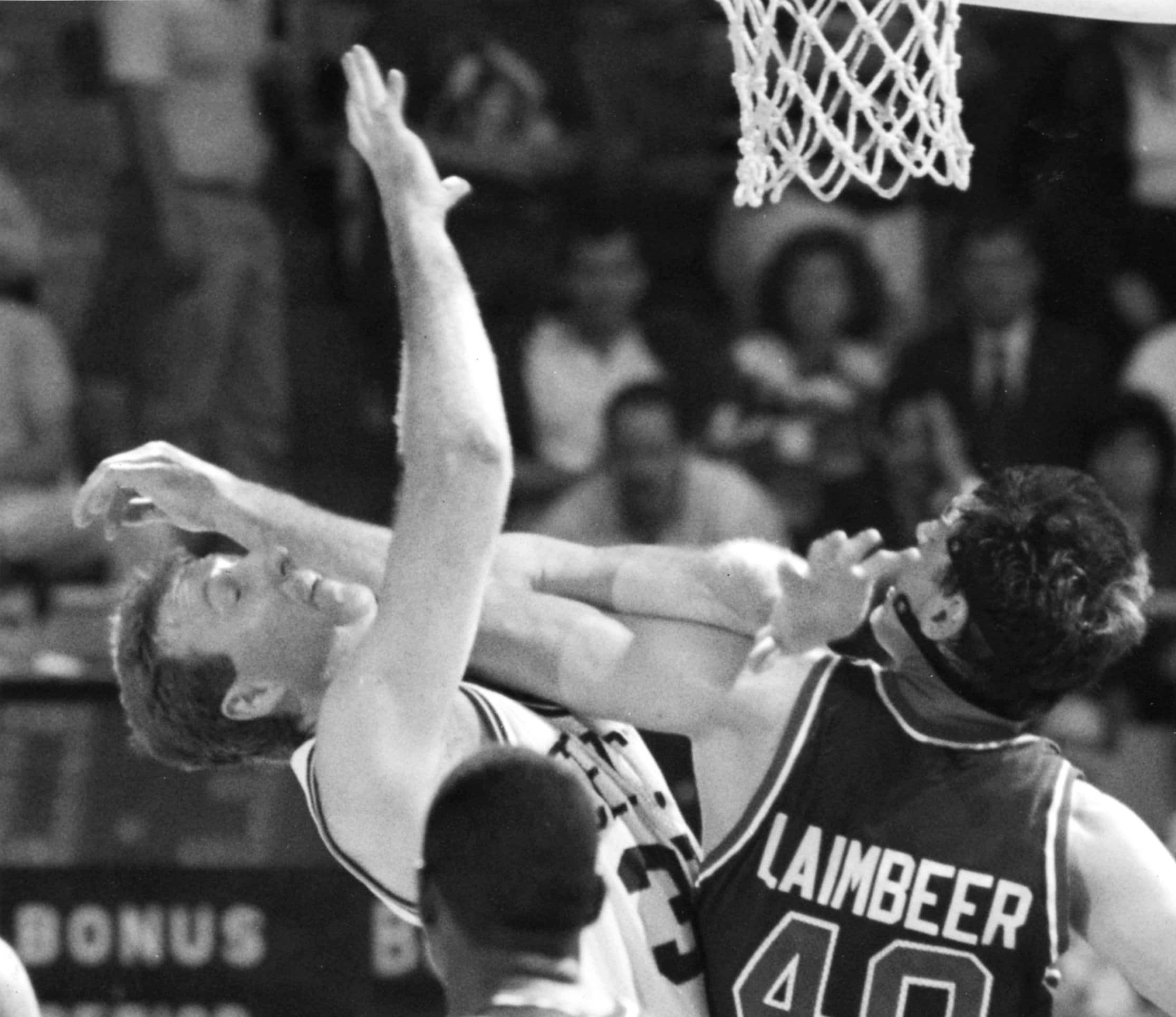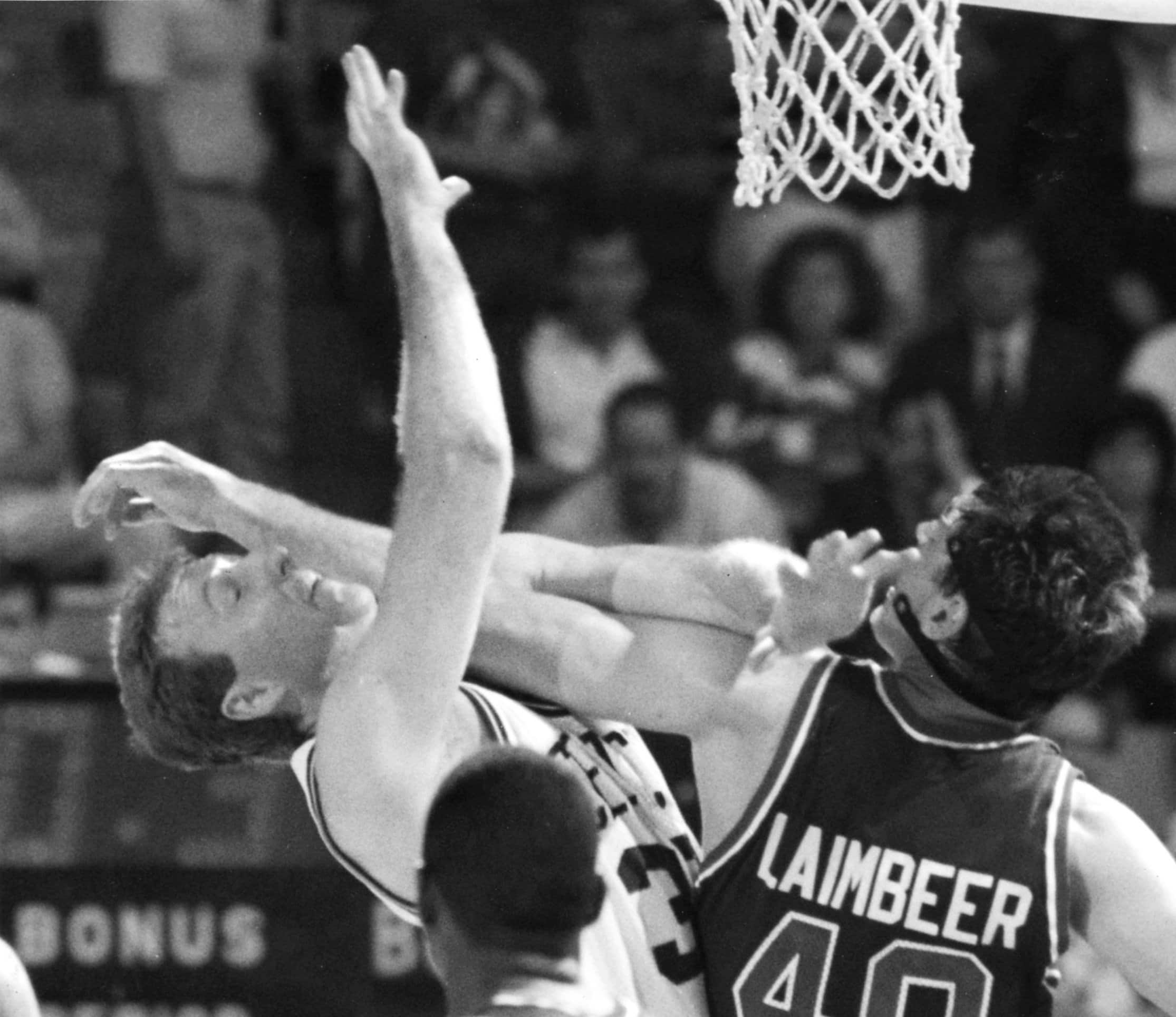 Laimbeer was despised by the Celtics for what many believe was his dirty play. During Game 3 of the 1987 Eastern Conference Finals, Laimbeer's antics reached a boiling point with Bird. With the Celtics up 2-0 in the series, Bird up-faked underneath the basket before Laimbeer violently took him down with a hard foul.
Punches were thrown and, players were all over the court. As the dust settled, Bird heaved the ball at Laimbeer. Both Bird and Laimbeer were tossed from the game.
"I wish they would have parted the sea, cleared the court for about 15 minutes, and just let us go at each other," Bird said, according to The Chicago Tribune.  "We would have seen who the real man is. He was backing away from me and didn't want any part of me."
Two games later, Celtics center Robert Parish pummeled Laimbeer as they fought for a rebound. That incident didn't quite make our list, mainly because it was more retaliation on Parish's part. He threw in a couple of punches with Laimbeer's back toward him.
No. 2: Bird and Julius Erving battle it out in 1984
On Nov. 9, 1984, the Celtics and Sixers met in an early-season game that had a playoff-like atmosphere from the get-go. Bird wowed the Boston fans with a 42-point effort in 30 minutes of play. Julius Erving, the Sixers star, had six points.
With 1:38 left in the third quarter, Bird and Erving got tangled up, and Bird was slapped with an offensive foul. On the next possession, the two stars went at it, causing a melee on the court. There were punches, headlocks, and takedowns at mid-court.
Veteran NBA referee Dick Bavetta worked most of the game alone after his partner, Jack Madden, suffered a broken leg during the game. His injury was unrelated to the brawl.
Bird and Erving were each fined $7,500 which was the second-highest for player conduct at the time.
No. 1: Jerry Sichting takes on Ralph Sampson in the 1986 NBA Finals
This one is the most memorable because of the players involved and when it happened.
Jerry Sichting, Boston's 6-foot-1 backup point guard, found himself in the middle of a brawl with Houston Rockets 7-foot-4 center Ralph Sampson during the 1986 NBA Finals.
There apparently had been some contact between the two players earlier in the game, but the breaking point for Sampson came during a mismatch when Sichting tried to match up with Sampson in the low post. Sichting didn't back down, frustrating Sampson, who threw a punch.
Celtics backup center Bill Walton rushed over and took down Sampson, bringing him to the floor. Both benches cleared.
In 2020, Sichting reflected on the fight in a Boston Herald interview.
"So he hit me with a forearm in the back, and the ref called a foul, so I kind of turned around and walked back towards him, like, what are you doing?" he said. "I had my hands palms up in the air, and he swung from a long distance away. Thank God I wasn't that close to him, but he hit me with a glancing blow, and that's what started everything.
"It was my 15 minutes of fame. I still hear about it every once in a while. Unfortunately, I didn't hit a Finals game-winning 3 like (John) Paxson and (Steve) Kerr did for the Bulls, so I guess I'm remembered for that more."
Like Sportscasting on Facebook. Follow us on Twitter @sportscasting19 and subscribe to our YouTube channel.