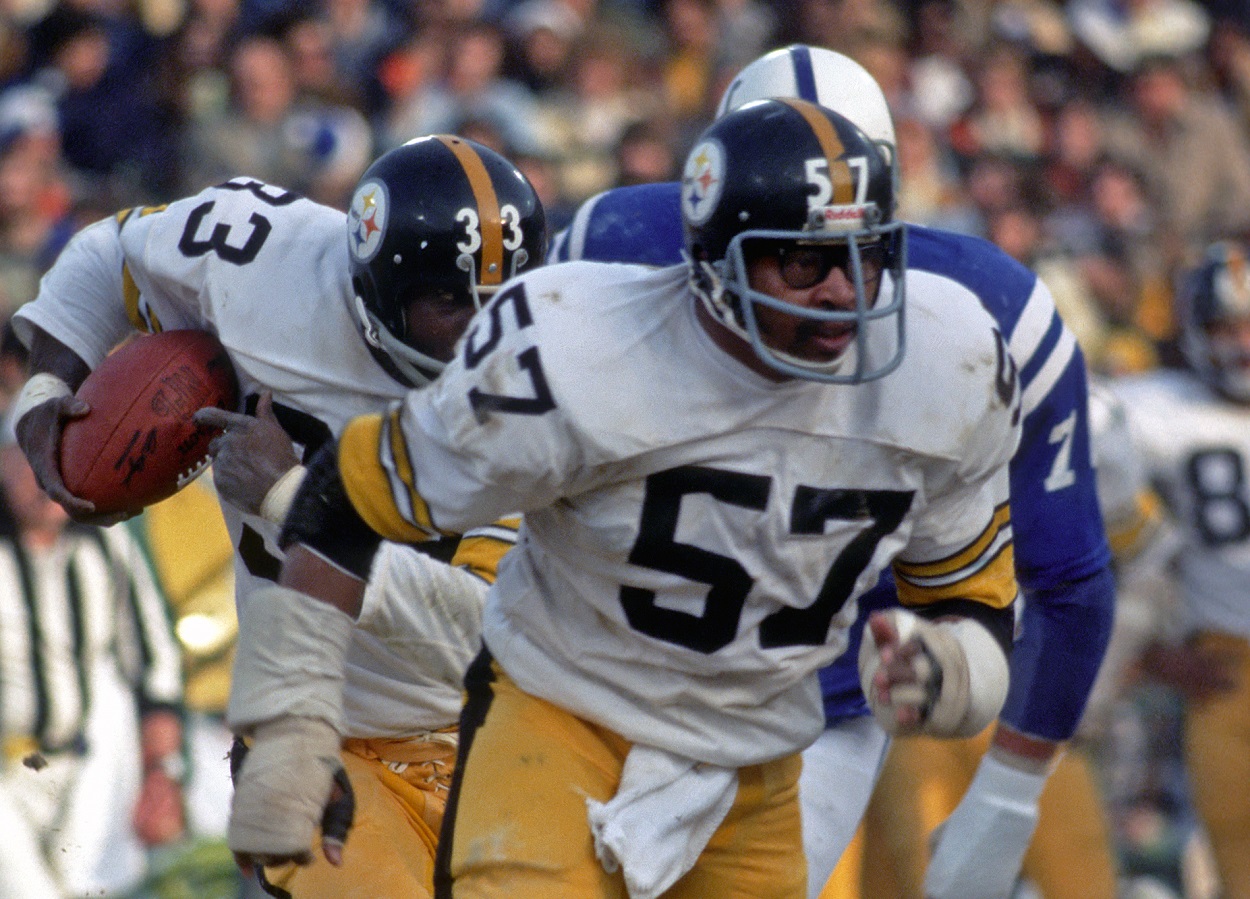 The Tragic Death of 4-time Steelers Super Bowl Lineman Sam Davis Wasn't His Most Mysterious Fall
Sam Davis, who earned four Super Bowl rings with the Pittsburgh Steelers, died at a Pennsylvania nursing home in 2019. Injuries he suffered in 1991 remain a mystery but led to a decline in his health.
It will be up to a court to unravel the circumstances that led Sam Davis, who played on four Super Bowl championship teams, to be found dead at the bottom of a nursing home staircase. Why the former Pittsburgh Steelers stalwart was found near death at the bottom of another staircase 28 years earlier will remain a mystery.
The two falls were bookends to the tragic final third of the life for a man who opened holes for Franco Harris and protected Terry Bradshaw.
Sam Davis' family is alleging wrongful death
The children of retired Pittsburgh Steelers player Sam Davis have filed a lawsuit against a McKeesport, Pennsylvania, nursing home over the death of the offensive lineman. The suit in Allegheny County Common Pleas Court filed this month alleges negligence and wrongful death.
Davis was 75 when he died on Sept. 10, 2019. His body was found at the bottom of a staircase at New Life Personal Care Home, where he had been residing since 2000. The complaint references a 1991 head injury that worsened over time, causing declining cognitive abilities, diminished vision, slowed speech, and mobility problems. The lawsuit states that the nursing home continued to allow him to reside on the second floor with access to a private staircase leading outdoors.
According to TribLive.com, Davis' location remained unaccounted for from 8 a.m. to 8:30 p.m. before he was found dead at the bottom of the private staircase. The complaint contends that Davis could have been saved had he been found sooner.
Sam Davis was a four-time champion with the Pittsburgh Steelers
Sam Davis was an undrafted rookie out of Allen University in South Carolina when he made the Pittsburgh Steelers' roster in 1967. He became the starting left guard in 1970, where he remained for most of the decade and earned four Super Bowl rings in six years.
Davis was Pittsburgh's offensive captain and was widely praised for containing star Dallas Cowboys defensive lineman Randy White in Super Bowl 13. Davis never made a Pro Bowl, but he was revered by teammates for his consistency and his grasp of complicated blocking schemes.
"Sam was a great football player and an even better man," Craig Wolfley, who replaced Davis on the Steelers' line, told Pittsburgh Magazine. "He epitomized what it means to be a Steeler."
Davis appeared in 168 regular-season games, starting 114 of them, during a 13-year career spent exclusively with the Steelers.
A mysterious 1991 incident precipitated his decline
Sam Davis retired from the Pittsburgh Steelers after the 1979 season and started a construction business that won a series of contracts set aside for minority-owned businesses. In 1986, authorities accused his company of being a front for businesses that wouldn't have qualified for the contracts. He was frozen out of subsequent deals, and Davis' business went deep into debt.
Returning home on Sept. 8, 1991, from a weekend away, Tamara Davis found her husband on the basement floor with serious injuries. Investigators indicated there was no suspicion of foul play, according to the Pittsburgh Post-Gazette, Tamara Davis would later tell Pittsburgh Magazine that she preferred to think it was an accidental fall, but others who saw the retired lineman afterward suspected otherwise.
"That was no accident," said former teammate Jon Kolb, who described marks and bruises on Davis' neck, arms, hands, and feet. Others had similar descriptions, and a 1998 newspaper column said Davis had been beaten and tortured. Another report suggested that Davis suffered a beating at the hands of a motorcycle gang.
Davis was never close to the same physically or mentally after the incident.
"I've seen him at card shows," former teammate Gerry Mullins said shortly before Davis' death. "And for a minute, you kind of forget. He still has that same bubbly smile. But he doesn't know who you are. He's just not there anymore."
Like Sportscasting on Facebook. Follow us on Twitter @sportscasting19.