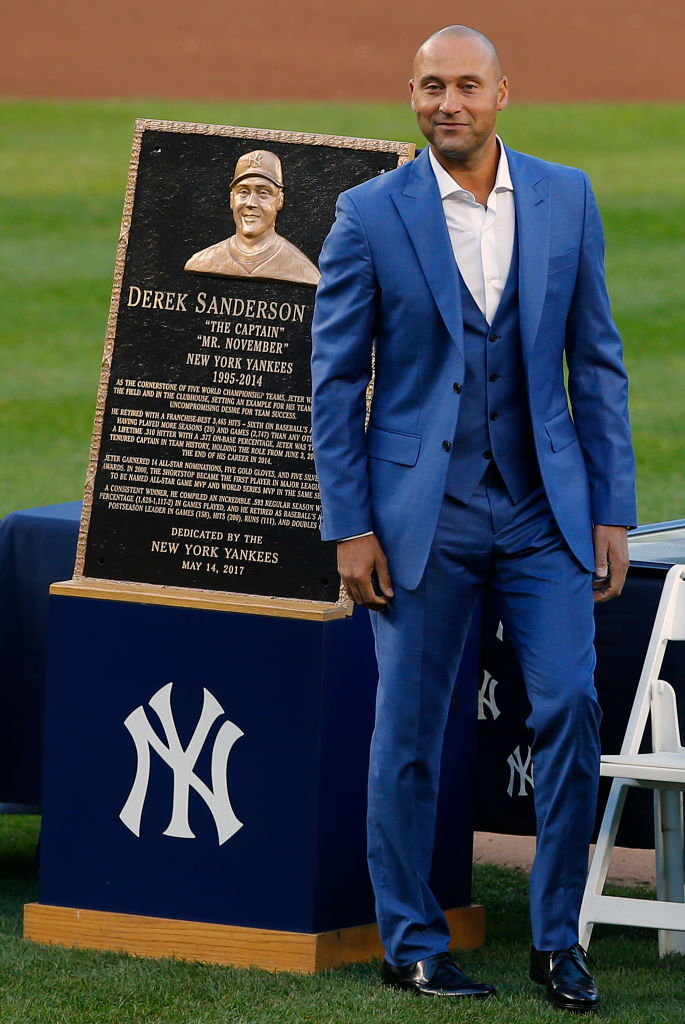 This Lawsuit Blaming Derek Jeter Is Completely Crazy
Though not named as a defendent, a lawsuit filed in federal court blamed Derek Jeter for derailing another player's baseball career.
Talk about a wild pitch.
Derek Jeter recently came within one vote of unanimous selection to the National Baseball Hall of Fame, but there is one person out there who seems to have a bigger problem with the former New York Yankees great than that voter did.
Though not named as a defendant, Jeter was at the center of a perplexing lawsuit filed against the New York Yankees by a man named Garrison Lassiter in federal court in North Carolina.
The suit turned out to be one of several filed in an attempt to reel in some money from the multi-billion-dollar sports industry.
Derek Jeter was the man for the Yankees
Derek Jeter was drafted by the New York Yankees in the first round in 1992 and spent his entire career with the franchise, appearing in 2,747 games with the big-league club beginning in 1995. He finished with 3,465 hits, including 260 home runs, and was an All-Star Game fixture and a major New York City celebrity.
The fact that Jeter was entrenched at shortstop didn't stop the Yankees from preparing for a potential future without him by selecting other prospects at the position with first-round picks – Bronson Sardinha in 2001, Carl Henry in 2005 and Cito Culver in 2010 – but they were wasted picks for all practical purposes. Aside from an injury that cost him his next-to-last season, Jeter was an every-day player right up to his retirement at the end of the 2014 season and none of those prospects posed a serious challenge to his career.
Jeter and the Yankees won four World Series championships in five years beginning in 1996, helping further elevate him to stardom so that even the arrival of Alex Rodriguez in 2004 could not displace Jeter from his spot at shortstop.
Lawsuit alleged the Yankees conspired to protect Derek Jeter
Garrison Lassiter's 79-page lawsuit sought more than $17 million from the Yankees for allegedly preventing him from reaching the majors while a farmhand of the American League team. He tacked on roughly $17 million in additional claims covering multiple other allegations.
His filing asserted that the Yankees defamed his character and breached his contract in order to protect Derek Jeter, whom he insinuated feared the competition and accused of controlling the organization.
Lassiter tried drawing parallels between his own career and those of Los Angeles Dodgers shortstop Corey Seager, who was the National League Rookie of the Year in 2016, and former NFL quarterback Brandon Weeden. For good measure, Lassiter even sought additional damages from the Yankees for derailing his basketball career – even though he hadn't played that sport since high school.
A look at the numbers shows that Jeter wasn't the problem. Lassiter, who was 18 years old when he joined the Yankees as a 27th-round draft pick out of Clemmons, North Carolina, compiled a modest .244 batting average with four home runs in the low minors from 2008-12.
He had a brief run at shortstop at the start of his career but in 2009 was moved to third base, where he spent the majority of his career. He was out of baseball by the end of the 2012 season and latched on briefly as a quarterback prospect at the University of Miami, where he never played a single down.
"Offensively, he was OK," said Aaron Ledesma, who managed Lassiter in 2011. "He was below average. Not much power, didn't really hit for a high average. Speed-wise, he was below average."
Strategy looks like a desperate money grab
Not surprisingly, the lawsuit against the Yankees didn't go anywhere. A judge dismissed it in May 2019 because nothing alleged by Lassiter, who was acting as his own lawyer, rose to the level of a federal case.
That didn't stop Lassiter from availing himself of the federal court system again in pursuit of money. He filed another suit seeking $1.6 million in December 2019, this time contending that the Cincinnati Reds' refusal to sign him was due to age discrimination.
Lassiter also sued Proehlific Park, a North Carolina business owned by former NFL receiver Ricky Proehl, on the grounds that joining the training complex failed to land him an NFL tryout.