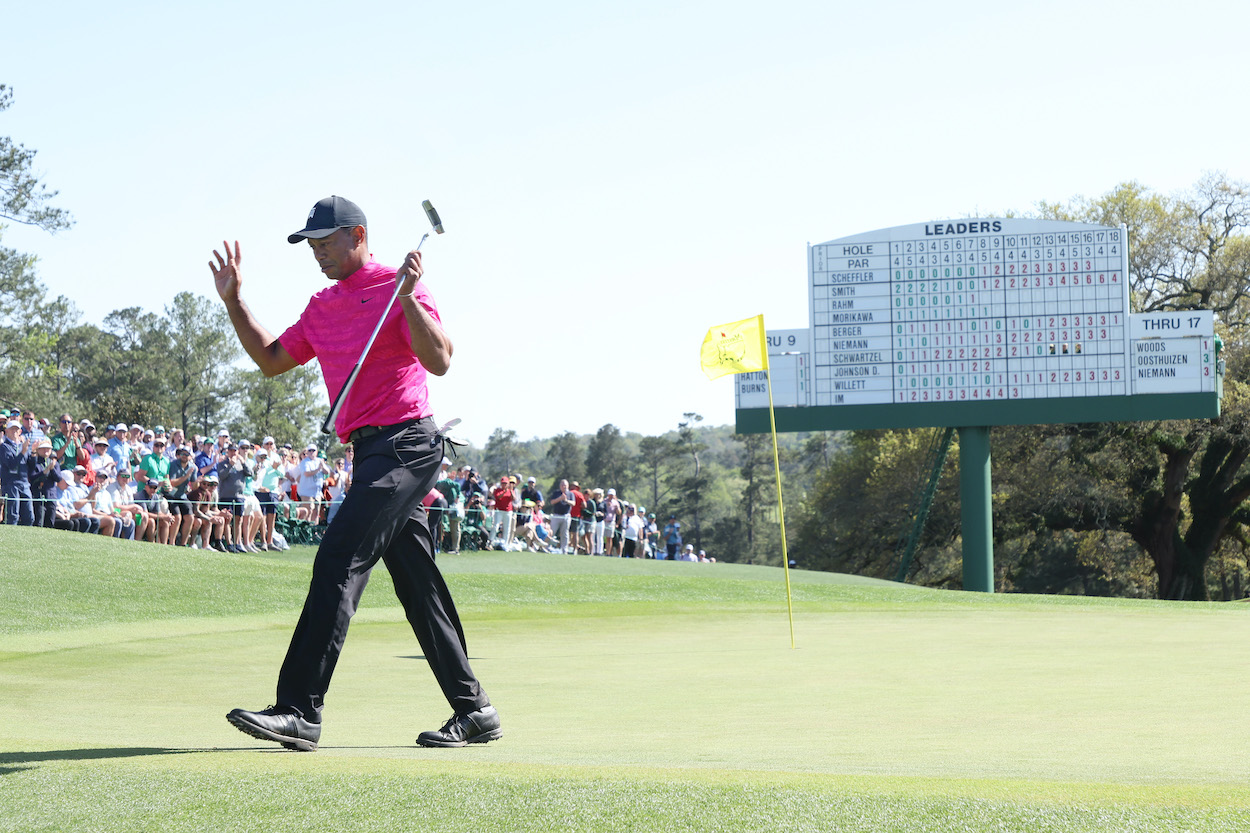 A Tiger Woods Win at The Masters Would've Been a Multi-Million-Dollar Disaster for Sportsbooks
Tiger Woods winning The Masters would be a great story for fans, but not for sportsbooks.
When Tiger Woods appeared at his press conference ahead of the 2022 Masters Tournament and told the world he was confident he could win the tournament, fans and bettors rejoiced. Sportsbooks around the world, however, did not.
Considering Woods is the most famous golfer to ever live, his return announcement triggered a flood of bets to win, place inside the top 5/10/20, make or miss the cut, and more at Augusta National Golf Club. If he had won his sixth career green jacket, it would've been one of the most disastrous results sportsbooks have ever seen.
Bettors loaded up on Tiger Woods before The Masters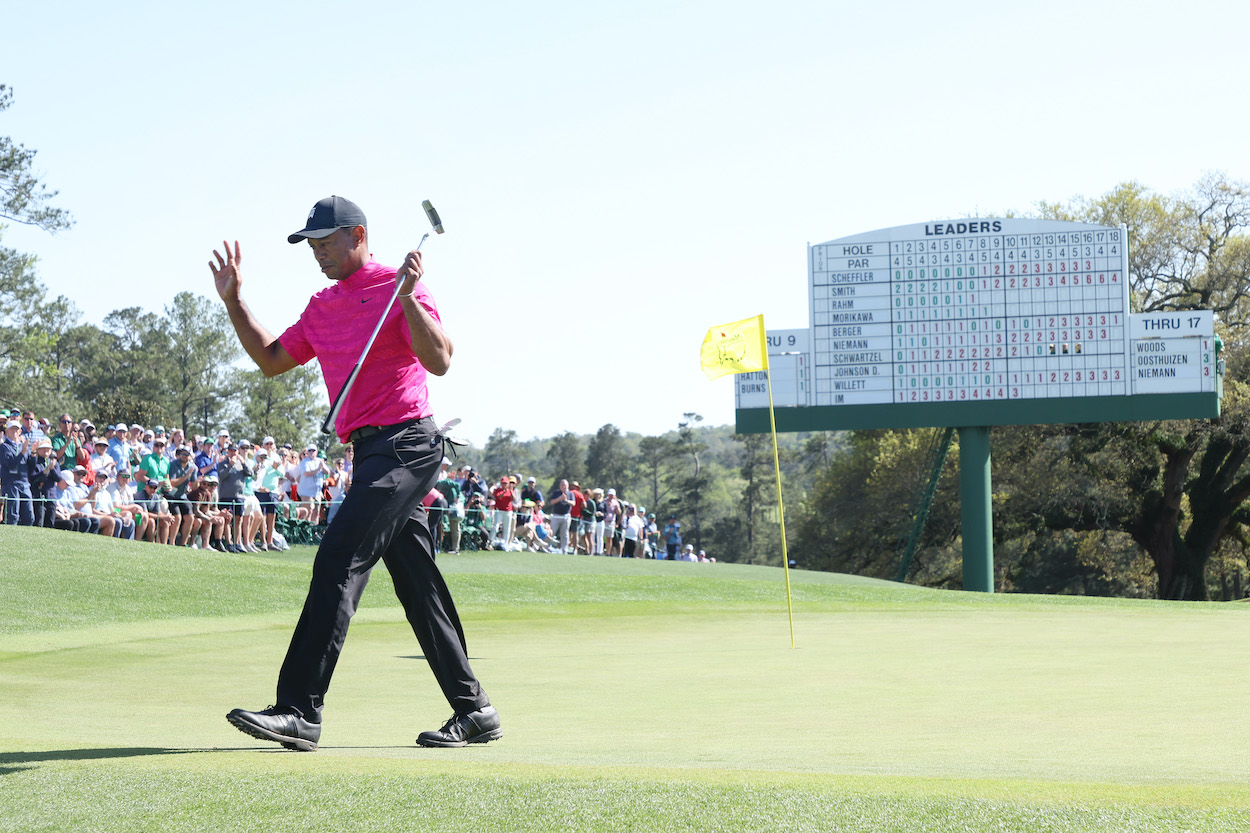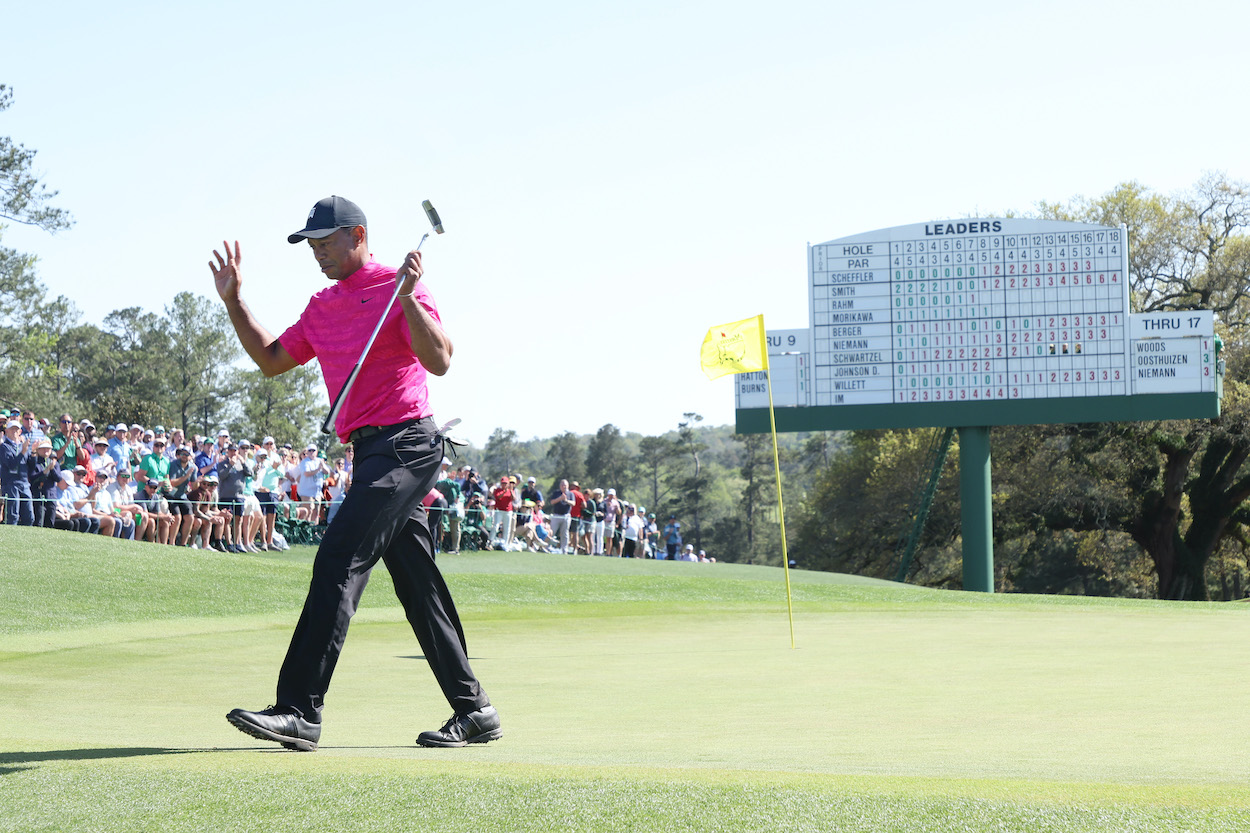 When Woods officially announced he would be returning from his hiatus to play in the 2022 Masters, oddsmakers knew fans would flock to the window to bet on the 15-time major winner. They knew bettors would take Tiger at any odds, and that's why so many sportsbooks cut his odds to win from 100/1 to as low as 40/1 at some places.
Still, money kept flowing in on the five-time Masters champion.
One FanDuel bettor threw down $15,000 to win $750,000 on Woods to win the tournament, per Yahoo Finance. Another placed $10,000 on the same bet on DraftKings to win $400,000, per Action Network.
Robert Kowalksi, the sportsbook director at the Book at Baldini's casino near Reno, Nevada, told Mike Seely of Sports Handle that bettors couldn't stop betting on Woods no matter the price.
"He makes his announcement and I now have more money bet into my Masters pool than at any time in our history here at Baldini's," Kowalski said. "I'm stunned. I've had discussion with my colleagues forever about how much Tiger means to this game and to the betting pools. It's insatiable. I keep putting up more and more props, and it's just on Tiger. I could put up plenty of matchups — Spieth against Morikawa — they're not betting it. It's all Tiger."
"I want all the Tiger Woods money, so if Tiger Woods wins this, I'm going to have a long conversation with the owner of the casino," he joked.
Tiger winning The Masters would've been crushing for sportsbooks
Leading up to the Masters, Woods was by far the most popular bet of any golfer in the field. Even more wagers flooded in after his first-round 71 that put him right in the hunt, creating a massive liability for sportsbooks everywhere.
Adam Pullen, the Assistant Director of Trading at Caesers, told Sports Handle that Woods was his book's only liability entering the tournament, and he could go down as a historic need.
"If [Woods] does pull it off, a lot of sportsbook operators are going to be crying a little bit, because it's going to be the biggest liability on a golfer maybe in history," Pullen said. "The [long] odds definitely get people more excited."
If you're unfamiliar with sports betting lingo, that means a Woods win at the Masters would've created the biggest loss for sportsbooks in golf history. Many books would've lost millions on outright bets alone, but luckily for them, Tiger didn't even come close.
Escaping a multi-million-dollar disaster
To the delight of sportsbooks everywhere, Woods faltered after his stellar first round and finished the tournament at 13-over par. He walked off the 18th green in 47th place.
So, every single one of those outright, top-5, top-10, and top-20 bets on Tiger will go down as big wins for the books. Fans were understandably excited to load up on Woods for the first time in 17 months, but they must've forgotten the age-old adage.
The book always wins.
Like Sportscasting on Facebook. Follow us on Twitter @sportscasting19.