Tim Tebow Reveals Why He Thinks His Former Teammate Tom Brady Can Still Play at Least 3 or 4 More Years: 'Tommy B Is Faster Than He's Ever Been Before'
Tom Brady has accomplished various impressive feats throughout his Hall of Fame NFL career. The most remarkable one, however, is that he's still playing at a high level at 44 years old. Most quarterbacks can barely make it to 40, let alone win a Super Bowl at 43.
So, when does the great Tom Brady plan to retire? He has commented on how long he intends to play in the past, but no one seems to actually know his future plans. Tim Tebow, though, recently revealed why he thinks Brady can still play at least three or four more years.
Tom Brady said he can play until he's 50
In the past, Tom Brady said he didn't plan to retire until he was at least 45 years old. Now that he's playing at a high level at 44, though, is going all the way to 50 a realistic possibility?
Brady recently received that question on the Tampa Bay Buccaneers' hilarious show, Tommy and Gronky. And his answer may have surprised some.
"Wow. Seems to be a really hot question lately," Brady said, per CBS Sports. "Can Tom Brady play until 50? Like, 50 years old? Fifty."
Rob Gronkowski chimed in and said, "You're 44; that's six more years."
And Brady replied: "I don't find it so difficult. Plus, in Florida, it's kind of a retiree state, so I feel like I can play and then just glide into retirement. I think I can; I think it's a yes."
Gronk and TB12 didn't seem to be taking themselves too seriously in the video, so there's a chance Brady was just kidding when he made his comment. But his answer certainly set the internet on fire, which eventually led to ESPN's First Take debating the topic.
Tim Tebow thinks TB12 can at least play three or four more years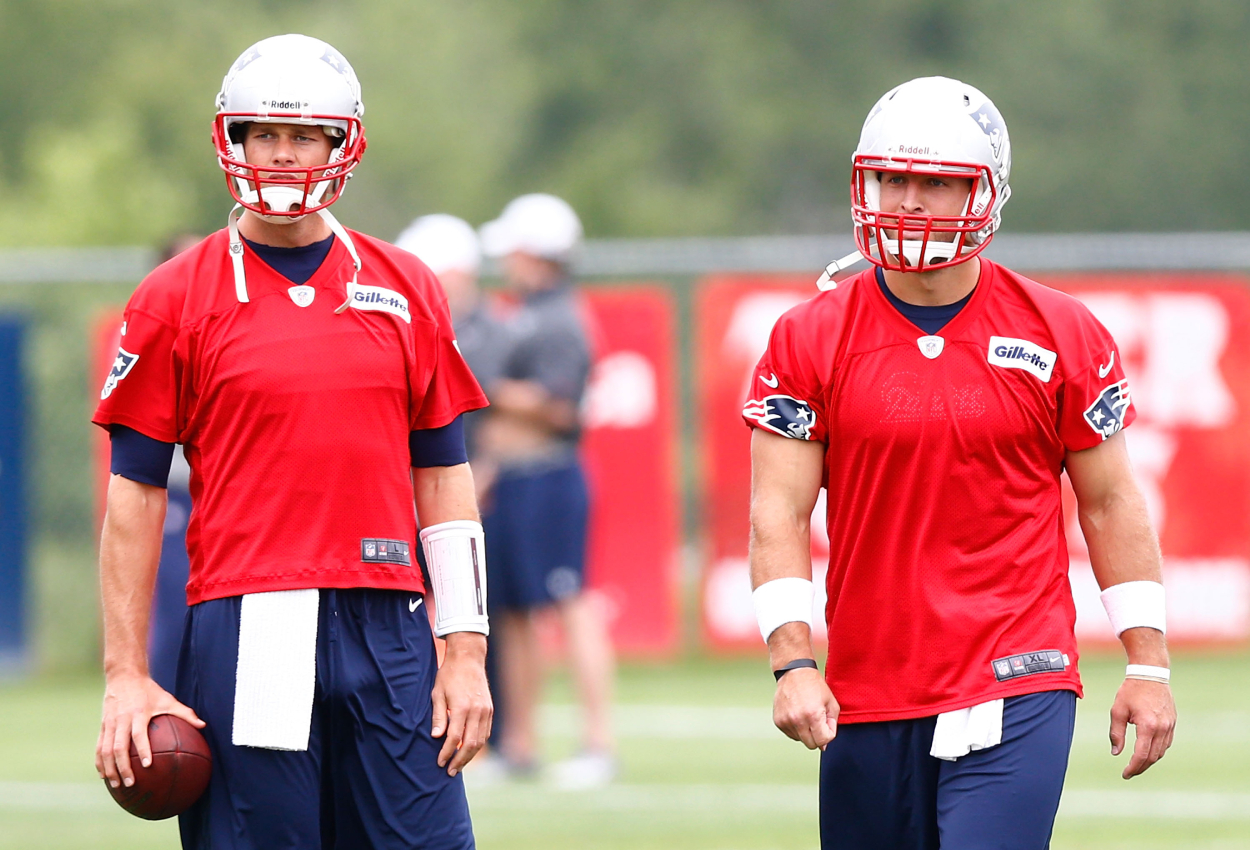 With the internet ablaze after Brady's answer, Stephen A. Smith and 2007 Heisman Trophy winner Tim Tebow debated whether or not Tom Brady can play until the ancient age of 50. While Tebow — who spent time with Brady during Patriots training camp in 2013 — didn't outright say TB12 can play until he's half a century, he seemed to have plenty of faith in him.
"Father Time might win the war, but TB12 and Tommy B has been winning a lot of battles," Tebow said on the Sept. 17 episode. "I think he's got a lot more battles that he's gonna be able to win. Listen, because of the rule changes, and because of how good his offensive line and his receivers are around him, and his therapy, that's a really big point that I think gets overlooked. Alex Guerrero, his trainer, and all of TB12 and all of the avocado ice cream and everything else, it is an incredible program that is keeping him healthy better than everybody else."
Tebow then made a claim that may actually surprise some: He said Brady is faster now than he was when he was younger.
"Is he gonna play until 50? I don't know, but at this pace, with the way he's getting hit and the way he's playing, and his arm looks as strong as ever," Tebow said. "And he's faster. I actually talked to Alex Guerrero, his trainer: Tommy B is faster than he's ever been before. So, at this pace, I think he can play another three, four years, especially with how good the Bucs are. But the question is: Does he want to?"
Can Tom Brady wait until 50 years old to retire?
The thought that Brady, at 44 years old, is faster now than he used to be is mind-boggling, but his play and stats aren't refuting that point one bit. Of course, Tebow's window of three or four more years would only make Brady 47 or 48, but can the seven-time Super Bowl champ actually play until then? Can he reach 50?
Tebow made a good point in regards to Brady's training. His TB12 program seems to be playing a significant role in his sustained success, and his numbers are backing up the claim that he's better now than he used to be.
Brady threw for the second-most touchdowns of his career in 2020 with 40, and his 4,633 yards were the most since the 2015 season when he was 38 years old. Being able to rack up those numbers at 43 alone proves that Brady is an anomaly, given that guys like Peyton Manning, Brett Favre, and even, to an extent, Drew Brees all saw their play decline around the age of 40. So, if TB12 is already playing well in his mid-40s, who's to say he can't keep doing it?
Sure, anyone playing football until their 50 is unheard of, but if someone were to do it, it would be Brady. The rest of the NFL just better hope that it doesn't result in six more Super Bowls for TB12.
Stats courtesy of Pro Football Reference