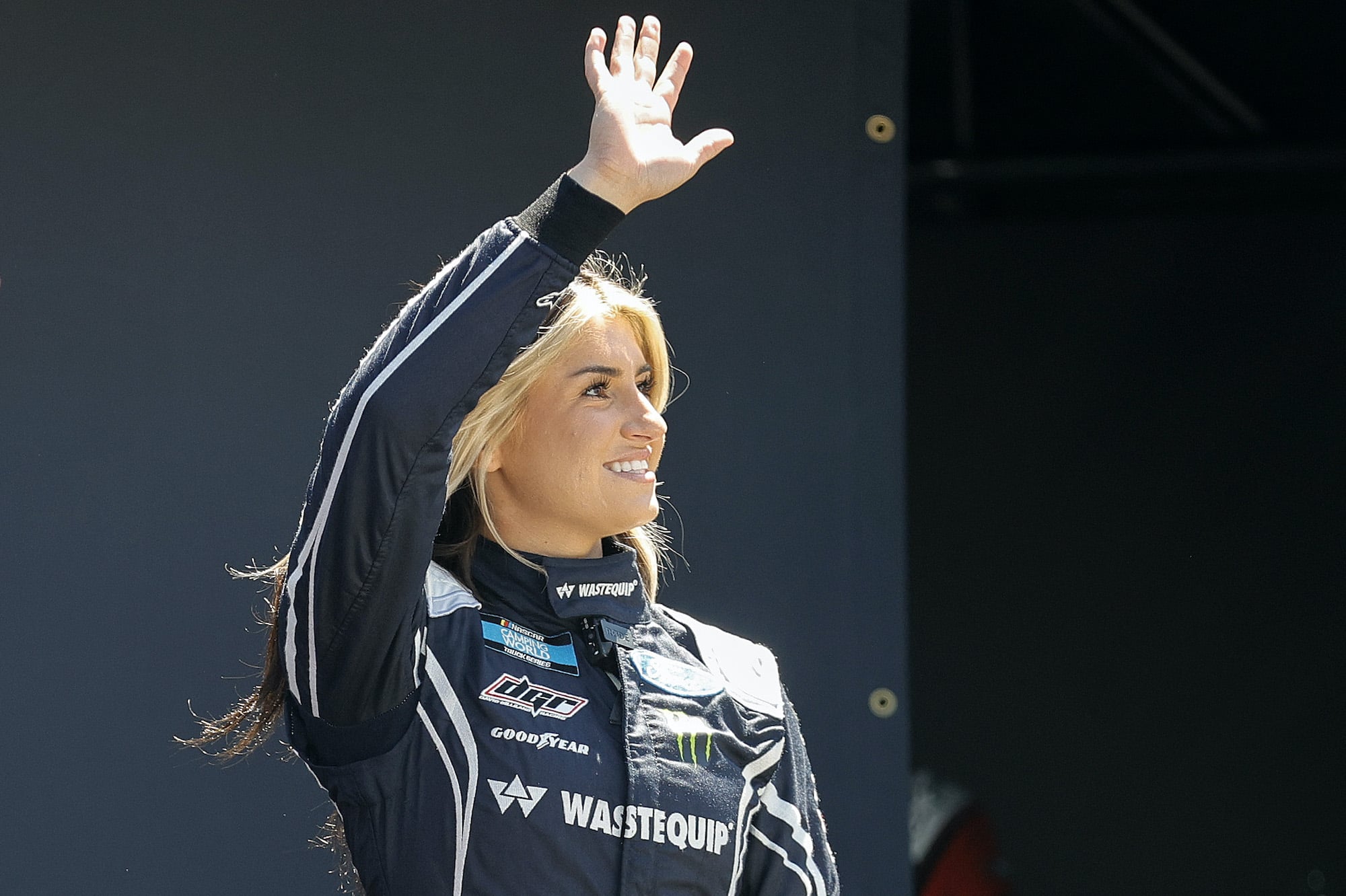 Todd Bodine Calls Out Hailie Deegan for Getting Payback at Pocono and Spoiling His 800th and Final NASCAR Start
Todd Bodine ended his race and career in an incident with Hailie Deegan at Pocono and suggested she was paying him back for an incident at Texas.
Todd Bodine got visibly emotional during his in-car prerace interview from Pocono Raceway, in what was amazingly his 800th career NASCAR start across all three series. The two-time Truck Series champion started deep in the field, where things can and often do get dicey due to the younger and inexperienced drivers learning through making their many mistakes. 
Class was in session early in the race on the 2.5-mile track when he and Hailie Deegan tangled, unceremoniously ending his day and career in one fell swoop. After the race, Bodine didn't mince words and called out Deegan and her inexperience for the miscalculation, but also suggested that it might not have been an accident but payback from an incident earlier this season.   
Hailie Deegan and Todd Bodine make contact at Pocono
In Todd Bodine's 800th and final NASCAR start, his goal was to make it to the end and soak up every last moment with all of his family and friends in attendance for the special occasion. He didn't come close.
With four laps remaining in the first stage, Bodine found himself in the middle of a three-wide situation going into Turn 1, with Hailie Deegan on his outside and Blaine Perkins on his inside. It appeared that Deegan came down across the right front of the No. 62 truck and squeezed him down into the No. 9, which started a chain reaction. 
Bodine got the worst of it, spinning down the track before backing it into the outside wall. He bounced off back into traffic and made contact with two more trucks. His big last hurrah had abruptly ended. 
Bodine calls out Deegan for getting payback 
Moments after the race, reporters caught up with Bodine to get his thoughts on his sentimental final race and what happened to bring it to an end. The 58-year-old didn't hide his disappointment and who he thought was to blame for raining on his parade. 
"They said Hailee got me," Bodine said. "That doesn't surprise me. Probably she felt like it was a little payback for Texas. She thinks I wrecked her at Texas. I didn't." 
"I was running around the bottom," he said, returning to the Pocono race. "I don't know if she run into the back of me, side of me. I don't know what happened. That's racing. You'll have that. I can't say we'll get 'em next week. That's the last one so. Not the way we wanted it to go."
When asked how much of what happened on track was a product from no qualifying because it was canceled due to rain, Bodine returned to Deegan. 
"I don't think that was the issue. I think there's a lot of inexperience," he said. "Hailee's part. She just doesn't understand that there's certain situations you just have to back out of the throttle. Get out of the hole. She didn't do it at Texas. I don't know what she did here. Like I said, if she run into the back of me or got into the side of me, either way, we got turned around."
What happened at Texas
Bodine's reference to the Lone Star State was the May race at Texas Motor Speedway when in overtime, Deegan and the No. 62 got together on the final lap. The second-year Truck Series driver made it clear how unhappy she was in the race recap video posted on her popular YouTube channel.
"Are you f****** kidding me?" she said in the radio transmission to her team immediately after, feeling the veteran squeezed her against the wall. Fast forward a few seconds in the video, and it shows Deegan's postrace reaction, and she hadn't cooled. 
"Who was it, Bodine?" someone asks off camera. 
"F****** Bodine," she answers. 
As Bodine said in his postrace comments at Pocono, there is no next race. This was it. It certainly wasn't the way he wanted to go out, but as he also said, "it's just racing." It is indeed. 
Like Sportscasting on Facebook. Follow us on Twitter @sportscasting19 and subscribe to our YouTube channel.