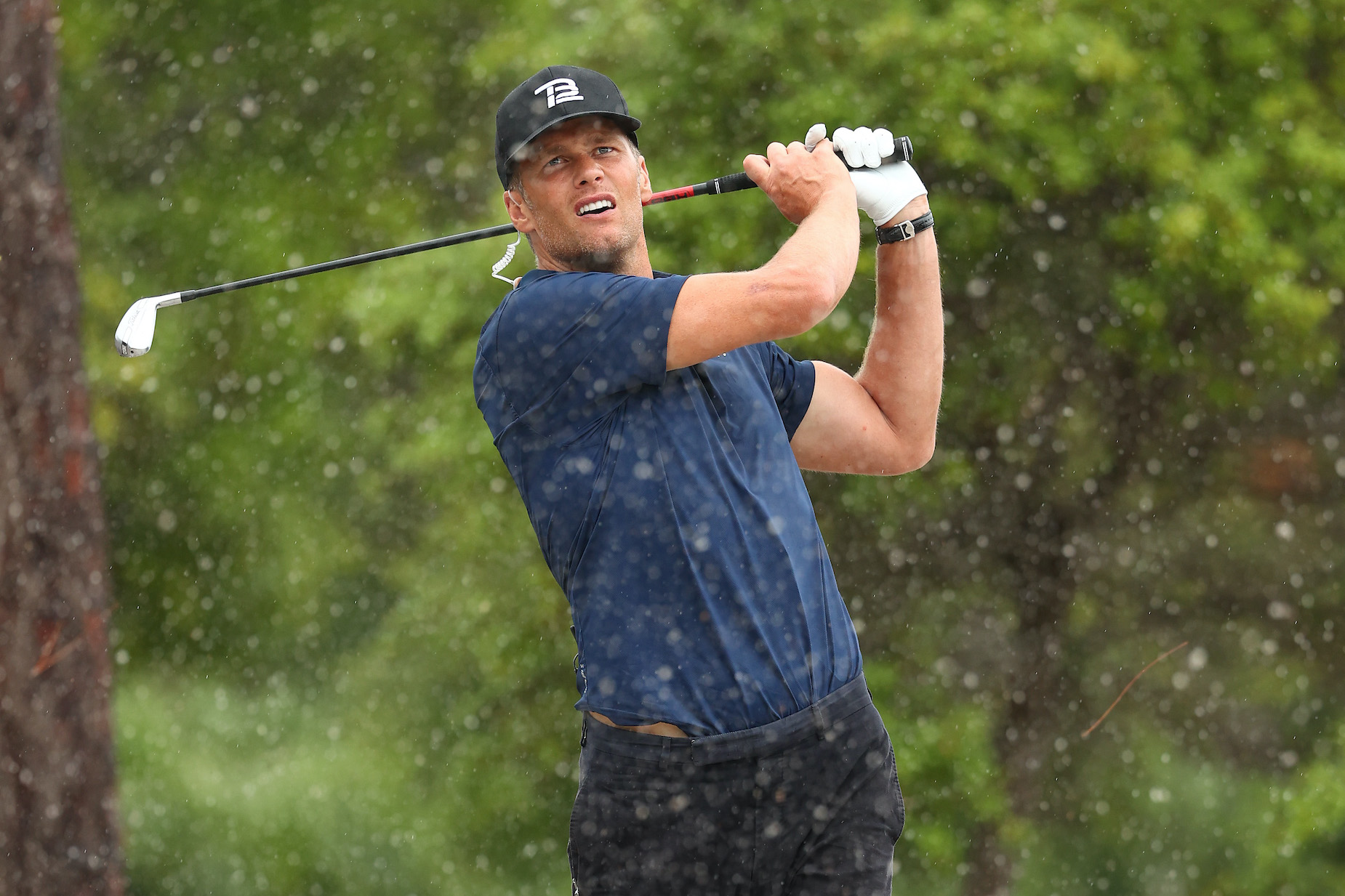 Tom Brady Hits the Golf Course With Personalized Balls That Show Off His GOAT Status
When Tom Brady hits the golf course, his balls make sure everyone know that he's the NFL GOAT.
While Tom Brady has found fame and fortune in the NFL, it's not the only sport he's ever played. The legendary quarterback played baseball growing up and even showed enough talent to catch the eye of the Montreal Expos. More recently, he's also taken a shine to golf. And, as you'd expect, no self-respecting multimillionaire is going to hit the links without some personalized gear.
For Brady, that gear includes some customized golf balls. While plenty of players will add their initials or lucky number to distinguish their ball from the rest of the group, TB12 does things a little differently. He goes all out and displays his NFL Goat status for all his opponents to see.
Tom Brady knows a thing or two about both football and golf
During his time in the NFL, Brady hasn't become universally beloved; outside of New England and Tampa, he'd probably be booed by just about every fan base in the league. When it comes to talent, though, the quarterback has proven himself in multiple arenas.
On the football field, TB12's resume speaks for itself. Despite arriving in Foxborough as a sixth-round pick, the quarterback worked his way up the depth charts and, thanks to an unlucky injury, stepped into the starting job. Once there, Brady never looked back.
He won six Super Bowl titles with the Patriots, transforming the club into a modern dynasty, then left town and promptly claimed another championship in Tampa Bay. Whether you love him or hate him, that body of work places the signal-caller firmly in the GOAT conversation, if not at the top of the list.
While football is obviously his focus these days, Brady also knows his way around the golf course. After an appearance at the 2014 AT&T Pebble Beach Pro-Am, James Driscoll said the quarterback "basically played nine holes like a tour pro." Even if The Match showed that TB12 isn't quite at a professional level, he's still comfortably above average.
Tom Brady uses custom golf balls bearing his GOAT resume
Given his celebrity status and appreciation of the game, it would be safe to assume that Brady has his own custom golf balls. While that may be true, his are an even bigger flex than you might imagine.
According to a recent tweet, a golfer was on the course a few holes behind the quarterback and managed to find one of his golf balls. One side seemed fairly standard, with the usual Titleist brand name and a number 12, which was included for obvious reasons. The other side of the ball, however, took things to the next level.
On the opposite face, the ball carried seven numbers in Roman numeral form: XXXVI, XXXVIII, XXXIX, XLIX, LI, LIII, and LV. Those, of course, represent the seven Super Bowls that Brady has won, earning him a spot in the NFL GOAT debate.
In case you're skeptical about the real owner of the ball — maybe it was just a bizarre coincidence — Brady did respond on social media. According to Golf Digest, the Zire Golf Instagram account shared an image of the original tweet, which prompted the quarterback to leave a comment. "If you looked closer you would find many many more out there too!!!" he wrote.
Bill Belichick also shows off his Super Bowl championships in style
Tom Brady wasn't the only one to reap the rewards of the Patriots dynasty, though. Bill Belichick also scored quite a few Super Bowl titles in New England, and he isn't shy about sharing that fact.
As noted in a 2019 CBS Sports story, Belichick used to have a boat named "VII Rings," in reference to the championships he had won with the Patriots and New York Giants. After the coach claimed victory in Super Bowl LIII, though, the vessel was promptly renamed "VIII Rings."
Whether you'd rather flex on your friends via golf balls or a boat probably boils down to personal taste. Neither Brady nor Belichick have any problem showing off their GOAT status, though. When your resume is that good, you can't help but flaunt it.