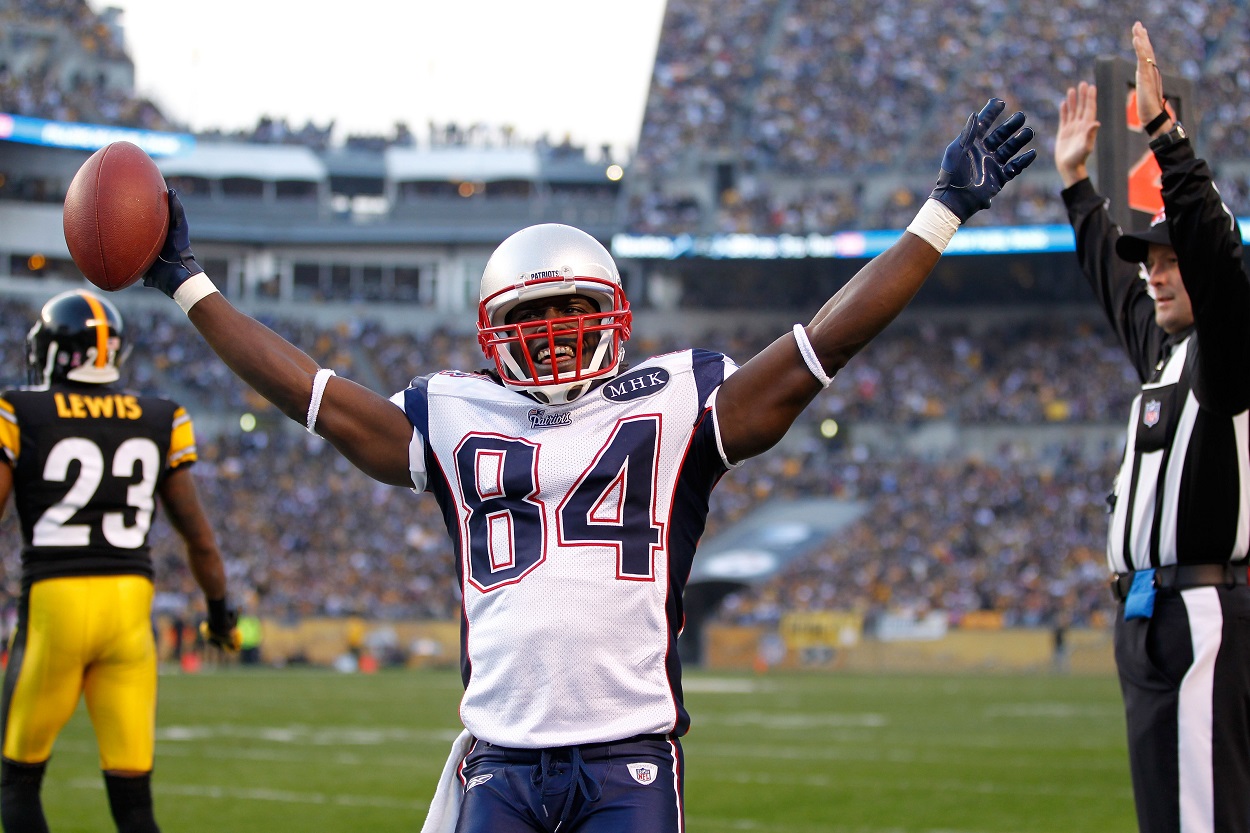 Tom Brady: Ranking the Legendary QB's Top 5 Wide Receivers
Tom Brady has played with some excellent wide receivers over the course of his legendary career, but which one was the best?
Tom Brady is considering retirement after 22 legendary seasons in the NFL. Fresh off a season that saw him lead the Tampa Bay Buccaneers to the Divisional Round of the NFC Playoffs and play like an MVP for much of the year, the GOAT and his family are strongly considering calling it quits.
In fact, according to multiple reports, Brady will actually retire. With that said, the legendary quarterback has yet to officially announce it himself, and there are some conflicting reports. Perhaps the news came out a little bit too early. Perhaps he'll end up playing forever.
Either way, what better time to look back at Brady's career and remember some of his top weapons at wide receiver? Whether he retires this offseason or next, these five players are legends in their own right because of what they were able to accomplish alongside Brady.
5. Deion Branch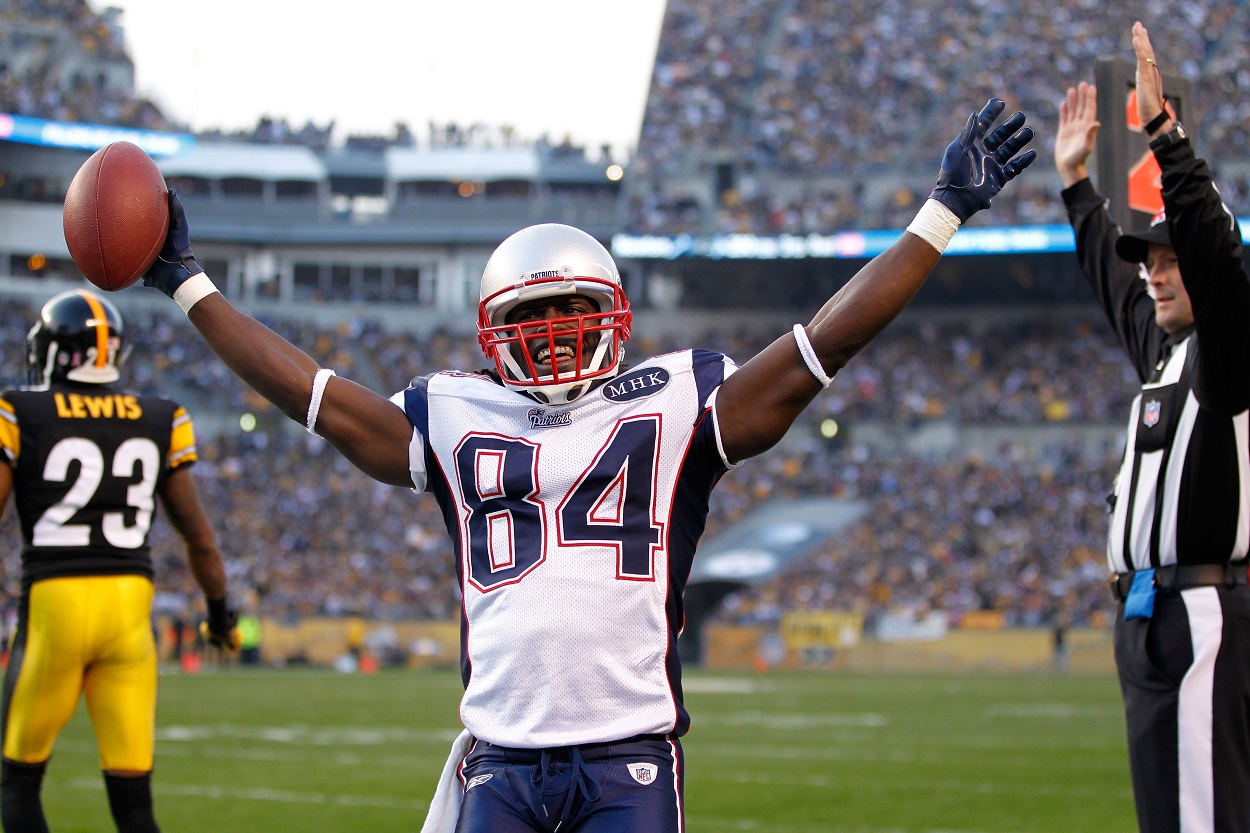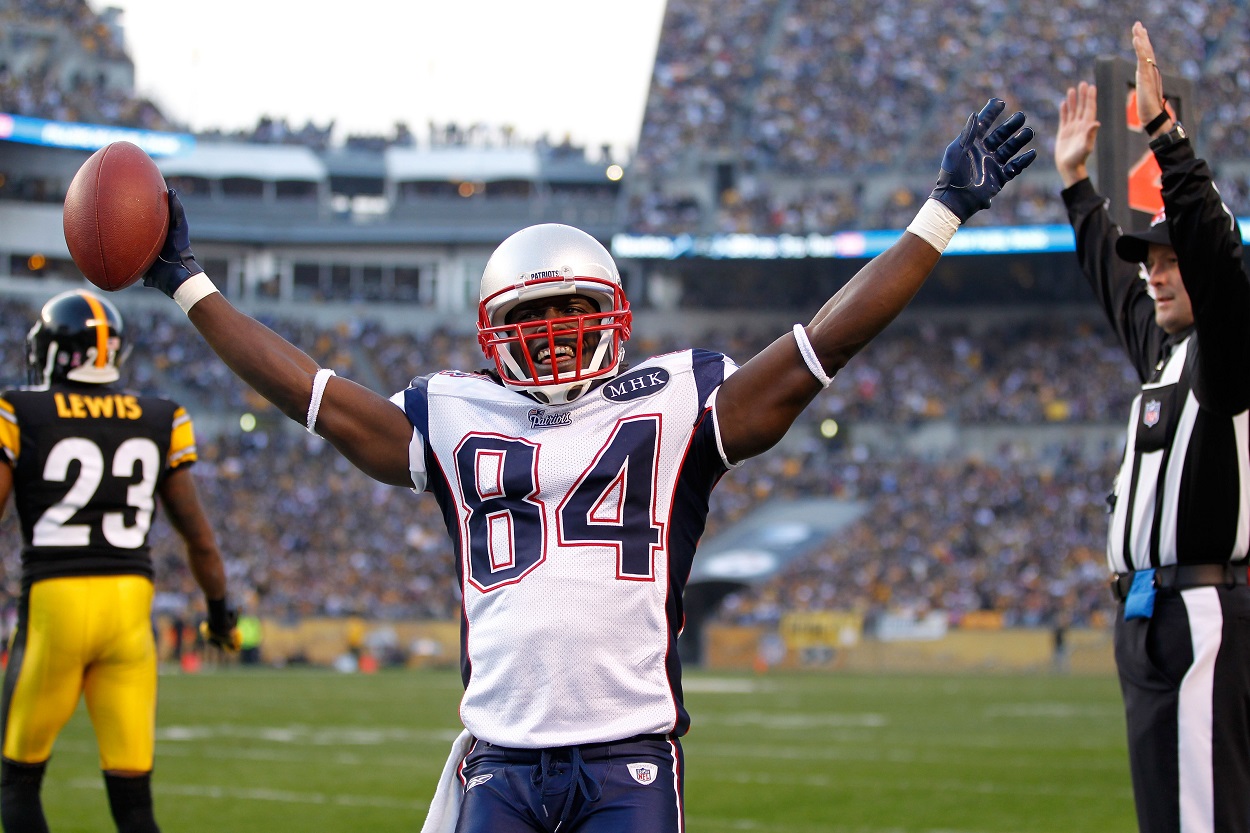 The New England Patriots drafted Deion Branch in the second round of the 2002 NFL Draft specifically to be a weapon Brady, who had just won his first Super Bowl with the franchise the season before.
In an era in which high-flying offense just wasn't Bill Belichick's style, Branch proved to be a consistent downfield target for Brady and ultimately one of his favorites, especially in big games.
Branch was targeted 13 times and caught 10 passes for 143 yards and a touchdown in New England's Super Bowl 38 win over the Carolina Panthers. In Super Bowl 39, Brady targeted Branch 12 times, and the crafty wideout came away with 11 catches for 133 yards, which earned him Super Bowl MVP honors.
Branch spent seven seasons with the Patriots, with a stint in Seattle sandwiched in the middle of the first four and last three. He caught 28 total touchdown passes from Brady, four of which came in the postseason.
4. Julian Edelman
Julian Edelman was one of Brady's most consistent targets and though he'll never necessarily be remembered statistically as an all-time great, the connection he and Brady shared was both memorable and iconic.
Edelman spent his whole 11 season career in New England, and he had Brady as his quarterback for 10 of those seasons. Though he never made a Pro Bowl, he won three Super Bowls alongside Brady, highlighted by a win in Super Bowl 53 that saw him catch 10-of-12 targets for 141 yards, which was good enough to earn him Super Bowl MVP honors.
All told, Edelman caught 580 passes from Brady for 6,311 yards and 41 touchdowns. That's not half bad for a former seventh-round pick out of Kent State.
3. Wes Welker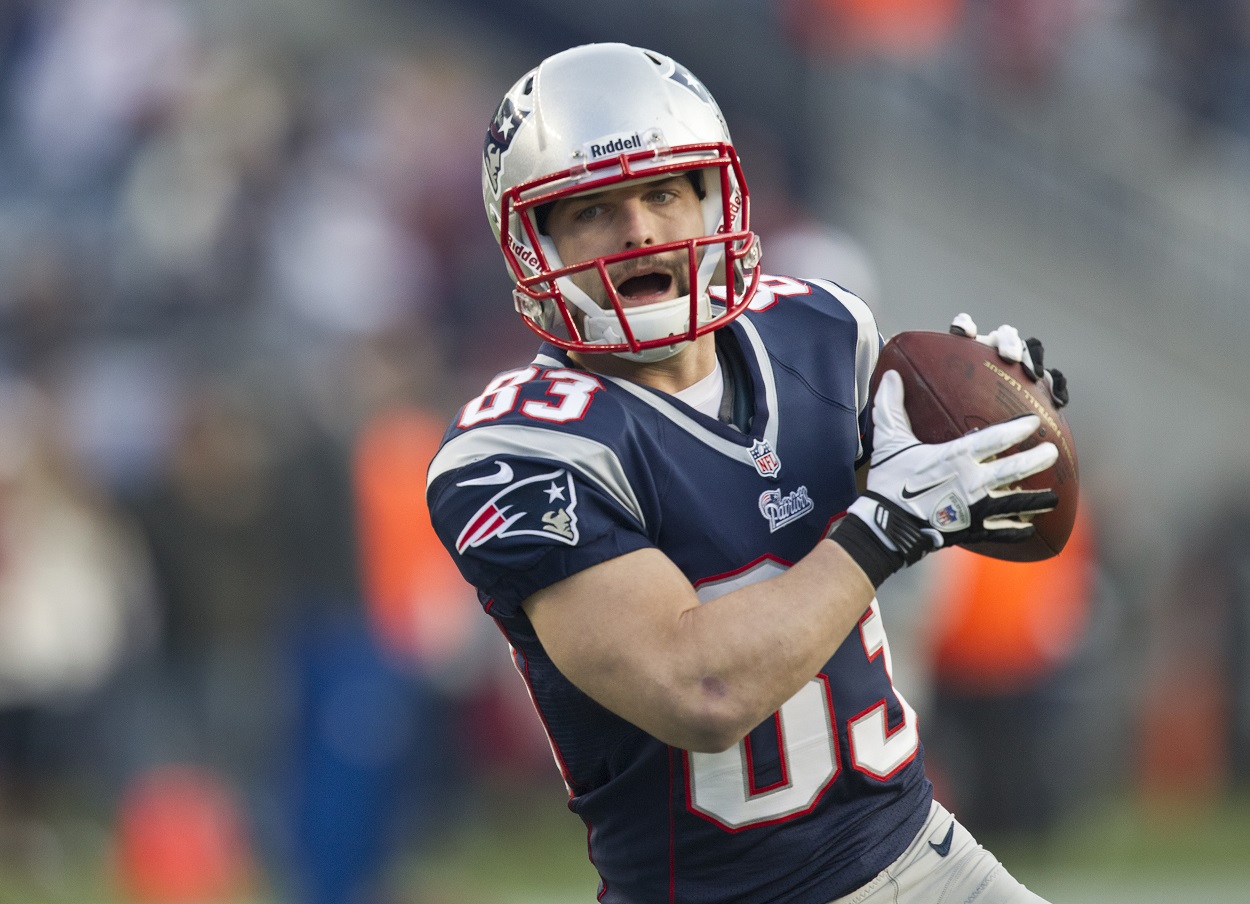 Edleman's time in the slot with Brady ironically may have caused some to forget just how iconic Wes Welker was in the same role for the Patriots. He was Brady's Edelman before Edelman was. He also had stints with a few other teams, including a notable time with the Miami Dolphins before he teamed up with Brady and two seasons with the Denver Broncos after leaving New England.
All told, what he did with Brady and the Patriots was incredible. He was the greatest slot receiver of his generation.
He spent six seasons in New England, catching 672 passes for 7,459 yards and 37 touchdowns, with all but three of those touchdown passes coming from Brady. He eclipsed 1,000 yards receiving in five of his six seasons and was named to five Pro Bowls wearing a Patriots uniform. He's still the team's all-time leading receiver.
Notably, and somewhat shockingly, Welker never played on a Super Bowl-winning squad in New England.
2. Mike Evans
Brady won six Super Bowls with the Patriots so it makes sense that this list would include mostly players from that run. With that said, his legendary run in New England shouldn't overshadow the fact that he won a Super Bowl with the Buccaneers in his very first season with the team, and his connection with Mike Evans was a big part of that.
Checking in at 6-foot-5, 231 pounds, Evans is exceptionally physically gifted and was seemingly built in a lab to be a big-time wide receiver.
He and Brady hit it off right away and the connection never really seemed to cool off. Evans caught six touchdown passes in his first fives games with Brady and finished the 2021 regular season with 70 catches for 1,006 yards and 13 touchdowns. Counting the Super Bowl run, he finished the campaign with 15 touchdown connections with Brady.
Evans followed that up this season with a campaign that saw him get even better. He finished 2021 with 74 catches for 1,035 yards and 14 touchdowns. He caught two touchdowns in the postseason for Tampa, bringing his touchdown total to 16.
Evans hasn't had the time with Brady to put up the kind of numbers others on this list have, but from a pure talent and production standpoint, he deserves to be right behind the top wideout on the board.
1. Randy Moss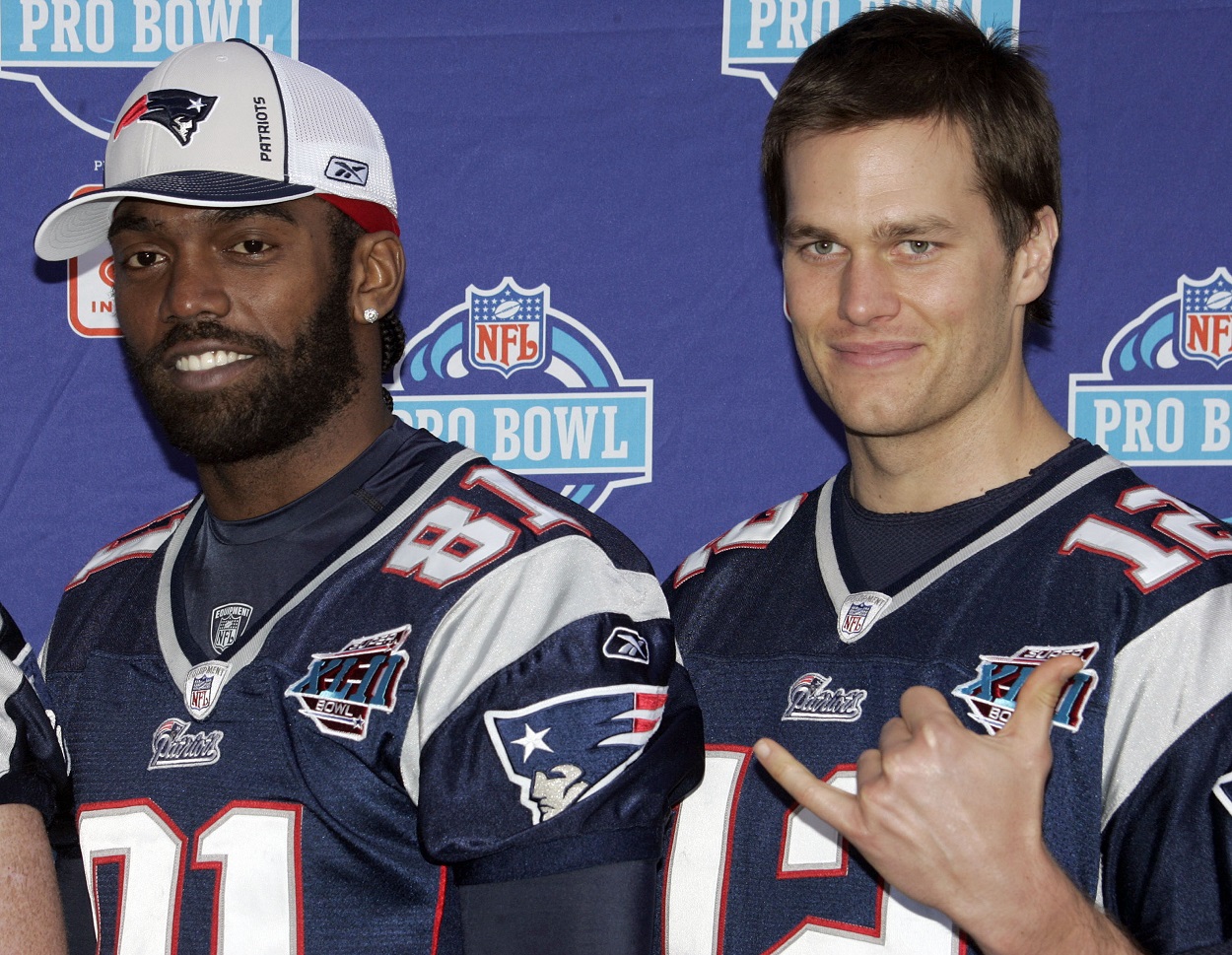 Randy Moss is one of hte greatest wide receivers of all time, so it should be no surprise that he headlines this list. It's incredible to think that all Belichick and the Patriots had to do to acquire Moss was send the then-Oakland Raiders a fourth-round pick.
Considered a malcontent Oakland, Moss ascended in New England like a phoenix rising out of the ashes thanks to his instantly-formed connection with Brady.
He put up the best numbers of his career in 2007 and spearheaded arguably the greatest offense of all time. He caught 98 passes for 1,493 yards and 23 touchdowns in the regular season, helping lead the Patriots to a 16-0 regular season and a trip to the Super Bowl. Their perfect season was ruined by Eli Manning and the New York Giants, but what Moss was able to accomplish as a receiver that season was incredible.
Moss never won a Super Bowl with Brady or the Pats, but he was part of one of the most impressive quarterback/wide receiver combos of all time.
In just three seasons and some change, Moss caught 39 touchdown passes from Brady. In terms of pure talent and production, there hasn't been a combination like the one Moss and Brady put together in New England, and there may not ever be one like it again.
Stats courtesy of ESPN and Pro Football Reference. 
RELATED: Buccaneers HC Bruce Arians Reveals Insight on Tom Brady's Conflicting Retirement Reports
Related post url: